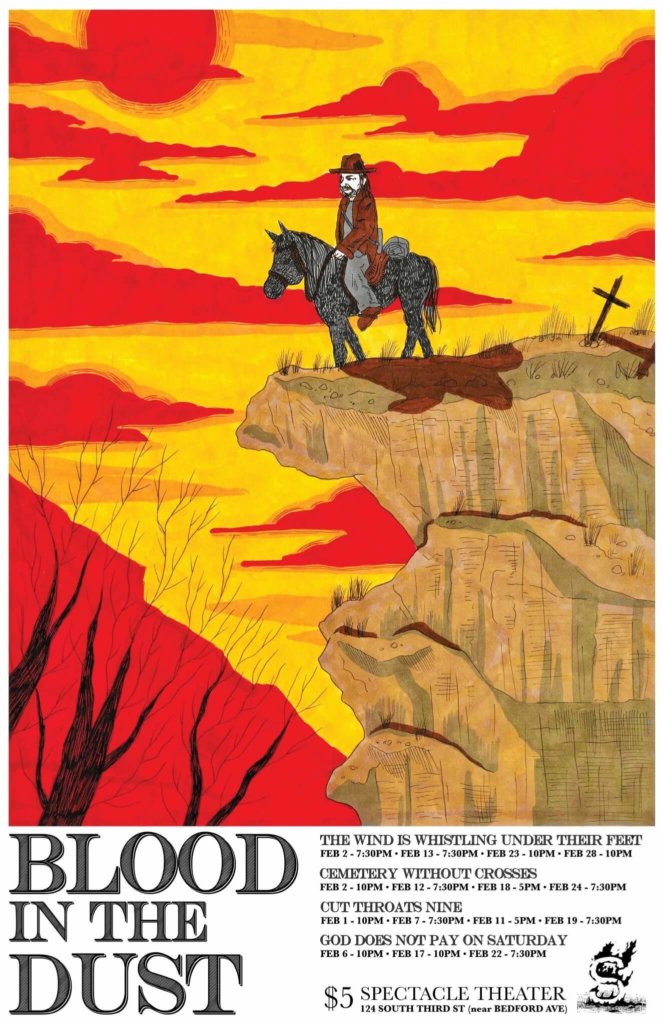 ---


CUT-THROATS NINE
(aka: Condenados a Vivir)
dir. Joaquín Luis Romero Marchent, 1972
Spain, 90 min.
THURSDAY, FEBRUARY 1 – 10 PM
WEDNESDAY, FEBRUARY 7 – 7:30 PM
SUNDAY, FEBRUARY 11 – 5 PM
MONDAY, FEBRUARY 19 – 7:30 PM
A wagon full of sadistic criminals is being chaperoned to prison through the mountains when they're attacked by a gang of bandits seeking gold. What they didn't realize is that it's hidden in plain sight…in the very chains that shackle the men! When the dust settles only the sergeant, his daughter, and seven of the murderous prisoners remain. Without horse or wagon, the sergeant must face the elements, the trailing bandits, and the wrath of the seven men in tow while trying to reach their destination and protect his daughter, Sarah. Can Sgt. Brown get this motley crew to prison? Are one of the men the very same that murdered his wife? Is greed stronger than these golden chains?
Hailed as "possibly the most violent Eurowestern ever made" by Michael J. Weldon of Pyschotronic Magazine, CUT THROATS NINE surely lives up to it's infamous reputation. A rare instance of a snowbound bloodbath, the film is as bleak as it is foreboding.
Presented by Hypercube Media.
---


GOD DOES NOT PAY ON SATURDAY
(aka: Dio Non Paga Il Sabato, Kill The Wicked!)
dir. Tango Boccia, 1976
Italy, 95 min.
In English.
TUESDAY, FEBRUARY 6 – 10 PM
SATURDAY, FEBRUARY 17 – 10 PM
THURSDAY, FEBRUARY 22 – 7:30 PM
When a stagecoach robbery leaves one of their gang wounded, the remaining bandits hide out in a nearby ghost town and begin kidnapping and torturing anyone who happens to come by…
Though later remade as the psychedelic freakout MATALO! this version, made by "the Italian Roger Corman", uses every part of the buffalo to create a stunning example in the Spaghetti Western tradition. Peppered with bright colors and religious iconography, GOD DOES NOT PAY ON SATURDAY manages to make even the light of day filled to the brim with tension. The ghost town setting creates an underlying sense of dread that gets ramped up by Angelo Francesco's score. Lead actor Larry Ward would go on to be the voice of Jabba the Hutt.
---


CEMETERY WITHOUT CROSSES
dir. Robert Hossein 1969.
Italy. 85 min.
FRIDAY, FEBRUARY 2 – 10 PM
MONDAY, FEBRUARY 12 – 7:30 PM
SUNDAY, FEBRUARY 18 – 5:00 PM
SATURDAY, FEBRUARY 24 – 7:30 PM
After her husband is mercilessly hanged by a ruthless land baron, Maria implores Manuel, an old flame, to infiltrate the killer's ranch and wreak vengeance. Manuel reluctantly leaves the ghost town where he lives to embark on the mission, but is ever haunted by his unrequited affection for Maria.
Prolific French actor Robert Hossein directed and starred in this inspired homage to his friend Sergio Leone. As sharpshooter Manuel, he dons one black glove (channeling the cool of garage rock band The Music Machine?) and imbues the whole production with laconic ennui. A visually striking and brooding picture, the requisite gritty and violent tropes are delivered with an artistic fervor ahead of its time.
"A French take on the Italians' take on American genres — a "baguette western" ! Inspired by the international success of Sergio Leone's DOLLARS trilogy, and armed with the catchiest of theme songs via international cult figure Scott Walker, CEMETERY WITHOUT CROSSES offers a Gallic spin on the Euro gunslinger pic." – AGFA.
Presented by AGFA.
---


THE WIND IS WHISTLING UNDER THEIR FEET
Dir. György Szomjas, 1976.
Hungary. 95 min.
In Hungarian with English subtitles.
FRIDAY, FEBRUARY 2 – 7:30 PM
TUESDAY, FEBRUARY 13 – 7:30 PM
FRIDAY, FEBRUARY 23 – 10 PM
WEDNESDAY, FEBRUARY 28 – 10 PM
Original trailer from 2014:

György Szomjas brings exquisite style and pacing to this elegiac gallows western about a betyár — a kind of highwayman popular in 19th century Hungarian balladry — set amid the Great Hungarian Plain in 1937. It follows the path of a brooding, aging outlaw newly escaped from prison whose personal revenge quest dovetails with the interests of the landless herdsman who oppose the state's building a canal through the fields on which they work their trade. He becomes an unlikely hero to unwashed vagabond workers while facing down a mutually-admiring adversary in the form of a forthright squire who had captured him before. Meanwhile, an opportunistic youngster attempts to work both sides to his benefit. As ditches are dug for canals and corpses alike, the state puts increasing pressure on the wistful squire, who realizes the social order is changing and his fortunes are in decline; and yet he remains dutifully attached to his mission.
Though carefully paced and based on historical documents, THE WIND IS WHISTLING UNDER THEIR FEET aims squarely for populist appeal. The autumnal palette, period imagery, and sudden outbursts of hysterical grotesquery recall Andrzej Żuławski's THE DEVILS. Yet most of all it brings to mind the unlikely grouping of Woody Guthrie, Miklós Jancsó, and Akira Kuroswawa — or maybe Béla Tarr meets Sergio Leone. Whatever the comparisons, THE WIND IS WHISTLING UNDER THEIR FEET is a stirring, forgotten gem in classic Spectacle tradition.