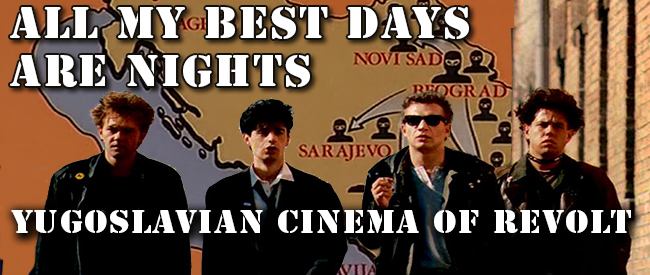 ALL MY BEST DAYS HAVE BEEN NIGHTS: YUGOSLAVIAN CINEMA OF REVOLUTION
In the early days of the dissolution of the Yugoslavian state, right after the splintering now known as balkanization, in spite of the impending political chaos, the vibrant Yugoslavian counter-cultural movement was in the midst of a moment of particular power.
After the death of Josip Broz Tito, beloved state leader in power since 1945, and the disintegration of the dream of Brotherhood and Unity and the beginning of the territorial war and ethnic conflict in Bosnia between nationalists in Croatia, Serbia and Bosnia, increasingly alienated youth of the nation-turned-cipher were drawn towards the anti-authoritarianism and nihilism of punk.
This series of films reflects a period in the Balkans where filmmakers in Yugoslavia's Hollywood and the counter-culture shared spaces and sought to criticize the destabilizing regime and a society unraveling around them.
---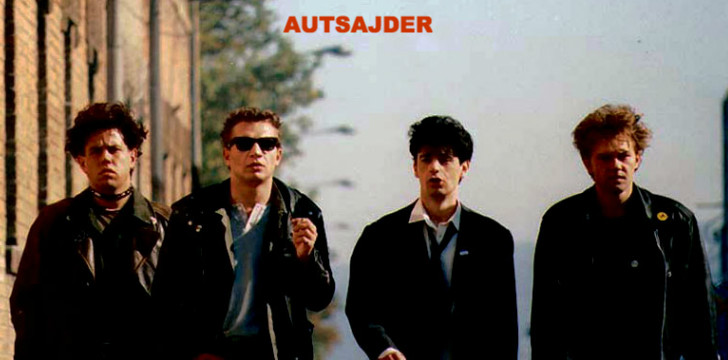 OUTSIDER
aka AUTSAJDER
Dir. Andrej Kosak, 1997
Slovenia, 105 min.
in Slovenian/Serbo-Croatian with English subtitles.
SATURDAY, JUNE 6 – 10PM
THURSDAY, JUNE 11 – 10PM
MONDAY, JUNE 15 – 7:30PM
TUESDAY, JUNE 23 – 7:30PM
While OUTSIDER was released in a Slovenia six years after it was the first state to secede from the Yugoslavian bloc on 25th of June, 1991, and following the onslaught of war in Bosnia, there was a trend of escapist cinema already in the former Yugoslavia. However, while OUTSIDER focused itself critically against the Titoist regime of communist Yugoslavia, it was also a nostalgic look backwards to a time of peace and prosperity while war raged not far beyond its doorstep.
The film, set in Ljubljana in 1979, follows Sead, a Bosnian transplant to Slovenia following his father a career officer with the Yugoslav National Army, finds himself a misfit transplant and unwanted Bosnian in a rigid Slovenian high school of socialist pageants and violent cliques. He quickly becomes involved with a group of young punks and quickly adopt the moniker "Sid", as he rises to become the leader of the motley-crew-cum-rock-band. He quickly finds however that his new life and friendships come with harsh consequences as they all become social outcasts, targeted by the police, military and rejected by other proper communist Yugoslavians for their shameless individualism and their disorder. When Kadunc, the band's drummer, is picked up by the military for vandalizing a building with statements disparaging head of state Josip Broz Tito, he is imprisoned. Soon after Kadunc's release the disgrace of his actions marks the lives of Sead and the rest of his bandmates and quickly tears all their lives apart.
Far from blind Yugo-nostalgia, Kosak's OUTSIDER looks back towards individual persecution in the Yugoslavian system and indicts an unwillingness to move beyond a culture of conformity and obedience as the reason for the failure of Yugoslavia's utopian dream.
---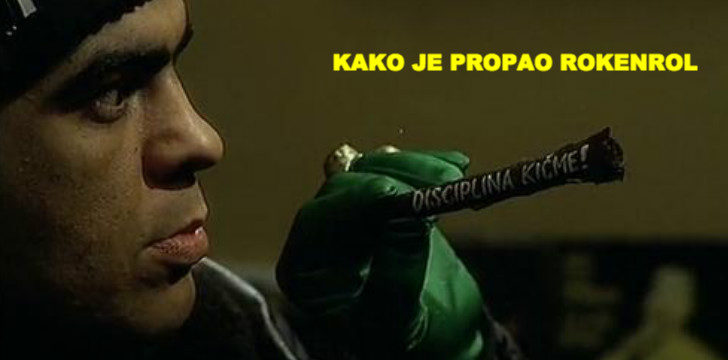 THE FALL OF ROCK AND ROLL
aka KAKO JE PROPAO ROKENROL
Dir. Goran Gajic, 1989.
Bosnia, 106 min.
In Serbo-Croatian with English subtitles.
SATURDAY, JUNE 13 – 10PM
THURSDAY, JUNE 18 – 10PM
SUNDAY, JUNE 21 – 7:30PM
MONDAY, JUNE 29 – 7:30PM
Goran Gajic's surreal counter-culture comedy THE FALL OF ROCK AND ROLL was made in 1989 right before the start of the Bosnian war and at the beginning of the end of the golden age of Yugoslavian subculture and the heyday of Balkan punk. Gajic's film was a virtual who's who of Yugoslavian punk rockers and counter-cultural icons from this period, like Anica Dobra, Sonja Savic, Srdjan Todorovic and the lead singer of ex-yu punk band Disciplina Kicme in a cameo as slacker-superhero and mascot the Green Tooth, among others. All of these young Balkan men and women were part of the same cohort among the bright stars that made up the collaborative Belgrade art and rock scene which had also produced other films like CRNI MARIJA/BLACK MARIAH and DAVITELJ PROTIV DAVITELJ/ STRANGLER VS. STRANGLER.
THE FALL OF ROCK AND ROLL is a composed as a picaresque comedy in three parts, all written by different screenwriters and directors and with musicians from three Yugoslavian rock powerhouses, Elektricni Orgazm, Idoli and Disciplina Kicme. The three scenarios begin this ramble through the streets and back-alleys of Belgrade with a wager between Koma, a failed punk rocker (Srdjan Todorovic) and his producer father, a folk-singer staging a contest to see who can perform a more popular song leading Koma to become a masked folk singer calling himself Ninja. The film quickly careens into the second scenario, chronicling a romantic episode between a young punk (Anica Dobra) who is wooed by Darko, a man claiming to be Dracula. In the third Eve and Djuro, a troubled pair of frustrated bohemians, an aspiring rock musician and a struggling designer, who are on the verge of conceiving a child but are driven astray by a mysterious love letter.
THE FALL OF ROCK AND ROLL in spite of its absurdist elements is also a reflection collaborative project of Belgrade's urban rock subculture preserved in amber. Its lighthearted approach and devil-may-care attitude are still valued highly by the now grown youth of Yugoslavia who remember this moment as a time of joy and experimentation before the austere war years soon to follow.
---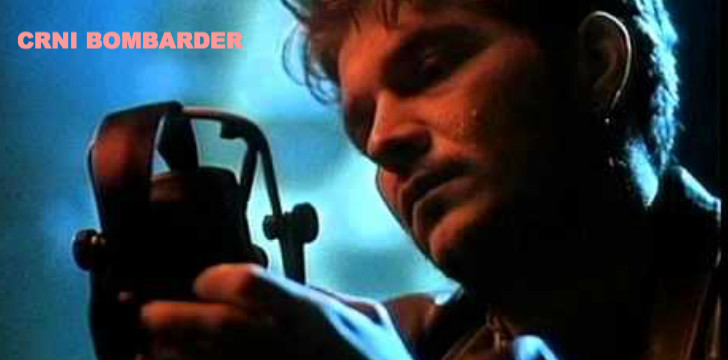 BLACK BOMBER
aka CRNI BOMBARDER
Dir by Darko Bajic, 1992.
Serbia, 116 min.
In Serbo-Croatian with English subtitles.
THURSDAY, JUNE 4 – 10PM
MONDAY, JUNE 8 – 10PM
SATURDAY, JUNE 20 – 10PM
MONDAY, JUNE 29 – 10PM
CRNI BOMBARDER/THE BLACK BOMBER upon its release it a disintegrated Yugoslavia in the midst of the ravages of war became an allegory for resistance among the youth of Belgrade's artistic and counter-culture set who had faced violent repression by Slobodan Milosevic's political regime. In many ways it foreshadowed the resistance to come in the forms of OTPOR! and the guerilla theater of the Serbian protest movements of the late 90's.
The film, set in a dystopian cityscape, is meant to represent a Milosevic-era Belgrade strewn with barricades, martial law and other trappings of wartime. Blackie, an amnesiac radio DJ is finds himself censored by the government, he begins to push the boundaries of acceptable programming. He soon finds himself being chased by nationalist gunmen and the secret police and in the midst of an increasingly self-destructive attempt to speak truth to power. In the process, he sparks a romance with Luna, played by Ana Dobric, a ferocious punk singer who is waging an internal battle between creatively resisting the regime at home with like-minded rebels like Blackie or artistically thriving in self-imposed exile. After he is forced out of his home-base in the national radio station Blackie finally takes to the streets in an unmarked van, the Black Bomber to broadcast a pirate radio program in the midst of widespread repression and civil unrest of the capital, unintentionally sparking a youth uprising and becoming the voice of youth resistance in the form of his radio persona "The Walking Ghost".
Not far enough away from reality to be science fiction and not far enough from Hollywood forms to escape tropes of romance this film nonetheless captures the miasma of a generation of ex-Yugoslavs caught between political conflicts in a nation divided, yet still struggling to remain young and alive.