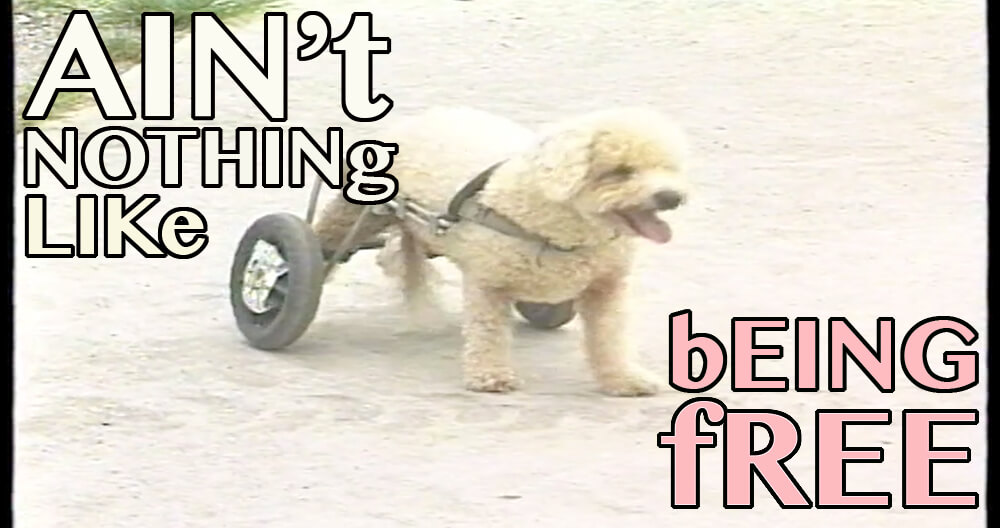 AIN'T NOTHING LIKE BEING FREE
dir. John Meyer, 2016
USA, 49 min
TUESDAY, DECEMBER 5 – 10 PM
THURSDAY, DECEMBER 7 – 7:30 PM
SATURDAY, DECEMBER 9 – MIDNIGHT
WEDNESDAY, DECEMBER 13 – 7:30 PM
Ever find yourself wondering why Coney Island couldn't have instead been a huge Jesus-themed theme park? Or why you even bother attending your "friend's" "DJ set," when you could just be spittin' verses about life and freedom on the stoop with your real homies?
For just a moment, if you can, in that megalopolis-twisted mind of yours, try to imagine an America less convoluted, less distracted, and a maybe bit more free. For instance, instead of "soiled subway rat," think "small disabled dog with wheels for legs." Or perhaps instead of a city slickin', cold brew wieldin' hoser taking up sidewalk space, consider trading him in for an unlicensed Don Quixote faithfully hacking his way through dubious foliage with a dull machete. Try substituting your therapist and adderall prescription for some wisdom from a philosophical BBQ maverick and a rack of sweet baby back ribs. And while you're stuck there again in L-train hell, deep down wouldn't you rather be busting donuts in velvety mud on an ATV?
Well now that all our hot garbage is starting to freeze over, we invite you to clock out of your metropolitan nightmares for a meandering vacation in sunny, sultry Central Florida. Soak up the rays as a candid cast of soul-bearing tour guides show you a thing or two you won't pick up in any hot yoga class. All shot in holy SVHS with a shaky hand and a heart of gold, ANLBF is a freewheeling, ingenuous portrait of contemporary America, living out its sometimes dreary, sometimes delighted dream in a seldom documented corner of this crazed country.