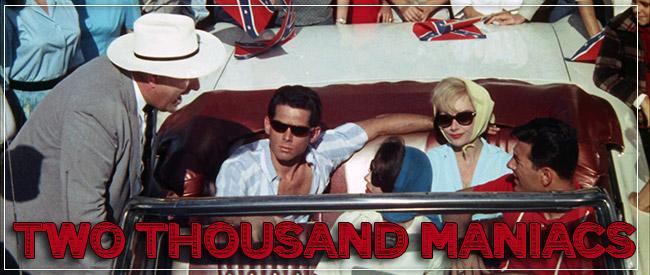 TWO THOUSAND MANIACS!
Dir. Hershell Gordon Lewis, 1964
The Southern United States, 87 min.
16mm Print Courtesy of Brian Darwas
SATURDAY, APRIL 11 – MIDNIGHT
"This centennial is a centennial of blood vengeance!"
"YEEEEEEEEE-hooooo! / Oh the South's gonna rise again!"
"There's a story you should know from 100 years ago," begins the infectious, self-penned title song to Herschell Gordon Lewis's TWO THOUSAND MANIACS!—which turned 50 last year. In fact, this April 12 marks the exact 150th anniversary of the Confederate bombardment of Fort Sumter, which ignited one of the bloodiest chapters in American history: The Civil War.
So to that end, as the clock strikes midnight on Saturday, April 11, we'll screen one of the bloodiest chapters in cinematic history: TWO THOUSAND MANIACS!, HGL's outrageously bonkers and indescribably gory 1964 trashterpiece about bloodthirsty southern rednecks unleashing Hell on unsuspecting passersby during the centennial commemoration of their town's destruction by Union forces. The Yankee tourists, while initially charmed by the kind hospitality of their hosts, soon find themselves maimed and dismembered one-by-one through a series of cartoonish grand guignol games including live barbecuing, drawn-and-quartering by horses, and nail-filled barrel rolls. Will any of them survive the nightmare?
Though unabashedly lurid, grotesque, irreverent, and exploitational, TWO THOUSAND MANIACS! is one of the most compelling historical revisionist fantasies about the Civil War ever filmed, acknowledging the deep wounds, cultural rift and racial tensions that still existed one hundred years after the fact—and persist to this day. Unlike recent films like DJANGO UNCHAINED or TWELVE YEARS A SLAVE, racial violence is not depicted, and yet the evil racial underpinning of the white-on-white violence is clearly understood. There is also the difference that this film's resolution leaves little catharsis or reassurance that this evil has been in any way defeated.
In the spirit of conservative values, we'll forgo high definition projection in favor of sterling 16mm, the people's film format, based on photochemical technology that dates to approximately the same time as the Civil War, the first major conflict to be extensively photographed. Rise again!