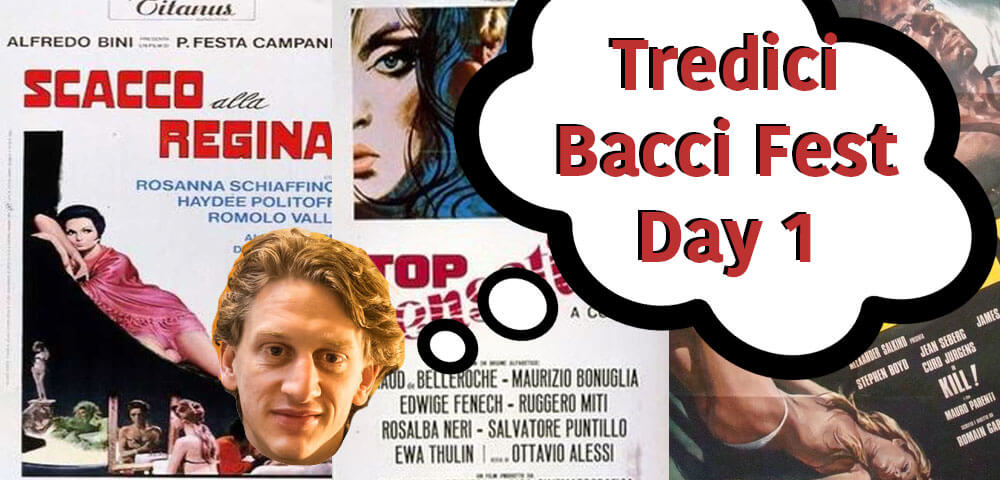 Tredici Bacci, New York's premier 15-piece soundtrack-pop orchestra, draws a great deal of inspiration from the grand tradition of Italian film, specifically the luxe, mondo B-movies made circa 1960-80. The Tredici Bacci Film Fest—curated by the group's bandleader and composer, Simon Hanes—will celebrate this incredible era by showing some of the epoch's greatest (if lesser known) films. Supplementing these screenings, the group will supply intermittent musical performance plus delicious Italian food and beverage.
$10 gets you a "day pass", i.e. a three-course meal of delicious Italo schlock. Tickets for individual screenings will be sold as capacity permits for $5.
DAY 1 – SATURDAY, SEPTEMBER 7TH
ONLINE TICKETS $10 for all day!!
5:00PM:
CHECK TO THE QUEEN
Dir. Pasquale Festa Campanile, 1969
99 min, Italy
With sausage/salami plate and beverage
Exactly how does one describe the indescribable? From the outside, "Check To The Queen" looks like a simple, classic, Italian psychosexual drama. It is only when we peek beneath the mantle that we find an extravagant, glorious, completely over the top film – A deranged composite of garish colors, speed zooms, jump cuts, and criminally thick mascara levels. Replete with sets and costumes that make Breakfast At Tiffany's look like THX 1138, fevered pseudo-arabian dream sequences, and – for some reason – a terrifying mechanical horse that teeters on the edge of the uncanny valley, "Check To The Queen" is a rare example of style creating substance, of glitz and glamour generating genius. Keep an ear out for piccioni's lurid score – at times psychedelic, at others almost horrifyingly bland – always just what the scene needs.
7:30 PM:
THE SEDUCERS/TOP SENSATION
Dir. Ottavia Alessi, 1969
99 min, Italy
With pasta with pesto, salad
A sex worker, a virgin pyromaniac, an opium-addicted, pan-sexual helicopter mom and a couple of good old fashioned swingers, all hanging out on a fancy boat, which happens to be well stocked with dynamite and sporting a state of the art closed-circuit camera system. What on earth could go wrong!? And more importantly, who ends up sleeping with who? The answers may, or may not, surprise you. Did I mention they stop on an island full of goats for awhile? This is one of those films that – by todays standards – should never have never been made, and yet it stands as an interesting and enlivening document, evidence of what filmmakers must have thought the general public wanted to see. To this day, it needs to be seen to be believed, if only for the scene of Edwidge Fenech in sailor's garb, hand feeding a small goat.
10:00 PM:
KILL! KILL! KILL! KILL!
Dir. Romain Grey, 1971
113 min, Italy/France/West Germany/Spain
With chocolate cake or something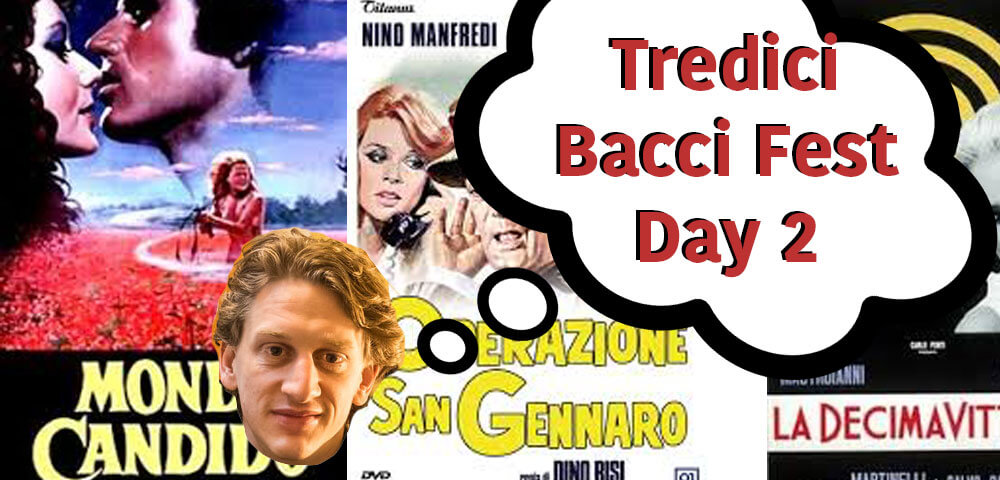 DAY 2 – SUNDAY, SEPTEMBER 8 
ONLINE TICKETS $10 for all day!!
5:00 PM:
MONDO CANDIDO
Dir. Gualtiero Jacopetti & Franco Prosperi, 1975
107 min, Italy
With bruschetta and beverage
The word "Mondo" doesn't get thrown around a lot these days, probably for good reason. Like "Gonzo", "Mondo" is a descriptor best tied to a specific moment – in filmmaking, particularly the late 60s and early 70s, when Italian directors were pioneering exciting new ways to disgust, shock, and occasionally titillate audiences by showing them very fake gore and violence while promising them it was real. This trend led to a great many cinematic travesties – but none which stick out of the Mondo lineage as conspicuously as Mondo Candido – a frenetic, blatantly anachronistic and gloriously stupid retelling of Voltaire's Candide. Galloping where ever it likes, this disfigured romp, a lovechild between Federico Fellini and Ken Russel, shakes the viewer out of normal complacency by reminding us that just because anything can happen in the world of film, doesn't mean it always should.
7:30 PM: 
THE TREASURE OF SAN GENNARO
Dir. Dino Risi, 1966
104 min, Italy
With Pizza!
All you really need to know is that its 1966 in Naples and a bunch of handsome, stylish crooks (including an American!) want to steal some religious treasure. A classic Italian heist! You're gonna get fast, tiny cars! hyperanimated conversation! Catholic guilt! Shouting! Mafia Stuff! Maybe some adultery? I can't remember. In any case, it's a non stop cinematic romp of people smoking cigarettes and looking incredible. All perfectly supported by Armando Trovajoli's bright, mandolin heavy score. If ever I were in a situation where I had to convince someone to watch this movie, I would sit them down, look them dead in the eye and say "trust me, you're gonna like this move" one hundred times.
10:00 PM: 
THE 10TH VICTIM
Dir. Elio Petri
93 min, Italy
With … zeppole and… limoncello?!
Every once in awhile, a movie comes along that just makes you say "Yes." A movie that has everything your heart and mind has ever desired in a movie, wether or not you even knew it yet. For some people, that movie is "Lassie" – for some, its "Free Willy" – and for others, its "Babe: Pig In The City." But for me, that movie is Elio Petri's Sextopyian (a word i just made up) masterpiece "The 10th Victim". Why? There's no point in trying to explain with the brevity needed for this blurb, but I promise once you watch it, you'll understand. Set in a future only Italians in 1965 could ever imagine, THE 10th VICTIM" confronts everyone's favorite topics – humans hunting humans, jazz, and post-modern interior design. Piccioni hits it out of the park again on this one with his utterly manic, glistening score.