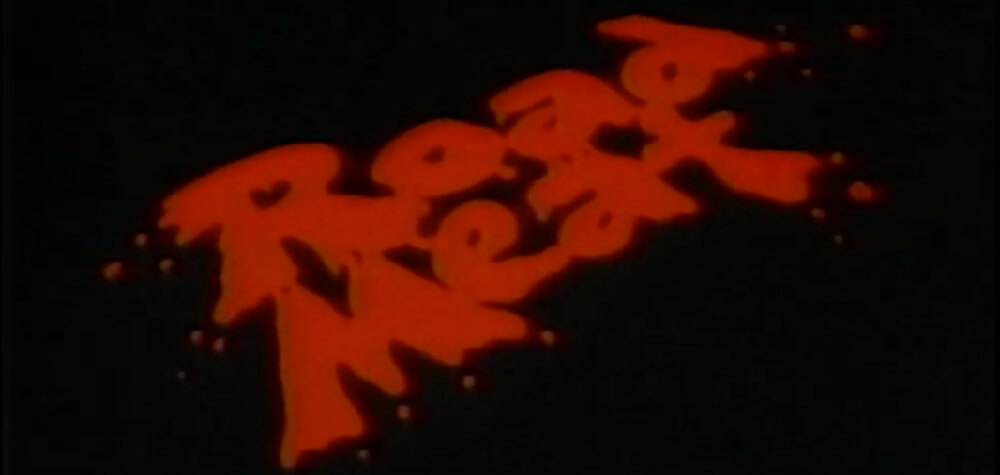 ROAD MEAT
dir. Bill Bragg, 1988
76 minutes. Ohio.
WEDNESDAY, OCTOBER 3 – 10:00 PM
FRIDAY, OCTOBER 5 – MIDNIGHT
MONDAY, OCTOBER 22 – 7:30 PM
and
SATURDAY, OCTOBER 27 – 10:00 PM [*Q&A* w/ Bill Bragg (dir), Vicky Walsh, & Kim Akins]
($10)
ONLINE TICKETS
FB EVENT
Special thanks to Jon Dieringer and director Bill Bragg.
Two lunatics, Nick and Vick, celebrate their wedding day at the local asylum like any couple would – by kicking off a killing spree in style (with a gonzo, saxed-out theme song behind them.) After running a man down the two lovebirds hit the trail leaving the bodies of hitchhikers, fast-food employees, and local bowling champions in their wake. That is, until the duo cross paths with an old woman in the midst of a run-in with a creepy cult. After saving her, Nick and Vick find out she's being set up by her son who wants to take all of her money. She takes them back to her house and the three hatch a devious plan…
With the vast catalog of cinema at one's fingertips in 2018, the hunt for lost films often leads to dead-ends, headaches, and heartbreak. But sometimes, with a little luck and a lot of elbow grease, there's still treasures to be found. Such is the case with 1988's gore/comedy ROAD MEAT. In it's sparse mentions around the World Wide Web this slice of homemade Ohio goodness only gets mentioned in hushed tones and is often cited as "unfinished."
Directed by Bill Bragg, starring Nick Baldasare (THEY BITE), with DP duties by Spec favorite Jay Woelful (BEYOND DREAM'S DOOR) ROAD MEAT was all but a rumor for almost 30 years. While the only remaining 16mm print is being scanned for an upcoming blu-ray release we're proud to present a version that absolutely no one knew existed – an alternate cut (peppered with extra scenes to entice would be distributors) from the 3/4″ video master provided by the director himself.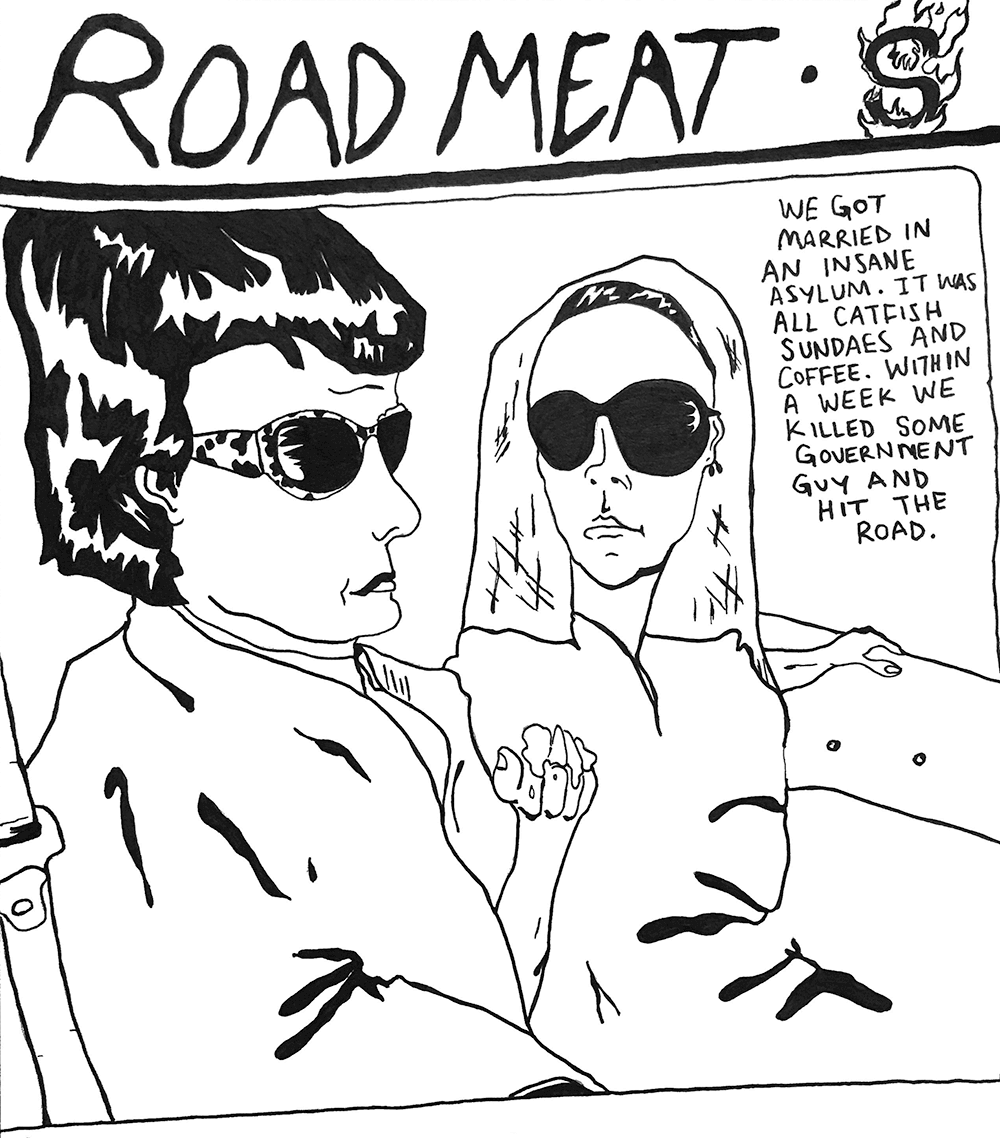 Poster by Charles Gergley (by way of Pettibon): available on Etsy
AT MIDNIGHT I'LL TAKE YOUR SOUL
(A MEIA-NOITE LEVAREI SUA ALMA)
Dir. José Mojica Marins, 1964
Brazil. 84 minutes.
In Brazilian Portuguese with English subtitles.
THURSDAY, OCTOBER 4 – 7:30 PM
SUNDAY, OCTOBER 7 – 7:30 PM
MONDAY, OCTOBER 15 – 10:00 PM
FRIDAY, OCTOBER 26 – 10:00 PM
"What is Life? It is the Beginning of Death. What is Death? It is the end of life. What is existence? It is the continuity of blood. What is blood? It is the reason to exist!" So ushers in both the twin obsessions of death and progeny in the cinema of Zé do Caixão, and the first incarnation of Brazilian horror cinema. José Mojica Marins entered into the iconographic canon a figure who is both constructed of pieces from other famous monsters and a wholly original, idiosyncratic, definitively Brazilian figure who has yet to be duplicated (possessing the most disgusting nails you're likely to come across).
With Marins' third film, AT MIDNIGHT I'LL TAKE YOUR SOUL, we are immediately familiarized with a fully-formed icon: the dreaded Zé do Caixão, whose reign of terror over the small mountain town in which he resides carries with it the certainty that the man is aided by the unnameable forces of evil.Operating on Nietzchean levels of religious irreverence and self-preservation, Zé's main concern is the securement of an heir, an end in which the fury of his conviction knows no bounds. Cruel sadism defines his interactions with nearly person he comes across, acts aided by his diverse repertoire of violent methods, including his sheer strength, fueled by disdain (more often than not in misogynistic iterations), tarantulas and other creepy crawlies, and the manipulation of fear on display in all of Zé do Caixão's appearances.While nothing in the diegesis explicitly reveals Zé's powers to be sourced in the devil, the dark surrealism of Marins' mise-en-scene never allows the film to leave the precarious position it holds on the edge of the supernatural.
Read over the years as an allegory for Brazilian military repression, a queer text, an epitome of paracinema, and countless other fields of discourse, AT MIDNIGHT I'LL TAKE YOUR SOUL undoubtedly kicks off one of cinema's most singular visions of an extended universe, held together by the essentially DIY ethic and "dirty screen" aesthetic that defines much of the Brazilian underground, a movement for which Spectacle holds nothing but whole-hearted admiration.
Content advisory – This film contains scenes of traumatic violence committed against women. While we believe these acts are dramatized with a critical perspective, we realize the adverse affect seeing such imagery potentially has on viewers.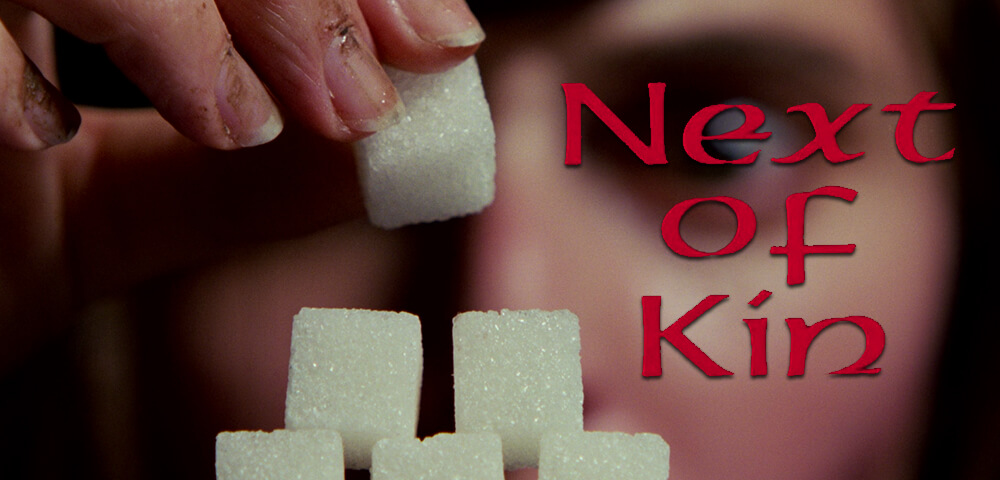 NEXT OF KIN
dir. Tony Williams, 1982
92 mins. Australia.
*U.S. PREMIERE OF THE REMASTERED VERSION!*
MONDAY, OCTOBER 1 – 10:00 PM
SATURDAY, OCTOBER 6 – 7:30
THURSDAY, OCTOBER 11 – 10:00 PM
SATURDAY, OCTOBER 27 – 7:30 PM
Directly between a slow burn haunting and a black-gloved giallo slasher sits NEXT OF KIN, Tony Williams' grossly underseen (and hard to find) Australian horror film.
Linda Stevens has just inherited the Montclare estate, now functioning as a retirement home for the elderly, from her estranged and recently deceased mother. Shortly after moving in, strange things start to happen – taps turning on by themselves, power blowing out, a strange figure at the edge of the woods– and then one of the tenants is found dead in a bath. Linda searches for answers in her mother's diary and finds startling similarities between the entries and the strange phenomena. Is Linda losing her mind, or is something deeply wrong with the Montclare house?
Favoring a thick mood over gore, though its not without its moments, it feels something like Peter Weir by way of Dario Argento. Featuring Ozploitation regular John Jarratt (WOLF CREEK) and a killer pulsing synth score by Klaus Schulze (coming off a brief stint in TANGERINE DREAM), NEXT OF KIN is a moody nightmare well worth a fresh look.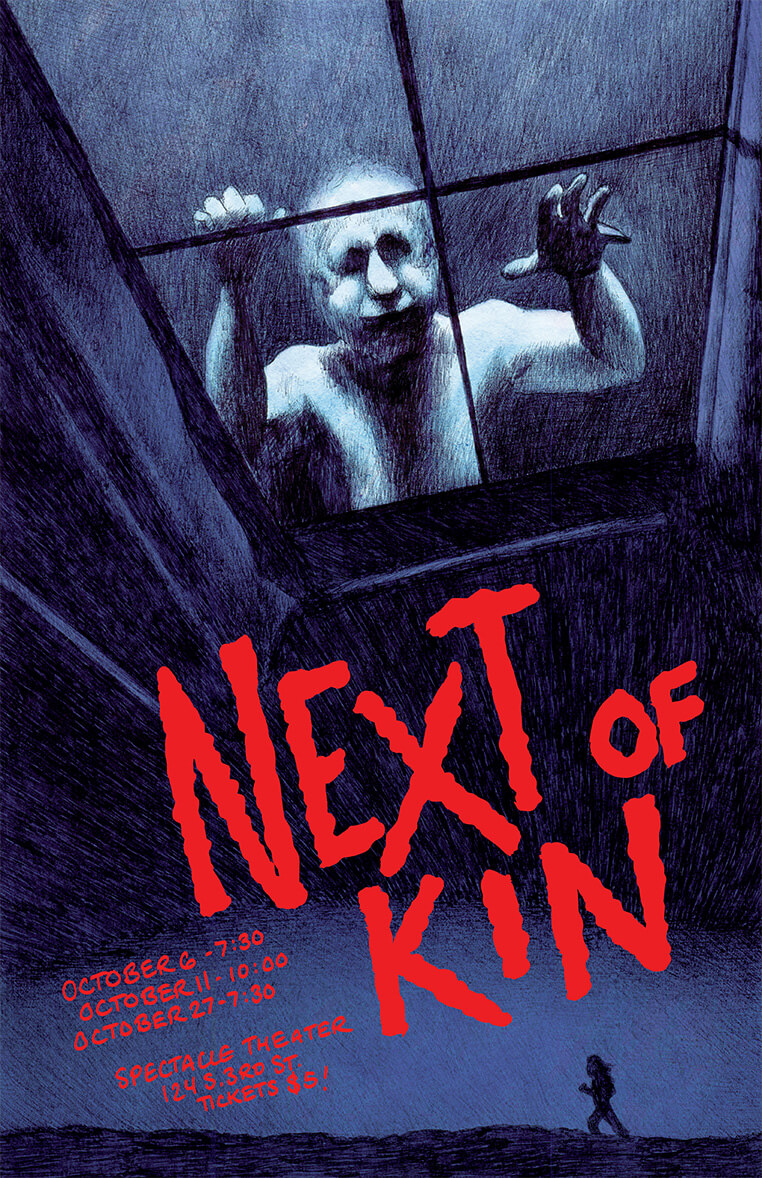 Poster by Tyler Rubenfeld! Available on Etsy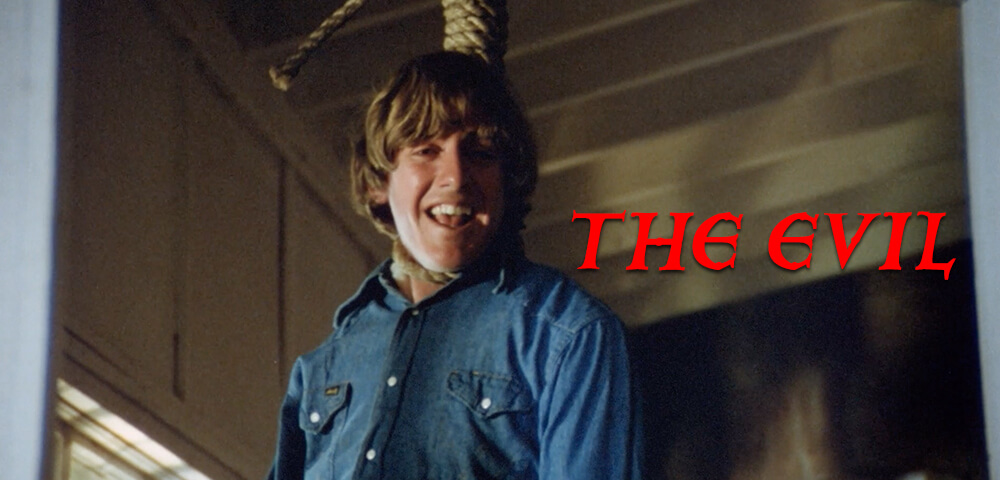 THE EVIL
dir. Gus Trikonis, 1978
89 mins. United States.
MONDAY, OCTOBER 1 – 7:30 PM
FRIDAY, OCTOBER 19 – 10:00 PM
SUNDAY, OCTOBER 28 – 7:30 PM
MONDAY, OCTOBER 29 – 10:00 PM
Just when you thought you'd seen every 'house built over a portal to hell' flick, along comes Gus Trikonis' THE EVIL.
Dr John Arnold and his wife Caroline have just purchased the Civil War-era Vargas mansion, with plans to turn it into a modern rehab center. As a motley crew of students and patients pile in to clean out the house, a ghostly presence makes itself known. Caroline tries to warn John, but the no-nonsense, all-logic, capital D-doctor will hear none of it.Of course it isn't long before someone unlocks the portal to hell, night descends and the demonic force locks them in. Will any of them escape the grasp of THE EVIL???
Directed by Gus Trikonis (Indio in the original WEST SIDE STORY) and featuring earthquakes, at least two more electrocutions than you'd expect, and no less than one instance of a wire-gag-made-visible-by-remaster, this is the THE HAUNTING / THE SENTINEL mashup you didn't know you needed.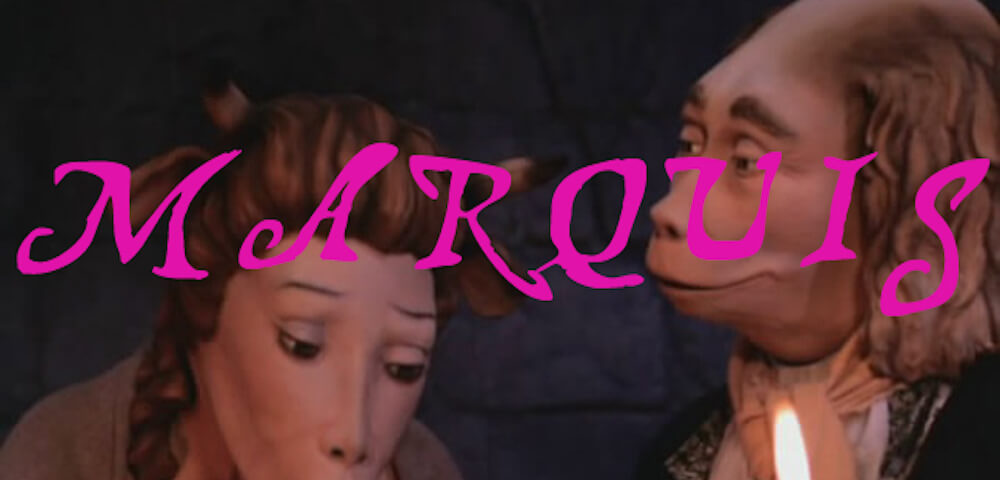 MARQUIS
Dir. Henri Xhonneux. 1989
78 mins. France.
In French with English subtitles.
TUESDAY, OCTOBER 2 – 10:00 PM
SATURDAY, OCTOBER 6 – MIDNITE
FRIDAY, OCTOBER 12 – 10:00 PM
FRIDAY, OCTOBER 26 – MIDNITE
Clumped in your history book between the chapters on French Revolution and pioneering 18th century erotic fiction grows a horny, pornographic mold called MARQUIS.
Immersed in a world in which uncanny animal masks mirror the spirit of the character within, a canine Marquis de Sade serves a prison sentence for allegedly raping the bovine Justine… but the situation may be more complicated than it seems. In between bouts of banter with his anthropomorphic, meter-long penis Colin, the Marquis gets down to writing a few of his more infamous scenes—many depicted in surreal claymation. Before too long the Revolution has begun, but where will it leave the Marquis?
Co-written by Henri Xhonneux and Roland Topor—animator of 1973′s inimitable surrealist classic FANTASTIC PLANET — MARQUIS's bizarre tone swings at will between irreverent perversion and clear-headed satire, never failing to entertain and utterly confound.
"This is one of the strangest movies I have ever seen. I found it to be discomforting and just weird. It makes you squirm in your seat and wonder what the people making this are like in real life. It's definitely entertaining and it sort of sucks you in, especially if you don't know French and have to read subtitles. It is certainly not American and it is certainly very peculiar. I have never seen a movie where everyone is wearing life-like animal costumes and acting like humans in very abnormal ways. This movie gives me the chills. However, I would watch it again just because it is so fascinatingly WEIRD." –IMDB user 'ethylester'
"NOT FOR THE PRUDISH." -Variety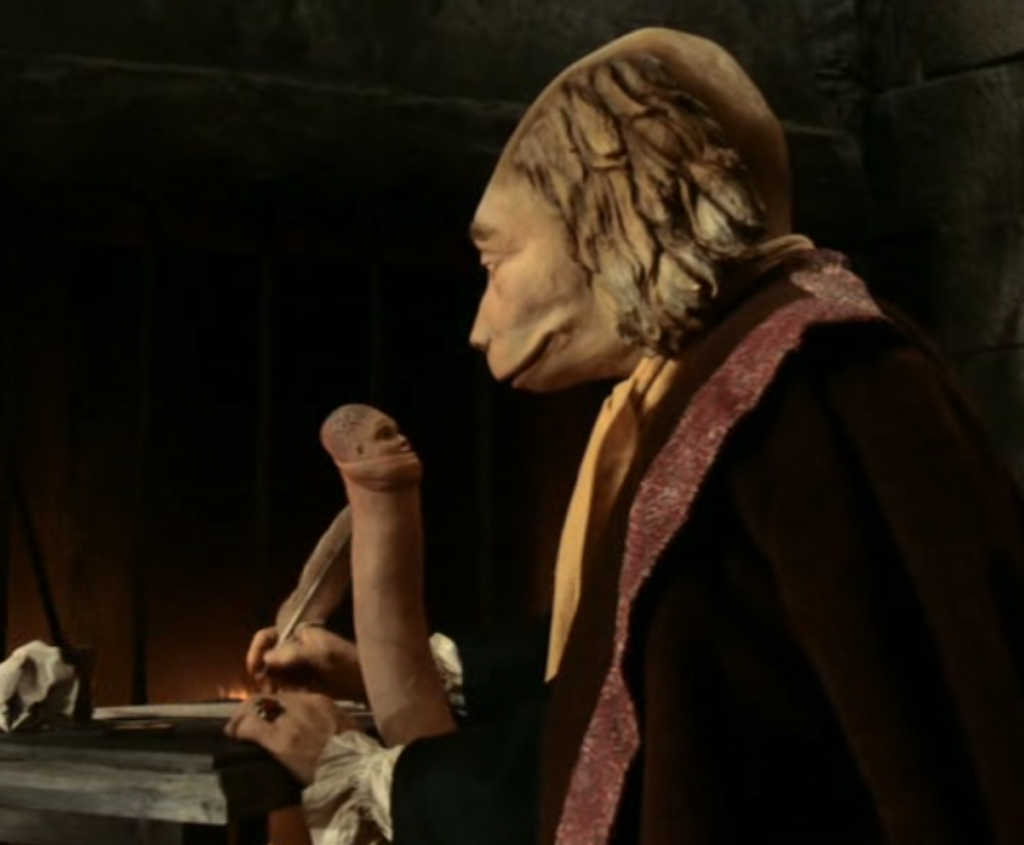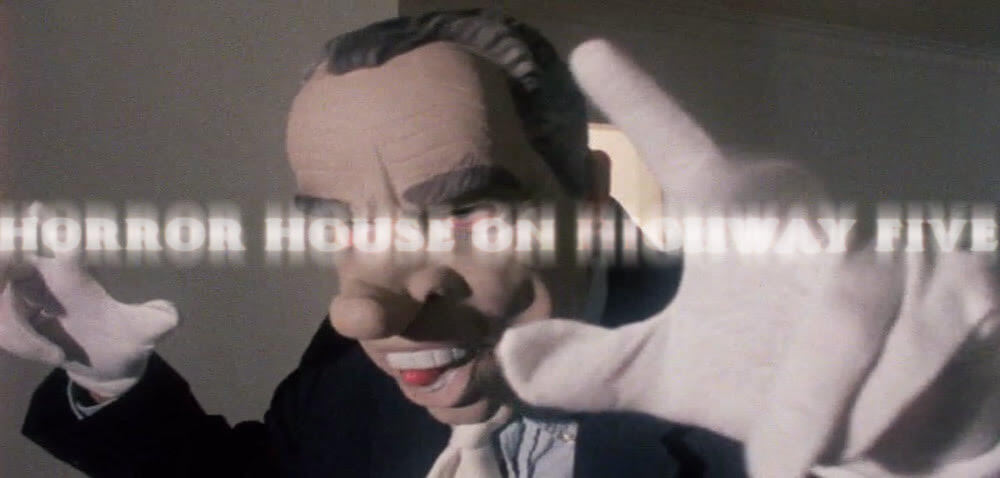 HORROR HOUSE ON HIGHWAY 5
dir. Richard Casey, 1985
Ohio. 91 mins.
THURSDAY, OCTOBER 4 – 10:00 PM
FRIDAY, OCTOBER 19 – MIDNITE

"They were young, and in love. He was crazy. She was dead."
Trigger. Nazis. Nixon. Trigger. Nixon. Murder. Killer. Horror. Nixon. Kidnap. Reagan. Murder. Terror. Horror. Future. Torture, Murder. Never.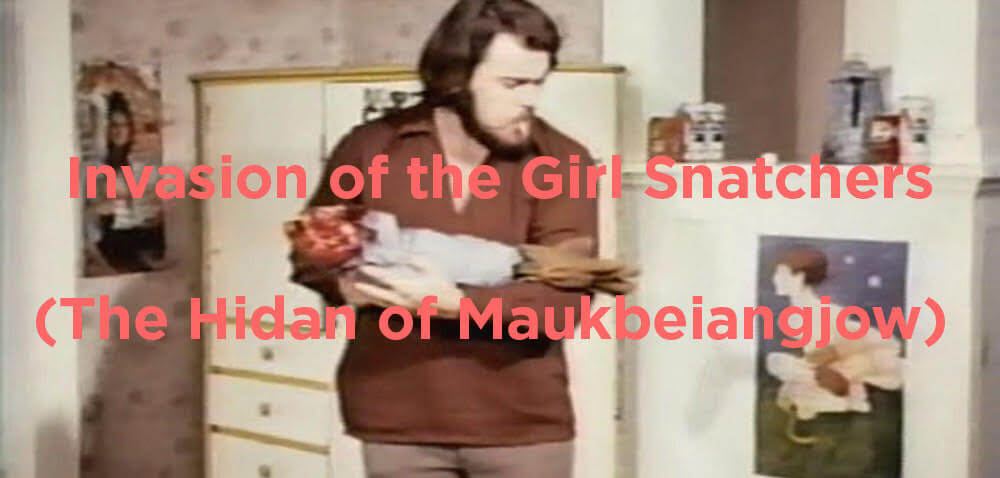 INVASION OF THE GIRL SNATCHERS
(aka THE HIDAN OF MAUKBEIANGJOW)
dir. Lee Jones, 1973
Kentucky. 93 mins.
WEDNESDAY, OCTOBER 10 – 10:00 PM
SATURDAY, OCTOBER 27 – MIDNITE
"Nice glyphs!"
New wave parody? Secret truth about UFOs? Stoned goof? INVASION OF THE GIRL SNATCHERS is all three and more to boot. Made using some of the same sets, equipment and crew as the William Girdler scuzz-epic THREE ON A MEATHOOK, this film was originally titled THE HIDAN OF MAUKBEIANGJOW (Hidan meaning "high place") by Don Elkins and Carla Rueckert, two UFO researchers (see http://www.llresearch.org/default.aspx for more info) asked by director Lee Jones (who produced Supervan, Grizzly and Honey Britches) to write any script they wanted so long as it had sex and violence. With befuddled aliens, tracking devices hidden in bras, a safecracker named Freddie Fingers, body-switching, topless sorcery and more, GIRL SNATCHERS is like a zero budget MISSION:IMPOSSIBLE with metaphysical digressions, goofball puns and a lovely rural Kentucky quality that puts more self-conscious parodies to shame.