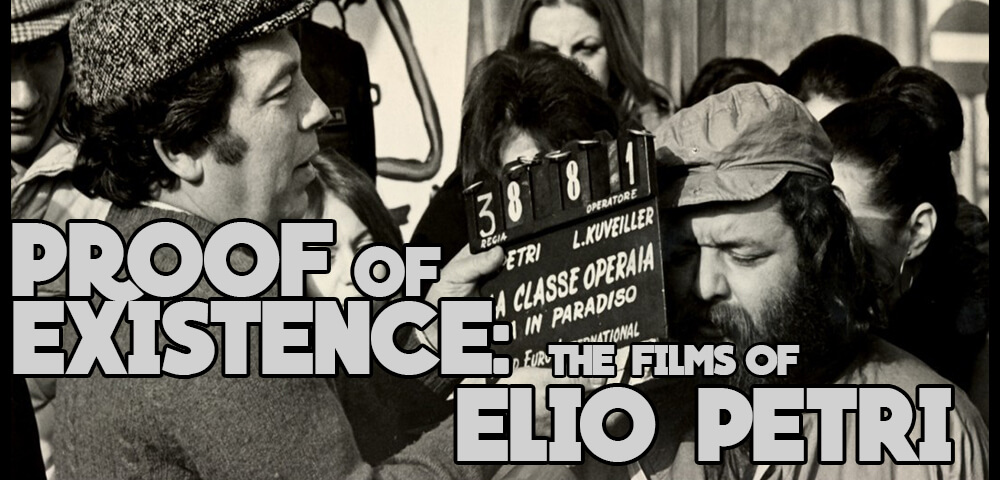 One of the better Oscar-acceptances was by Elio Petri, who said he was too busy working on another film and sent Leslie Caron to accept it with no prepared statement. Meanwhile, he was in the middle of THE WORKING CLASS GOES TO HEAVEN, with Gian Maria Volonté on set, complaining that the script went against the Communist Party and getting into fist fights with students. The film itself would go on to piss off the radical Italian left and tie for the Grand Prize at Cannes.
Petri studied with the neo-realists, but his films do not dwell on portraits: instead, they show how individual psychologies conflict with their social and political world. The contents of an individual are in high contrast: what contains a person is constantly trying to burst out and inflict some damage on the social and economic strictures. What makes a character is not that they play out a minor drama or undergo a personal change, but that they rip at the contradictions in their physical world, and in doing so, truly exist. Petri called these "dialectical films" – those that showed the tension and contradictions of life rather than mere representations. They are not only intense, but also cunning, desperate, funny, and strange.
---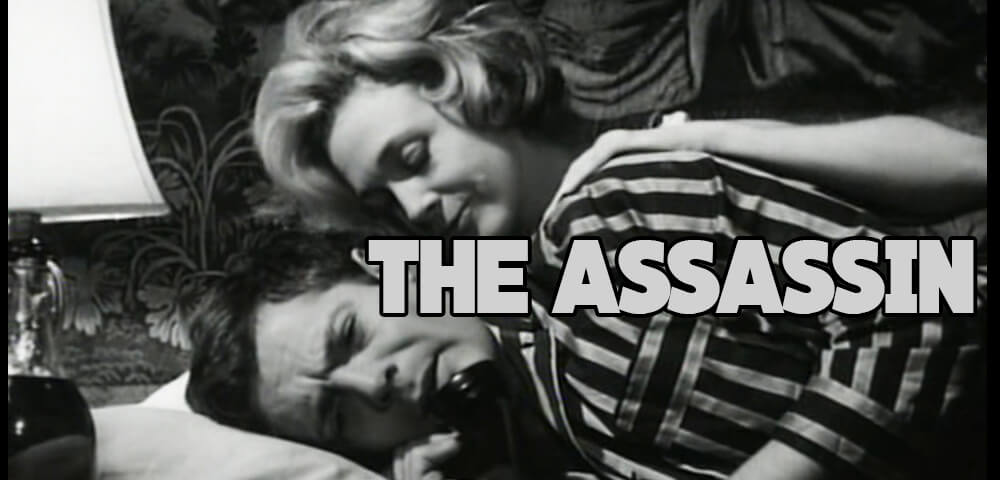 L'ASSASSINO (THE LADY KILLER OF ROME, or THE ASSASSIN)
Dir. Elio Petri, 1961
Italy, 95 min.
In Italian with English subtitles
SUNDAY, JULY 1 – 5 PM
FRIDAY, JULY 6 – 10 PM
SUNDAY, JULY 9 – 10 PM
TUESDAY, JULY 17 – 10 PM
This is Petri's feature film debut, starring real-life lady killer Marcello Mastroianni as Alfredo Martelli, the key suspect in the murder of a wealthy older woman. He is subsequently sequestered and endlessly questioned by an inspector, who not only probes Martelli's relationship to the dead woman but also his general moral turpitude. Censors had many issues with how the film portrayed police authority (including a scene where policemen did not wipe their feet before entering a home), but Petri is equally taking shots at the young men of new wave cinema. The loud jazz soundtrack plays like a joke, and Martelli's lack of integrity and passion is a critique of a generation. Petri comes from a different perspective, and this film defines how his films will stand apart from the art of his time.
---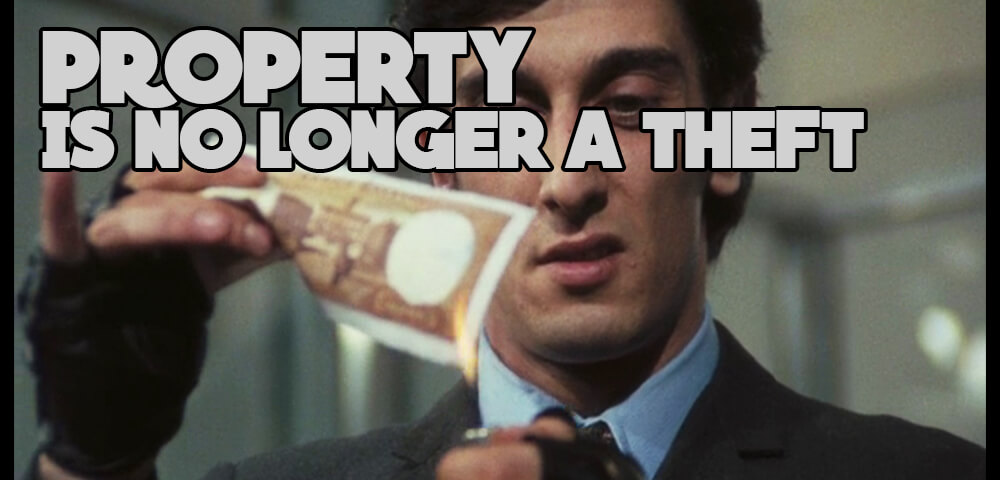 PROPERTY IS NO LONGER A THEFT (LA PROPRIETÀ NON È PIÙ UN FURTO)
Dir. Elio Petri, 1973
Italy, 126 min.
In Italian with English subtitles
THURSDAY, JULY 5 – 7:30 PM
FRIDAY, JULY 13 – 7:30 PM
TUESDAY, JULY 17 – 7:30 PM
MONDAY, JULY 30 – 7:30 PM
This is a stark and theatrical film that circles around two opposing characters: The Butcher, a rapacious capitalist, and Total, a self-proclaimed "Mandrakin Marxist". Flavio Bucci is Total, a low-level accountant with the look of a hangdog-Stallone and a physical allergy to paper money. Ugo Tognazzi is The Butcher (recognizable from LA GRAND BOUFFE), a spokesperson for the potency of wealth and the wisdom of fully insuring your property. Total claims to steal only what he needs, but he has a psychological need to infuriate The Butcher with petty theft.
Ennio Morricone's subtle score is accompanied by groans and conjugations of the verbs "to be" and "to have", to an effect that is not as existential as it is surreal. Total summarizes the point: "I would like to be and to have, which is impossible. Property is longer a theft… it's a disease."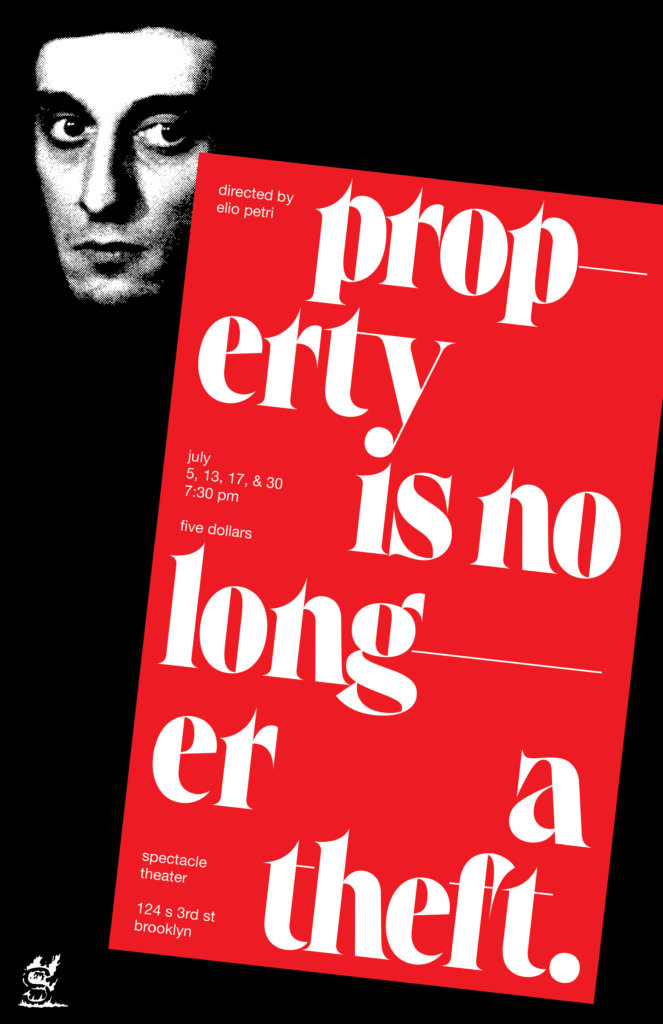 Poster and typeface by Benjamin Tuttle
---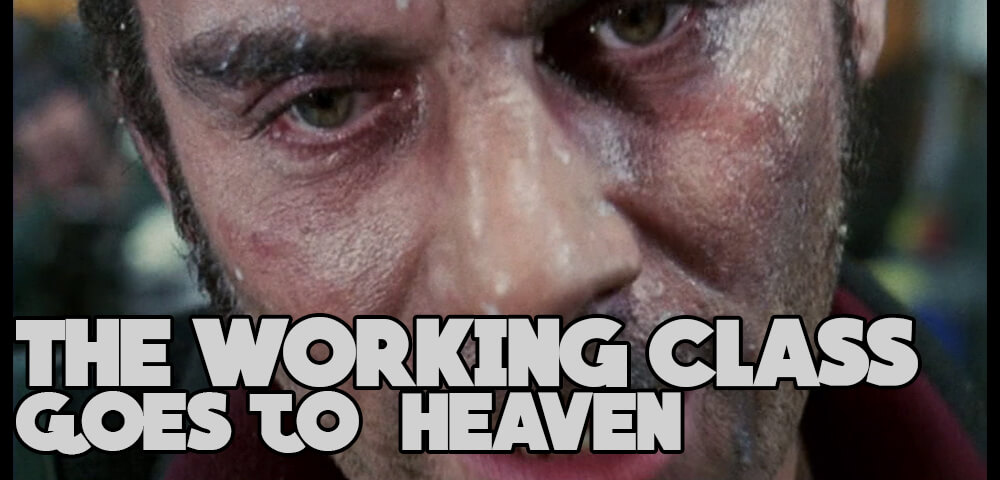 THE WORKING CLASS GOES TO HEAVEN (LA CLASSE OPERAIA VA IN PARADISO)
Dir. Elio Petri, 1971.
Italy, 125 min.
In Italian with English subtitles
WEDNESDAY, JULY 4 – 7:30 PM
SATURDAY, JULY 7 – 7:30 PM
SUNDAY, JULY 8 – 5 PM
MONDAY JULY 16 – 7:30 PM
TUESDAY, JULY 31 – 7:30 PM *Q AND A WITH NICOLA GUARNERI*
In some ways, this is an inverted reprise of Petri's INVESTIGATION OF A CITIZEN ABOVE SUSPICION, the Oscar-winner from 1970. Gian Maria Volonté returns as the main character, this time a wound-up factory worker rather than high strung police detective. Morricone creates another essential score, sometimes drowned out by relentless yelling and clanging of factory machines. The factory was in no way staged: many of the workers in the film are not actors but employees.
Lulu Massa (Volonté) proves to be more of a hot-head than a working-class hero. Petri's depiction of factory organizing is brutally honest: the factory gates are plagued with megaphone-toting students who bark slogans and annoy the workers. But a transformation occurs when Lulu loses a finger in a cutting machine and channels his new anger into support for a factory-wide strike. The "Italian miracle" was only achievable when workers did 15 hours worth of work in 8, and did so as a point of pride. When this ethos breaks, its power and determination seeks a different outlet.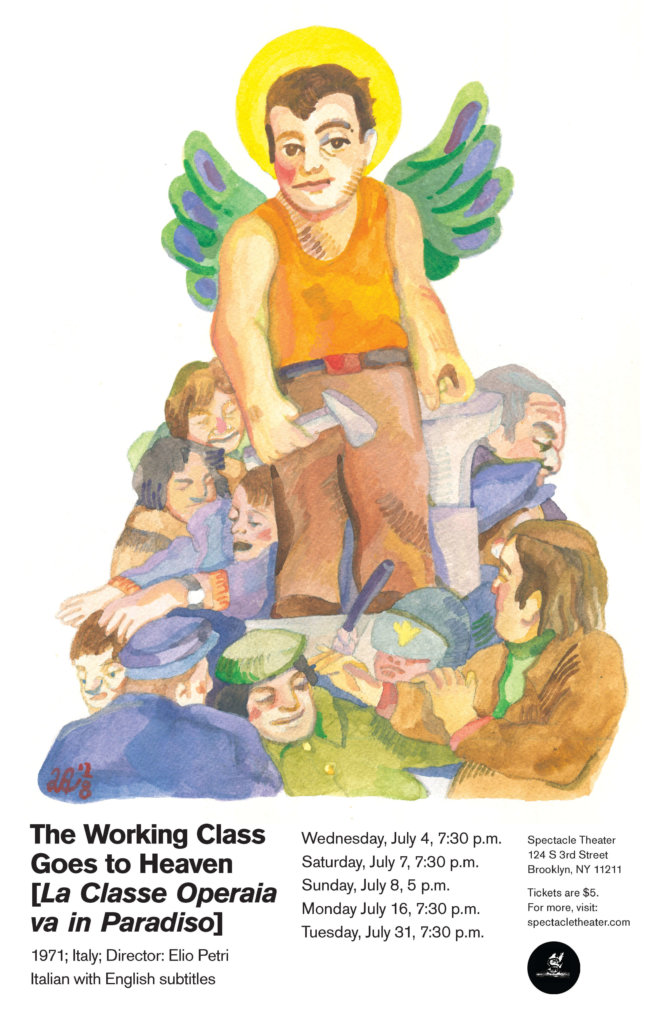 Poster by Luke Alexander Atkinson
---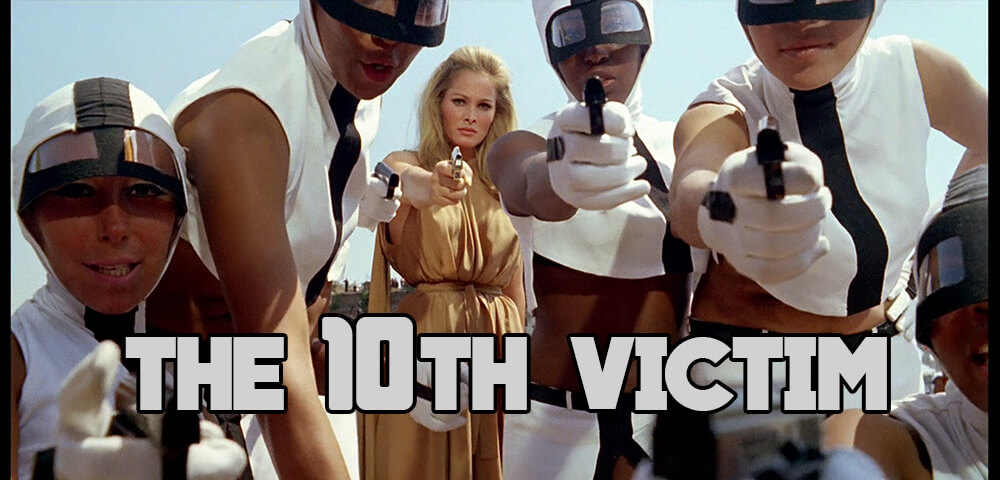 THE 10TH VICTIM (LA DECIMA VITTIMA)
Dir. Elio Petri, 1965
Italy, 93 min.
SATURDAY JULY 28th – 10 PM
ONE NIGHT ONLY!!!
"The rules of the big hunt are quite easy. Rule #1: Each member is obliged to undertake ten hunts, five as the hunter, five as the victim. Rule #2: The hunter shall know all about his victim – name, address, habits too. Rule #3: The victim shall not be told who his hunter is: he must find out – and kill him."
Don't be mislead by the pronouns in those rules: Caroline Meredith (Ursula Andress) is a skilled killer and needs to kill one more person to finish the game. She wants to do it in grand style and needs to get it on camera to fulfill a lucrative sponsorship deal with the Ming Tea Company. All in all it is a truly mod affair: bold colors, mod concept, mod clothes, and furniture that is enviably mid-century mod. This is an unusual entry in the Petri canon – it's some super-hip sci-fi within a critical social concept, and it's great.
---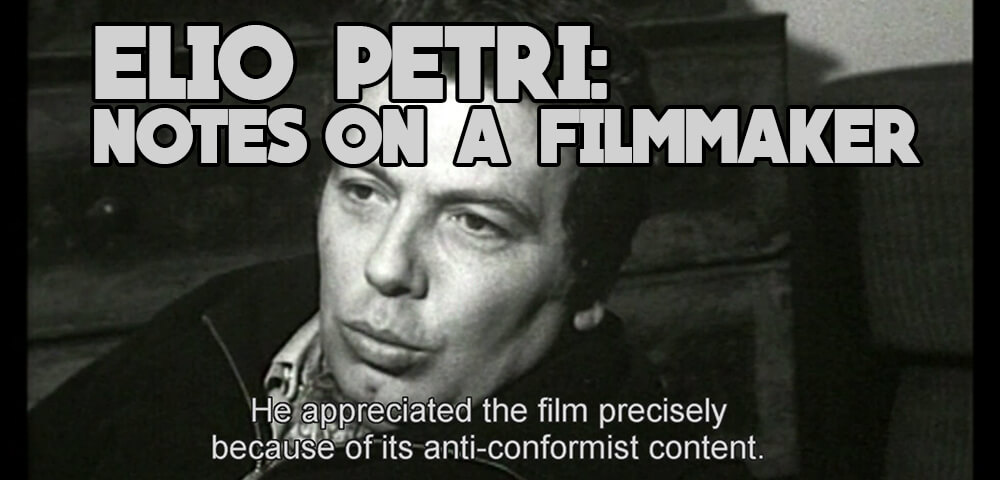 ELIO PETRI: NOTES ON A FILMMAKER (ELIO PETRI: APPUNTI SU UN AUTORE)
dir. Federico Bach, Nicola Guarneri, et al.
2005, 90 min.
In various languages, English subtitles
SUNDAY, JULY 8 – 7:30 PM 
TUESDAY, JULY 31 – 10 PM *Q & A WITH DIRECTOR NICOLA GUARNERI*
"–What am I then? I come from a working class family, poor, if not abjectly poor. I instinctively chose to side with the workers. Circumstances led me to become a filmmaker. Which circumstances? The hundreds and thousands of films I saw and loved. The fact that the poor become boxers, or popular musicians, or filmmakers. The fact that film was, in those days, a popular art form." – Elio Petri
This straightforward documentary winds through Petri's career, guided by interviews with actors, directors, critics, and collaborators – including his widow Paola. It's an excellent introduction to Petri's films as well as their intersections with financial supporters, the public, and the broader political context. Ennio Morricone tells a story of Petri putting the wrong score to a film as a prank, which even in the retelling is deeply emotional.