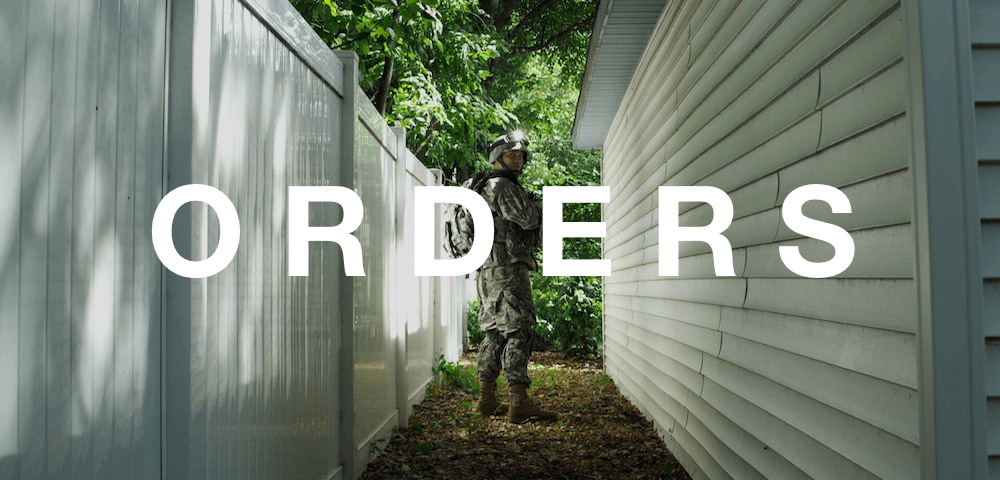 ORDERS
dirs. Eric Marsh and Andrew Stasiulis, 2017
106 mins. United States.
*NYC PREMIERE*
*FILMMAKERS IN PERSON*

FRIDAY, NOVEMBER 30th – 7:30 PM (Q&A with film critic Vikram Murthi) + 10 PM w/Q&A
SATURDAY, DECEMBER 1 – 7:30 PM (Q&A with film critic Vadim Rizov)
SUNDAY, DECEMBER 2 – 7: 30 PM
MONDAY, DECEMBER 3 – 10 PM
TUESDAY, DECEMBER 4 – 7:30 PM
WEDNESDAY, DECEMBER 5 – 10 PM
THURSDAY, DECEMBER 6 – 7:30 PM
FRIDAY, DECEMBER 7 – 7:30 PM
"Don't never volunteer for nothing." – A soldier's mother
Even if the Trump Administration abandoned their plans for a North Korea-style military parade this November, Spectacle is pleased to close the year out with a NYC PREMIERE PRESENTATION of Andrew Stasiulis and Eric Marsh's ORDERS. After a jawdropping opening salvo that "brings the war home" to the quintessential American cul-de-sac while sowing schizoid confusion, ORDERS follows the travails of one PFC Fagen (Keith D. Gallagher) in the suburbs of Chicago, a domestic theater of combat where the enemy is perhaps even more elusive than Over There. Without a facile retelling of the United States' forever-wars, or the wholesale repackaging of the same vehicles and weapons to local police forces, Stasiulis and Marsh's film becomes a reflection on the military-industrial complex that's absurdist yet genre-bound, the filmmakers at once acknowledging and interrogating their clear debts to the heyday of American macho cinema – Ford, Fuller, Kubrick, Mann, et al. The same goes for the eternal tropes of soldierdom: dead-eyed and hollowed-out, Fagen's botched flirtations with martyrdom begin to look inevitable. Described by its makers as "a ghost story in digital camouflage", ORDERS finds itself no less topical today than when Marsh and Stasiulis  set to work during the first Obama Administration. They forgo a readymade plot setup to tie it all together (or the anticipated "it was all a dream" framing device), instead letting the film become a Black Lodge-style liminal interlude, a deep dive into the unholy commingling of war and cinema. Ambitious in scope, startling in accomplishment, ORDERS is a rarity among independent features: a dizzying logistical accomplishment that also doubles down on a unique, idiosyncratic approach.
"Marsh and Stasiulis fill up their film with abandoned, haunted suburban textures: mildew-spatter on a garage door, an empty flower bed surrounded by dry-rotted railroad ties, the spaces that empty out as American home life knots ever-tighter around the glowing screen at its center. It's the perfect place from which to speak on drifting monotony and forgottenness, the status quo of the film's addled men." – Jonathan Kieran, NoBudge
"One of the best, boldest debuts I've seen in a long time." – Filmmaker Stephen D. Cone (HENRY GAMBLE'S BIRTHDAY PARTY, PRINCESS CYD)
ANDREW STASIULIS was raised in Bensenville, Illinois (Forbes Magazine's "Fastest Dying Town in America", 2008). He tried and failed to join the Communist Party when he was 13 years old. Following this setback he retreated into James Bond movies and eventually pursued his education in film, receiving a BA in Cinema Production from DePaul University and a Masters in Film Studies from the University of Edinburgh. Joining DePaul University's School of Cinematic Arts as faculty in 2011, Andrew's current academic research explores the phenomena of the combat image and the ontology of the cinematic experience. In addition to his teaching, Andrew is a filmmaker interested in post-structural approaches and guerrilla tactics.
ERIC MARSH is a filmmaker and lifelong Chicagoan. He received a BA and MFA in cinema production from DePaul University, where he is currently an adjunct professor in the School of Cinematic Arts. Since 2004 Eric has worked as a director, writer, editor, and producer of short films and music videos. In 2009 he completed his first feature film, FRONTWARDS, a micro-budget road trip comedy that no one saw. When Eric isn't making, going to, or teaching movies he moonlights as a video essayist, sportswriter, and DJ.

VIKRAM MURTHI is a film critic based in Brooklyn who has contributed to such publications as The A.V. Club, Vulture, RogerEbert.com, The Film Stage, and Rolling Stone.
VADIM RIZOV is Droopy Dog on Twitter.