Upsetting many an innocent audience's stomach, NEKROMANTIK and NEKROMANTIK 2 have deservedly earned a cult reputation for their wanton necrophilia and general repulsiveness. Yet more than just isolated cinematic perversions, these films belong to a mini-movement of transgressive cinema pouring forth from Berlin during the late 80's and early 90s. Spectacle is unfortunately proud to present a three month long mini-retrospective of two filmmakers from this milieu – Carl Andersen and Jorg Buttgereit. Perfect for spoiling even the most well thought out Valentine's day date, Jorg Buttgereit's NEKROMANTIK 1 and 2 will be playing all February followed by Buttgereit's DER TODESKING and SCHRAMM to keep you feeling cold through March and Carl Andersen's no-wave scored MONDO WEIRDO and VAMPYROS SEXOS (AKA I WAS A TEENAGE ZABBADOING) playing all April.
[CONTENT WARNING: These films contain scenes of explicit sexual contact, mutilation, rear female nudity, violence, frontal male nudity, dark humor, disembowelment, nihilism, decapitation, deviant sex, depictions of murder, frontal female nudity, documentary footage of the actual killing of an animal, ejaculation, mental illness, rear male nudity, criminal mischief, on-screen urination, sexual perversion, blood, adult language and necrophilia.]
Special thanks to Cult Epics and American Genre Film Archive.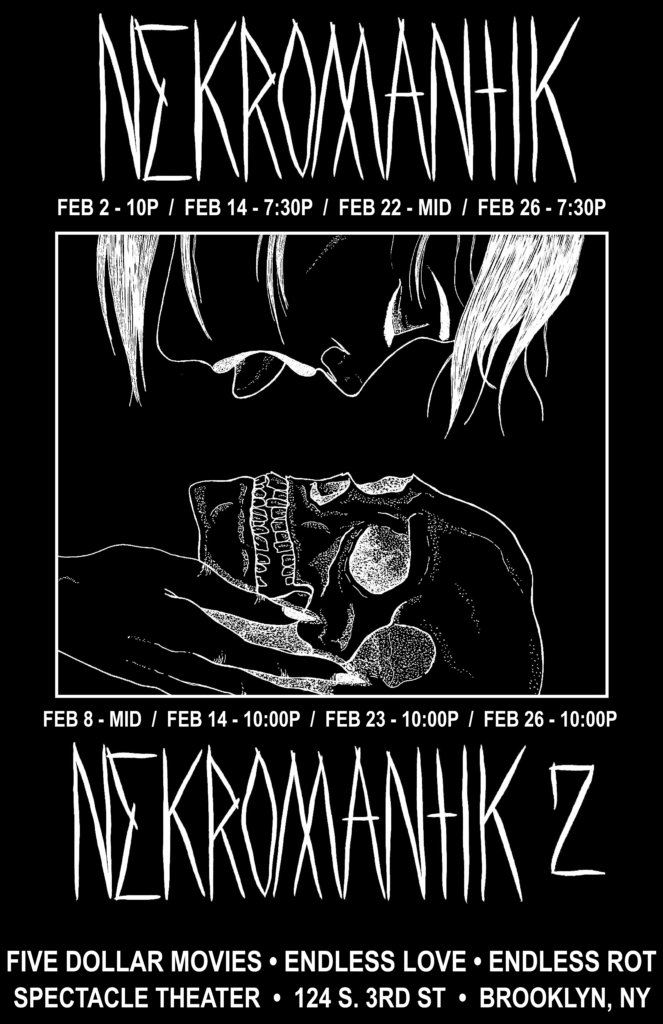 ( poster by Stephanie Monohan )
---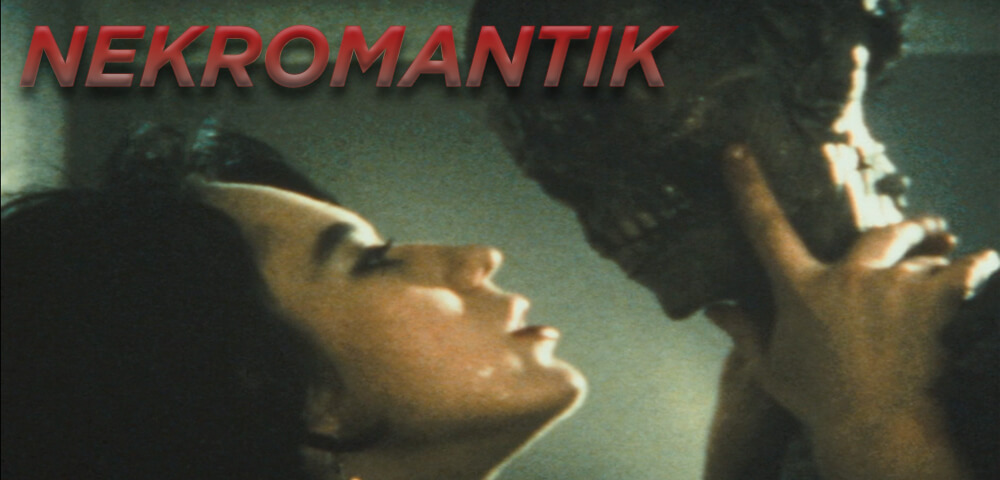 NEKROMANTIK
dir. Jorg Buttgereit, 1987
Germany. 75 min.
In German with English Subtitles.
SATURDAY FEBRUARY 2 – 10 PM
THURSDAY FEBRUARY 14 – 7:30 PM
FRIDAY FEBRUARY 22 – MIDNIGHT
TUESDAY FEBRUARY 26 – 7:30 PM 
ONLINE TICKETS
DUMBASS FACEBOOK EVENT
Guaranteed to make you gag, Buttgereit's feature debut was concieved with a purely punk spirit in mind – how far can a film go before its maker would be arrested. NEKROMANTIK follows Rob and Betty – a lovely young couple fond of collecting body parts in jars and bathing in blood. When Rob brings home a mildly rotten cadaver from his job cleaning corpses off the street, the two fall rapidly in love with it – eating dinner dinner with it, reading bedtime stories to it, and initiating it into their sex life. However when Betty decides to leave Rob and run away with the corpse, Rob spirals into utter depravity.
Banned in nearly every country aware of its existence, NEKROMANTIK has rightfully become a cult classic of underground horror cinema. Yet it's reputation as a gross-out sleaze-fest can betray a lot of the tenderness Buttgereit surprisingly lends the film. Shot on grainy 8mm and set to a soft romantic piano melody, the film feels more like a hypnagogic elegy than an exploitation quickie.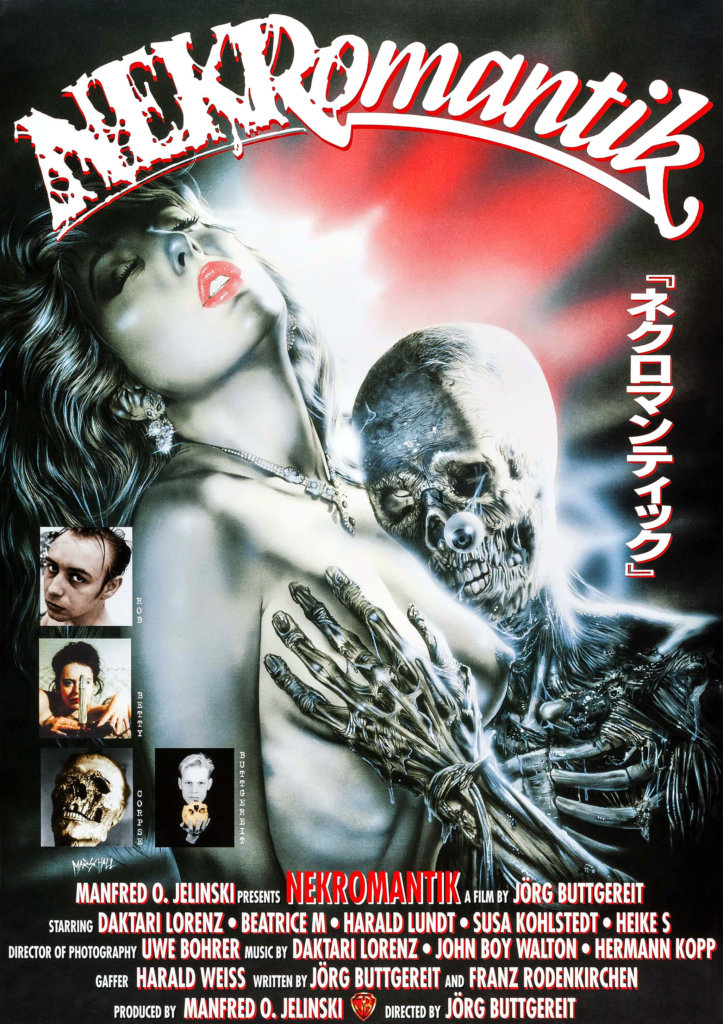 ---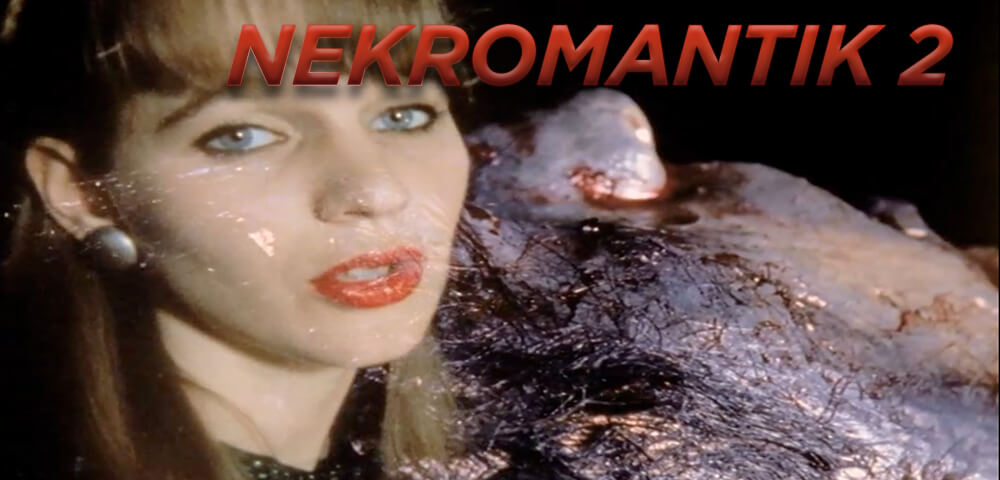 NEKROMANTIK 2
Dir. Jorg Buttgereit, 1991
Germany. 105 min.
In German with English Subtitles.
FRIDAY, FEBRUARY 8 – MIDNIGHT
THURSDAY, FEBRUARY 14 – 10 PM
SATURDAY, FEBRUARY 23 – 10 PM
TUESDAY, FEBRUARY 26 – 10 PM
ONLINE TICKETS
DUMBASS FACEBOOK EVENT
"I want to master life and death" -Ted Bundy
NEKROMANTIK 2 begins right where the first film disgustingly left off, but it's not long before the film finds its own sickeningly romantic direction. Monika has a proclivity for digging up corpses and taking them to bed with her, but when she meets Mark, a sensitive soul who dubs porn for a living, her heart is torn. The bizzare love triangle develops across romantic trips to the amusement park, an awkward movie date featuring an absurdist parody of MY DINNER WITH ANDRE, and more taboo sex than you would ever think to ask for.
Significantly longer than the first film (110 minutes compared to the previous 70) and made with a modestly bigger budget, NEKROMANTIK 2 feels less like a continuation of the original than an expansion of its ideas. Gone is much of the excessive sexual violence that made NEKROMANTIK a favorite amongst 80s German punks and in its stead comes a greater attention to psychological detail of Monika's romantic frustration. With a balletic camera capable of gracefully spinning through the air in ways rarely achieved before the advent of digital and more deliberate narrative rhythms, the sequel seems to fully realize the original's repugnant poetry.