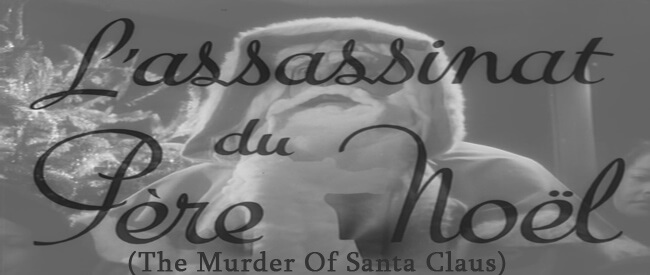 THE MURDER OF SANTA CLAUS
Dir. Christian-Jaque, 105 min.
France, 1941.
In French with English subtitles
TUES, DECEMBER 13- 10PM
SAT, DECEMBER 17- MIDNIGHT
WED, DECEMBER 21- 7:30PM
FRI, DECEMBER 23- 10PM
After the fall of France to Nazi forces in 1940, it took little time for the German government to end all film production except for a state-run production company. That company was Continental Films, established in October 1940, and its first film, released a year later, was L'Assassinat du père Noël, translated as The Murder Of Santa Claus. Based on the Pierre Very novel, the film is a kind of fairy tale that slowly turns both more magical and darker, a film at stark contrast to the circumstances of its creation, and yet deeply connected in ways which become stranger and more subversive as we reach the solving of the title's riddle.
An old watchmaker, playing Santa Claus, is found dead, and on a primary level the film is a detective story led by the rules of the fantastic, as likely to drift into love story or fable as anything. Led by the great Harry Baur (THE GOLEM), who plays the watchmaker with charm to burn, the performances all bring a brio and mystery which ties perfectly with the astonishingly dreamlike setting. Director Christian-Jaque (A LOVER'S RETURN, FANFAN LA TULIPE), in one of his first films, works for the first time with actress Renée Faure, who would become not only his go-to star, but his wife as well. Anyone looking to avoid yuletide treacle should definitely investigate this rarely-seen gem.
Harry Baur, a year later, was arrested by the Gestapo after attempting to defend his wife; he was released in 1943 but died shortly thereafter under "mysterious circumstances".