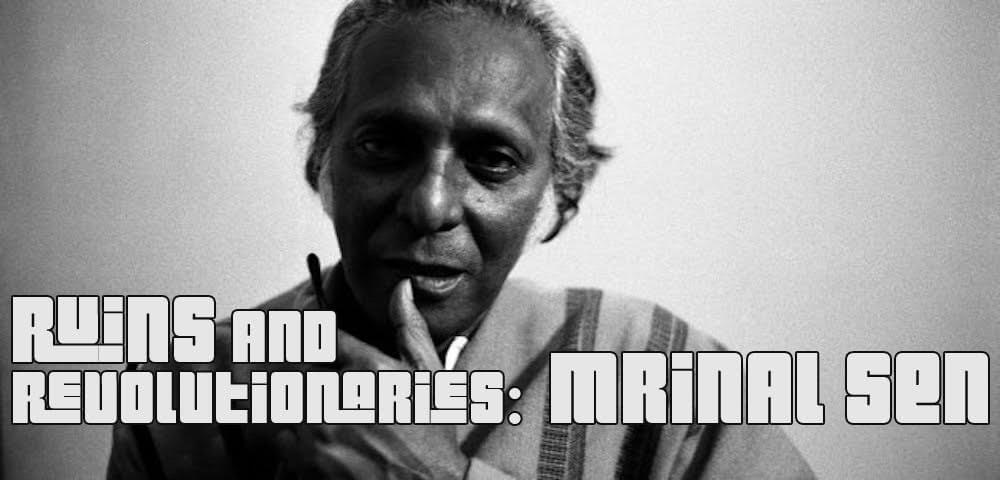 MRINAL SEN, director of at least 34 feature films in the Indian state of Bengal, passed away on December 30th at age 95. Critics called his early work the catalyst of the Indian New Wave and he became one of the major figures in Bengali "parallel cinema". Sen came from a politically active family, and lived through India's independence, Marxist uprisings and communist rule in Bengal, and the more recent rise of conservative nationalism.
Sen's films tend to center around ideas and interpersonal exchanges, which expand through a solid cast of actors and carefully shot settings. Sen worked frequently with celebrated cinematographer KK Mahajan, including the three films in this small retrospective. What comes through is a portrait of Calcutta and it's surrounding region from the relationships within it. Political parties are questioned, middle class values are laid bare, and the ancient past makes an inescapable imprint.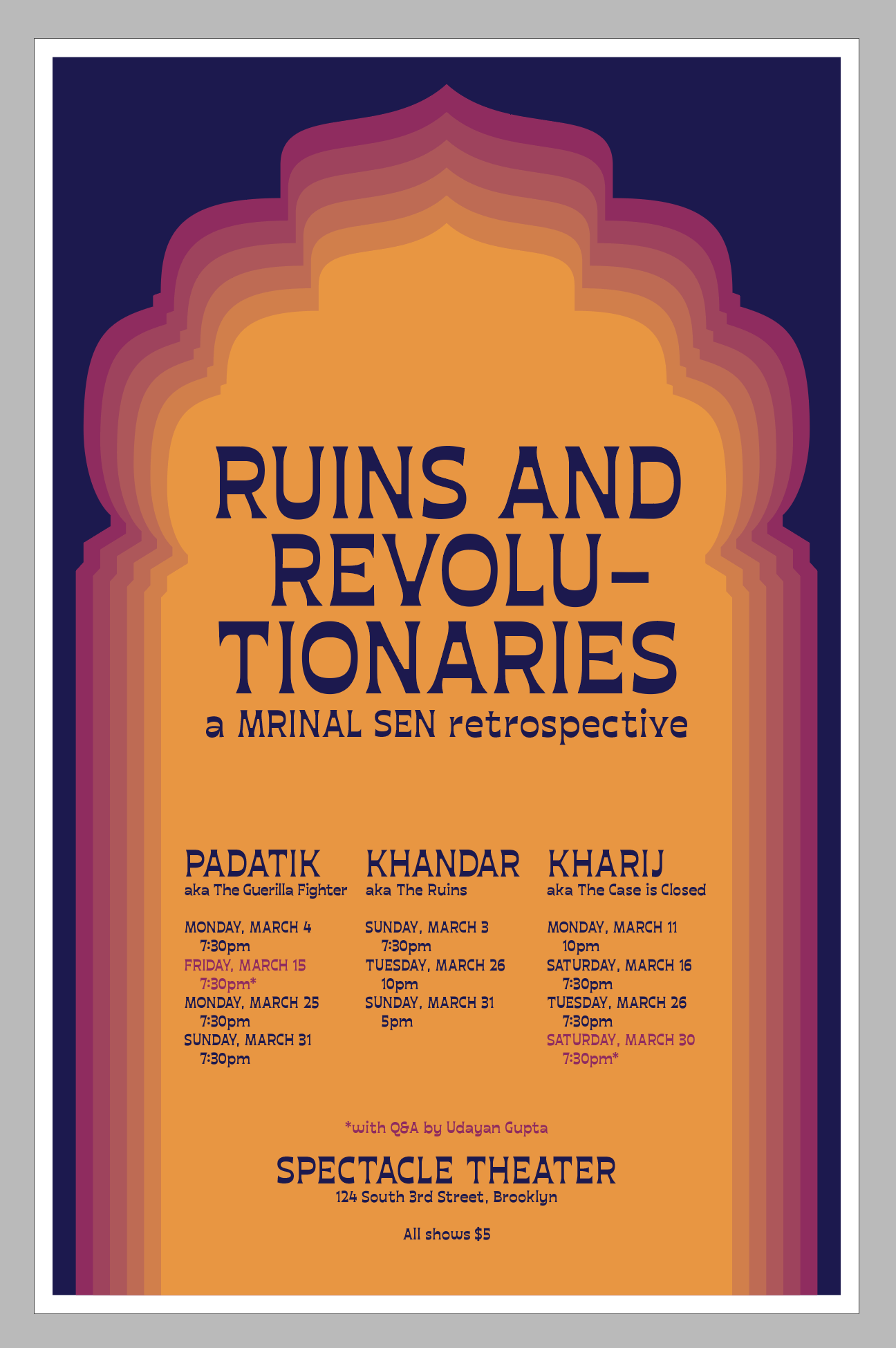 ---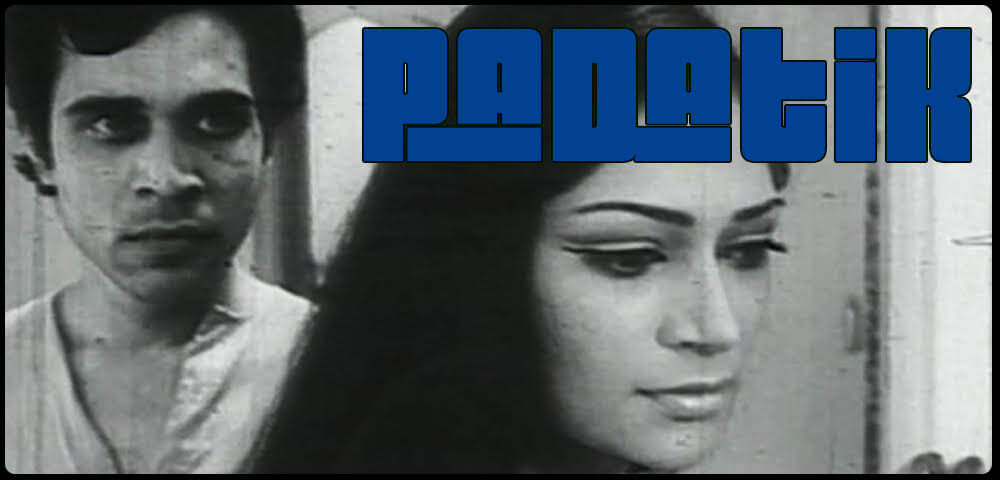 PADATIK
(aka THE FOOT SOLDIER)
dir. Mrinal Sen, 1973
India, 91 min.
In Hindi/Bengali with English subtitles.
MONDAY MARCH 4 – 7:30 PM
FRIDAY MARCH 15 – 7:30 PM (Q AND A with writer UDAYAN GUPTA)
MONDAY MARCH 25 – 7:30 PM
SUNDAY MARCH 31 – 7:30 PM
PADATIK is the last film in Mrinal Sen's triptych of Calcutta films, which includes INTERVIEW and CALCUTTA '71. This film largely takes place within a young woman's apartment, where a young revolutionary hides from the authorities. Sumit has taken part in a high-profile action and was lucky to escape capture. He spends his days in Shila's flat reflecting on his own philosophical turmoil, suspicions within the party, and a difficult relationship with his father. Shila (Simi Garewal) works a day job in advertising but also a side project where she interviews local woman on gender inequality. PADATIK balances the tension of the domestic hideout with playful new-wave film gestures, assuring that life is full of beautiful distractions.
One can assume Sumit is a Naxalite, a catchall term used at the time by authorities to describe all revolutionary guerrillas and left-wingers. An armed revolt of landless peasants and urban bombings of state offices in the late '60s lead to a massive crackdown against supposed agitators. By the early '70s, 2,600 people were detained, and many more were murdered in the countryside. Some took to hiding, as is the case in PADATIK. This film shows the complexity of party engagement, struggles with defeatism, and the strain put on family and relationships.
---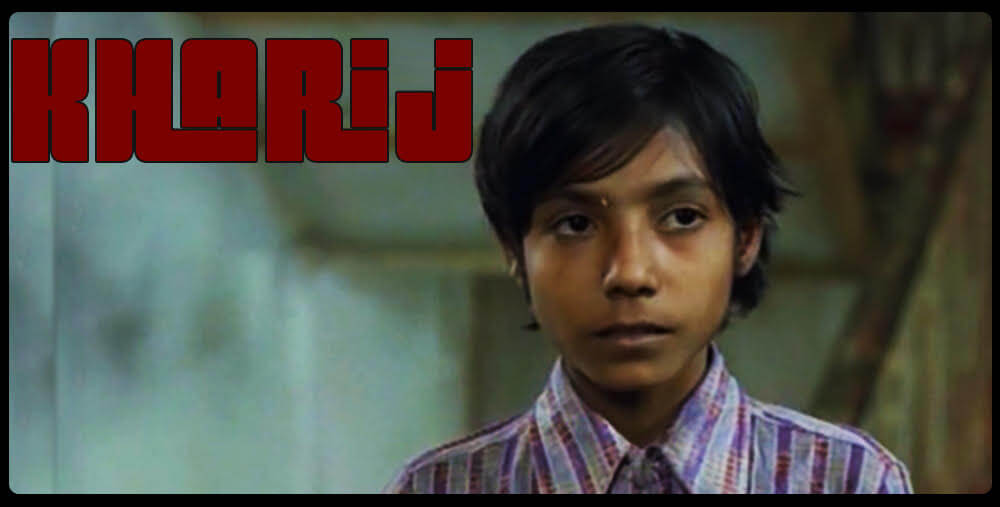 KHARIJ
(aka THE CASE IS CLOSED)
dir. Mrinal Sen, 1982
India, 99 min.
In Bengali with English subtitles.
MONDAY MARCH 11 – 10 PM
SATURDAY MARCH 16 – 7:30 PM
TUESDAY MARCH 26 – 7:30 PM
SATURDAY MARCH 30 – 7:30 PM (Q AND A with writer UDAYAN GUPTA)
A bourgeois couple hires a twelve-year-old boy from a desperately poor background to do household chores. During a cold spell, he dies in his sleep while barricaded in the kitchen. This tragic incident is beyond the emotional and practical abilities of the young couple, and they bumble through doctor's reports, police investigations, and legal advice. The collective lack of care for the young boy is apparent, yet the blame is bounced around between the husband, the wife, and the landlord.
"All of us are at fault universally… we try to set aside the truth with these [law] books", says a lawyer friend of the family. The law protects the middle class couple, however they must live with the guilt for the way they live in the world.
---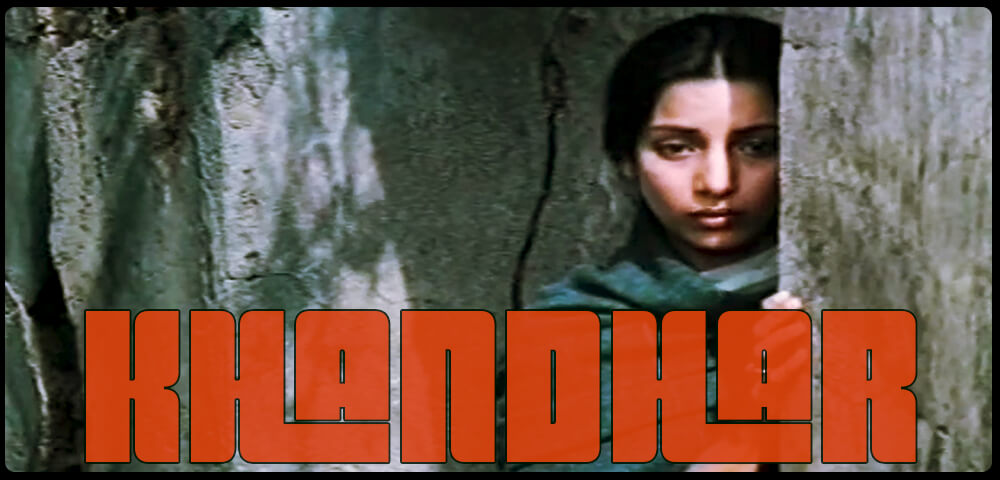 KHANDHAR
(aka THE RUINS)
dir. Mrinal Sen, 1983
India, 100 min.
In Hindi with English subtitles.
SUNDAY MARCH 3 – 7:30 PM
TUESDAY MARCH 26 – 10 PM
SUNDAY MARCH 31 – 5 PM
"Want a drink? Dinner here can take centuries."
Two city guys are convinced by their friend to take a trip to his family's crumbling countryside manor to relax and appreciate the decaying beauty. Soon after they arrive, they are made aware of a lingering marital drama that haunts the ailing matriarch and Jamini, her daughter. Subash, a quiet photographer, explores the estate and becomes entranced by Jamini. They develop an almost wordless and torturous flirtation. There is something ancient and fated that thwarts them, as though the ruins themselves play an active part in their destiny.