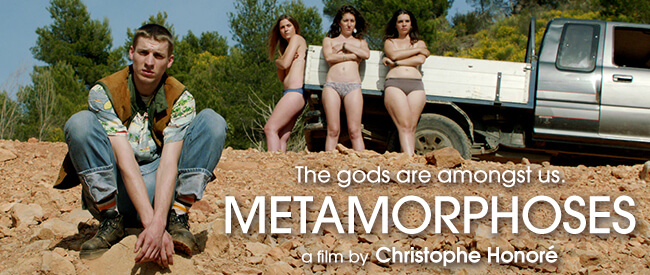 METAMORPHOSES
dir. Christophe Honoré, 2014
France. 102 minutes.
In French with English subtitles.
METAMORPHOSES (Christophe Honoré, 2014) from Spectacle Theater on Vimeo.
THURSDAY, MARCH 23 – 7:30 PM
SATURDAY, MARCH 25 – 10 PM
SUNDAY, MARCH 26 – 7:30 PM
TUESDAY, MARCH 28 – 10 PM
THURSDAY, MARCH 30 – 10 PM
When Europa skips class and meets a magnetic young man named Jupiter, she embarks on an unexpected and magical journey. Traveling aboard Jupiter's eight-wheel truck, they arrive in a mythical land inhabited by powerful gods who can transform humans into plants or animals in the blink of an eye. Europa watches, listens, and plays in their immortal home, becoming acquainted with Jupiter's friends, Bacchus and Orpheus. As the confrontation between seductive, yet vengeful gods and innocent mortals unfolds, Europa grasps a greater sense of life and love in this revelatory modern-day retelling of Ovid's Metamorphoses.
"Playful, dirty, edgy, and wondrous." – Dustin Chang, ScreenAnarchy
"A remarkably beautiful film." – Jonathan Romney, Film Comment
Special thanks to Monument Releasing.