---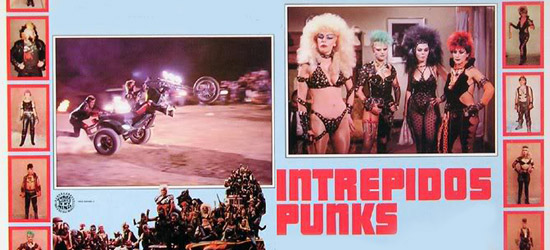 FRIDAY MAY 3
SPECTACLE MANDATORY MIDNIGHTS presents
INTREPIDOS PUNKS
Francisco Guerrero, 198?
92 min. Mexico. In Spanish with all-new subtitles.
Don't miss our showings of the sequel LA VENGANZA DE LOS PUNKS all month!
ENCORE SCREENING added SATURDAY, MAY 18 at 7:30 PM! Catch the entire INTREPIDOS saga back-to-back!
"I found this VHS in a box of tapes someone left on the sidewalk.
I was surprised it was a cool movie."
Anonymous, the internet
"It's 99.9% certain that this is the most gleefully assaultive display of a misappropriated cultural movement in history, which is by no means a criticism. […] This film isn't recommended… it's MANDATORY."
Destroy All Movies!!! The Complete Guide to Punks on Film
"It wouldn't be entirely beyond the pale to say that my entire life has been leading up to the moment I first heard of, then tracked down and watched this overwhelmingly fantastic slice of punk rock exploitation. […] Intrepidos Punks is a colossal juggernaut, a true giant striding across the landscape of sleazy movies. If you have not seen it, you will notice there's probably a little hole in your soul. A hole shaped exactly like a busty blonde in a chainmail bikini, sporting gigantic hair and a grenade launcher. Let Intrepidos Punks plug that hole and finally make you complete."
Teleport City
Intrepidos Punks is about a sexy apocalyptic biker gang led by a ruthless luchadore pushing drugs, racing choppers and killing the police who are helpless to stop them. And partying. Featuring the song "Intrepidos Punks" along with an unabashed rip-off of "Sweet Emotion" that improves significantly upon the original.
---

SATURDAY MAY 4
EQUINOX
Jack Woods, 1970.
80 min. USA.
In August of 2012, Spectacle played host for the New York premiere of a shot-on-video horror anthology called SLAUGHTER TALES. The film was helmed in nearly every department by a then 15 year old from Philadelphia who goes by Johnny Dickie. Dickie wrote, directed, starred in, and provided a veritable cornucopia of practical special effects. With only a few locations and a long shooting schedule, SLAUGHTER TALES was a homegrown labor of love from a young filmmaker with an obvious appreciation of that slice of horror. While certainly not perfect, the film had it's heart and head in the right place…usually removed from the body and covered in stage blood.
Though SLAUGHTER TALES likely won't be relegated to the classic status of a film as mighty as EQUINOX (Sorry, Johnny!), it's comforting to know that the idea that if you love movies, you can still get together with your friends and make something that lies somewhere between pet project and a sleeper cult hit to be discovered years later.
In 1965 a young Dennis Muren had a choice to make. He was 17 and could use the money his grandfather had set aside for him to either go to college or do something sensible and make a feature length genre defining, effects pioneering film. Having made the right choice, Muren and friends David Allen and Mark McGee set about making their vision come to life and over the course of the next two and a half years THE EQUINOX…A JOURNEY INTO THE SUPERNATURAL was born. Among their support group was none other than Forrest J. Ackerman (famed/revered/beloved editor of FAMOUS MONSTERS – who would also lend his voice to the film in an uncredited cameo!) who helped the gang to snag Fritz Leiber in the role of Dr. Waterman. Muren and Allen headed up the technical side and dove headfirst into the special effects. Monsters abounded, winged demons poured out the ether, and giants stomped around the screen with terrifying voracity. And all reportedly to the tune of less than $7,000!
With the film completed, Muren set out to show it to the world but that proved to be difficult. Initially trying for a TV release, Muren ended up shopping it around Hollywood. The premise and eye popping special effects grabbed the attention of Jack H. Harris. Harris had been the man who picked up THE BLOB (and later DARK STAR, SCHLOCK, FEAR OF A BLOB PLANET, DINOSAURUS, 4D MAN, etc). He shortened the title to EQUINOX and hired Jack Woods to beef up the run-time. Rehiring the original actors and casting himself as in the role of Asmodeus, Woods (with Ed Begley Jr on ass't camera duties) retooled the creature feature and soon 35mm prints were stuck! The film was unleashed on the world and in the coming years would help mold the very essence of the "cabin in the woods" subgenre. Without EQUINOX arguably, there would be no EVIL DEAD series.
In the wake of EQUINOX many of it's creators would flourish. Dennis Muren continued down the path of effects work and would soon have a wheelbarrow full of Acdemy Awards for his efforts on films like the STAR WARS trilogy, ET, JURASSIC PARK, DRAGONSLAYER, CAPTAIN EO, and more recently SUPER 8. David Allen also pretty much changed the game in terms of effects while working on films like WILLOW, HONEY I SHRUNK THE KIDS and became responsible for all things good in the world of Full Moon features with work on DOLLS, OBLIVION, and the PUPPET MASTER films to name a few. While this is Jack Woods only directing credit, he would end up with a lengthy sound department resume with titles like PHANTASM II and the STAR TREK franchise.
Spectacle Midnights are humbled and honored to present this film (a favorite around the Goth Bodega) with the kind permission of Jack H. Harris and featuring a very special video intro from Mr. Dennis Muren himself (!!!) to cap off what will undoubtedly be an unforgettable evening.
---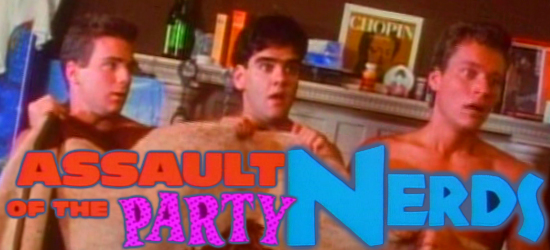 FRIDAY MAY 10
WEEKEND NERD-A-THON presents
In case you weren't aware The Spectacle has its share of NERDS, but rather than try and rehabilitate ourselves into cool, well groomed, productive members of society, we've said "whatever, let's party…Nerd Style!"
The Spectacle's WEEKEND NERDATHON. Midnights May 10th and 11th!
BE THERE and BE SQUARE!
First up…
ASSAULT OF THE PARTY NERDS
Dir. Richard Gabai, 1989.
USA. 82 min.
Now, I don't know a lot about mathematical beauty, but here's an elegantly simple cinematic equation so perfect it might make your calculator cry:
NERDS + PARTY = AWESOME MOVIE.
It's true, and here's a perfect example:
1989's bare bones masterpiece, ASSAULT OF THE PARTY NERDS.
Writer-director Richard Gabai (Nightmare Sisters)  stars as Richard Spencer, president of Lambda Alpha Eta,  a fraternity consisting of him and three other guys , all prime examples of the genus NERDUS EXTREMUS.  These Lamda brothers have spent the last 4 years on the couch in front of the tube, but now graduation time is around the corner and these full time geeks intend to RAGE against the dying of the light. How? By throwing the "greatest party in the history of the school, if not the world."  Now it's just a matter of finding a way to bankroll the apocalyptic blowout and keeping the jacked up jocks from wringing their pencil-necks long enough to make NERD HISTORY!
Executive produced by prolific schlockmeister David DeCoteau (Sorority Babes and the Slime Ball Bowl a Rama) and featuring unforgettably kooky performances by Michelle Bauer (Cafe Flesh) and Linnea Quigley (Return of the Living Dead), Assault of the party nerds takes B movie minimalism to new heights and standards of good taste to a new low.
2 locations, 5 days of shooting,  a fast, funny script, nerds, jocks, tons of beer and one hell of a party! It all adds up to one essential NERDSTERPIECE!
With a killer soundtrack by Gabai's own power pop outfit, The Checks, these nerds are  sure to get the party started!
Part of The Spectacle's WEEKEND NERDATHON! Only at MIDNIGHT. MAY 10th!
---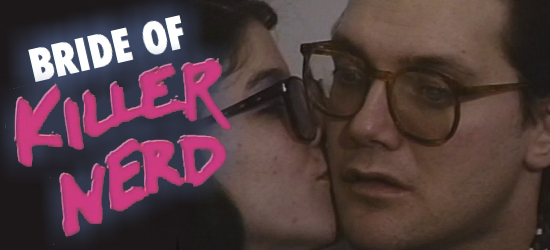 SATURDAY MAY 11
WEEKEND NERD-A-THON and TROMA ENTERTAINMENT present
BRIDE OF KILLER NERD
Dir. Mark Steven Bosko, Wayne Alan Harold, 1992
USA. 75 min.
The Spectacle's WEEKEND NERDATHON continues with a view into the dark side of Nerdom!
Just when you thought nerd rage couldn't get anymore twisted or revolting, The Spectacle and Troma Entertainment present BRIDE OF KILLER NERD, a seriously sick sequel that proves two nerds are better than one when it comes to revenge, especially when they're in love.
Harold Kunkle is living a low key, quietly desperate existence in the wake of his revenge fueled killing spree (see Killer Nerd for more details). Angst ridden and contemplating suicide, Harold meets Thelma, another desperate nerd-soul who's reached the end of her rope. These two love-nerds have finally found someone to live for, but will they live happily ever after? Come on,  what do you think?  After a nasty prank, this really odd couple does what nerds do best when pushed too far, they get revenge!
Toby Radloff, American's Genuine Nerd is back in a powerfully understated performance this time around, but the film belongs to Heidi Lohr in an absolutely chilling performance as the BRIDE OF KILLER NERD.
This Ohio(bleaksville) shot sequel to the original cult SOV masterpiece has it all: pitch  black comedy, SPLATTER, dark glimpses into nerd psychology and SKA. Pretty scary, right?! A truly disturbing and vicious ride that gives the original a run for its money.
It's shorter, it's sicker, it's only at MIDNIGHT!  Part of The Spectacle's WEEKEND NERDATHON!
NERD! NERD! NERD! NERD!
---

FRIDAY MAY 17
DEVILHELM
Dir. Craig Rahtz/Hibachi Chicken Films, 1999.
USA. 96 min.
English.
"When the Dark Elves, driven by hatred and greed, steal an evil relic known as the Devilhelm, chaos threatens the peaceful valley.  Only three ninja have the power and courage to stop this evil, and protect the earth from the ravaging powers of the Devilhelm."
"Intense martial combat combines with supernatural wizardry to make Devilhelm an unforgettable adventure."
Made over the course of three years in the woods of southwestern Ohio in the late 90s, Devilhelm is a virtually unknown exemplar of autodidactic backyard moviemaking.  Unconventional energy and invention is firmly on display, from the ambitious makeup and sets, to the primitive computer graphics and original soundtrack; most importantly, Devilhelm rides that right line of irreverence and sincerity that we all love when we hear the phrase "shot-on-video."
‪Ninja stars are thrown, riddles are spoken, the re‬ ‪d stuff sprays freely, ‬ ‪and some pagan raver vomits up a ____.‬
Originally released on VHS mostly to family and friends, Spectacle Theater is excited to reintroduce Devilhelm into the audience and dialogue where it belongs.
---

SATURDAY MAY 18
SPLATTERDAYS presents
BLOOD FEAST 2: ALL YOU CAN EAT
Dir. Herschell Gordon Lewis, 2002
USA, 92 min.
Fuad Ramses III is a caterer and is hoping to get a fresh start in Miami, by reopening the now defunct catering company once owned by his grandfather Fuad Ramses.
Things are going smoothly, and the residents of the neighborhood are impressed with his culinary aptitude, so much so, that he attracts the attention of the local socialite Mrs Lamply, who eventually hires Fuad to cater the wedding for her daughter, who is engaged to the town sheriff.
But, as he begins preparing for the big party, he discovers an ancient Egyptian statue of Ishtar which possesses Fuad, and commands him to use some pretty unconventional ingredients for the catering of the wedding; namely the wedding party!
As members of the brides attache continue to mysteriously disappear, the sheriff/groom grows suspicious of Fuad, but can't seem to prove anything, and is considered just paranoid and jealous by his friends and coworkers who are all getting fat off of Fuad's excellent cooking.
With the guests disappearing, and the wedding day fast approaching, can the sheriff stop Fuad's possessed murder madness before the big day?!
NO, EVERYONE IS SLAUGHTERED, SERVED, AND EATEN!!
---

FRIDAY MAY 24
ACT OF VENGEANCE (aka RAPE SQUAD)
Dir. Bob Kelljan
USA, 90 min.
English
Act of Vengeance is a 70s vengeance saga that sits alongside Coffy and Death Wish while delivering plenty of action and some grimy grindhouse moments. A man in an orange jumpsuit and a hockey mask has been stalking and tormenting women — you'll never hear "Jingle Bells" the same way again. After Linda fails to find any help after her attack from useless yokels and the incompetent police, she vows vengeance, and collects a team of other victims to help hunt down attackers and other scum. Plenty of sticking it to the man, plenty of creepy POV voyeurism, Charlie's Angels  style training montages, a pimp gets a serious beatdown in a scene Tarantino probably ripped off at some point, enough skin for the midnight crowd — this is pretty much a given.
---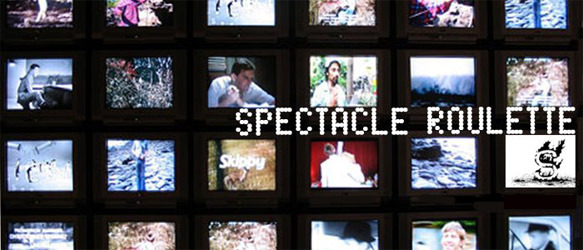 SATURDAY MAY 25
SPECTACLE MIDNIGHTS presents
SPECTACLE ROULETTE
Dir. ???, 19??/20??.
????. ??? min.
In any number of languages.
Once again it's time to spin the chamber! What are we going to show?
Cooking shows hosted by puppets from Iceland? Italian dancefighting epics? Hologramsploitation? Hostage situation bloopers? Dog Wedding Massacre? Open heart surgery? Prison slime fights?
Well, that's up to you.
The first 6 people to show up with a movie will be given the chance to lobby by showing 5 minutes of that film. After all 6 are shown, everyone votes and that's what we watch!
If you want to participate, please do the following:
1. Show up at least 15 minutes BEFORE midnight with your proposed film. (Either a DVD or digital copy!)
2. Be prepared to introduce your 5 minute clip and lobby hard for your candidate.
3. COME CORRECT. Bring the craziest thing you can find, no half-steps!
4. Tell your friends!
---

FRIDAY MAY 31
REFLECTIONS OF EVIL
Dir. Damon Packard, 2002
USA. 138 min
Obese, verging on diabetic, Bob (played by director Damon Packard) sells watches and over-consumes in a paranoid post 9/11 southern California landscape as the ghost of his sister, a victim of PCP overdose, desperately searches for him.
Beaming right into your third eye and sticking with you long after viewing like a bad acid nightmare, this tour de force by Packard makes a profound statement of American culture that no other director has dared show.
"It was shocking, intriguing, scary and subversive bad taste from beginning to end. But moments of humour and pathos shine through to keep you glued. Your "Mom" and the elderly couple in the cozy-bubble burb residence were just great. Seriously spot on!
— Ian Anderson (of Jethro Tull)
"Nothing short of genius."
— Henry Rollins
"This guy is really sick, no I mean he is really sick…I've got kids in the house!"
— Sylvester Stallone