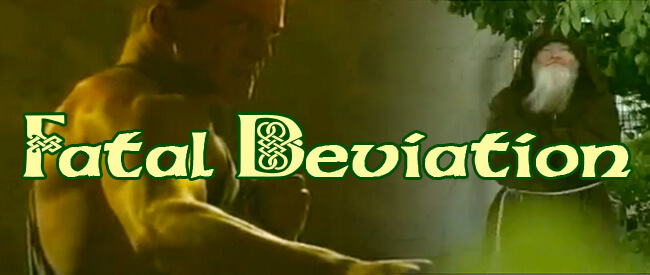 FATAL DEVIATION
Dir. Simon Linscheid, Shay Casserley, 1998.
Ireland. 76 min.
FRIDAY, MARCH 17 – MIDNIGHT
FRIDAY, MARCH 18 – MIDNIGHT
In keeping with St. Patrick's Day tradition, we're dragging Irish pride into the gutter with a holiday screening of FATAL DEVIATION, Ireland's first (and only) feature-length martial arts film. Written, produced, cinematographed, cast by, stunt-coordinated, and starring James Bennett, the film tells the story of Jimmy Bennett (unrelated), a young man returning home after a long absence, his future uncertain, his father gone. After witnessing Jimmy's takedown of local drug gang The Drug Lords Gang (featuring Mikey Graham, member of Ireland's lone boy band BOYZONE), a monk belonging to the local church's secret underground kung fu sect approaches with an offer to train Jimmy for the upcoming no-holds barred Bealtaine tournament.
As Jimmy learns the monk's secret techniques of cutoff shorts tai-chi and kicking near small fires, The Drug Lords Gang increasingly pressures Jimmy to join them. When he refuses, the Drug Lords call ace fighter Seagull back from Hong Kong to take Jimmy out in the tournament. Jimmy's only hope is mastering the FATAL DEVIATION, as taught by a man strongly resembling a drunk Led Zeppelin Hermit.
Filmed in the verdant backwater of Trim and featuring exactly one (completely unintentional) stunt, this is a film best witnessed in the safety of a group. Lacking Irish wit or charm and leaving you bewildered, FATAL DEVIATION has the same effect as a day spent chugging Car Bombs, but without the next day's hangover. So put down that green beer – if someone's going to slander the Irish good name, who better to do so than the Irish?
---
PART OF THE SPRING MIDNIGHT SERIES:
NASCHY AS II WANNA BE: RETURN OF NASCHY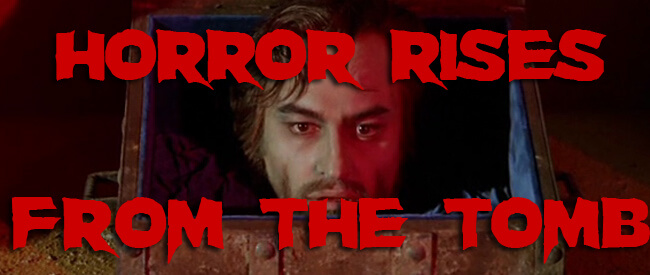 HORROR RISES FROM THE TOMB
Dir. Carlos Aured, 1975
Spain, 95 min. (original cut)
In Spanish with English subtitles.
SATURDAY, MARCH 4 – MIDNIGHT
FRIDAY, MARCH 10 – MIDNIGHT
WEDNESDAY, MARCH 15 – 10 PM
SATURDAY, MARCH 25 – MIDNIGHT
"Bastards! I curse you all!"
It's been exactly four years since the great Jacinto Molina Álvarez, aka Paul Naschy, last graced a midnight here at Spectacle. The time has never been better for the Spanish Lon Chaney to haunt the twee streets of Williamsburg, his bare-chested bravado and wry wit a perfect balance to gallons of Tempra-red blood and unspeakable black magic. The lord of the night returns for midnights through 2017! It's time to get…
AS NASCHY AS II WANNA BE!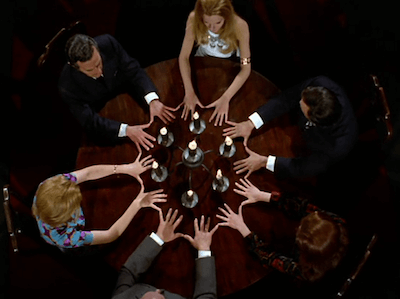 The year is 1454, and the diabolical warlock Alaric de Marnac (Naschy, natch) and his mistress Mabille De Lancré (Emma Cohen, from CUT-THROATS NINE and Jess Franco's AL OTRO LADO DEL ESPEJO) are accused of witchcraft, vampirism and lycanthropy before being tortured and killed (and Marnac gets his head cut off!), but not before cursing the offspring of their killers. Now it's the 1970s, and a group of friends led by Hugo de Marnac (Naschy in a second role!) and Maurice Roland (Naschy regular Victor "Vic Morror" Alcazar) attend a seance, asking tongue-in-cheek about the location of Marnac's head. Spoiler hint: they find it, and a whole lot more…Directed by Carlos Aured (BLUE EYES OF THE BROKEN DOLL, THE MUMMY'S REVENGE, contrasting beautiful French landscapes with gruesome murders (don't worry, our cut's the original Spanish version with all gore/nudity intact), it's an excellent introduction to Naschy's non-werewolf roles, with everything you'd want from a midnight: gallows revenge speeches, nightgowns aplenty, and Naschy's talking head in a box! Be sure to join us this March as HORROR RISES FROM THE TOMB!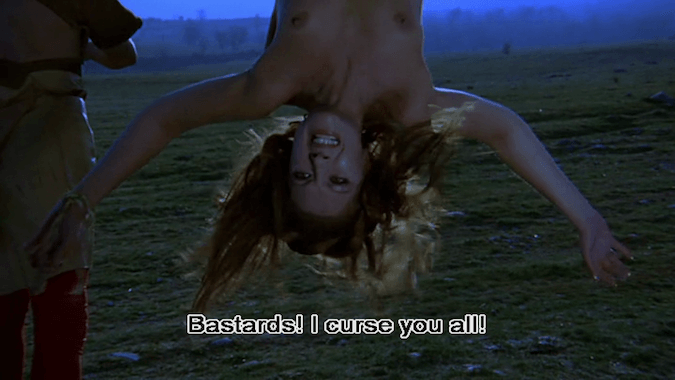 ---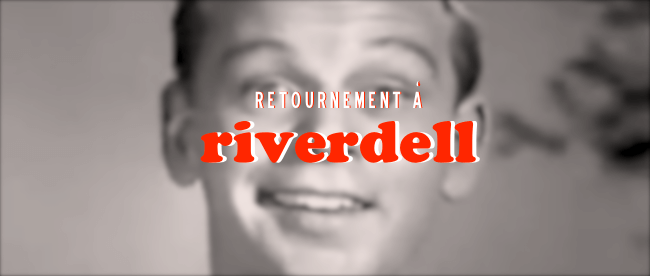 RETOURNEMENT A RIVERDELL
Dir. Various, 1989/1991
America, 100 min.
In English.
SATURDAY, MARCH 11 – MIDNIGHT
FRIDAY, MARCH 24 – MIDNIGHT
SATURDAY, MARCH 31 – MIDNIGHT
Somewhere deep within everybody, there's a town as American as apple pie – a place where a ginger-headed princox and his next door neighbor's daughter might share a malt fizz at the corner medicine shop, where a weathered jalopy still bolts down the street quicker than those new automobiles from Korea or Japan. A lifetime away from the time a certain weekly program helpfully venn-diagrammed America's favorite happy fool with the garish intrigue of David Lynch's TWIN PEAKS, there was RETOURNEMENT A RIVERDELL: a foreign film in English, assembled by elite power structures to emboss postwar nostalgia in magnetic tape, kicking around the loneliest late-night airwaves of television before a slow death (and shameful rebirth) on VHS under a different name.
The film offers a glimpse into the disappointments of growing up that can be called Lacanian: Archiie comes home to find Riverdell has changed, but not nearly enough. While Regggie has assumed the position of a cutthroat AMERICAN PSYCHO-style businessman, Archiie must wrestle with his own suburban privilege a priori the evaporating mirage of his childhood home… And in the same mirror he witnesses not just the crestfallen zeitgeist of a generation, but a deeper contraction within his own morals – having spent his entire adult life avoiding that old predicament with Bettty and Veronika.
RETOURNEMENT is not entirely unlike Laurence Kasdan's THE BIG CHILL: in essence, a documentary of curdled Boomer expectations smuggled like candy contraband into a TV dinner narrative template. When Jughead and his idiot son bob their way through a New Jack Swing cover of "Honey Honey" in front of pretty much everybody in town, the real lesson of RETOURNAMENT A RIVERDELL reveals itself thus: time's passage makes fools of us all.