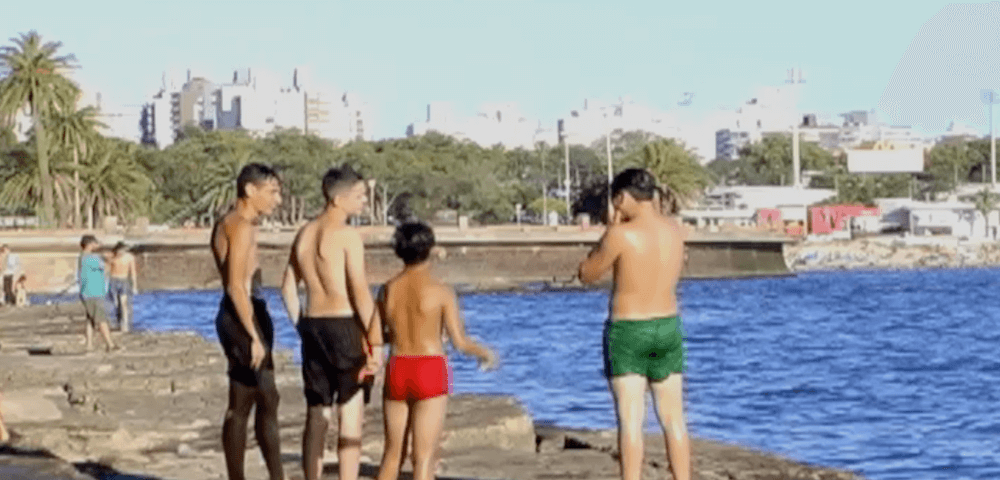 SATURDAY, JULY 13th – 7:30 PM w/discussion moderated by Sadie Benning & 10PM w/discussion moderated by Owen Kline
ONE NIGHT ONLY! NYC PREMIERE!
(These screenings are $10.)
Spectacle is pleased to invite Uruguayan-born, NYC-based filmmaker and musician  Juan Wauters to the space for a one-night-only screening of recent short-form video works. ROMANE, JUIN 2016 builds a video portrait of the titular Romane, a 19-year-old postal service worker, living in a small village in France as she goes through her daily chores. BOLERO URUGUAY, DIC 2017 is a montage of images collected in Wauters' homeland set to the tune of Maurice Ravel's classic orchestral piece "Bolero". Both videos portray life at its own pace; driven by curiosity, Wauters' camera stares at people living their lives.
Having spent years in Jackson Heights, quotidian observation of people in their day-to-day environments has become central to Wauters' life and artistic practice. This will be the first public screening of Wauters' short films (which will include a few extra surprises) in New York, and Wauters will be in attendance for a discussion following the films.
Programmed in collaboration with Steve Holmgren and David Powell Steine. Special thanks to Captured Tracks, and Ivonne Sheen for Spanish translation.
SADIE BENNING is an American artist based in Brooklyn, New York. Benning's work has been exhibited internationally since 1990. Over the last three decades, Benning's work has taken the form of video, music, and more recently mixed-media works that trouble the distinctions between painting, photography, drawing and sculpture.
OWEN KLINE is a New York based film maker and cinema connoisseur. He is an actor, writer and director, known for THE SQUID AND THE WHALE (2005) and FOWL PLAY (2013), the later featuring Juan Wauters. Kline is currently in the final stages of completing his new film, TWO AGAINST NATURE.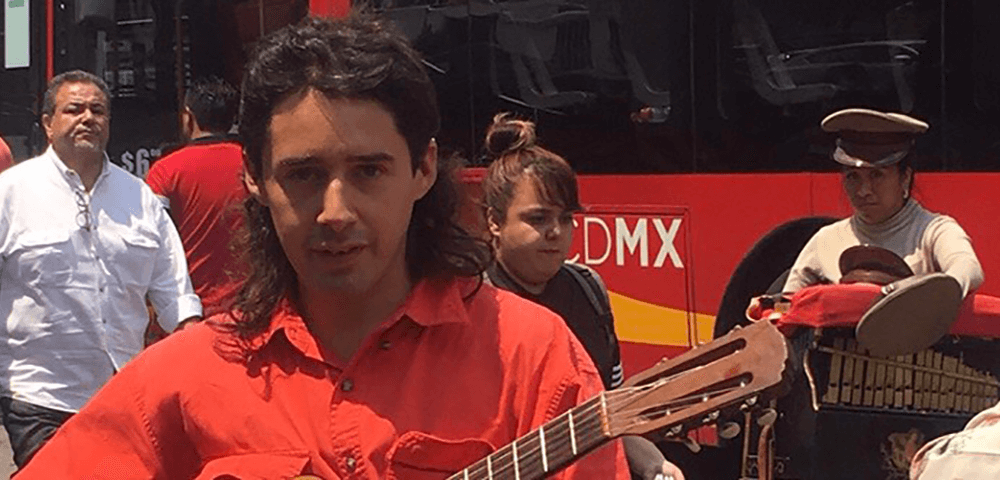 JUAN WAUTERS has covered a lot of ground in the past few years, both artistically and geographically. The New York-based, Latin-American artist has been traveling Latin America extensively, taking time to pause and rethink his life, his art and his career after releasing two critically acclaimed albums on Captured Tracks: 2014's N.A.P.: North American Poetry and 2015's Who Me? Wauters originally planned to record his next album while traveling, seeking a break from his life in New York City, the city he has called home since moving from Montevideo in 2002. He settled in Mexico City in 2017 to focus on writing. However, shortly after, he was offered a role in an independent film being shot in Argentina. Never one to turn down a creative opportunity, Wauters packed up his 100 pound mobile recording studio into two suitcases and took off to Buenos Aires. When filming was complete, Wauters wound up writing and recording all over Latin America — from Argentina, Uruguay, Peru, and Chile to Mexico and Puerto Rico — seeking collaboration at every stop with local musicians who embody the traditions and energies specific to each region.
Puerto Rico was one of his first destinations. At a restaurant on the way to Charco Azul in Guavate – a natural swimming hole – Wauters heard a duo playing boleros, music he has been familiar with since his early childhood, but had never experienced in its original context. Those boleros would inspire the repeating melody that makes up the infectious love song, "Guapa." Later, Mexico City was to become the home of "A Volar," a beautiful, buoyant track about dreaming wildly that features multiple musicians that Wauters met in Garibaldi, a popular square in Mexico City where musicians for hire gather. Later, he would trek to Buenos Aires, Santiago and Montevideo, creating music and incorporating local traditions into his idiosyncratic, captivating yarns.
Until this point in his career, most of his songs had been sung in English, but revisiting his Latin roots inspired him to record songs in his native tongue. Thus, Wauters gives us the wonderful La Onda de Juan Pablo, the world of Juan Pablo Wauters. Wauters now calls Far Rockaway home, when he is not on the road making music or movies.
Juan Wauters: la vida a través de los ojos de Juan
SÁBADO, 13 DE JULIO – 7:30 pm con discusión moderada por Sadie Benning & 10PM con discusión moderada por Owen Kline
¡SOLO POR UNA NOCHE! NYC PREMIERE!
(Estas proyecciones cuestan $10).
Spectacle se complace en invitar al cineasta y músico uruguayo, establecido en la Ciudad de Nueva York, Juan Wauters, para una única proyección de sus últimos trabajos en video de formato corto .
ROMANE, JUIN 2016 – construye un retrato en video de Romane, una trabajadora de 19 años de edad del servicio postal, quien vive en un pequeño pueblo de Francia mientras realiza sus tareas diarias.
BOLERO URUGUAY, DIC 2017 es un montaje de imágenes recopiladas en la tierra natal de Wauters, acompañadas de la melodía de la clásica pieza orquestal "Bolero" de Maurice Ravel. Ambos videos retratan la vida a su propio ritmo; conducido por la curiosidad, la cámara de Wauters mira a las personas que viven sus vidas.
El haber pasado años en Jackson Heights y la observación cotidiana de personas en sus entornos cotidianos, se han convertido en un aspecto central de la vida y la práctica artística de Wauters. Esta será la primera proyección pública de los cortometrajes de Wauters en Nueva York, y Wauters estará presente para una discusión posterior a las películas.
Programado en colaboración con Steve Holmgren y David Powell Steine. Agradecimientos especiales a Captured Tracks.
SADIE BENNING es una artista estadounidense que vive en Brooklyn, Nueva York. El trabajo de Benning ha sido exhibido internacionalmente desde 1990. Durante las últimas tres décadas, el trabajo de Benning ha tomado la forma de video, música y, más recientemente, trabajos en medios mixtos que complican las distinciones entre pintura, fotografía, dibujo y escultura.
OWEN KLINE es un cineasta y conocedor del cine con sede en Nueva York. Es un actor, escritor y director, conocido por THE SQUID AND WHALE (2005) y FOWL PLAY (2013), el último con la participación de Juan Wauters. Kline se encuentra actualmente en las etapas finales de completar su nueva película, TWO AGAINST NATURE.
JUAN WAUTERS ha cubierto mucho territorio en los últimos años, tanto artística como geográficamente. El artista latinoamericano con base en Nueva York ha viajado extensivamente por América Latina, tomándose su tiempo para pausar y reconsiderar su vida después de lanzar dos álbumes aclamados por la crítica en Captured Tracks: 2014's N.A.P.: North American Poetry and 2015's Who Me? Wauters originalmente planeó grabar su próximo álbum mientras viajaba por la ciudad de Nueva York, la ciudad a la que llama su hogar después de mudarse de Montevideo en 2002. Se estableció en la Ciudad de México en 2017, para concentrarse en la escritura. Sin embargo, poco después, se le ofreció un papel en una película independiente que se filmó en Argentina. No pudo rechazar una oportunidad creativa, así Wauters empacó su estudio móvil de 100 libras en dos maletas y se fue a Buenos Aires. Cuando el rodaje terminó, Wauters continuó escribiendo y grabando a lo largo de Latinoamérica — desde Argentina, Uruguay, Perú y Chile hasta México y Puerto Rico — buscando en cada parada, colaboración con músicos locales que encarnan las tradiciones y la energía específica de cada región.
Puerto Rico fue uno de sus primeros destinos. En un restaurante de camino al Charco Azul en Guavate — un agujero natural para nadar — Wauters escuchó a un dúo tocando boleros, música con la que está familiarizado desde su infancia, pero que nunca había experimentado en su contexto original. Esos boleros inspirarían la melodía repetitiva que conforma la canción de amor infecciosa, "Guapa". Más tarde, la Ciudad de México se convertirá en el hogar de "A Volar", una pista hermosa y boyante, sobre soñar salvajemente, la cual cuenta con la participación de múltiples músicos que Wuaters conoció en Garibaldi, una plaza popular en la Ciudad de México donde se reúnen músicos de contrato. Luego, viajaría a Buenos Aires, Santiago y Montevideo, creando música e incorporando las tradiciones locales en sus idiosincrásicas y cautivadoras creaciones.
Hasta este punto en su carrera, la mayoría de sus canciones se interpretaron en inglés, pero el revisitar sus raíces latinas, lo inspiró para grabar canciones en su lengua materna. Así, Wauters nos regala la maravillosa La Onda de Juan Pablo, el mundo de Juan Pablo Wauters. Wauters ahora llama a Far Rockaway su hogar, cuando no está haciendo música o películas en el camino.