Jean-Pierre Bekolo occupies a unique space in post-colonial African cinema. Twenty-five years since his exuberant debut QUARTIER MOZART, the Cameroonian director remains playfully genre-defying, conceptually inventive, and utterly unpredictable. Following the dystopian subversion of 2005's LES SAIGNANTES and up-to-the-minute political-media discourse of 2013's LE PRESIDENT (all of which were included in a full retrospective at Spectacle in 2013), he's now traveled 150 years for the fascinating post-modern future of NAKED REALITY. Paired against LE PRESIDENT, which we're bringing back, the two form a complex portrait of Africa today and into the future.
---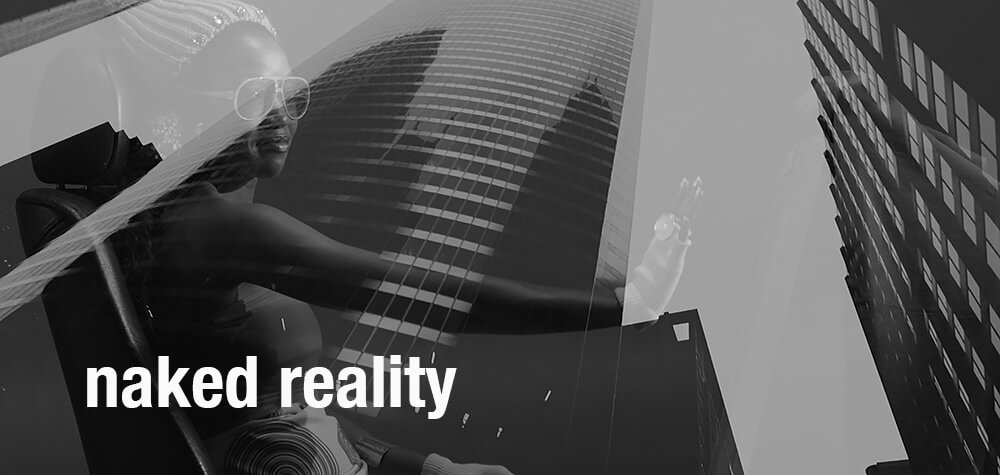 NAKED REALITY
Dir. Jean-Pierre Bekolo, 2016.
South Africa / Cameroon. 62 min.
THURSDAY, MARCH 8 – 7:30 PM
FRIDAY, MARCH 16 – 7:30 PM
MONDAY, MARCH 19 – 7:30 PM
SUNDAY MARCH 25 – 7:30 PM
THURSDAY, MARCH 29 – 7:30 PM
In an entirely urban Africa 150 years from now, energy is scarce and power lies in the past, channelled via prayer in defense against the genetic disorders of "Bad Luck". Weather forecaster Wanita's DNA may contain ancestral solutions, pulling her out of her life and into a post-modern odyssey. But no synopsis can suffice to contain the open-ended and constantly shifting world of the film: genetics, technology, time-travel, doppelgangers, the body as text, and meteorology appear as ambiguous signs along the hero's journey. Each scene offers its own insights and reconfigures what came before, as the layers of artifice peel back towards the elusive reality of the title. The future, here, is evoked with icy minimal space that suggests its own meanings: if non-urban space has ceased to exist, perhaps this world of digital overlays and empty sound stages is an indication that all non-virtual existence will also be a thing of the past.
---
LE PRESIDENT
(The President)
dir. Jean Pierre Bekolo, 2013
Cameroon. 64 mins.
In French with English subtitles
FRIDAY, MARCH 2 – 7:30 PM
SUNDAY, MARCH 4 – 5 PM
FRIDAY, MARCH 16 – 10 PM
WEDNESDAY, MARCH 21 – 7:30 PM
WEDNESDAY, MARCH 28 – 10 PM
"Our president was betrothed to Cameroon with great love and passion, yet over the years the fire has died. He spends more time in Switzerland than in Cameroon. What is he – too good for us now?" – JEAN-PIERRE BEKOLO
The night before an important summit in the near-future, the head of state vanishes into ostensibly thin air. Potential heirs and overthrow-ers converge around the capitol, while bloggers, hangers-on and talking heads tussle with the president's problematic legacy. Never snarling, Bekolo gestures both unmistakably towards Cameroon's own 31-year president Paul Biya as well as the varied bigshots across the continent who have consolidated post-colonial power in the vacuum of leadership.
Bekolo's piercing film is a fake documentary that asks barbed, tough-love questions of his homeland's catastrophic experiments with democracy. "It was through the small screen that he punctuated every moment of my life!"