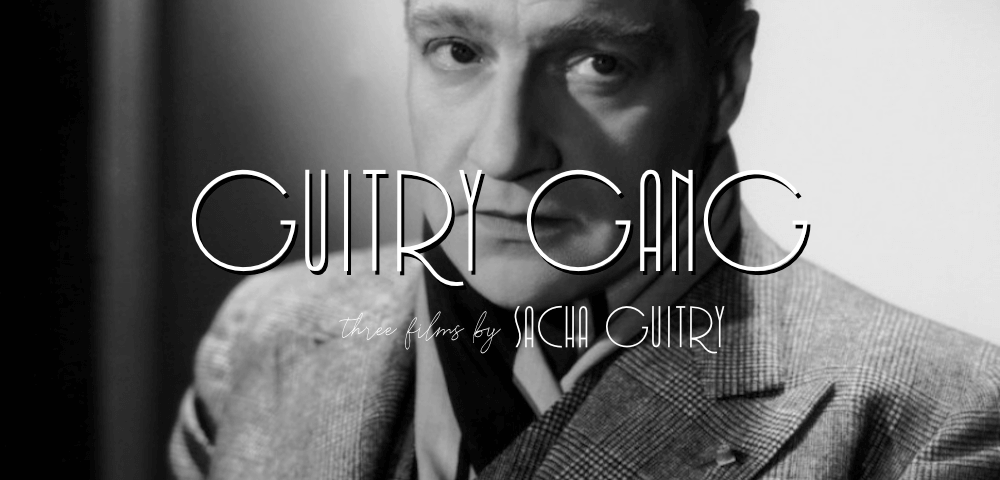 Prolific polymath Sacha Guitry, born in Russia in 1885 to a family of French showfolk, made his name on the stage as an arch playwright of uniquely Gallic light comedies. At home, Guitry's wry observations on matters romantic, personal, and political have earned him a well-deserved reputation as a satirist of the highest order. And, like many of his fellow countrymen, his oscillation from stage to screen and back again resulted in a jam-packed body of work that freely blurred the distinctions between either medium. Director, writer, and often star, Guitry's well-trained ear for conversation is unparalleled, and his apparent gift for eliciting fine performances ought to be an example to working filmmakers the world over.
Stateside, in a firmament populated with Renoirs and Clairs, Guitry's cinematic and theatrical oeuvres remain relatively unknown. These three films, all from 1936, comprise little more than half of his cinematic output for that year – in addition to the titles presented here, Guitry also counted another two feature films and five plays within that brief span. At his height, he was by all accounts France's foremost theatrical belletrist, but by decade's end, goose stepping would reverberate across the Champs-Elysée and the output of this once-avid triple threat would slow to a crawl. Although the sparkling days of Guitry's pre-War Paris are but a distant memory, we can still cherish this trio of fripperies and the rosy-cheeked, winking time they represent.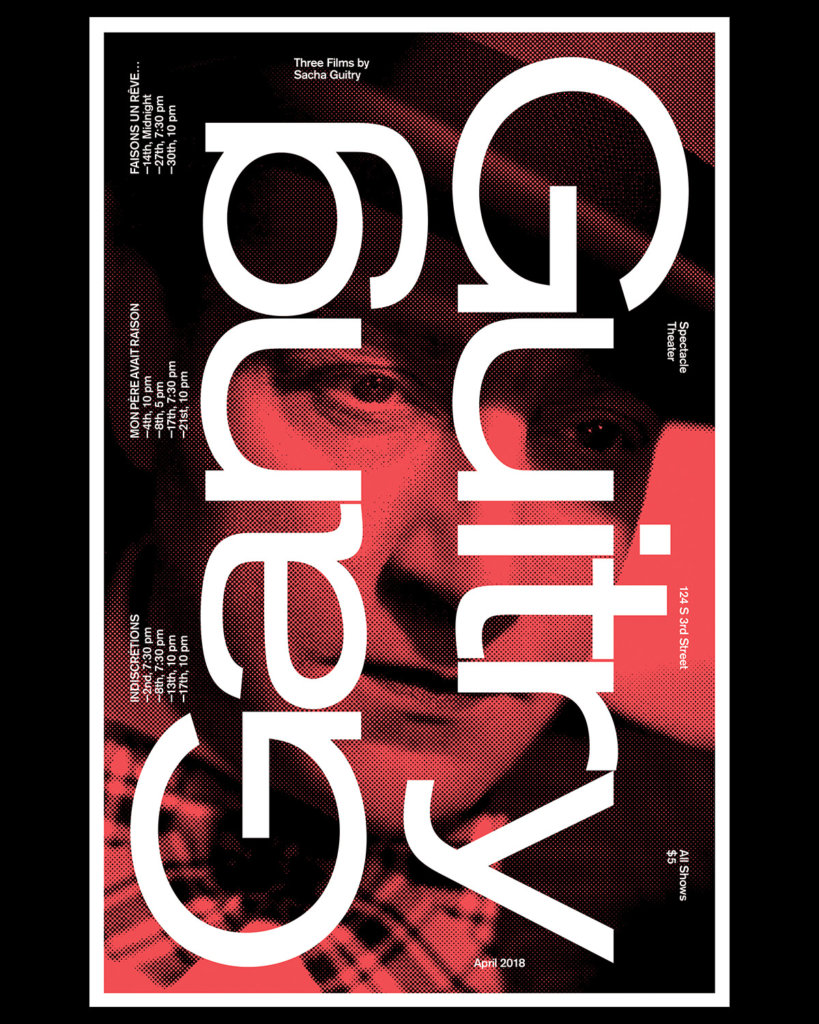 ---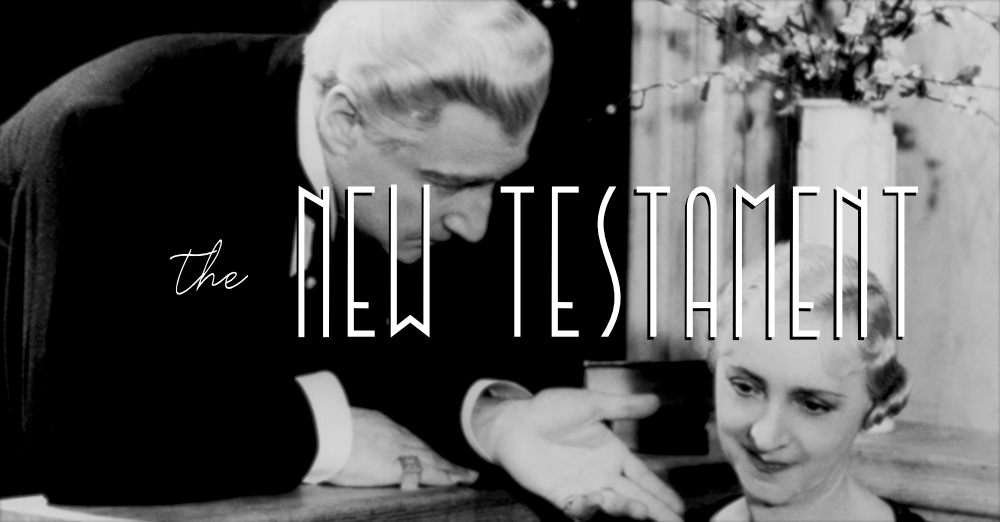 INDISCRÉTIONS (THE NEW TESTAMENT)
Dir. Sacha Guitry, 1936.
France. 96 mins.
MONDAY, APRIL 2 – 7:30 PM
SUNDAY, APRIL 8 – 7:30 PM
FRIDAY, APRIL 13 – 10 PM
TUESDAY, APRIL 17 – 10 PM
Guitry sets a trap – in this case, a Rube Goldberg of a dinner party with the express purpose of catching his aging wife in the arms of another man! It's out with the old and in with the new at Chez Marceline, where Madame and Monsieur battle with rapier wit for the soul of their decades-long, childless marriage. Madame's young conquest is soft, pliant, and eager to please, but it's a newfound secretary – organized, hard-working and, above all, discreet – that provides the man of the house with his much-needed secret weapon. Between breaking in a new butler, keeping one jaundiced eye on his philandering wife, and preparing for dinner with a boring couple, Guitry's white-haired, flustered protagonist performs a plate-spinning act that could sell out the Comédie Française.
---

MON PÈRE AVAIT RAISON (MY FATHER WAS RIGHT)
Dir. Sacha Guitry, 1936.
France. 81 mins.
WEDNESDAY, APRIL 4 – 10 PM
SUNDAY, APRIL 8 – 5 PM
TUESDAY, APRIL 17 – 7:30 PM
SATURDAY, APRIL 21 – 10 PM
"Women are made for marriage, and men are made to be bachelors. That's the trouble!" Writer-director Guitry stars as a cuckold in a stuffed shirt whose wounded pride predestines his son for a lifelong suspicion of the fairer sex. But the film's rapid-fire dialogue and huffy moralizing are only a disguise: its true beating heart is in this sweet depiction of paternal devotion and filial tenderness, spread evenly across three generations of befuddled Frenchmen. Hilarity ensues, as it so often does, when their seemingly unflappable bond between is tested by womanhood in all its wily unpredictability.
---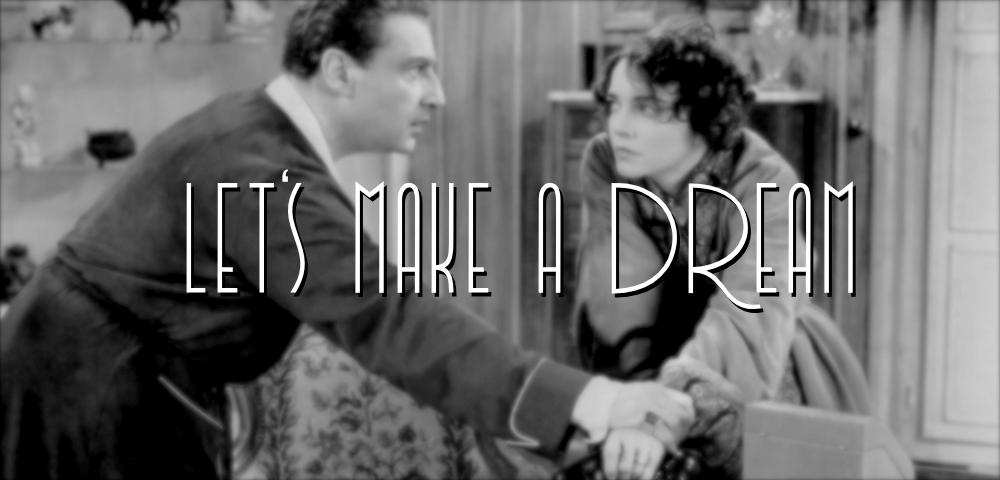 FAISONS UN RÊVE… (LET'S MAKE A DREAM)
Dir. Sacha Guitry, 1936.
France. 86 mins.
SATURDAY, APRIL 14 – MIDNIGHT
FRIDAY, APRIL 27 – 7:30 PM
MONDAY, APRIL 30 – 10 PM
Guitry's rondéle of casual infidelity among the petit bourgeois has more elan than you can shake a cigar at – in fact, the old double-cross never looked so elegant than in this lighter-than-air account of a sneaking seducer and his married conquest. Conveyed with a sprightly visual grammar, lit by a twinkling of fun cameos – including Arletty and frequent Renoir star Michel Simon – Faisons rises ever upward like bubbles to the top of a champagne flute. A fine vintage, these ins and outs of les affairs secrets burst with light flavor – and leave a pleasant tingling in lieu of a calling card.