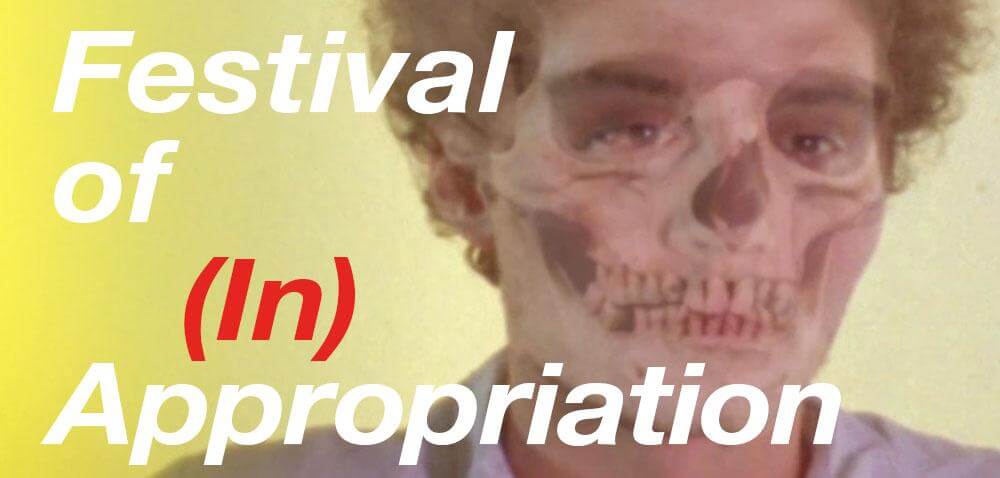 THE FESTIVAL OF (IN)APPROPRIATION
Dir. Various, 2014-2016.
90 min.
THURSDAY, SEPTEMBER 28 – 7:30 & 10pm
ONE NIGHT ONLY!
Spectacle is pleased to bring back the Festival of (IN)appropriation for its 9th edition. Whether you call it collage, compilation, found footage, détournement, or recycled cinema, the incorporation of already existing media into new artworks is a practice that generates novel juxtapositions and new meanings and ideas, often in ways entirely unrelated to the intentions of the original makers.
Founded in 2009 and curated by Jaimie Baron, Lauren Berliner, and Greg Cohen, the Festival of (In)appropriation is a yearly showcase of contemporary, short audiovisual works that appropriate existing film, video, or other media and repurpose it in "inappropriate" and inventive ways. This year's program features an astonishing variety and complexity of moving-image appropriation art, including a riotous YouTube reaction video mash-up, an exquisite found-footage ready-made, a queer-Asian-American homage to Hollis Frampton, several sublime works of cut-out animation, and a pseudo-documentary (or is it?) about the lost work of an early-Soviet scientist dedicated to the exploration of "human mental projection."
LYING WOMEN by Deborah Kelly (Australia, 2016, 03:56)
SEMIOTICS OF SAB by Tina Takemoto (USA, 05:35)
HALIMUHFACK by Christopher Harris (USA, 2016, 4:00)
TAKE ME TO PEMBERLEY by Daniela Zahlner (Austria, 2015, 02:00)
EVERY FEATURE FILM ON MY HARD DRIVE, 3 PIXELS TALL AND SPED UP 7000% by Ryan Murray (USA, 2013, 3:29)
ACTUAL CASE HISTORY by Tony Gault (USA, 2015, 09:00)
OFFICIAL TEASER #2 REACTION!!! by Kevin McCarthy (USA, 2016, 6:30)
SNEEZE by Yunjin Woo (USA, 2015, 05:11)
A PLACE I'VE NEVER BEEN by Adrian Flury (Switzerland, 2015, 04:40)
[SIC] SERIES by Roger Beebe (USA, 2014, 04:25)
SOMEBODY WAS TRYING TO KILL SOMEBODY ELSE by Benjamin Verhoeven (Belgium, 2014, 06:11)
CUT OUT by Guli Silberstein (Israel/Palestine, 2014, 04:19)
EKTOPLASMIC VISION by Ricardo Salvador (Spain, 2016, 09:40)
THE NEUTRAL ZONE by LJ Frezza (USA, 2015, 06:40)
DOPPELGÄNGER by Tasman Richardson (Canada, 2016, 14:25)
Full program notes can be found on the Festival of (In)appropriation website.