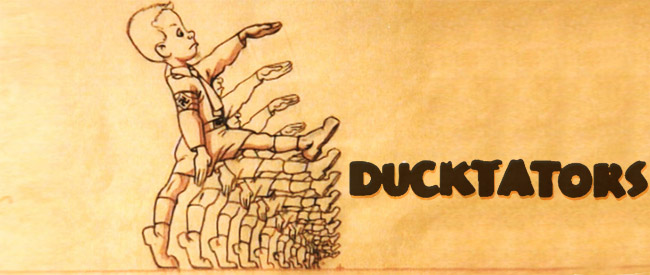 ICARUS FILMS PRESENTS:
DUCKTATORS
Dir: Wolter Braamhorst & Guus van Waveren, 1998.
USA. 46 min.
TUESDAY, MAY 7 – 7:30 PM
FRIDAY, MAY 24 – 10:00 PM
Ducktators is a unique look at the use of cartoons during World War II.
American propaganda during the war had to obey one golden rule: it had to be entertaining. Cartoons proved to be an excellent way to deliver propagandistic and educational ideas in a seemingly innocuous manner to the general public and armed forces alike. Ducktators not only offers a rare glimpse at forgotten cartoon material from this moment in history, but goes further to reveal insights about the psyche of the public at that time.
The film blends documentary war footage with animated material and music from the period. The attack on Pearl Harbor, for instance, is intertwined with a Japanese cartoon about the attack. As the 1940s was the period during which the American cinema was most heavily attended, the screening of these cartoons every week guaranteed that most Americans would be exposed to the messages.
Among those interviewed in the film are Sody and Bob Clampett, the wife and son of animator Bob Clampett, and Chuck Jones.
"Legendary animator Chuck Jones, together with the wife and son of cartoonist Bob Clampett, plus historians and scholars discuss these extensively excerpted works as seen in their proper context." – Booklist
Description courtesy of Icarus Films.