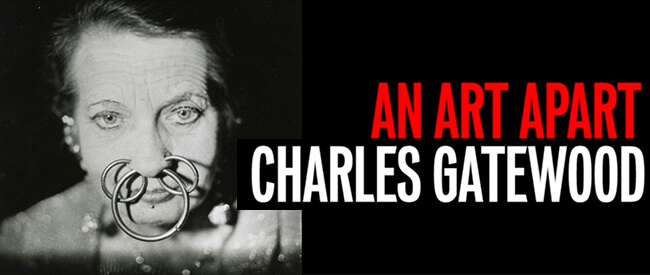 ONCE THE TOOTHPASTE IS OUT OF THE TUBE – An Art Apart: Charles Gatewood
dir. Carl Abrahamson, 2015.
Sweden, 58 min.
English
SATURDAY, DECEMBER 3 – 8PM (WITH DIRECTOR Q&A!)
SUNDAY, DECEMBER 18 – 7:30PM
American photographer Charles Gatewood started out in the 1960s as a young man with dreams of showing the world the radical cultural developments that were going on in his country. He met many of the iconic instigators of change and documented them for posterity. As the decades passed, Gatewood drifted more and more into a personal expression of sexual subcultures, both in America and abroad. His powerful photos of pioneers within the tattooing- and piercing scenes helped pave the way for the movement that was to be called "Modern Primitives". It's a classic example of when art, and in this example, specifically photography, merges with its general environment and takes on new forms that are impossible to stop. Or, as the San Francisco based photographer himself describes it: "Once the toothpaste is out of the tube, you can't put it back".
---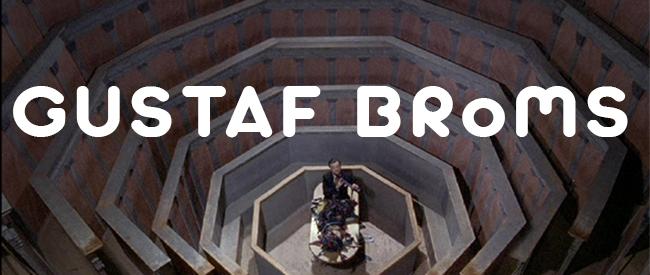 WHERE IS HERE?
dir. Gustaf Broms, Sweden, 2009
Sweden 42 mins.
MAHAPRALAYA
for. Gustaf Broms, Sweden, 2015
Sweden 22 mins
SATURDAY, DECEMBER 3 – 10PM
SUNDAY, DECEMBER 18 – 8:30PM
Swedish artist Gustaf Broms has, since the early 1990s, developed a symbolic language in order to help him understand his own being. On an adventurous journey stretching over photography, filmmaking, sculpting, collaging, music making and on to performance art, his artworks and the process become pieces of a puzzle that constitute not only the human being called Gustaf Broms but also human life itself in general. The grand scale of Broms' ambitions signals a willingness to share his highly experimental attitude and its findings with other people. Thus his persona as an artist grows into something more ambitious, yet at the same time more undefined. The multifaceted expressions of his work seem to contain the very same theme, the very same question: where exactly lies "self" in the human being? Who exactly are we and which tools do we need to find out?
Broms films Where is Here? and Mahapralaya describe the human condition in a most poetic and mind-expanding way. Are we taking part of a dream-state? An ultimate reality? Broms' rich cinematic textures facilitate an extended in-depth journey. Where it ends, no-one knows. But the journey itself is cosmic, colourful and ecstatically exploratory. It will lead you far, far away from where you left off. And you will be grateful for the experience.
ALSO SHOWING WITH THIS PROGRAM:

THE SPIRITS OF A PLACE CALL
Dir. Katelan Foisy, 2016
USA, 20 min.
Katelan Foisy is a multimedia artist and writer. Katelan has been featured in NY Times, Elle magazine, Paper Magazine, GQ Italy, Time Out NY, and many others—for her work both as an artist and curator. She has written for Motherboard/VICE, Electric Literature, Luna Luna, ERIS magazine, and COILHOUSE, and has held events with Atlas Obscura and Morbid Anatomy. She was called a "Female Jack Kerouac" by Taylor Mead and a "Modern Day Francesca Woodman" by Cynthia von Buhler. Her film work was featured during the Romani Cinema festival in Paris.
"My films started as back and forth dialogue between a musician and myself. Inspired by "As I was Moving Ahead, Occasionally I saw Brief Glimpses of Beauty" by Jonas Mekas; I began to explore the medium as not only documentation, but a magical working crossing time barriers of past, present, and future. They became love letters to cities, people, eras, and places I traveled to." -Katelan Foisy
PUSHING THE CONSISTENT FAILURE
Dir. Vanessa Sinclair, 2016
USA, 21 min.
Vanessa Sinclair, PsyD, is a psychoanalyst and clinical psychologist in private practice in New York City. She is a founding member of Das Unbehagen: A Free Association for Psychoanalysis, which facilitates psychoanalytic lectures, classes, and events in and around NYC. Together with artist Katelan Foisy, she explores the magic and artistic expression of the cut-up method and the third mind (www.chaosofthethirdmind.com). She contributes to a variety of publications, including the The Fenris Wolf, DIVISION/Review: A Quarterly Psychoanalytic Forum, ERIS Magazine, and The Brooklyn Rail.