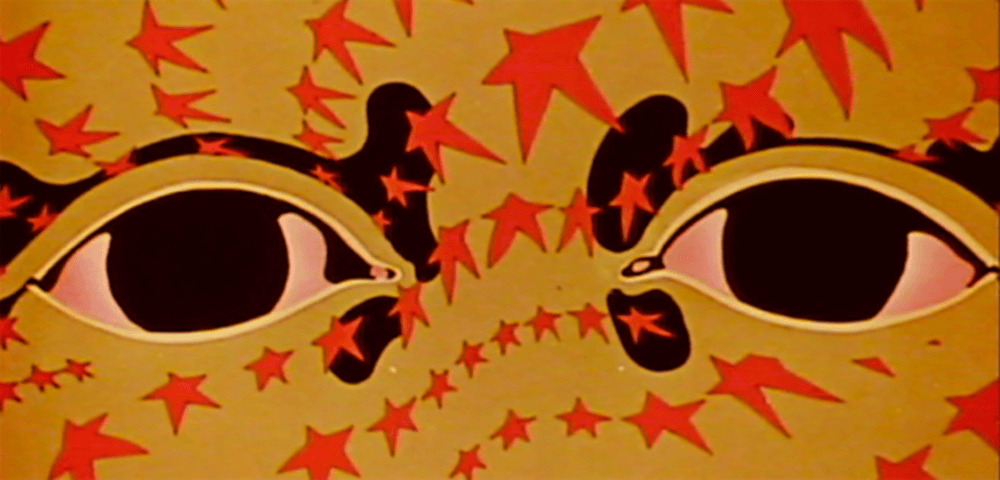 SATURDAY, APRIL 27 – 8 PM 
ONE NIGHT ONLY!
Spectacle is thrilled to host Chicago-based multidisciplinary artist and "film alchemist" Amir George for an evolving program of works he likes to call CONTORTING METAPHYSICAL HIJINKS.
Like George's own short film OPTIMUM CONTINUUM, the evening promises "an ongoing barrage of Blackness always in progress"; George's work draws from a wide berth of inspiration, including archival material from the Chicago Film Archive (who have also commissioned "meditations" from George), psychedelic soul and funk, the defiantly idiosyncratic films of Sankofa Collective and the "LA Rebellion" and beyond. Even while acknowledging full stop that there's nothing wrong with "pretty pictures", George uses cinema to tackle the fetishization of memory and interrogate his own nostalgia towards certain types of images, fragmenting narrative to explore desire and ecstasy beyond the typical tried-and-trues of Black suffering endemic to so much 20th century visual media. Here's a taste of what the program will include:
DECADENT ASYLUM
2017. 17 mins.
George describes DECADENT ASYLUM as a journey to a higher realm of consciousness, an "experimental fairy tale" in eight parts. A mundane doorman is transported through a broken door that leads him to metaphysical dimensions where he his put through practices of self-alchemy.
THE ENCOMPASSED WISDOM OF THE INEVITABLE MANIFESTATION
2017. 2 mins.
A spell-casting of images, guided by a voice in the light – recollections from Black Jesus.
BLACK CHAINS
2017. 4 mins.
A meditation on how oppression exacerbates interpersonal relations and mental health, connecting chain link fences, colorful street murals, black and white neighborhood defense footage from Chicago communities.
PASSAGES OF EXCESS
2017. 15 mins.
Ethereal movement and its relation to the physical world. Mundane gestures, ideas and images generated over time.
MUM
2016. 3 MINS.
A commissioned project for writer Julie Carr. MUM delves into the psyche and violence of motherhood.
MOMENTS OF INTENTION
2016. 8 mins.
The movement is the voice in the mirror. MOMENTS OF INTENTION is a vibration migrating from winter, spirits working in tandem as a force of creativity.
SHADES OF SHADOWS
2015. 6 mins.
Commissioned by Chicago Film Archives, this film is a collaboration with psychedelic soul band The O'Mys that delves into spiritual mysticism and ritual sacrifice. Created with all-archival footage, the characters in SHADES OF SHADOWS seek to manifest a better self.
AMIR GEORGE is a filmmaker and curator, based in Chicago. ​George is the founder of The Cinema Culture, a grassroots film programming organization, and co-founder, with Curator Erin Christovale, of Black Radical Imagination, a touring experimental short film series. As an artist, George's films have screened at institutions and film festivals including Schomburg Center for Research in Black Culture, Institute of Contemporary Arts, London, Anthology Film Archives, Glasgow School of Art, The Museum of Contemporary Arts Los Angeles, Museum of Contemporary Arts Chicago, MoMa PS1, Ann Arbor Film Festival, Trinidad and Tobago International Film Festival, BlackStar Film Festival, Afrikana Film Festival, and Chicago Underground Film Festival, among others.