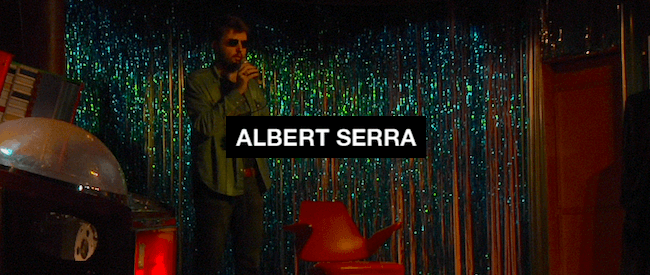 Parallel to the stateside release of Albert Serra's brain-bending THE DEATH OF LOUIS XIV, Spectacle is pleased to exhibit two early works by the divisive young Catalan auteur. Serra's 2006 debut HONOR OF THE KNIGHTS is a naturalistic refraction of Don Quixote, while 2008's BIRDSONG depicts the quest of the Magi as a corporeal buddy comedy suffused with a tranquil beauty that calls to mind Ozu, Bergman, Pasolini and Straub. This pair of inverse-monumental works (both of which will be preceded by Serra's rarely exhibited, Fassbinderian 2013 short CUBALIBRE) invite their viewers to reconsider cinematic apparatuses of space and time, alongside the shibboleths of history as we have retold it to ourselves across the ages.
Special thanks to Andergraun Films and The Cinema Guild.
---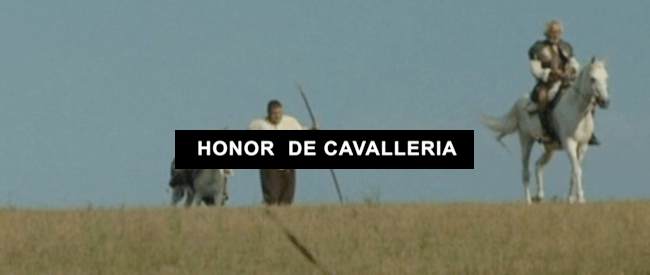 HONOR OF THE KNIGHTS
(aka HONOR DE CAVALLERIA)
dir. Albert Serra, 2006
100 mins.
In Catalan with English subtitles.
MONDAY, APRIL 3 – 10 PM
TUESDAY, APRIL 11 – 10 PM
FRIDAY, APRIL 14 – 7:30 PM
WEDNESDAY, APRIL 19 – 7:30 PM
Serra's first feature reimagines Don Quixote soot and all: the interplay between Sancho (Lluís Serrat) and Quixote (Lluís Carbó) is less rhetorical than familial, both tender and eerie in its meandering, inviting the viewer to project their own histories onto the speaker/listener relationship that once undergirded Cervantes' text – as well as teasing out radical redefinitions of both honor (companionship?) and knightdom (serfdom? au pair-dom?). This Quixote is at once a doddering old man and a sage tumescent with life wisdom in his undying pursuit of chivalry… but does anyone (beyond the bumbling Sancho, anyway) care? HONOR OF THE KNIGHTS features a cast assembled of non-actors from Serra's hometown of Banyoles, while cinematographer Jimmy Gemferrer's not-quite-HD camera luxuriates in the Catalan countryside.
On the eve of release for THE STORY OF MY DEATH – which performs a similar intervention upon Dracula and Casanova – Serra told Cinema Scope Magazine: "With these characters you have more or less all the information and, well, then I can do whatever I want, I am free, and I don't care about being more or less faithful to the original source or character that comes from literature or history."
---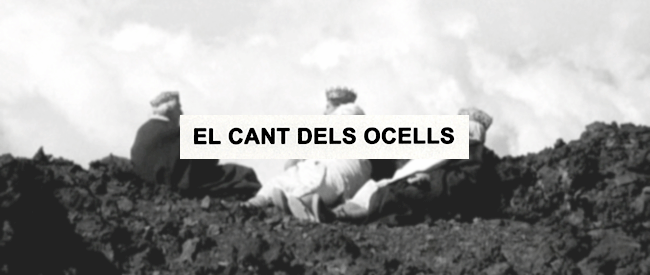 BIRDSONG
(aka EL CANT DELS OCELLS)
dir. Albert Serra, 2008
92 mins.
In Catalan with English subtitles.
MONDAY, APRIL 3 – 7:30PM
FRIDAY, APRIL 14 – 10 PM
WEDNESDAY, APRIL 19 – 7:30 PM
SATURDAY, APRIL 29 – 7:30 PM

Serra's sophomore feature revels in the unknowability of its chosen subjects: the Three Wise Men indicated here (Lluís Carbó, Lluís Serrat Batlle and Lluís Serrat) are at once the hallowed sages indicated by Christmas lore and yet, furthermore, bumbling and oafish to a point of extreme lovability. Serra's locations (Iceland, the Canary Islands) lend an otherwise titter-worthy comic travelogue with unspeakable, sacrosanct beauty. Also featuring legendary Canadian film critic Mark Peranson as Josef!
"Serra's emboldened enough to puncture his formalism with humor, and knows how to elevate his material control to the level of the ineffable." – Jeff Reichert, IndieWire
"In a manner reminiscent of Tarkovsky's insistence that the 'dominant, all-powerful factor of the film is rhythm, expressing the course of time within the frame', Serra elongates our sense of duration, liberating filmic time from the abstraction of intensified continuity or montage. Movement is slowed to a stage at which it becomes barely perceptible, and our intermittent awareness of the modulation of mise-en-scène marks the passage of time within the shot. Dramatic time is halted and reclaimed for us to engage with and reflect on our sensitivity to light and sound." – Matthew Flanagan, 16:9