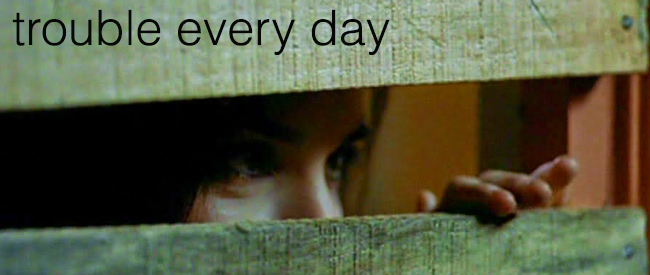 TROUBLE EVERY DAY
Dir. Claire Denis, 2001
France, 101 mins.
FRIDAY, OCTOBER 2 – 10:00 PM
TUESDAY, OCTOBER 13 – 7:30 PM
FRIDAY, OCTOBER 30 – MIDNIGHT
An American doctor (Vincent Gallo) arrives in Paris with his new wife (Tricia Vessey). They are ostensibly on honeymoon, but he is strangely distant and preoccupied with finding a former a colleague. Meanwhile, a French couple live in seclusion, the husband (Alex Descas) both caring for and imprisoning his wife (Béatrice Dalle, exuding a primal power) whose mysterious illness has reduced her to a vehicle for her own bloodlust. Connections between these characters reveal themselves slowly; exposition here is a distant second to a deep sensuality in the truest sense of the word. Denis' tactile approach to filmmaking is in full effect, the camera mapping out fragile bodies with careful, almost predatory attention, creating a discomfiting sense of intimacy. TROUBLE EVERY DAY is a film felt as much as viewed, and when it reaches its bloody apex, that's a truly frightening thing.