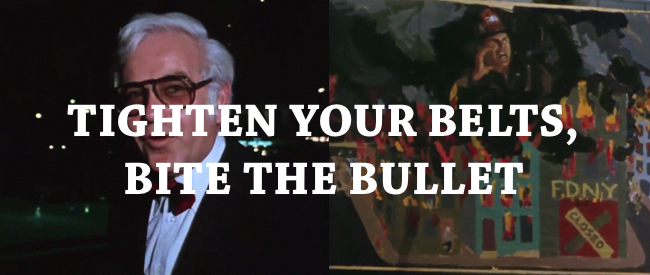 TIGHTEN YOUR BELTS, BITE THE BULLET
Dirs. Martin Lucas, James Gaffney and Jonathan Miller
USA. 48 minutes.
Special thanks to Icarus Films.
THURSDAY, JULY 9 – 7:30PM (Q&A with filmmaker Martin Lucas)
TUESDAY, JULY 14 – 7:30PM
SUNDAY, JULY 26 – 5:00PM
"It's like there was a palace coup." A searing comparison study in cutbacks undertaken by the governments of New York and Cleveland to ride out the late-70s financial crisis, Tighten Your Belts, Bite The Bullet is essential viewing in the era of prolonged neoliberalism. The documentary traces both the cuts and their consequences: how we got here (there), how many thousands of jobs were lost, city hospitals, fire stations and daycare centers closed. It's a fascinating eye-of-the-storm glimpse at what would become Reaganomics – a vast cancellation/turnover of municipal and state services to private companies, further marginalizing the political viability of their utility in the name of something called "fiscal responsibility".
The filmmakers also get their cameras up-close-and-personal to the bankers whose illegal bond manipulations sent the city into near-default in the first place, and probe the dubious debt-mortgaging plans exerted upon New York by their attendant, now forgotten advisory bureaus. You'll see the "redlining" of specific neighborhoods struggling to pay rent, (insurance?) fires running untreated in Koch-era Greenpoint, and the neighborhood's eventual promise of being repurposed (and thus, reopened for gentrification) in the future.
"Strikes me as conceivably the most intelligent, powerful, and informative rabble-rousing leftist film that I've seen in years… Exemplary in its clean, polemical construction, Tighten Your Belts, Bite the Bullet deftly incorporates a specific popular struggle – the 18-month campaign in Brooklyn's Northside to keep a firehouse – into its overall argument, without succumbing to any of the temptations of a political travelogue. In other words, it means business. " –  Jonathan Rosenbaum, Soho Times, 1981
"Though (the filmmakers) touch only glancingly on the differences between the two cities' political cultures, they bring to life clarion footnotes of New York tabloid history—including the eighteen-month occupation of a Greenpoint firehouse by longtime residents protesting its closing while peering into a future of ramped-up real-estate development with a blend of paranoia and prescience." – The New Yorker