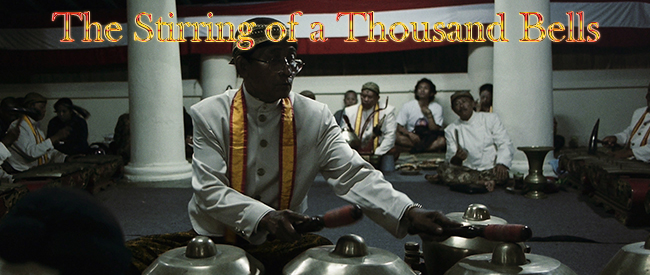 THE STIRRING OF A THOUSAND BELLS
Dir. Matt Dunning, 2014
USA, 50 min.
FRIDAY, DECEMBER 12 – 8 PM
NY PREMIERE! ONE NIGHT ONLY!
With an intro and Q&A from director Matt Dunning!
Advance tickets available here.
Spectacle is thrilled to present this ONE NIGHT ONLY New York premiere of director Matt Dunning's hypnotic two-part exploration of Indonesian gamelan in the modern world.
As one of the oldest musical forms in the world, gamelan remains a cultural touchstone on the islands of Java and Bali. Defined by the ringing of metallophones and drums, the music has exerted an outsized influence on Western ears for over a hundred years.
The first part of Dunning's work takes us to the city of Solo during the annual festival of Sekaten, marking the birthday of the Prophet Muhammad. Old and new collide in this cosmic carnival of sight and sound rarely witnessed outside of Indonesia.
The second part of the film documents the classical Javanese court dancers of Srimpi Muncar at Mangkunegaran Palace overlaid with images filmed throughout the island of Java.
Director Matt Dunning will be in attendance to intro the film and share "deleted scenes" and other ethnographic nuggets post-show!
Special thanks to Sublime Frequencies!