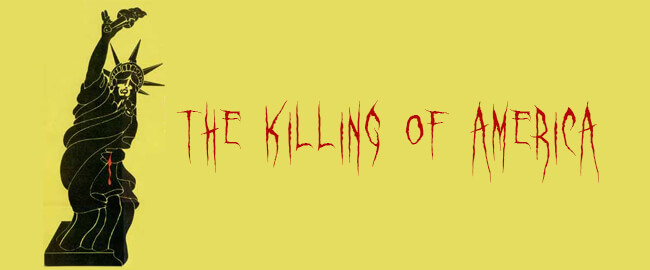 THE KILLING OF AMERICA
Dir. Sheldon Renan & Leonard Schrader, 1982.
USA/Japan, 90 min.
MONDAY, SEPTEMBER 4 – 10 PM
SATURDAY, SEPTEMBER 16 – 7:30 PM – SCREENING OF 'VIOLENCE USA' (JAPANESE CUT) –  ALSO Q&A !!!
SUNDAY, SEPTEMBER 17 – 7:30 PM
ALL OF THE FILM YOU ARE ABOUT TO SEE IS REAL. NOTHING HAS BEEN STAGED.
So begins the 1982 shockumentary THE KILLING OF AMERICA, (returning to Spectacle courtesy of the American Genre Film Archive) a film that, even among its mondo movie contemporaries, stands out as one of the grimmest and most infamous films ever produced.
If violence is the disease, then THE KILLING OF AMERICA is the microscope. Compiled almost entirely from news broadcasts, security camera footage, etc, THE KILLING OF AMERICA chronicles nearly every major violent incident of the era, from the JFK assassination onward. The America presented here is land characterized by widespread burnout and disillusionment. Add to that the increasing pervasiveness of the mass media, as well as an obscene overabundance of firearms, and you are left with a sobering portrait of a sick society, in which insanity and paranoia breed easily. Meanwhile, 35 years later…¯\_(ツ)_/¯
On Saturday 9/16 at 7:30, we'll be presenting a special, one-time screening of The Killing of America's ultra-disturbing Japanese cut, VIOLENCE USA. Warning: this version is ultra-disturbing.
---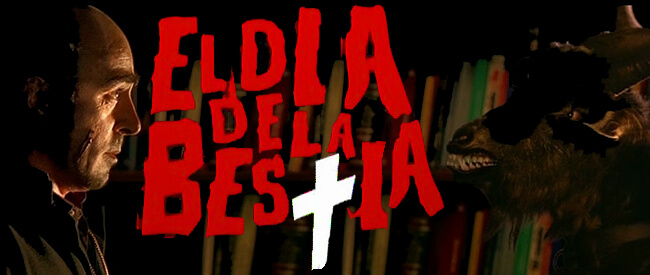 EL DÍA DE LA BESTIA (THE DAY OF THE BEAST)
Dir. Álex de la Iglesia, 1995
Spain. 103 min.
In Spanish with English subtitles.
SUNDAY, SEPTEMBER 17 – 5 PM
With the world ending soon, Spectacle brings back this apocalyptic favorite…
After discovering the Antichrist will be born Christmas Eve, mousy but determined Basque theologian Ángel sets off for Madrid to be evil as possible in hopes of gaining Satan's trust and stopping the Apocalypse before the holidays. He's new to sin, but gets help from a friendly local metalhead in kidnapping TV psychic and paranormal investigator Cavan to help them out. Comic book goofiness barely disguises underlying social commentary – one priest stealing dead men's wallets can't compete with an overzealous, trigger-happy police force or xenophobic hate groups running amok.