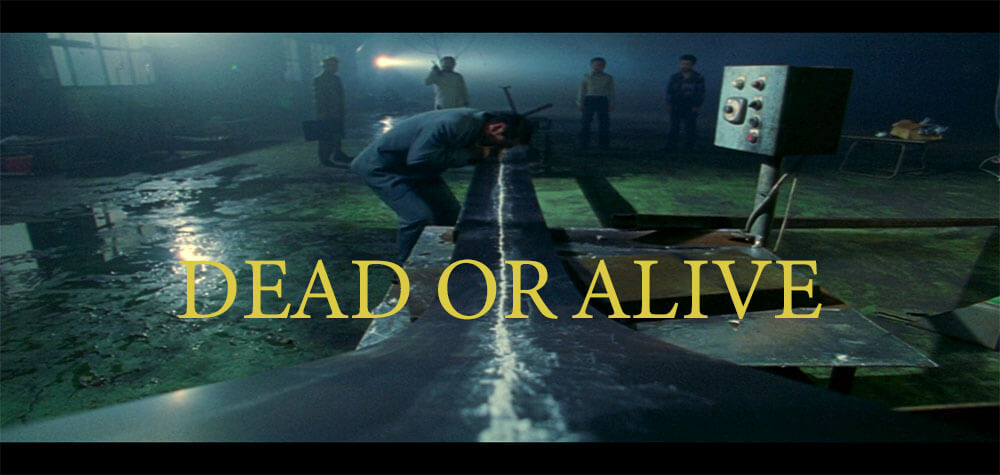 DEAD OR ALIVE
Dir. Takashi Miike, 1999.
Japan. 105 min.
SATURDAY, MARCH 3 – 7:30 PM
MONDAY, MARCH 5 – 7:30 PM
FRIDAY, MARCH 9 – 10 PM
MONDAY, MARCH 19 – 10 PM
SUNDAY, MARCH 25 – 5 PM
"A hit of pure aesthetic cocaine"
-Slant
"BREATHLESS for a new century"
-Tom Mes
Beginning with perhaps the longest line of coke ever snorted on screen and finishing with nothing short of the destruction of the entire world, Takashi Miike's DEAD OR ALIVE is sure to please fans of the director's trademark transgressive shock. Yet beyond Miike's typical chaotic cult movie appeal DEAD OR ALIVE manages to also demonstrate a remarkably well put-together genre offering that makes a compelling case for Miike as a more refined, nuanced auteur than he is typically given credit. When small-time Yakuza boss Ryuuichi (Japanese action movie icon Riki Takeuchi) starts murdering rival gangsters in an effort to gain power in the underworld, Detective Jojima (early Kiyoshi Kurosawa regular, Show Aikawa) must weave his way through various underworld networks to end the bloodbath. While typical Miike oddities like a gangster getting his hand breaded and fried or a man in a giant chicken suit getting blown to bits in a sea of feathers certainly shine throughout, these are often only window dressing for the emotionally engaging tale of masculine aggression and crumbling family structures that form the meat of the story.
---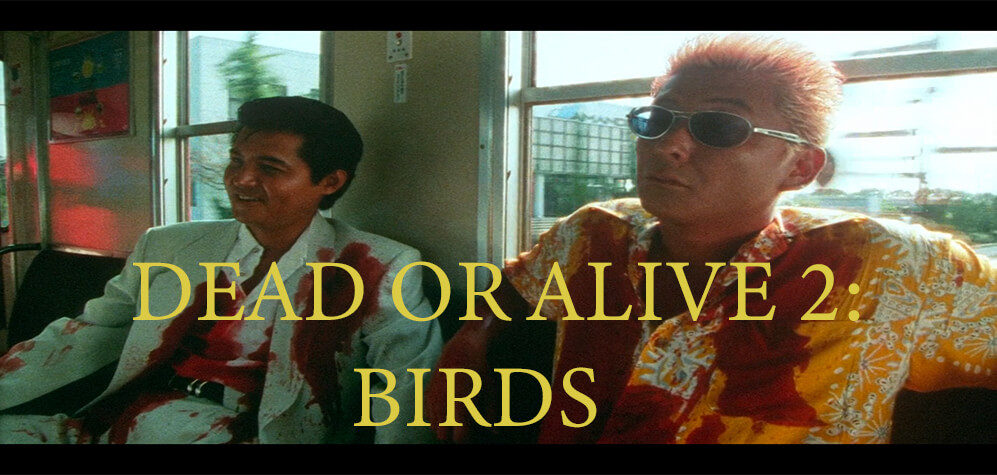 DEAD OR ALIVE 2: BIRDS
Dir. Takashi Miike, 2000.
Japan. 97 min.
SATURDAY, MARCH 3 – 10 PM
MONDAY, MARCH 5 – 10 PM
TUESDAY, MARCH 13 – 10 PM
THURSDAY, MARCH 22 – 7:30 PM
WEDNESDAY, MARCH 28 – 7:30 PM
"Miike's greatest achievement."
-Tom Mes, Agitator: The Cinema of Takashi Miike
More pastoral poem than yakuza film, DEAD OR ALIVE 2: BIRDS detours significantly from the previous film into a more elegiac and contemplative tone than Miike is typically known for. When hitman Mizuki (Show Akawa) finds his target assassinated by a rival hitman just as he's about to pull the trigger, the biggest surprise is that the other assassin is childhood friend and fellow orphan Shuuichi (Riko Takeuchi). After encountering each other again while hiding out on the island where they grew up, the two gangsters reconnect and take a rosy trip down memory lane. As they relive erotic schoolyard games, pay respects to a dying former mentor, and don colorful animal costumes to perform a sexual children's play for the local orphan, the two tough guys start to reflect on the lost dreams of childhood. Yet this idyllic tone is continually upset by Miike's ever-provocative direction which takes delight in frequent reminders of the hyper-violent yakuza massacre that is happening back on the mainland. What results from these sudden tonal and narrative shifts is a truly bold and unified poetic vision on the dreams of childhood and violences of maturity that manages convey as much tenderness as chaos.
---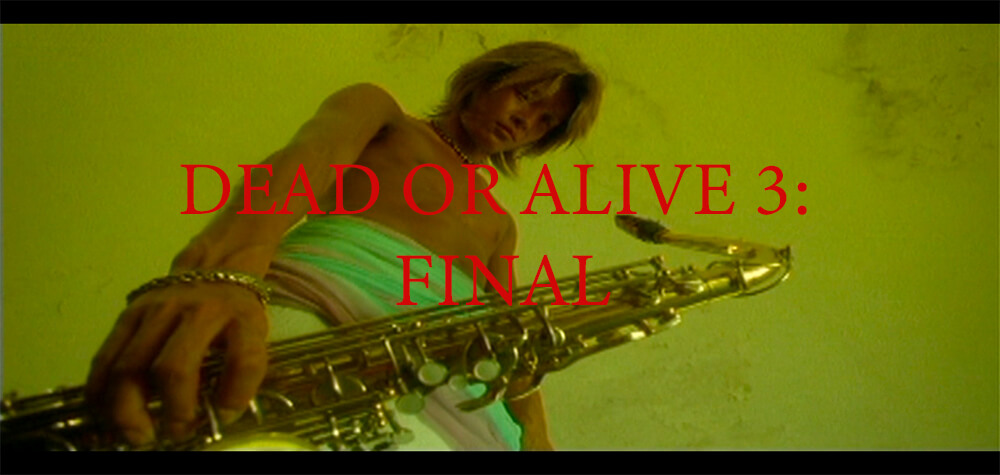 DEAD OR ALIVE 3: FINAL
Dir. Takashi Miike, 2001.
Japan. 89 min.
SATURDAY, MARCH 3 – MIDNIGHT
WEDNESDAY, MARCH 7 – 10 PM
SUNDAY, MARCH 11 – 7:30 PM
THURSDAY, MARCH 22 – 10 PM
FRIDAY, MARCH 30 – 7:30 PM
After the hyper-violent chaos of the first film and the nearly languid nostalgia-trip of the second, Miike takes DEAD OR ALIVE 3: FINAL through another wild turn towards pure cyberpunk territory. Set 300 years in the future when Japan is the last country on earth and yet almost no one speaks Japanese, Show Aikawa plays a fugitive replicant who befriends a small boy and falls in with a group of bickering resistance fighters. Hot on his trail is Riki Takeuchi in sunglasses and a stylish leather trench coat, begrudgingly taking orders from a maniacal general bent on spreading sexual repression throughout the land. Filled with stylish MATRIX-inspired action sequences, some impressively dystopic looking Hong Kong cinematography, and a wonderfully weird semi-nude saxophone obsessed henchman, DEAD OR ALIVE 3: FINAL manages to expand upon everything great about the series so far, while underscoring it with a refreshingly self-referential subtext that delivers some truly gonzo thrills of its own.