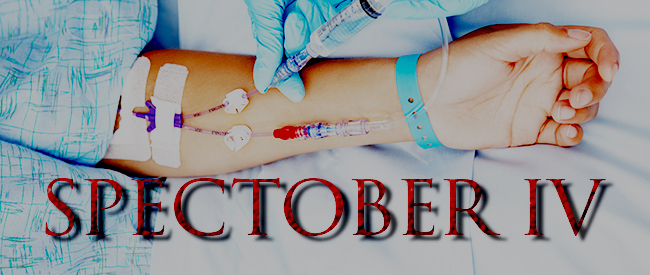 For the fourth year, Spectacle is proud to present a month-long, lovingly-selected series of unknown, mysterious, and shocking films from around the world: SPECTOBER IV.
---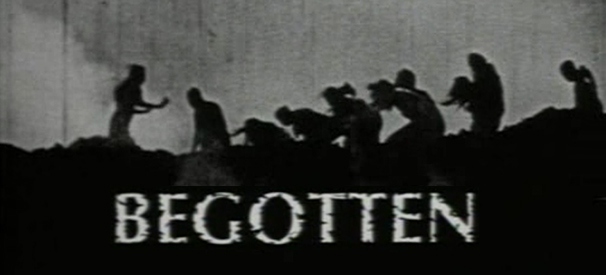 BEGOTTEN
Dir. E. Elias Merhige, 1990.
USA, 72 min.
THURSDAY, OCTOBER 2 – 7:30 PM
WEDNESDAY, OCTOBER 8 – 7:30 PM
MONDAY, OCTOBER 20 – 10 PM
"For God so loved the world, that he gave his only begotten Son, that whosoever believeth in him should not perish, but have everlasting life." -John 3:16 (King James Bible)
Easily one of the most singular films in the history of experimental cinema, E. Elias Merhige's BEGOTTEN is a deeply religious, allegorical nightmare carved onto celluloid distanced from place or time, uncovering visceral, primitivist brutality that may be unparalleled in the history of the moving image.
"One of the ten most important films of modern times." -Susan Sontag
Despite its near-total lack of cultural reference points, the churning, repetitive, symbolic actions of the entities depicted on-screen—all players from Merhige's radical Theater of Material troupe—suggest a broad mythology culled from sources as widespread as ancient Egyptian apologues, disparate pagan lore and, of course, Christian allegory. There is no dialogue or traditional narrative, yet BEGOTTEN's hypnotic aesthetic and the engrossing actions of the film's characters—named God Killing Himself, Mother Earth and Son Of Earth, Flesh On Bone—are never anything but riveting and pointed.
"…seems almost entirely self-contained, with little effort to engage an audience on even the level of moth; the film's approach is far too grotesque for that. The experience of watching 'Begotten' can best be characterized as intense." -Janet Maslin (NY Times)
BEGOTTEN was painstakingly re-photographed and optically printed in order to achieve the film's iconic chiaroscuro, famously requiring up to 10 hours of post-processing for every minute of on-screen time. Its widest mainstream exposure came long after the festival circuit and art-house run, when the aesthetically-consonant, Goth-as-fuck Marilyn Manson tapped Merhige to direct his video for the song "Cryptorchid" from the 1996 album Antichrist Superstar, a video which ended up including quite a bit of footage from BEGOTTEN directly. After this, Merhige entertained an unlikely flirtation with Hollywood and the world of commercial video, directing SHADOW OF THE VAMPIRE (2000), SUSPECT: ZERO (2004) and one of the best Interpol music videos (for "The Heinrich Maneuver"… not a great song).
"Evokes Alexander Sokurov and Francis Bacon as well as early David Lynch and a great many splatter films… if you're looking to be freaked out you shouldn't pass it up." -Jonathan Rosenbaum (Chicago Reader)
[Trigger Warning: Extended, recurring scenes of violent religious ceremony.]
---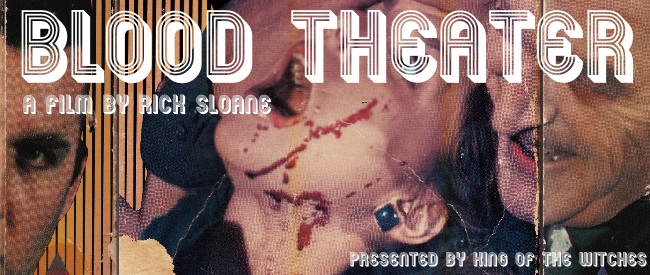 BLOOD THEATER
aka Movie House Massacre
Dir. Rick Sloane, 1984.
USA. 78 min.
Special thanks to Rick Sloane
SUNDAY, OCTOBER 5 – 7:30 PM
SUNDAY, OCTOBER 12 – 5 PM
THURSDAY, OCTOBER 30 – 7:30 PM
The staff of the Spotlight movie house is pleased to be opening their new location. That is, until they find out that every time the theater has been opened – someone gets killed. Unfortunately for these (doomed) kids, the bottom line is all that matters to their boss, and more importantly – his boss. Legacy of death aside – the show must go on!
In accordance with the unintentional Spectober tradition of having one of the films in our program take place in a movie theater (see also: ANGUISH) – the first feature from director Rick Sloane (HOBGOBLINS, HOBGOBLINS 2, MIND BODY & SOUL, etc) is peppered with strange theater related deaths, tinny synths, hilarious loudspeaker announcements, inside jokes (all the films projected in the movie theater were made by Sloane while attending school in LA), and a heaping helping of Mary Woronov <air horn>. Clocking in at just under 80 minutes, the film wastes no time establishing the set up and getting right down to business. Mary Woronov shines as the evil Miss Blackwell and relishes at the chaos around her.
King of the Witches – previous presenters for DESPERATE TEENAGE LOVEDOLLS, LOVEDOLLS SUPERSTAR, & SURVIVE –  return to Spectacle for another piping hot slab of analog pie with their brand new VHS release of this video store staple. Join us for the final screening on Oct. 30th w/ KOTW in attendance with tapes, posters, and who knows what else!
---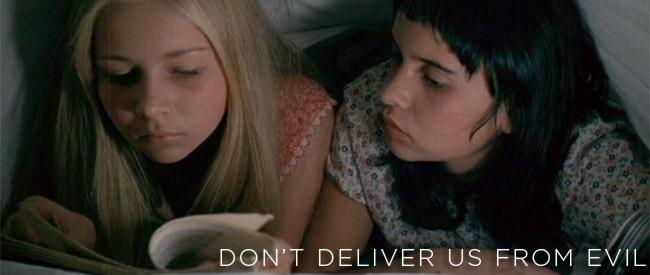 DON'T DELIVER US FROM EVIL
Dir. Joël Séria, 1971.
France, 110 min.
In French with English subtitles.
SATURDAY, OCTOBER 11 – 10 PM
SATURDAY, OCTOBER 18 – 7:30 PM
MONDAY, OCTOBER 20 – 7:30 PM
THURSDAY, OCTOBER 30 – 10 PM

"Really about the obsessive nature of female friendship, of girls suffering a tedious, square world filled with hypocrisy and becoming hopped up by literature and the forbidden and hellfire and all the stuff that's so intense when you're 15, [DON'T DELIVER US FROM EVIL] is a fiendish paean to the freaky bad girl—girls who, when staring into that bland void would rather, quite literally, burn out than fade away." – Kim Morgan, Sunset Gun
Special thanks to Pete Tombs and Mondo Macabro
One of the great unhearalded works of early '70s youth rebellion, DON'T DELIVER US FROM EVIL is about a pair of upper-class parochial school BFFs who swear themselves to Satan and set out, in their own seemingly innocent way, to inflict pain and cruelty on do-gooding "idiots." Over the course of a summer, the two have neighboring country vacation homes, and when Anne, the instigator of the two, is left on her own, her place becomes a haven for all kinds of wickedness. The girls amuse themselves with sexual intimidation of their neighbor, restaging Christ's Carrying of the Cross with a lame groundskeeper, holding a Satanic ceremony, and seducing a married man. When they return to school, they make the ultimate statement of contempt for middle-class values.
The film is as much about hiding under the covers with flashlights and dirty books and sneaking cigs and communion wine as it is figuring out where to hide a body. It's not difficult to imagine why the film never received US distribution: it's not a lurid exploitation that could appeal to a grindhouse crowd, but its arthouse style and whimsy is rooted in too much anti-bourgeois perversion to appeal to sophisticated New Yorkers. (Though Amos Vogel does single it out in FILM AS A SUBVERSIVE ART.) Consider it a cross between Jean Eustache and Michael Haneke with a bit of Buñuel and Larry Clark thrown in—but one that seems uniquely attuned to its young, rebellious female protagonists. It's a true diamond-in-the-rough.
Rally your best friend and check it out: this is essential bad girl viewing.
Trigger warning: attempted sexual assault of a minor
---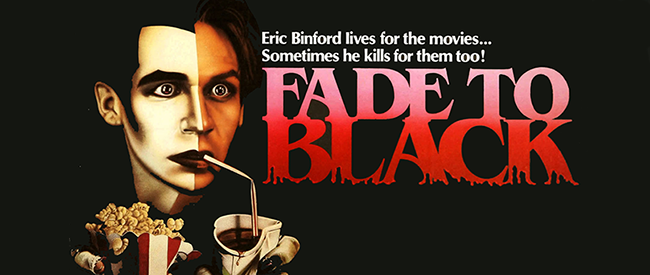 FADE TO BLACK
Dir. Vernon Zimmerman, 1980
USA, 102 min.
Special thanks to Vernon Zimmerman
SATURDAY, OCTOBER 4 – 7:30 PM
TUESDAY, OCTOBER 14 – 10 PM
THURSDAY, OCTOBER 23 -10 PM
Eric Binford is a lonely, chain-smoking film addict eking out a meager living by delivering film canisters around LA for a small distributor. One day, he crosses paths with a Marilyn Monroe-lookalike whom he somehow gets to agree to a date. When it appears that she stands him up, his cinema-obsessed brain snaps. Transforming himself into a rotating cast of classic horror characters, Binford sets out on a killing spree to destroy his oppressors! Will a coked-out, harmonica-blasting cop be able to stop him in time?
A labor of love for writer/director Vernon Zimmerman (whose credits span everything from the Terrance Malick-scripted trucker pic DEADHEAD MILES to road flick BOBBIE JO AND THE OUTLAW to roller derby gem UNHOLY ROLLERS to camp classic TEEN WITCH), this oddball early 80s effort isn't gory enough to be a straight slasher and too weird to be a straight drama, as Dennis Christopher (BREAKING AWAY) infuses BInford with a healthy amount of depth and empathy. It feels like TAXI DRIVER crossed with an abandoned John Waters script, all the while predating the self-referential, postmodern SCREAM horror sensibilities by over 15 years.
If anything, the film-obsessed lead has a few lines that, admittedly, hit pretty close to home for some Spectacle members! And be on the lookout for a young Mickey Rourke as a bully!
---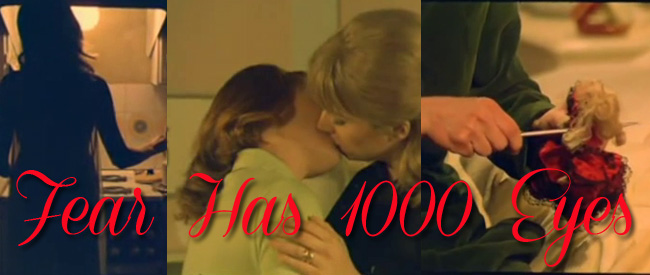 FEAR HAS 1000 EYES
Dir. Torgny Wickman, 1970
Sweden, 76 min.
In Swedish with English subtitles.

TUESDAY, OCTOBER 7 – 7:30 PM
SUNDAY, OCTOBER 12 – 7:30 PM
TUESDAY, OCTOBER 21 – 7:30 PM
The first (and only?) Swedish erotic horror film ever made, FEAR HAS 1000 EYES isn't the grindhouse film that title might suggest. Instead, it's a moody, atmospheric film about the eerie relationship between Anna, her priest husband, and their friend/caretaker, who has sold her soul to the devil. Anna is pregnant, with a shadowy history of mental trouble and anxious tendencies, living with Sven in rural Sweden. Surrounded by snow and not much else, Anna's mind runs wild, until their friend Hedvig comes to stay with them, ostensibly to care for Anna…but there are other forces at play in the household.
The film asks more questions than it answers, and the ending is explosive and enigmatic. Anita Sanders gives an appropriately blank-eyed performance as Anna, a priest's wife trapped in the middle of nowhere. With more in common with a Bergman film than your average sex occult thriller, FEAR HAS 1000 EYES brings a sexy slow burn to SPECTOBER IV.

---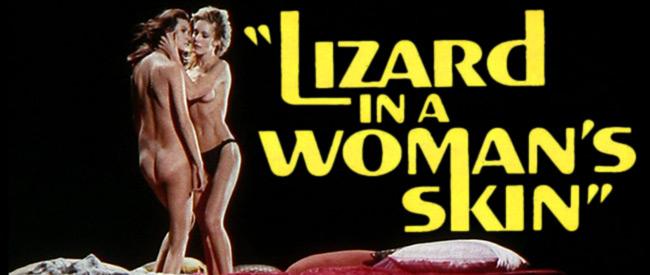 LIZARD IN A WOMAN'S SKIN
Dir. Lucio Fulci, 1971
Italy, 104 min.
In English.
SATURDAY, OCTOBER 11 – 7:30 PM
THURSDAY, OCTOBER 23 – 7:30 PM
TUESDAY, OCTOBER 28 – 7:30 PM
Before becoming renowned for orchestrating some of the nastiest gore sequences in cinema, Lucio Fulci directed a string of (still fairly gory) gialli, or lurid Italian mystery films, of which LIZARD IN A WOMAN'S SKIN is one of the finest. And though the psychedelic lounge vibe is no stranger to the genre, LIZARD is the most drug-addled orgiastic giallo trip ever conceived.
In one of her iconic performances, genre legend Florinda Bolkan plays Carol, a frustrated housewife who experiences anxious erotic dreams about dalliances with her libertine neighbor, Julia (Anita Strindberg). When one of the fantasies turns spectacularly sour and Julia appears as a corpse, Carol wakes up to learn that Julia has been actually murdered in reality under mysterious circumstances. Initially convinced of her own guilt, but then unsure, Carol is thrust into a paranoid gauntlet of drugs, sex, murder, and suicide as she, her philandering husband, and investigators all try to untangle the killer's identity.
With it's LSD-laced narrative and ghoulish hippies, LIZARD IN A WOMAN'S SKIN gives a whole new meaning to the phrase "death trip." And besides being a great showcase for Bolkan, it features a number of stellar behind-the-scenes credits, including composer Ennio Morricone and special effects artist Carlo Rambaldi (E.T., ALIEN, POSSESSION), whose work on this film actually landed him in court—pegging him with the distinction of being the first special effects artist ever called before a judge to prove his effects weren't real.
TRIGGER WARNING: a brief hallucinatory scene of simulated animal cruelty
---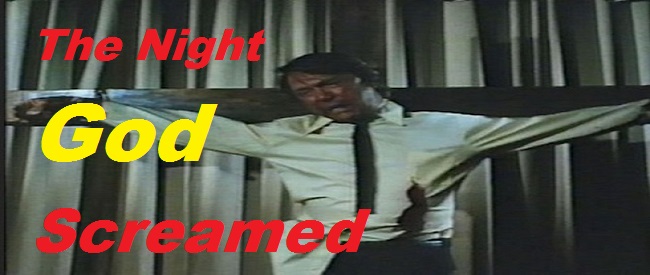 THE NIGHT GOD SCREAMED
Dir. Lee Madden, 1971
USA, 85 min.
SATURDAY, OCTOBER 4 – 10 PM
MONDAY, OCTOBER 13 – 7:30 PM
SUNDAY, OCTOBER 26 – 7:30 PM
"Summon the AAAy-toner!"
Can your soul stand the theological implications of 1971's THE NIGHT GOD SCREAMED? You get old-school 42nd Street madness with this lost exploitation flick about the dangers of uncanny Bible-quoting hippies and the generation gap.
If you hate religion, goodness gracious, do we have a flick for you! Not quite a "gem," but certainly an object of intense fascination: THE NIGHT GOD SCREAMED is an almost forgotten, "ripped from the headlines," deliciously nasty 1970s grindhouse flick that has gotten better with age as its subtextual philosophical questions have gotten more prescient over the years.
Neither the Manson-esque followers of psycho-prophet Billy Joe Harlan (a perfect Michael Sugich) nor the "Squares" who spend their last dime on religious trinkets instead of necessities, are spared: foolish Reverend Pierce has used this month's mortgage payment on a giant wooden cross; and drug-pushing Billy Joe exults to his faithful, "They was all just a bunch of sinners…but I saved them, Lord! I showed them that using dope was the way to turn on to You!
Meanwhile, Billy Joe's hooded henchman, the Atoner ("the AAAy-toner!" shrieks the mystical nutjob in a way that will become a secret code to everyone who sees this film), lurks and slaughters for his master, like a medieval Jason Voorhies transplanted to suburban SoCal, prefiguring those killers with superhuman powers who stalked 1980s slasher pix.
After testifying against these "Kill for Jesus" freaks because they crucified (!) her preacher husband, Fanny Pierce (former Hollywood starlet Jeanne Crain, fresh from 1967's"youth in revolt"/drag-racing exploiter Hot Rods to Hell) finds herself in Straw Dogs territory as the incensed cultists seek holy revenge—by stalking her to a house where she's babysitting—dig this—college students.
Enlivened by beyond over-the-top performances and some extraordinary documentary-style footage of the soup kitchens of Los Angeles' Skid Row, this is the exploitation market in overdrive, plugging into then-topical/now-dated qualms: Fear the Hippies! The Mansons are everywhere! Beware of longhairs! Christians are murderous, brainwashed loonies! Hey, wait a minute…
Yet with all its sleazy and grim turns, 1971's THE NIGHT GOD SCREAMED is a valid primer on the nature of guilt, earned or not—with a great twist ending (that you should just forget we ever mentioned).
Helped by a breakneck—hint, hint—pace, the script that feels like something John Waters wrote, but taken absolutely seriously.
With nary a sense of irony, the movie seems too bleak and malicious to be considered "Camp," but its overwrought earnestness means it should be seen as the epitome of such: the unselfconscious overacting, the old-fashioned Hippie-Fear, the sociological pondering of the necessity of organized religion in an age of random mass-murder and widespread unemployment—this movie seems to has faith in its own nonsense, and it's honestly infectious—while being too cheap and slapdash to be completely believed.
Born and raised in Brooklyn, director Lee Madden also helmed the exploitation classics Hells Angels '69 (1969; a must-see biker-heist flick starring the actual Hells Angels) and the better-than-average bikers-join-hippies-against-dune-buggies Angel Unchained (1970). Now catch his largely unseen THE NIGHT GOD SCREAMED!
---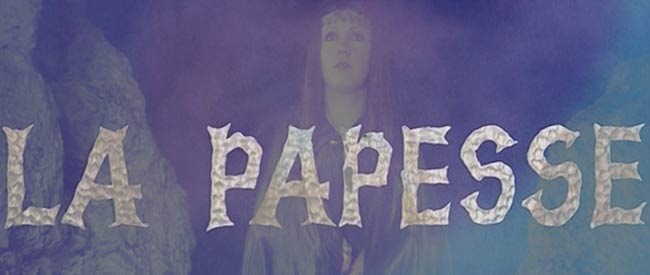 LA PAPESSE
aka The High Priestess
Dir. Mario Mercier, 1975
France, 95 min.
In French with English subtitles.
TUESDAY, OCTOBER 7 – 10:00 PM
TUESDAY, OCTOBER 14 – 7:30 PM
FRIDAY, OCTOBER 24 – 7:30 PM
"Penitence for the sinner!"
Newly married Laurent is initiated into a coven led by a mysterious woman in order to learn the secrets of black magic through mental and physical struggle. Once he becomes a member, he is told he must bring his wife Aline into the fold, and as Laurent tries to convince her, Aline suffers a series of nightmares brought on by the High Priestess in order to break her resolve.
Set in a desolate rocky area of rural Frances shot in beautiful Eastmancolor, the easiest comparison to make would be to the films of Jean Rollin or else to the great Morgane et ses Nymphes, yet with Mercier there's a more malevolent feel, a sense of brutality that's as much about leather-clad skinhead thugs as nightgown orgies. Mercier's third and final film (after the similar EROTIC WITCHCRAFT), LA PAPESSE is as psychedelic as a Renato Polselli film, has more whippings than three Robbe-Grillet films, offers some of the most frenetic nude dancing you'll ever see plus a great moody synth/organ/percussion score by Éric Demarsan.
TRIGGER WARNING: Animal Cruelty (hen sacrifice)
---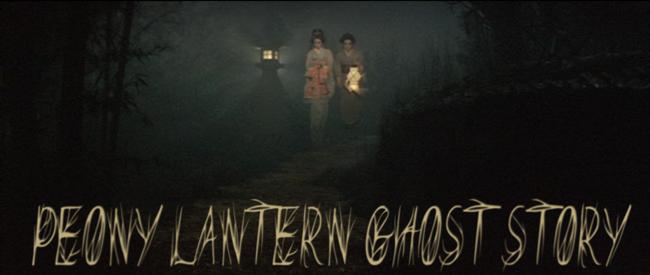 PEONY LANTERN GHOST STORY
aka Kaidan botan-dôrô
Dir. Satsuo Yamamoto, 1968
Japan, 88 min.
In Japanese with English subtitles.
SUNDAY, OCTOBER 5 – 5 PM
FRIDAY, OCTOBER 10 – 10 PM
MONDAY, OCTOBER 27 – 7:30 PM
"August 13 is the first day of the Festival of Obon, when people honor their ancestors – and when the spirits of the dead return."
Hagiwara Shinzaburou (Kôjirô Hongô) is disowned by his upper-class family for refusing to agree to a marriage of convenience. He returns to his life as a schoolteacher in a working-class village. On the first day of the Festival of Obon, he is approached by a beautiful young woman, Otsuyu, and her maid, Oyone, who impart to him their tragic tale. He falls in love with Otsuya, but his health steadily deteriorates after each tryst. Even after realizing that Otsuyu is a ghost and that the affair will soon kill him, he cannot resist her. At the insistence of the priest and his own schoolchildren, Hagiwara agrees to be locked in the village temple until the end of the Festival, but Otsuyu will not be so easily thwarted.
Kaidan Botan-Dôrô dates back to at least the Meiji Period. Director Yamamoto, an outspoken member of the Japanese Communist Party, infuses the ghost story, initially a Buddhist moral tale, with political substance. The film expands its focus to take in the workings of the community, and instead of a lone priest protecting Hagiwara from the ghosts, as in the original tale, the whole village is enlisted to help. Hagiwara has refused his family fortune to teach poor children, but it is greed which leads to the final tragedy.
---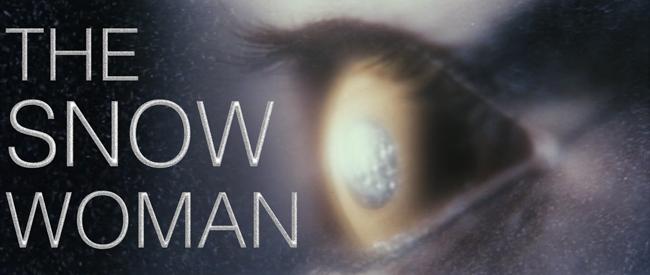 THE SNOW WOMAN
aka Kaidan Yukijorô
Dir. Tokuzô Tanaka, 1968
Japan, 79 min.
In Japanese with English subtitles
THURSDAY, OCTOBER 2 – 10 PM
FRIDAY, OCTOBER 10 – 7:30 PM
MONDAY, OCTOBER 27 – 10 PM
The story of Yuki-Onna, the Snow Woman, who kills any man who sets his eyes upon her, is best-known to western audiences as one of the segments in Masaki Kobayashi's 1965 portmanteau horror classic KWAIDAN. Made just three years later, Tokuzô Tanaka's poetic and haunting feature-length interpretation adheres to the basic outline of the folk tale (which is also referenced in Kurosawa's DREAMS), infusing it with added emotional depth and political subtext and one-upping Kobayashi's version with some truly inspired and terrifying set-pieces.
Shigetomo, a master sculptor, and his apprentice Yosaku set out for the Mino Mountains to find the suitable wood from which to carve the Buddhist statue for the state temple. Caught in a blizzard, they take refuge in a hut, where the Snow Woman finds them asleep. She murders the sculptor but, struck by Yosaku's "youth and beauty", impulsively decides to spare him if he promises to never tell anybody what he witnessed. He returns safely to his village but soon falls in love with a new arrival named Yuki, who is really the Snow Woman disguised as a human.
---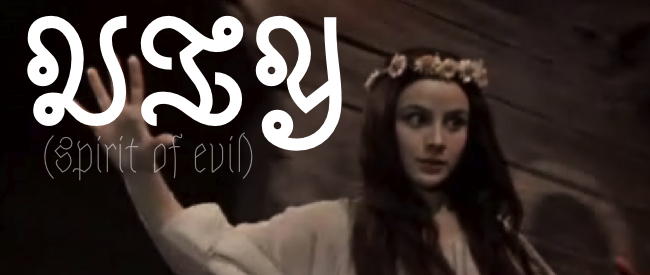 VIY
Dir. Konstantin Yershov & Georgi Kropachyov
1967, 78 minutes
In Russian w/ English subs.
MONDAY, OCTOBER 6 – 10 PM
FRIDAY, OCTOBER 24 – 10 PM
TUESDAY, OCTOBER 28 – 10 PM
A young student must pray for 3 days over the body of a recently deceased woman – believed to be a witch – while her restless spirit and a gang of ghouls temp, prod, and terrorize him to no end. Based on the story (also called Viy) by Nikolai Gogol, the film boasts some excellent effects work and a beautiful score.