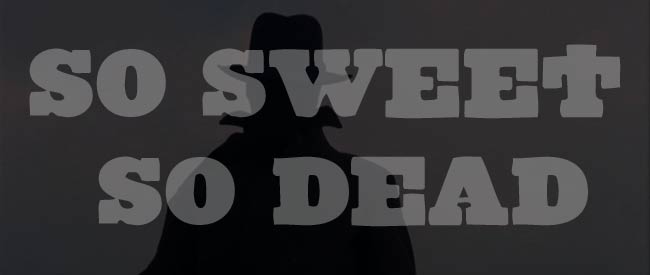 SO SWEET SO DEAD
aka Rivelazioni di un maniaco sessuale al capo della squadra mobile
Dir. Roberto Bianchi Montero, 1972
Italy, 95 min.
In Italian with English subtitles.
SATURDAY, NOVEMBER 1 — MIDNIGHT

Let's not mince words: So Sweet So Dead is a giallo. A straight-up, black-gloved, straight-razored, nightgowns and scotch giallo. A series of high society wives are being killed by a mysterious stranger after being unfaithful to their husbands, and the police lieutenant (Farley Granger) attempts to find the killer without being allowed to interview the husbands, in fact being thwarted at every turn by his superiors. Directed by Roberto Bianchi Montero, it's well worth watching for those of you who enjoyed last month's Sergio Martino series.
---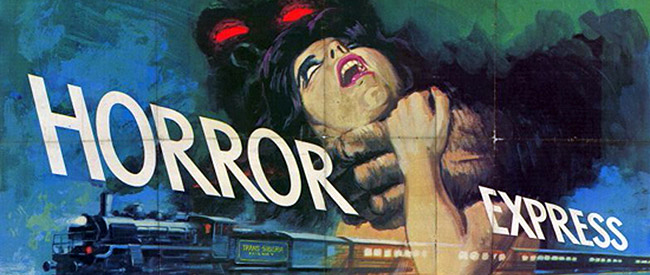 HORROR EXPRESS
Dir. Eugenio Martin, 1972
Italy/UK, 90 m in.
In English
FRIDAY, NOVEMBER 7 – MIDNIGHT
In this essential Trans-Siberian classic, the great Christopher Lee and Peter Cushing are rival anthropologists aboard a train en route from China to Moscow housing a crate with an amazing discovery: a primitive humanoid creature. The problem is, it houses a surprise of its own in the form of a shapeless, ancient alien entity hopping from body to body as hosts suck the memory, knowledge and brains from their victims. Lee and Cushing must combine their scientific expertise to understand and conqueror the otherworldly, demonic menace. In the meantime, Telly Savalas shows up as a domineering Cossack officer, and Argentinian spaghetti western star Alberto de Mendoza plays a nefarious, mad monk who renounces his faith and pledges his devotion to the ancient evil.
Like THE THING re-written by Paul Theroux aboard a bullet train to hell and featuring creepy, eye-bleeding make-up effects, freaky blazing-eyed zombies and top-notch performances by Lee and Cushing, HORROR EXPRESS is a total classic!
---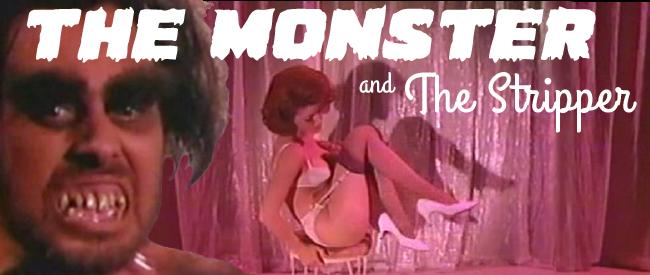 THE MONSTER AND THE STRIPPER
(aka The Exotic Ones)
Dir. Ron Ormond, 1968
USA, 91 min.
SATURDAY, NOVEMBER 15 – MIDNIGHT
Any attempt at classing up this sleazy 60s gem stopped with its original title, THE EXOTIC ONES, and even that failed as it switched to the more accurate THE MONSTER AND THE STRIPPER on rerelease. With a lot more stripper than monster, this film is pure 60s trash GOLD, and the last made before director Ron Ormond turned toward moralizing Christian fare.
What a film to go out on though – beginning with a gloriously overlong open call for "talent" at a "New Orleans" burlesque joint (actually a claustrophobically-shot Methodist Church), we're treated to a bevy of beauties featuring star dancer Titania (I couldn't make this up) and her famous Fire Dance strutting their stuff to the running Dada commentary of the film's co-producer and wife of Ron Ormond, June Carr.
Ormond himself plays demented Tony Clifton doppleganger/club owner Nemo, first seen torturing a man foolish enough to steal his money with the contents of a spittoon. Word reaches Nemo a monster's been murdering hillbillies in the swamps of Louisiana, and Titania suggests a Beauty and The Beast act with the beast ripping off all her clothes. NO OTHER ACT will do, and Nemo finds himself in the monster-hunting business. With a team led by son Tim Ormond (a trifecta of Nashville's First Family of Film!) they wander into the swamps and capture the beast, played by rockabilly also-ran Sleepy LaBeef (dare I say the Meatloaf of rockabilly?).
Back at the club, Little Timmy befriends the monster, who in turn falls for one of Titania's new dance rivals. The whole town is abuzz and eager to see the Monster and the Stripper, but will the show go off without a hitch? Of course not.
For all the supposed sleaze, this exploitation film doesn't feel exploitive – it's a bizarro family affair where nothing makes a lick of sense, but everyone's having a damn fine time onscreen. SEE a man get beaten with his own arm! WATCH a couple play dueling oversized harmonicas! MARVEL at hair and eye makeup that would make Divine puke with jealousy! HEAR dialogue that sounds like it was written with Noir Cliché refrigerator magnets! WITNESS – THE MONSTER AND THE STRIPPER! (and a lot of other strippers too)
---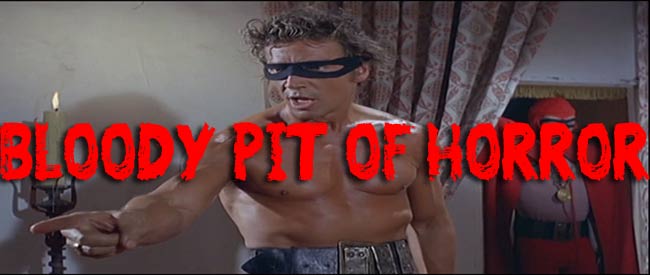 BLOODY PIT OF HORROR
aka Il boia scarlatto
Dir. Massimo Pupillo, 1965
Italy, 87 min.
In Italian with English subtitles.
FRIDAY, NOVEMBER 14 – MIDNIGHT
"The Crimson Executioner thirsts for blood!"
There's only one place to start with talking about this film, and that's the late great Mickey Hargitay. Mr. Universe, Mr. Jayne Mansfield, Mariska Hargitay's dad, and an actor at some strange point between Arnold Schwarzenegger and Klaus Kinski, Mickey dives into all of his roles with a bulging intensity that never fails to deliver. He's at his best here as a one-time actor named Travis who spends his days in seclusion…when not calling himself The Crimson Executioner, practicing self-worship, abusing body oil and subjecting trespassers to medieval torture in his castle compound. Along comes a breezy Italian gaggle of models and photographers who want to use his compound to do some horror paperback cover shoots. You can probably guess what's coming next, but trust me, we up the stakes considerably here, with some crazy set pieces (there's a scene with a mechanical spider that I can't even explain), a beautiful score and plenty of Mickey talking about his perfect body! Also claims to be based on the writings of the Marquis de Sade! We'll be showing the international cut with all nudity and tempra-paint gore intact!
---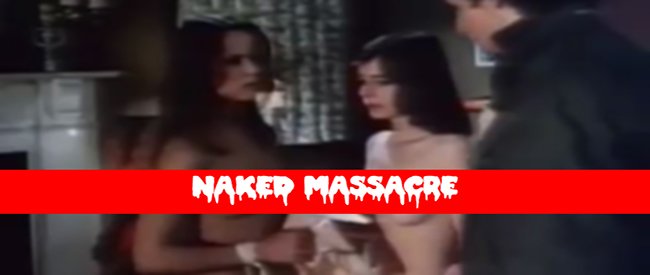 NAKED MASSACRE
aka Born For Hell
aka Die Hinrichtung
Dir. Denis Héroux, 1976
West Germany/Canada/France/Italy, 86 min.
SATURDAY, NOVEMBER 22 – MIDNIGHT
Based on the infamous case of nurse-butcher Richard Speck—also portrayed in Kōji Wakamatsu's VIOLATED ANGELS (1967), B-movies from 2002, 2007 and 2012, the original US poster for Fernando Di Leo's SLAUGHTER HOTEL (1971), a Wesley Willis song, self-appointed 'murder metal' band Macabre's 1993 tune "What The Heck Richard Speck?: Eight Nurses You Wrecked," and, uh, master painter Gerhard Richter's 1966 work "Eight Student Nurses"—this unusually sadistic international co-production is indeed the only version that grafts his story onto The Troubles in Belfast, Northern Ireland and re-casts Speck as a Vietnam vet, all while depicting a sexual perversity that allegedly outpaces that of the real-life killer.
---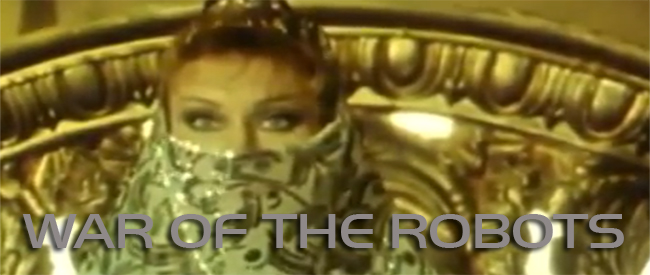 WAR OF THE ROBOTS
aka La guerra dei robot
Dir. Alfonso Brescia, 1978
Italy, 100 min.
FRIDAY, NOVEMBER 28 – MIDNIGHT
"Here's a science fiction movie what will blow your mind." -Marco Talvitie (Youtube via Google+)
"I'm not sure why anyone has compared this movie to Star Wars, other than some fighting with, "light swords". This movie reminded me more of a militarized version of the classic Star Trek TV series. It's actually not bad at all, cheesy, yes, but not bad. […] I didn't think I'd make it through the whole 100 minutes, but I did and don't regret that time!" -Forcemaster2000 (Internet Archive)
"One of the funniest things, even though it didn't really have much to do with the acting, was the footsteps. Anytime there were people running around or even just walking around, there were these really loud and pronounced footsteps dubbed in. It's one of those things that once you notice it the first time, you notice it every time." –B-Movie Central
"It's good. 9.5/10." -stevesaad3150 (TV.com)
---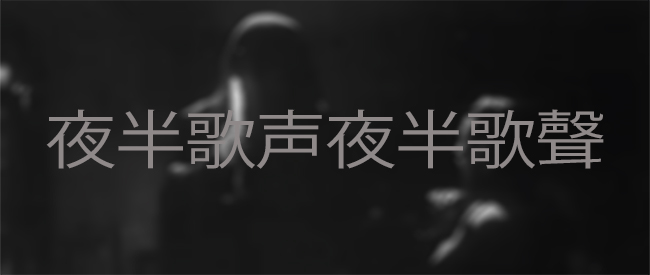 SONG AT MIDNIGHT
aka Ye ban ge sheng
Dir. Weibang Ma-Xu, 1937
China, 118 min.
In Chinese with English subtitles.
SATURDAY, NOVEMBER 29 – MIDNIGHT
Widely considered the first Chinese horror film ever made, SONG AT MIDNIGHT is a deft and frightening adaptation of Gaston Leroux's 1910 cultural juggernaut "The Phantom of the Opera," infusing the classic story with revolutionary propaganda reflecting the anti-feudal fervor of China at the outset of the Second Sino-Japanese War (1937-45).
Very influenced by Hollywood genre standards—as well as some moments indicating a German Expressionist influence—SONG AT MIDNIGHT allegedly played poorly to 1930s Chinese audiences. Its stature has grown considerably since, however, frequently appearing on lists of all-time best Chinese films and spawning two remakes: Chiu Feng Yuan's two-part THE MID-NIGHTMARE (1962) and Ronnie Yu's THE PHANTOM LOVER (1995).