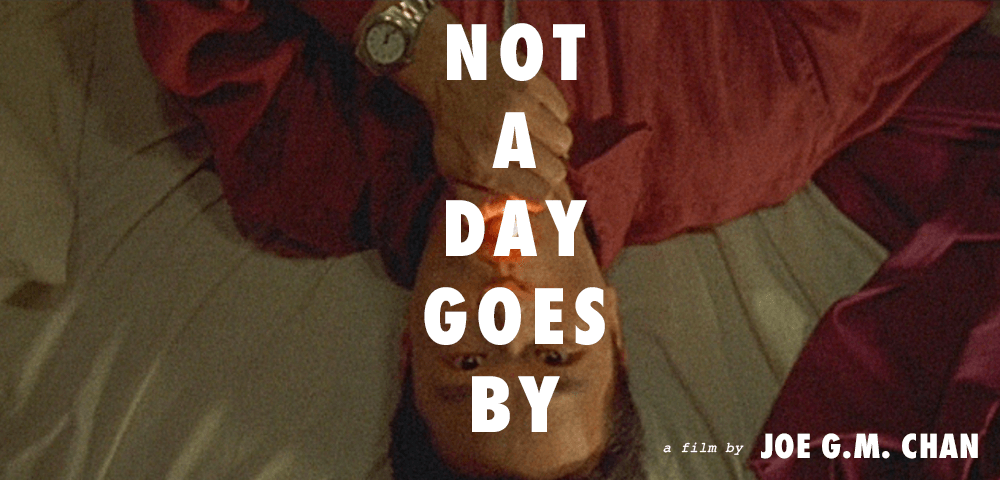 NOT A DAY GOES BY
dir. Joe G.M. Chan, 2001
71 mins. United States.
SUNDAY, MAY 19 – 7:30 PM
ONE NIGHT ONLY with director Joe G.M. Chan in person for Q&A
(This event is $10.)
While Spectacle's founding edict – to show "lost and forgotten" films – sometimes ruffles the feathers of world-traveled directors, we're very happy to host this one-night-only screening of Joe G.M. Chan's deep-cut NYC indie drama NOT A DAY GOES BY, rarely exhibited since it played the 2002 Asian-American Film Festival. Shot over three weekends at a cost of $20,000, Chan's feature debut follows Wolfgang (Larry Chin), a self-hating 20something in Giuliani-era Chinatown recoiling from the death of his more traditional immigrant mother, as well as the recent departure of his girlfriend who (according to Wolfgang) left him for a white dude. Foul-mouthed and confrontational, film is essentially a series of conversations – at his mother's magazine shop, out in the streets, at the pre-reupholstered version of Winnie's Karaoke Bar – between Wolfgang and his friends about the hypocrisy he finds at ladder of Chinese-American upward mobility, matched by his own refusal to speak Cantonese or accept the gift of a chicken in his mother's honor. Chan will join us for a Q&A after the film, including the lurid details of his featured turn as Alfred Molina's long-suffering right hand man in 1997's BOOGIE NIGHTS – a story Chan has refused multiple historians of the legendary porn drama.
"Some scenes work better than others, and Chan wisely makes no attempt to sew things up too tightly. Project was six years in the making, but any stop-and-start unevenness on view has been successfully integrated into the film's overall desultory loose-ends feel. Lensing is superior, as are all tech credits and music. Hopefully the imaginative, skillfully synched rock-song samples can be cleared for final release: They counterpoint pic's original scoring quite nicely."– Variety
"I enjoyed it and found it very interesting and quite well made". – Martin Scorsese