This Summer, in conjunction with Anthology Film Archives' SIMIAN VÉRITÉ series across the water, Spectacle goes bananas with a selection of C-sides from the eternal struggle between primate and man – culminating in a shocker of a midnight that must be seen to be believed. This is MISSING LINKS: the high-chimpact series you didn't know you needed.

---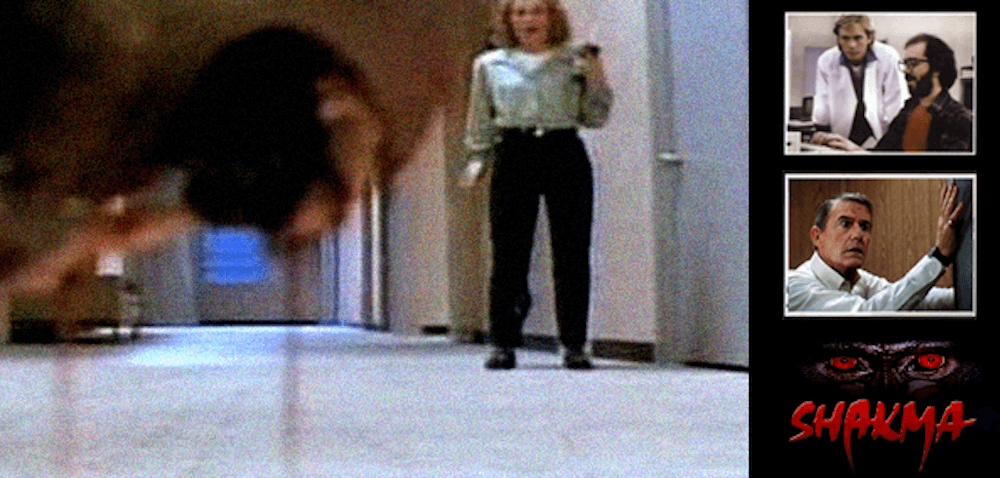 SHAKMA
aka TERROR IN THE TOWER
dir. Tom Logan / Hugh Parks, 1990.
USA/UK, 101 min.
MONDAY, JUNE 5 – 10 PM
FRIDAY, JUNE 9 – 10 PM
WEDNESDAY, JUNE 14 – 10 PM
TUESDAY, JUNE 20 – 10 PM
"The world's most aggressive primate just got mad!"
What better time than 10pm on a weeknight for a failed experiment? Moments after using a power drill to graft a microchip onto a baboon's heart, it's Friday – and so a plucky group of horny and misguided researchers decide to go after-hours LARPing in the lab. Trouble is, the baboon has been flooded with steroidal enyzmes, and he's out for revenge. Leading a sundry cast of lowercase-E expendables, Roddy McDowell lends simian blessings to a gruesome and hardheaded terror-jaunt equal parts "man vs. nature" and haunted house. But the real star is the indestructible SHAKMA, played by a small co mpany of real (and presumably authentically angry) baboons. Take it from us: this is one you do not want to miss.

---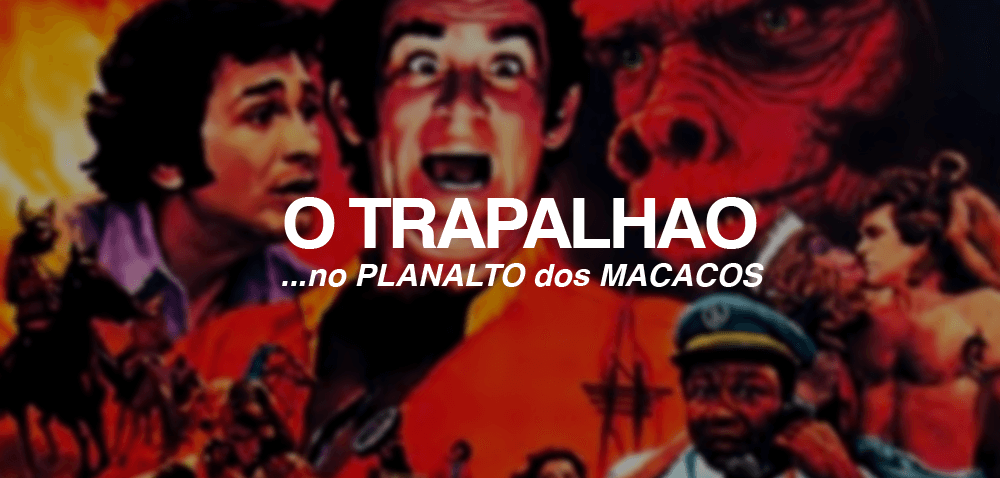 O TRAPALHAO NO PLANATO DOS MACACOS
(aka BRAZILIAN PLANET OF THE APES)
Dir. J.B. Tanko, 1976
84 minutes. Brazil.
In Portuguese with English subtitles.
MONDAY, JUNE 5 – 7:30 PM
TUESDAY, JUNE 13 – 10 PM
FRIDAY, JUNE 16 – 7:30 PM
MONDAY, JUNE 19 – 10 PM
FRIDAY, JUNE 30 – 7:30 PM
The title of this film translates to something like "the bumbling ones on the plateau of the apes"; indeed the film is but one of many in the 30+ title O TRAPALHAOES saga, which can be taken to mean "pranks", "shenanigans" or "pratfalls" – in essence, anything that isn't helping. Starring legendary Brazilian comedians Dedé Santana, Mussum and Didi Mocó, O TRAPALHAO NO PLANALTO DOS MACACOS' is a surprisingly earnest (and indefatigably goofy) recreation of the original PLANET, wherein a band of idiot heroes end up "liberating" a simian populace that hates them – save for one comely philosopher-queen chimpanzee. (The old discourse about humanity's true origins haunts PLANALTO just as intently as it does the priori APES movies.) The inevitable bloodbath that follows is leavened with low-budget tension, including over two dozen return-insert shots of the same clock strapped to a stick of dynamite during one ape leader's speech, and a hidden bag of black pearls stowed near the hot air balloon our heroes need to return to Earth. (Or was it Earth all along?) Slather that over a sizzling psycho-novo soundtrack – replete with guitar loops that play against whole 20 minute set pieces – and trust us: you won't want to miss this one.

---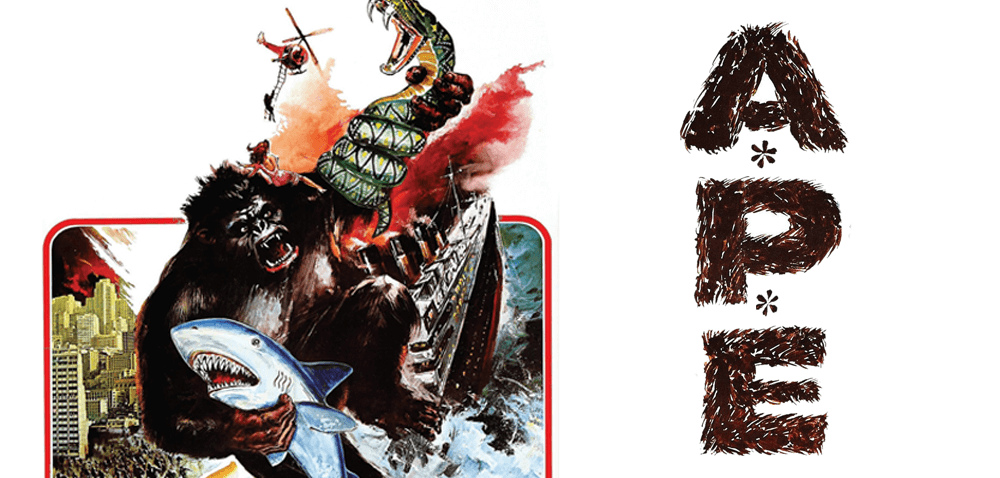 A*P*E
Dir. Paul Leder, 1976
87 minutes. United States/South Korea.
TUESDAY, JUNE 20 – 7:30 PM
TUESDAY, JUNE 27 – 10 PM
THURSDAY, JUNE 29 – 10 PM
FIRST SCREENING WILL BE IN 2D.
Jack H. Harris also gave his impeccable imprimatur to this brain-breaking Korean KING KONG REMAKE cash-in (asterisks borrowed from M*A*S*H) about a 36 foot gorilla who goes berzerk on land after being forced to fall in love with Johanna Kerns (of GROWING PAINS fame.) Featuring spectacular battles with a great white shark and a mile-long serpent whose fiberglass just won't quit, A*P*E* is the perfect refutation of the season's fusillade of eyeball-flagellating pixel pumice. Thanks to our friends at Kino Lorber, Harris and Leder's nonstop "How the hell does this actually exist?" viewing experience has been upgraded to three dimensions. Long before that pissed-off primate has flipped the bird to the nagging helicopter above (and thus, the audience ahead) you'll be glad you believed us when we said: this is one of those you do not want to miss.

---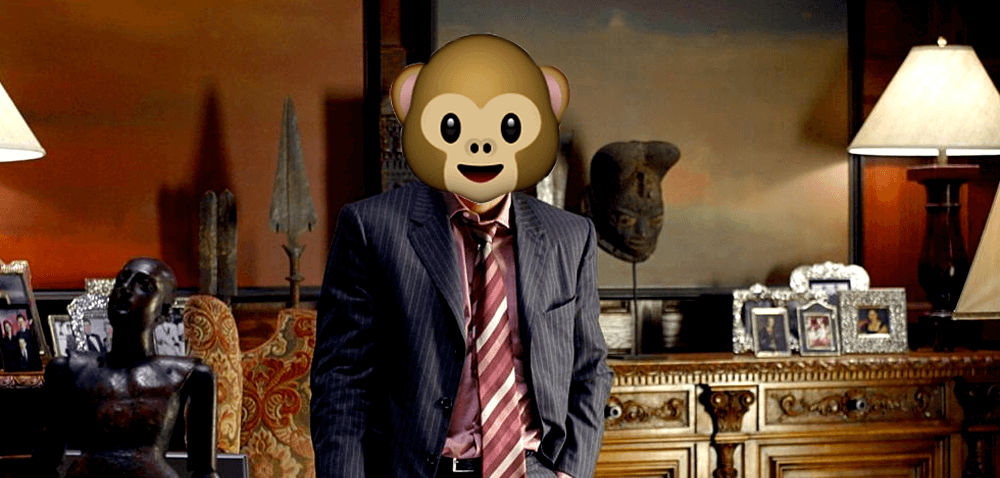 THE 🙊
dir. ????? ??????, 200?
93 minutes. USA.
In American English.
SATURDAY, JUNE 24 – MIDNITE – ONE NIGHT ONLY!
A loyal customer recently began querying us as to the worst film ever shown at Spectacle; some said (redacted) or (redacted), while memories of (redacted) or (redacted) were never far from our minds. No dreck connoisseur should miss the groundbreaking mystery feature (redacted) slated for June 24th. Directed by a leading man who was hot off a supporting role in one of the then-biggest franchises of all time, (redacted) concerns a hairy walker who summons another into his life during a long, hot New York City summer. For the writer/director/star it's a triple-threatening debut that collapses boundaries between inscrutable Dada and the scorching animus of an incoming decade's worth of toxic masculinity bro-comedies. And for the viewer? Trust us – you do not want to miss this one-time-only screening event.