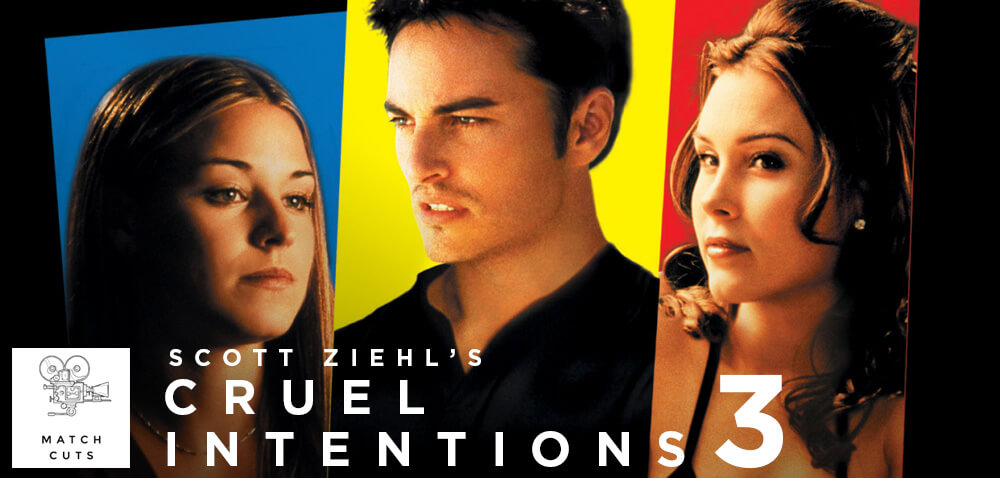 CRUEL INTENTIONS 3
dir. Scott Ziehl, 2004.
USA, 85 min.
English.
WEDNESDAY, OCTOBER 24th
ONE NIGHT ONLY – 7:30 PM
ONLINE TICKETS
FB EVENT
CRUEL INTENTIONS 3 is a 2004 American teen drama film directed by Scott Ziehl and released direct-to-video in 2004. Despite its name, the film has almost no relation to the previous films in the series, except for the shared themes and the lead character in this film, Cassidy Merteuil, who is a cousin of one of the characters from the first film, Kathryn Merteuil.
Plot keywords: teen angst, sex, betrayal, wager, jealousy, love triangle, preparatory school, manipulation, sexual assault, seduction, infidelity, sequel, lust, bikini, leg spreading, cunnilingus
Text courtesy of Wikipedia, IMDB
MATCH CUTS is a weekly podcast centered on video, film and the moving image. Match Cuts Presents is dedicated to presenting de-colonialized cinema, LGBTQI films, Marxist diatribes, video art, dance films, sex films, and activist documentaries with a rotating cast of presenters from all spectrums of the performing and plastic arts and surrounding humanities. Match Cuts is hosted by Nick Faust and Kachine Moore.