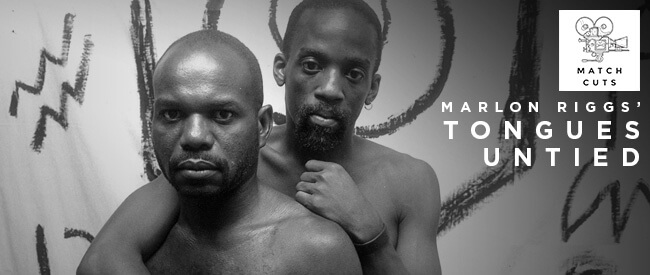 TONGUES UNTIED
dir. Marlon Riggs, 1989.
USA, 55 min.
English.
MONDAY, JANUARY 23 – 7:30 PM
ONE NIGHT ONLY!
Spectacle Theater is excited to collaborate with critical platform Match Cuts on a new series of screenings. Scroll down for more information on Match Cuts.
"Marlon Riggs' essay film Tongues United gives voice to communities of black gay men, presenting their cultures and perspectives on the world as they confront racism, homophobia, and marginalization. It broke new artistic ground by mixing poetry (by Essex Hemphill and other artists), music, performance and Riggs' autobiographical revelations. The film was embraced by black gay audiences for its authentic representation of style, and culture, as well its fierce response to oppression. It opened up opportunities for dialogue among and across communities.
Tongues Untied has been lauded by critics for its vision and its bold aesthetic advances, and vilified by anti-gay forces who used it to condemn government funding of the arts.It was even denounced from the floor of Congress.
'Black men loving Black men is the revolutionary act' is the rallying cry at the film's end and after more than 20 years, Tongues United remains a celebrated vehicle for eloquent self-expression and liberation."
Match Cuts is a weekly podcast centered on video, film and the moving image. Match Cuts Presents is dedicated to presenting de-colonialized cinema, LGBTQI films, Marxist diatribes, video art, dance films, sex films, and activist documentaries with a rotating cast of presenters from all spectrums of the performing and plastic arts and surrounding humanities. Match Cuts is hosted by Nick Faust and Kachine Moore, and produced by Meg Murnane.