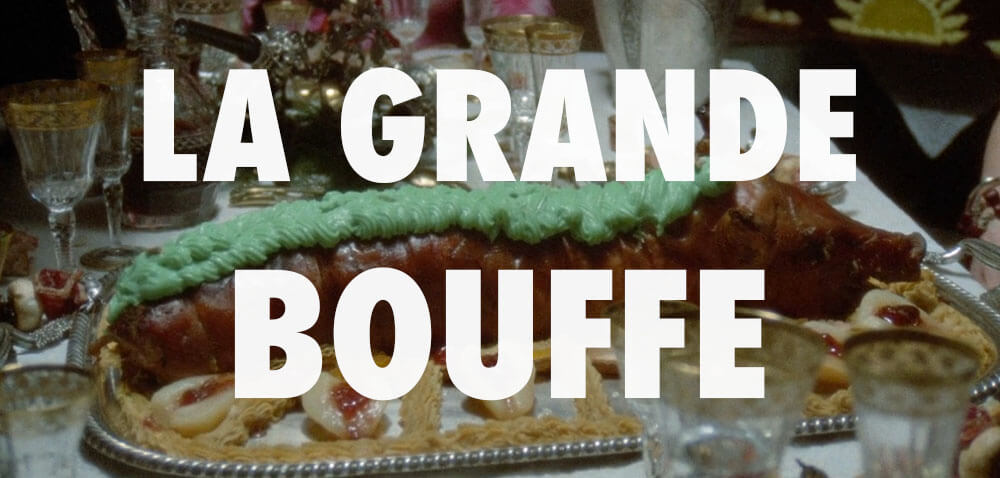 LA GRANDE BOUFFE
dir. Marco Ferreri, 1973
Italy/France, 135 min.
Italian & French w/ English Subtitles
SUNDAY, NOVEMBER 12 – 7:30 PM
WEDNESDAY, NOVEMBER 22 – 10:00 PM
With Thanksgiving just around the corner, Spectacle is proud to present LA GRANDE BOUFFE, Marco Ferreri's "biting" satire about four bourgeois men eating themselves to death.
After an innocuous opening in which four longtime friends (Marcello Mastroianni, Ugo Tognazzi, Philippe Noiret, & Spectacle-favorite Michel Piccoli) meet at a country villa for a "gastronomic seminar," it is revealed that their ulterior motive is to commit collective suicide through overeating. Joined by a schoolteacher (Andréa Ferréol) who turns out to be surprisingly open-minded to their plans , they feast on pizza Provençal, goose pâté, crêpe Suzette, and more early-70s Franco-Italian delicacies. As the film progresses, it becomes increasingly decadent, crude, and macabre as these upper-middle class libertines literally stuff themselves to death.
LA GRANDE BOUFFE is like 120 DAYS OF SODOM, but with food instead of sex (though there's also sex). The protagonists' inexplicable dedication to their absurd task is reminiscent of Luis Buñel's classic dinner party satire, THE EXTERMINATING ANGEL. A film that is somehow intellectual in its approach to fart jokes, LA GRANDE BOUFFE scandalized audiences when it premiered at Cannes, but nonetheless took home the FIPRESCI critics' prize.
So, while Williamsburg's foodies are enjoying their gourmet groceries and bottomless brunches, grab some epicurean eats and join us for the feast to end all feasts. Because, as Michel Piccoli muses midway through the film, "besides food, all is epiphenomenal."