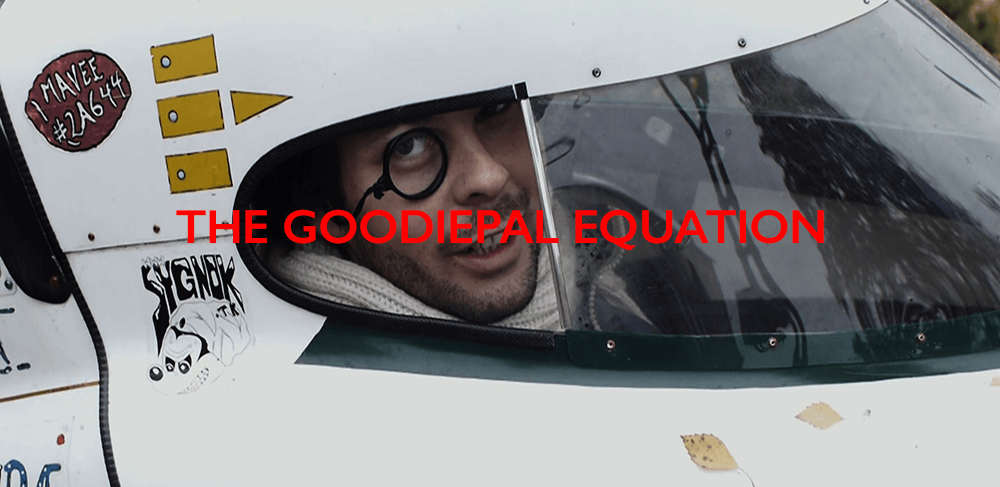 THE GOODIEPAL EQUATION
Dir. Sami Sänpäkkilä, 2017.
71 min, Finland.
In Finnish and English, with subtitles.
WEDNESDAY, NOVEMBER 1 – 10 PM
SUNDAY, NOVEMBER 12 – 5 PM
TUESDAY, NOVEMBER 28 – 10 PM
Goodiepal (real name Kristian Parl Bjørn Vester, b. 1974–76) is a Danish musician, performance artist, lecturer and activist operating on the fringes of society. Goodiepal rides thousands of kilometres on a self-built bicycle that he uses to power his shows. He has released a record with a genuine 500-krone banknote embedded in the vinyl – priced at 250 kroner. Goodiepal has put together an exhibition for the National Museum of Denmark comprising all his material possessions, and he creates his art outside of customary institutions and norms.
Goodiepal's best friend, the former 1960s rock star Poul Erik, is another true eccentric, a hoarder living among things he has collected from skips. His dream is to own a piece of each item ever produced by human beings. Goodiepal considers Poul Erik his partner in crime, although his audience would prefer to see him without him.
Goodiepal's life is shadowed by Huntington's disease, an inherited degenerative disease of the brain that has driven men in his family to suicide. Doctors find odd tumours in his head and he begins to misplace and forget things. Many of his closest friends are likewise affected by illness.
Goodiepal's activism turns increasingly radical and he drifts further and further away from social safety nets. Goodiepal challenges us to reflect on our view of the world. What remains of us if we only exist to serve the system? What is THE GOODIEPAL EQUATION?
---
Words from the director:
The Goodiepal Equation documentary film reveals a small part of Goodiepal's personality and mystery. It shows its protagonist as both an uncompromising artist and a loyal friend. Goodiepal explores the boundaries of society's rules. He shatters the definitions of art in his works and actions. Goodiepal is by nature impenetrable, yet consistent. That is why people often either love him or hate him.
Goodiepal himself forms an essential part of his theories. Indeed, the Goodiepal Equation is as follows: "The longer and further a message travels over space and time, the more value it adds to its content." One might think that this documentary has been made on the off-chance of Goodiepal later becoming an extremely famous artist and theorist. This, however, is a ready example of the paradox that is Goodiepal – it will never happen. If nothing else, it will be hindered by Goodiepal's personality. For all his overbearingness, he is not merely a master manipulator; his actions reveal true altruism and empathy. He pays for rooms for the needy to work and live in, he helps refugees and donates large sums of money to charity.
Even though he is the self-proclaimed man for the new millennium, for most of us he is also beyond comprehension and imagination. You will feel like Alice in Wonderland having a conversation with the Cheshire Cat. That is why following Goodiepal must be done with a mind as open as Alice's as she stepped through the looking glass.
The documentary portrays a man who is more than an artist or a theorist. It shows us someone who is battling – in his very personal way – his problems and illnesses. Goodiepal's attitude in the face of adversity is the main reason why I chose to make this documentary. His loyalty towards his friends is demanding but also very rewarding. In the words of his best friend Poul Erik: "He is ready to die for his friends."
-Sami Sänpäkkilä