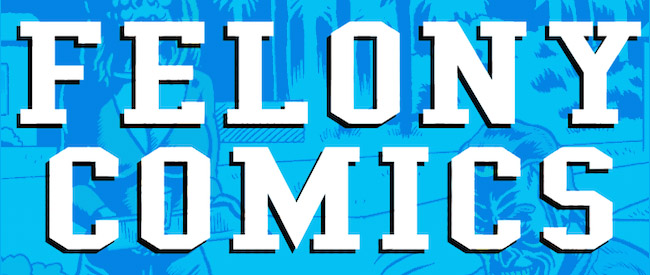 SATURDAY, JUNE 21 – ONE NIGHT ONLY! NO CHANCE FOR PAROLE!
10PM – THE SADIST / MIDNIGHT – NEW DRUG CITY
Negative Pleasure, in conjunction with Spectacle Theater, is proud to present the Felony Comics Crime Spree. From the fevered minds of Alex Degen (Area CC), Lale Westvind (Hot Dog Beach), Pete Toms (On Hiatus), Benjamin Urkowitz (Real Rap Comics), Karissa Sakumoto (Crawdads) and Benjamin Marra (Blades & Lazers), under the stern supervision of warden-in-chief Harris Smith (Jeans Comics), Felony Comics #1 is a shocking glimpse into the scum-drenched underworld of devious lawbreakers and indefatigable detectives.
Seething from the moral gray area that is Brooklyn, New York, Negative Pleasure issues you a summons to be an accomplice in our inaugural crime spree, celebrating the launch of our first issue with screenings of two of our most insidious cinematic crime bibles, The Sadist (1963) and New Drug City (aka Narcotrafico, 1985).
---

THE SADIST
(aka: Sweet Baby Charlie, Profile of Terror)
Dir. James Landis, 1963
USA, 92 min.
In English

SATURDAY, JUNE 21 – 10:00 PM
After their car suffers a bum fuel pump on the way to see an LA Dodgers game, Doris (an attractive young lady), Ed (a school teacher), and Carl (a nebbish family man) pull into a seemingly abandoned junk yard. They discover a residence with a freshly set dinner table and no one to eat it and the fear sets in – something is clearly wrong. Not soon after they run into Charles Tibbs, a wall of a man armed with a .45 and and creepy giggle who is flanked by his nearly silent partner, Judy. The two have managed to stay one step ahead of the law with a trail of bodies in their wake and have no intention of getting caught now.
With a small cast and only a few locations, THE SADIST is uncompromising in its menace. Made for an estimated $33,000, and loosely based on real-life murderer Charles Starkweather (which also served as the inspiration for NATURAL BORN KILLERS and BADLANDS), the film was the American debut of cinematographer Vilmos Zsigmond (The Deer Hunter, Close Encounters of the Third Kind) and serves as a cold reminder that sometimes the scariest monsters are human.
---

NEW DRUG CITY
(aka: Narcotrafico)
Dir. Raúl de Anda Jr, 1985
Mexico, 90 min.
Dubbed in English
SATURDAY, JUNE 21 – MIDNIGHT
It's the Feds vs. the Cartel as both sides of the law race through the desert to snag a hidden dope stash in New Drug City. Originally released in 1985 as Narcotrafico, New Drug City was retitled to cash in on the popularity of the popular Wesley Snipes/Judd Nelson crime flick New Jack City for its American dubbed VHS release by Magnum Video. Pure exploitation through and through, New Drug City features a bargain basement Crockett and Tubbs trading awkward, vaguely homoerotic banter as they blast their way through Mexico's badlands, leaving behind a trail of the prerequisite blood, bullets, bodies and babes. Directed by Raul de Anda Jr. and starring his brother, Rodolfo de Anda, both legends of Mexican action cinema.