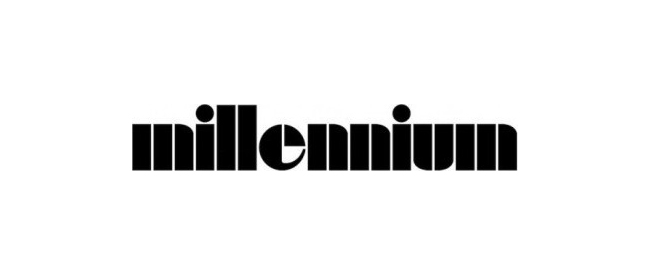 Spectacle is pleased to host Millennium Film Workshop for an ongoing, weekly presentation through December 2015 to showcase a selection of works by cinema artists.
For 49 years, Millennium Film Workshop has supported the emergence of a veritable "who's who" of experimental and non-commercial film cinema artists, through low cost workshops and equipment access, critical discourse in Open Screenings and the pages of the Millennium Film Journal, and through Personal Cinema Screenings that provide a forum for filmmakers to present and discuss their work in self-curated programs. Continuing a policy of "open" programming, we invite cinema artists and scholars to propose screenings, series, or events. We invite you to contact us at screenings@millenniumfilm.org.
NOW PLAYING:
WEDNESDAY, NOVEMBER 4: 7:30 PM – DIVIDING ROADMAPS BY TIMEZONES: FILMS BY AMANDA DAWN CHRISTIE
WEDNESDAY, NOVEMBER 13: 7:30 PM – MILLENNIUM FILM WORKSHOP MEMBER'S SHOW
---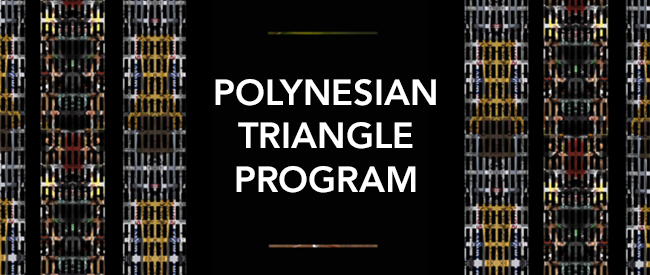 POLYNESIAN TRIANGLE PROGRAM
Dir. Various, 1958-2015
Various, Total Running Time: 75 min.
WEDNESDAY, SEPTEMBER 9 – 7:30 PM
** Grahame Weinbren in attendance! **
The program is curated by Grahame Weinbren from an assemblage of films selected by Martin Rumsby. It consists of works primarily by Samoan, New Zealand and Cook Island Maori, moving image artists from the Polynesian Triangle, which extends from New Zealand to Hawaii, from Easter Island to Samoa. All the works are U.S. premieres, and many world premieres made especially for the program. Artists include Leilani Kake, Tanya Ruka, Jeremy Leatinu'u, and Len Lye. The program is based on Martin Rumsby's "The Ocean is our Prairie," published in MFJ 61. Graham Weinbren will read from this text.
FREE RADICALS
Dir. Len Lye, 1958-1979
New Zealand, 4 min.
POUTAMA
Dir. Tanya Ruka, 2015
New Zealand, 4 min.
IN PURSUIT OF VENUS (INFECTED), 2 excerpts
Dir. Lisa Reihana, 2015
New Zealand, 3 min.
KIA ORA / KIA ORANA
Dir. Leilani Kake, 2010
Cook Island/New Zealand, 8 min.
THE WELCOME PROJECT
Dir. Jeremy Leatinu'u, 2010
New Zealand, 21 min.
TANE LIVES
Dir. Johnson Witehira, 2011
New Zealand, 3 min
TIMES SQUARE PROJECT [DOCUMENTATION]
Dir. Johnson Witehira, 2012
New Zealand, 2 min.
---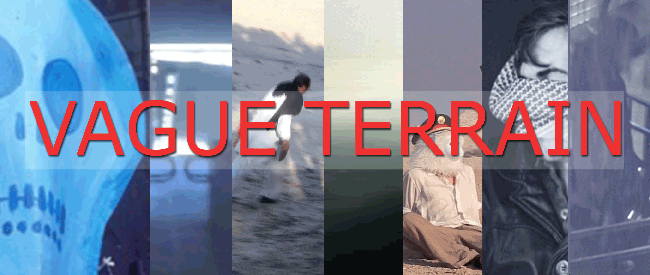 VAGUE TERRAIN
Dir. Various, 2010-2015
USA/Belgium, Total Running Time: 56 min.
THURSDAY, SEPTEMBER 17 – 7:30 PM
** All artists in attendance! **
Curated by Angela Ferraiolo.
A diverse group of filmmakers comes together to examine the familiar and ambiguous–to revisit places, persons, situations or ideas in an effort to find that small part of an experience that escapes logic, system, and the quantifiable. By looking at what is weird, and unstable, these films seek to generate illusory narratives, unsettling landscapes, and strange interiors.
LOS ANGELES II
Dir. Angela Ferraiolo, 2013
USA, 2 min.
GLASS ELEVATOR
Dir. Angela Ferraiolo, 2015
USA, 12 min. 30 sec.
PARADISE
Dir. Noe Kidder, 2010
USA, 10 min.
PARADISE OF CHILDREN
Dir. Noe Kidder, 2015
USA, 3 min.
ALEXIA
Dir. Kevin Jarvis, 2015
USA, 8 min.
INTELLECTUAL DESIGN
Dir. Kevin Jarvis, 2015
USA, 15 min.
DUBAI/ABU DHABI DESERT
Dir. Robbert&Frank Frank&Robbert, 2015
Belgium, 1 min. 30 sec.
QATAR COWBOY SCENE
Dir. Robbert&Frank Frank&Robbert, 2015
Belgium, 3 min. 30 sec.
---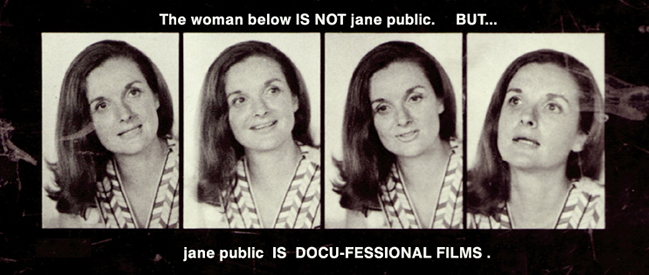 KIM RICHARDS GOT ARRESTED AT TARGET
Dir. Joey Huertas aka Jane Public, 2003-2013
USA, Total Running Time: 86 min.
WEDNESDAY, SEPTEMBER 23 – 7:30 PM
** Joey Huertas aka Jane Public in attendance! **
Millennium Film Workshop and Spectacle present an evening of film screenings by experimental filmmaker Joey Huertas–aka Jane Public. The screening will included I Need You; Missing Green; I'm not Jesus; Nice People; and I really think it's a Black and White incident.
Active since the early 1990's, Huertas has divided his time between social work and his practice as a filmmaker. The complex cinematic research that Huertas deploys extracts–at first sight–of a general violent layer exposing the state of a type of social schizophrenia. Using re-enactments, obscurity and sound sources within many of his films, the stories depicted are personal misers of broader social actions constantly shifting between private and public concerns.
The background upon which Huertas' works take place can be described as 'clinical fiction.'
I NEED YOU
Dir. Joey Huertas aka Jane Public, 2004
USA, 37 min.
MISSING GREEN
Dir. Joey Huertas aka Jane Public, 2007
USA, 9 min.
I'M NOT JESUS
Dir. Joey Huertas aka Jane Public, 2013
USA, 3 min.
NICE PEOPLE
Dir. Joey Huertas aka Jane Public, 2008
USA, 26 min.
I REALLY THINK IT'S A BLACK WHITE INCIDENT
Dir. Joey Huertas aka Jane Public, 2003
USA, 11 min.
---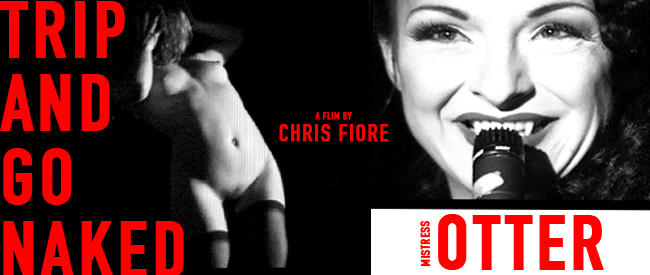 TRIP AND GO NAKED
Dir. Chris Fiore, 2004
USA, 74 min.
WEDNESDAY, SEPTEMBER 30 – 7:30 PM
** Chris Fiore in attendance! **
TRIP AND GO NAKED is a defiantly, deliriously, and joyously, obscene film. TRIP falls squarely into a time honored tradition of underground cinema, breaking sexual barriers and flaunting taboos, the film is a cavalcade of performances intended to titillate, shock, and terrify.
TRIP AND GO NAKED documents a transgressive variety show that took place in the dead of night over the course of the sweltering New York summer of 1995. Shot in the East Village's famous Pyramid Club, the film chronicles the efforts of the indomitable Mistress Otter and her band of merry perverts, constantly upping a twisted ante in an escalating series of emotionally intense and dangerous performances. Though it's definitely not a film for the squeamish, one of the big surprises here is that it's also quite funny.
In 2004 TRIP AND GO NAKED won the Excellence In Sexual Theater award at the Arlene's Grocery Picture Show and was featured at The Coney Island film festival.
Celebrating the twentieth anniversary of its shooting, this Millennium Film Workshop screening will be the third time this rarely screened film will be witnessed by the public.
---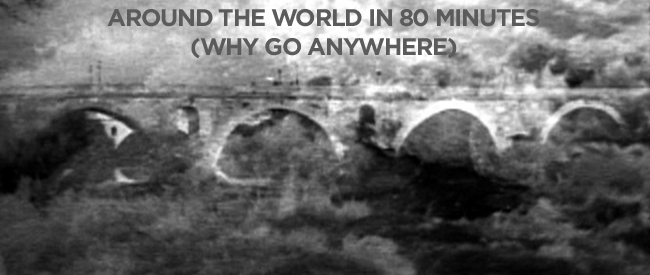 AROUND THE WORLD IN 80 MINUTES (WHY GO ANYWHERE)
Dir. Jacob Burckhardt, 2000-2015
USA, ~70 min.
WEDNESDAY, OCTOBER 14 – 7:30 PM
** Artist in attendance! **
A series of short poetic documentaries shot by Jacob Burckhardt in various places around the world between 2000 and this year. Some in black and white film, some in color video, some in-between. Impressions of a curious pedestrian. Sky light, dancing, night. Italy, New York, Sri Lanka, Estonia, Japan, New Jersey and more.
Over the years Jacob Burckhardt has worked a variety of jobs: blueberry picker, steel mill laborer, Fuller Brush man, truck driver, taxi driver, camera repairman and photographer. He has done sound recording, edited and mixed the sound of many independent movies and teaches at the Cooper Union and the Pratt Institute.
His films include two features: IT DON'T PAY TO BE AN HONEST CITIZEN (1984) with William Burroughs, Allen Ginsberg and Vincent D'Onofrio, and LANDLORD BLUES (1986); four featurettes in the series "Black Moments In Great History" (a collaboration with Royston Scott and Gerard Little AKA Mr. Fashion); A GUIDED TOUR OF EDITH'S APARTMENT, a "talking head" documentary about the 90-year-old artist. His movies fall into two categories: comedies and poetic documentaries concerned with texture, atmosphere and presence.
---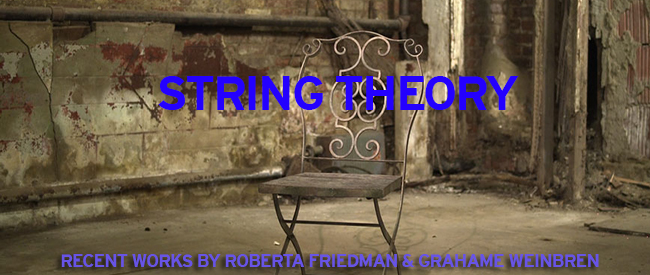 STRING THEORY: RECENT WORKS BY ROBERTA FRIEDMAN & GRAHAME WEINBREN
Dir. Roberta Friedman & Grahame Weinbren, 1976-2015
USA, ~70 min.
WEDNESDAY, OCTOBER 21 – 7:30 PM
** Artists in attendance! **
A program of recent films including STRAIGHT FROM BERTHA (1976-2015) and LETTERS (1997-present).
"STRAIGHT FROM BERTHA is straight from the heart. From the mind, it is hardly straight. The Gertrude Stein epigraph—"Everything being alike everything is different simply different naturally simply different"—prescribes the profoundly recursive style of the film will take, starting, as the film does, with the minimalist, structuralist, looping film-within-a-film, appropriated from an earlier era, 1976, then folding into that film new material from many earlier and later eras, generations, and themes, including film history, film language, film style, film institutions, family history, biography, and autobiography." -Ron Green, from "Notes on Straight from Bertha," 2015.
---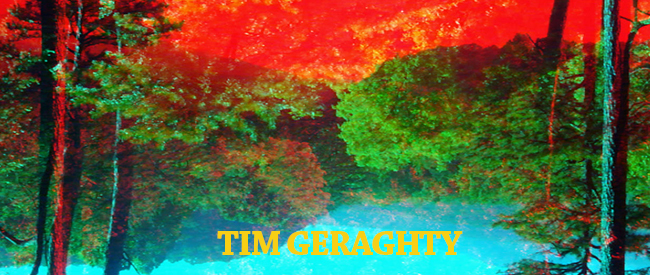 FILMS BY TIM GERAGHTY
Dir. Tim Geraghty, 2013-2015.
USA, ~70 min.
WEDNESDAY, OCTOBER 28 – 7:30 PM
** Artist in attendance! **
3D visions. Plagues of cicadas. Charred forests, crowded subways, the monkey's hand. Basements. Old cars. Soiled spots, torn extensions. Movies for each of your eyes. Binocular visions and locked doors. Mushrooms, dashboards, a walk to the store. Window planes, bending floors. Psychology. Food. Decapitation. Somehow these movies all make sense.
Program includes:
SOMETHING MIGHT HAPPEN, 2013, 16min (Anaglyph 3D video)
RAVEN AND DOVE, 2014, 11min (Anaglyph 3D video)
HERE COMES EVERYBODY, 2014, 10min (bipacked 16mm film)
NOVEL, 2015, 22min (Anaglyph 3D video, live optical sound performance)
Tim Geraghty is a film & video artist in the avant-garde tradition working largely with stereo 3D. His work has shown at the Rotterdam International Film Festival, Anthology Film Archives, the London Institute of Contemporary Art, Microscope Gallery, Flaherty NYC, and the International Film Festival Oberhausen. He is currently completing a documentary he has edited and co-directed. Born and educated in Providence, Rhode Island, he now lives and works in Queens, NY.
---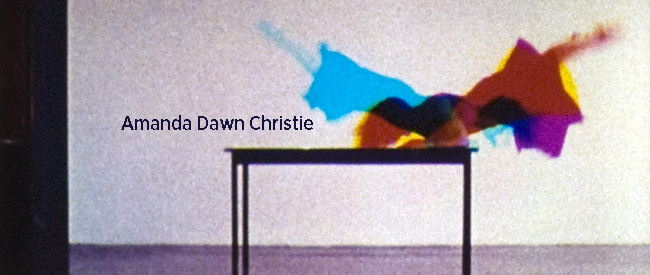 DIVIDING ROADMAPS BY TIMEZONES: FILMS BY AMANDA DAWN CHRISTIE
Dir: Amanda Dawn Christie, 2000-2010
Canada, Total Running Time: 71 min.
WEDNESDAY, NOVEMBER 4 – 7:30 PM
**Amanda Dawn Christie in attendance!**
This program of work is a survey of ten years of her practice from 2000-2010. These films reflect Amanda Dawn Christie's restless growth as an artist. Moving from hand processing to optical printing, contact printing, and performance, she layers memories and images in an effort to explore her past. Train trips, relationships, and her efforts to plumb the depths of the image all contribute to an ever changing evolution of her work.
"Amanda Dawn Christie traces the proximity and distance between places and people, images and memories; experiences, sensations, thoughts. Christie works the surface and the deeper materiality of film to trace the perpetual motion of subjectivity […] Analogous to a series of letters from one to another, Christie etches fragments of a life lived and places traveled into the fabric of the film medium. "
-Scott Birdwise – Canadian Film Institute-
HERE
Dir: Amanda Dawn Christie, 2000
Canada, 3 min
Super 8, BW, silent
One of Christie's first films, this hand processed super 8 film was created as a part of Helen Hill's Ladies Film Bee . Twelve women in Halifax were invited to each shoot a roll of super 8 film edited in camera, and then after handprocessing in Helen's bathtub, they spent an afternoon of tea, chit-chat, cucumber sandwiches and film animation at the kitchen table.
FOREVER HOLD YOUR PEACE
Dir: Amanda Dawn Christie, 2003
Canada, 1 min
16mm, colour, hand scratched sound
Live actions with hand scratched sound, this film presents the frustration of feeling the need to speak with nothing to say. Filmed by the artist's husband at the time, the film also relates to subtle complexities of communication within marriage.
TURNING
Dir: Amanda Dawn Christie, 2004
Canada, 9 min
16mm, BW, silent
Throughout the journey, meanings that symbols once held for us shift and change as black and white blend to form grey. We see ourselves reflected in the world around us and the world around us envelops us. Things that were once threatening become comforting arms of solace while things that were once sanctuaries threaten to drown us. Water has the power to cleanse as well as the power to drown while the forest is both protective and foreboding.
This film was originally projected onto a wall of melting ice as a part of the Quiet Triptych performance
PLAYING JACOB
Dir: Amanda Dawn Christie, 2005
Canada, 3 min
16mm, colour, optical sound
Loosely exploring the historical weight of institutionalized religion , and its relationship to individual spirituality, the filmmaker places herself into the Jacob myth of the Pentateuch. She plays the role of Jacob in an attempt to come to terms with her religious upbringing, and her anxious ambivalence towards her own agnosticism. Inspired by the in-camera techniques of the early cinema of Meliese, the film and all of its special effects were shot and edited in-camera.
16MM POSTCARD
Dir: Amanda Dawn Christie, 2005
Canada, 3 min
16mm, BW, optical sound
A diaristic film in which the filmmaker comes to terms with her new life in Vancouver, "16mm Postcard" is a bittersweet letter back home to the Atlantic Filmmakers Cooperative in Halifax. Like in any letter, it becomes painfully obvious that one can never fully communicate an experience or a longing, and the result is a series of random tidbits that point to a larger experience.
KNOWLEDGE OF GOOD AND EVIL
Dir: Amanda Dawn Christie, 2005
Canada, 1 min 25 sec
16mm, colour, silent
This film is an abstract exploration of the tension surrounding women and stereotypical representations of their knowledge. This film was created from footage shot at Phil Hoffman's independent imaging retreat (aka "the film farm") in Ontario as well as from footage shot in Vancouver. All of the footage was hand-processed, and some of it was contact printed by hand and treated in baths of potassium ferricyanide. The final film was created through various optical printing techniques.
THIS UNNAMABLE LITTLE DREAM: OR A TRACED SKETCH OF TWO BROTHERS
Dir: Amanda Dawn Christie, 2005
Canada, 3 min
Super 8, BW, silent
A personal narrative about the end of a marriage inserted into an homage to the Brother's Quay. This film was commissioned for the Splice This Remake This program.
MECHANICAL MEMORY
Dir: Amanda Dawn Christie, 2006
Canada, 5min
16mm, BW, optical sound
Created from super 8 footage that was shot in the 1970s of the family dogs and the trains that my father worked on, this film explores the decay of memory and image. The super 8 film grew fungus while stored in a basement. It was then optically printed up to 16mm and slowed down so that the snowflake shaped fungus could be studied. Narration presents fragmented stories of childhood memories. This film was created as a source film, which was later physically cut up and reprinted with a flashlight to destroy the image and sound for the subsequent film "Mechanical/Animal Memory" which is owned by the NFB.
3PART HARMONY: COMPOSITION IN RGB #1
Dir: Amanda Dawn Christie, 2006
Canada, 6 min
16mm, colour, optical sound
This experimental dance film employs a bastardized version of the 1930s three strip Technicolor process. Shot entirely on black and white film through color filters, the images were recombined into full color through optical printing techniques, one frame at a time. The gestures in this dance work explore the psychological fracturing and reunification in representations of the female body.
A MATERNAL RECORD NOT FULLY RECORDED
Dir: Amanda Dawn Christie, 2006
Canada, 3 min
Super 8, colour, live sound
A look at our attempts to preserve the past in home movies and photographs, and the disparity between the actual lived events and the mnemonic objects. Super 8 home movies from the 1970s show my mother and myself as a toddler, blowing bubbles and riding horse back. The original super 8 footage was transferred to video, then filmed back onto super 8 from a television monitor in an attempt to translate the memories from medium to medium degenerating and deteriorating with each transfer.
FALLEN FLAGS
Dir: Amanda Dawn Christie, 2007
Canada, 8min
16mm, colour, optical sound
A layered tapestry of trains and underwater footage exploring the realms of fear death and transience, this film places the traces of human voices amidst the flickering light and shadows of empty passenger cars. This film Stems from a train trip from one end of Canada to the other and back again, and the loss of a friend in a drowning accident. This project involved 15 days of train travel from Vancouver to Halifax and back again (1200 km in total).
POINT A – > POINT B
Dir: Amanda Dawn Christie, 2009
Canada, 3 min
Super 8, BW, double system sound
Created for a program of Acadian films curated by Mario Doucette for 8fest. This film is a meditation on identity, geography, and language; Je viens d'Acadie, mais je ne suis peut-être même pas Acadienne; est-ce que c'est la langue? la géographie? l'histoire?
V=D/T
Dir: Amanda Dawn Christie, 2008
Canada, 7min 36 sec
16mm, colour, optical sound
This film explores the possibility of measuring distances between loved ones through time zones. The sound track is comprised of personal and tragic phone messages left on voicemail when individuals could not connect due to great time zone differences, while the visual elements present simple and contemplative images of antique telephones, on handprocessed colour film, using a modified steenbeck as a contact printer.
TRANSMISSIONS
Dir: Amanda Dawn Christie, 2010
Canada, 15 min
Expanded cinema performance for two 16mm projectors, optics, and radio
An improvisational performance for analogue and digital technologies that explores radio waves and dreaming; satellites and ideas; wireless internet and cell phones; television and radio broadcasts; all of these signals contribute to complex interconnected webs of invisible landscapes and invisible architectures passing through our bodies in every time and in every space.
___
Amanda Dawn Christie is a Canadian artist working in film, video, performance, photography, and electroacoustic sound. Since 1997 she has been involved with artist run centres, serving on boards, working as a technician and later as a director, teaching workshops, publishing, and serving on juries across Canada. She completed her MFA at the SFU School for the Contemporary Arts in Vancouver, before moving to Amsterdam. Upon her return to Canada she worked as director of the Galerie Sans Nom and the RE:FLUX music festival. She left the gallery last year to work as a full time artist.
---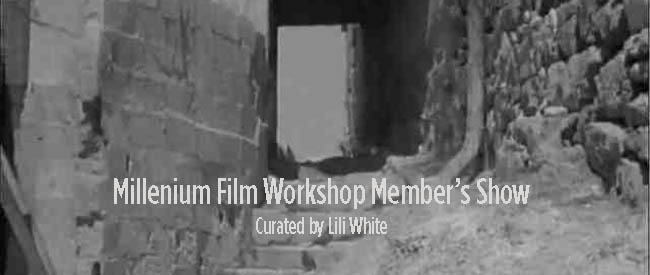 MILLENNIUM FILM WORKSHOP MEMBER'S SHOW
Curated by Lili White
Dir: Various, Various
Total Running Time: 73 minutes
FRIDAY, NOVEMBER 13, 7:30PM
**Curator and artists in attendance!**
This is a Members show of filmmakers involved with MILLENNIUM FILM WORKSHOP. There is no theme, no style, no philosophy or anything that connects these works together. Each presents an individual filmmaker work through their own personal cinema. – Lili White, curator
ZULEIKA DOBSON (digital)
Dir: Catherine Corman
2 min, 41 sec
MARIETTA (16mm)
Dir: Adele Friedman
5 min
"Marietta" was filmed in Vienna, Austria, in an apartment building that has been in her family since the aught years of the 20th century. The film is in black and white, which suits the interior of mementoes and heirlooms, family portraits and souvenirs of eras past. Yet Marietta is extremely energetic and contemporary in her approach to life.
BABEL (digital)
Dir: Margot Niederland (Theremin Music: Llamano)
4 min, 40 sec
A meditation on the consistency of change. I shot this footage on 16mm film and double exposed it in-camera. During my residency at The Experimental TV Center, I used one of their old analogue machines and turned its dials and knobs to create the effects.
EAST RIVER PAVILION, UPPER EAST SIDE, NYC (16mm to digital)
Dir: Barton Lewis
3 min, 4 sec
A study of a rusting steel truss bejeweled with flaking paint at the East River Pavilion.
WISCONSIN CHEESE QUILT 1 (digital)
Dir: Peter Kingsbury
3 min
This is quilted from still and moving digital captures I made at a Wisconsin cheese and root beer oasis. Over several months I had become fascinated with my wife's art practice transition from painting to quilting. Pondering images from our recent transcontinental road trip, I suddenly thought of quilting them -though I could not imagine the process or result. I still can't -which is a refreshing change in my art practice. I have plans for more quilts. I find that sewing timelines raises interesting questions about drama and decoration.
STARFISH AORTA COLOSSUS (8mm to digital)
Dir: Lynne Sachs and Sean Hanley
4 min, 30 sec
NYC poet Paolo Javier invited Sachs to create a film that would speak to one of his poems from his book COURT OF THE DRAGON (Nightboat Books). Sachs chose Stanza 10 from Javier's poem "Starfish Aorta Colossus". She then collaborated with film artist Sean Hanley to edit the film. Together, they traveled through 25 years of unsplit Regular 8 mm film that Sachs had shot
including footage of the A.I.D.S. Quilt from the late 1980s, a drive from Florida to San Francisco, and a journey into a very untouristic part of Puerto Rico. Throughout the process, they explore the syntactical ruptures, the celebration of nouns and the haunting resonances of Javier's poetry.
THE DOGS OF SPACE (digital)
Designed by Michael Betancourt
3 min
This narrative fuses documentary, scientific, fictional and abstract glitch footage into a composite story, dramatizing the launch of two Soviet space dogs, Belka and Strelka, into orbit. It explores glitch and realism, where the two are held in tension against each other: a balance between the abstracting and representing functions of digital imaging. In this
trajectory between realism and the geometric, the formal dimensions of digitally encoded motion transform live action footage into something else by shifting between the surface flatness of pixels and their organization into particular, recognizable subject matter. This engagement is distinctly semiotic: recognizable imagery as signifier (earlier, quoted work) in an arrangement and context that changes the meaning of concepts such as "Heavens and Earth" to provide a visionary subtext to scientific exploration. The immanent identification provided by archival material is essential. By using twentieth century scientific and public domain footage, these explicit quotations enable a synthesis, drawing attention to my reuse. Glitching functions syntactically in this fusion; linking shot-quotations while at the same time providing inflection that changes the imagery's meaning separately from issues of montage or sequence. The continuous flow of imagery is precisely the point to this process: there is only a limited distinction between one "shot" and the next, eschewing montage for the continuity of the long take data stream of the digital file. The results are neither edited nor animated, but a hybrid recognizable as the "morph" where one image becomes the next seamlessly by degrees of change over time. These technically-generated transformations give rise to both the abstracting and representing dimensions of the imagery equally.
THE GAME IMPROVES AS A SPECTACLE (Super 8 /animation to digital)
Dir: Guy Kozak
2 min, 26 sec
A contest between Yellow and Blue and another phase in Guy Kozak's ongoing exploration of the aesthetics and psychology of American Football. Shot on the field in Super 8.
SNEAKING UP ON PEOPLE (digital)
Dir: Jonathan Mittiga
3 min
Visit www.plermpt.com for more info!
IN THE FOOTSTEPS (16mm to digital)
Dir: Jacob Burckhardt, 2009
13 min, 4 sec
A trip through Jordan, following the footsteps of Jean Louis Burckhardt, the explorer who was the first European to see Petra in hundreds of years. Shot in 16mm B&W.
GUILTY
Dir: George Spencer, 2014
3 min, 33 sec
From a performance in Berlin
[T] (digital)
Dir: Philippe Leonard (Sound by Jefre Cantu-Ledesma)
12 min
[T] is a film at the limit of cinema, an experiment in the moving image where stillness and movement converge on each other to produce an experience of time as space. Philippe Leonard shot the footage for this remarkable work at Times Square, in New York City, during the hours of artificial illumination. Partly for this reason, it is an oneiric diary, tempted by myth and, at the same time, suffused by a melancholy sense that myth has lost its magical power. Faces appear and disappear in spasmodic waves of light, which emanate from billboards and mobile telephone screens and confuse the boundary between the organic and the artificial. The dilation of time and the miniaturization that that enables in [T] also ensures that the momentary betrayal of excitement, suspicion, attraction, hesitation, boredom and relief that traverses these faces approaches pure physicality. A smile, a blank stare, a fluttering eyelash: what the film permits us to encounter in these isolated elements is a materiality drained of eroticism, a society of bodies beneath the neon signs, where the market has abducted everything and everyone. The meticulously edited image track is brilliantly echoed in a sound track that renders the underground subway as a haunting residue and subtext. Times Square is a stop on the subway line; [T] is a film that arrests the mania of that space, giving to the viewer a rare experience of visual redemption." – Rosalind Morris
ALVARO (digital)
Dir: Jean Sousa (Music: A.Vitorino d'Almeida, Lyrics: Jose Saramago, Sung by: Misia)
6 min, 13 sec 6.13
A meditation on loss, based on a poem written by Alice Goncalves Sousa about the death of her brother Alvaro. Using Nature used as metaphor for the fragility of life and including archival photographs and material objects left behind by one who passed, it embodies the spirit of Fado, Portugal's urban folk music.
SUHAIL AND THE ONE HAVING CROSSED OVER
Dir: Anna Kipervaser (Sound: Freesound/Yle Archives & Anna Kipervaser)
5 min, 55 sec
Before he was known as Canopus, he was called Suhail. And before that his name was Osiris. In all documented cases, he had two sisters, one of whom was left behind. She always signals the coming of an other, bigger than she. Their legend lives on to this day; each night the two sisters mourn him – and their separation – across the great heavenly river.
ALICE IN WONDERLAND (digital)
Dir: Catherine Corman
4 min