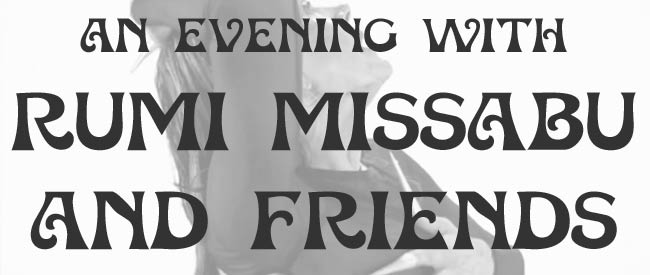 AN EVENING WITH ORIGINAL COCKETTE, DIRECTOR, PRODUCER, ARCHIVIST RUMI MISSABU WITH SPECIAL GUESTS
Various films (Rumi Missabu, Joe E. Jeffreys, Conrad Ventur, James Windsor,
Robert James & Theodore Nguyen and more)
USA, approx. 90 min.
FRIDAY, OCTOBER 3 – 8 PM
ONE NIGHT ONLY!
Spectacle welcomes the return of Rumi Missabu, here to present new and classic short films with fellow filmmakers Joe E. Jeffreys and Conrad Ventur live in person! Including a live musical performance, a discussion on independent and cult film, and a collection of short films from the '80s to 2014, it's an suitably extravagant salmagundi including films by Missabu, Jeffreys, Ventur along with fellow Cockette James Windsor (Tahara), David Weissman, Robert James & Theodore Nguyen, Mister WA and more! Will include, among the following:
ONE DAY IN SF – BOOMTOWN 3.0 by Mister WA (2014) 10:16
FLAMING CREATURES/OTHER by Joe E. Jeffreys
Video installation by NYU Proffesor, Drag Show Video Verite creator.
HITLER LOVES RUMI MISSABU (2014) 3:50 by James Windsor aka Tahara of the
Cockettes
RUMINATIONS (2014) by Robert James & Theodore Nguyen
*New promo trailer of feature film to be released Summer 2015. A
gender-bending coming of age story of a pioneer of the 60s counter-culture
movement in San Francisco. Ruminations uncovers the man James Bartlett
underneath the artist Rumi Missabu.
SONG FROM AN ANGEL (1988) 4:44 by David Weissman
Rodney Price's moving last song-and-dance prior to his death from AIDS
BEAUTIES WITHOUT A CAUSE (1985) 6:35 by David Weissman
Evil drag queens on a rampage.
Plus a potpourri of additional snippets and delights including:
*TIP-TOE PAST THE WITCH (2013) by Kimba Anderson
*TREE, YOUR SAP BEATS GENTLY AGAINST MINE (1969) by Michael Kalmen
*INTERIORS (2011) music video by David Riley
*A COCKTAIL OF GLAMOUR & ANARCHY by Rumi & Scrumbly
*STRANGER IN PARADISE MASHUP by Joe E. Jeffreys
*THE GLITTER EMERGENCY (2010) by Paul Festa