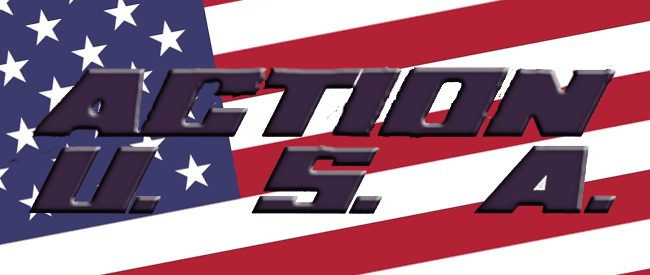 ACTION U.S.A.
Dir. John Stewart, 1989
USA, 89 min.
FRIDAY, SEPTEMBER 2 – 7:30PM
SATURDAY, SEPTEMBER 3 – 10PM
THURSDAY, SEPTEMBER 22 – 10PM
FRIDAY, SEPTEMBER 30 – 10PM
Special thanks to John Stewart
In 1987, Hollywood stuntman John Stewart (MIGHTY MORPHIN POWER RANGERS) broke the world record after falling 16 stories on fire for the Sharon Stone film COLD STEEL. The next year, Stewart grabbed a bunch of industry friends and went to Waco, Texas to film his directorial debut ACTION U.S.A.
The film opens with Billy Ray getting killed by gangsters because he supposedly stole some diamonds. His girlfriend Carmen goes on the run and falls under the protection of two FBI agents. The gangsters call in a cowboy with big guns to kill Carmen and the two FBI agents.
This plot is a framework so that we can see as many scenes as humanly possible of action, which Stewart and his stunt pros amply provide. There's men being dangled from helicopters, men jumping through glass, men being repeatedly shot while yelling 'MOTHERFUCKER!,' men being lit on fire, cars blowing up, cars launching into buildings and blowing up, and cars launching into other cars and blowing up. Really, there's just a lot of action. If you are looking for a film that contains action and is set in the U.S.A., then this is your film.
For the purists, we'll be screening this VHS-only puppy on the analog format that God intended, courtesy of a VG+ tape from a defunct mom-and-pop video store.
"An excellent example of the type of escapist fun that packed drive-in theaters as recently as a decade ago but is now without a natural home." -Variety
"Pounds and pounds of Grade A Texas-style action… damn near perfect." -Bleeding Skull
"Truly the CRANK of its day… a hidden gem and a true fan favorite." -Comeuppance Reviews
"The kind of movie you want to immediately show your friends as soon as it's done. Totally unhinged." -Letterboxd Review
"Clearly the premiere underground  b-movie action flick… see it at all costs." -IMDB Review