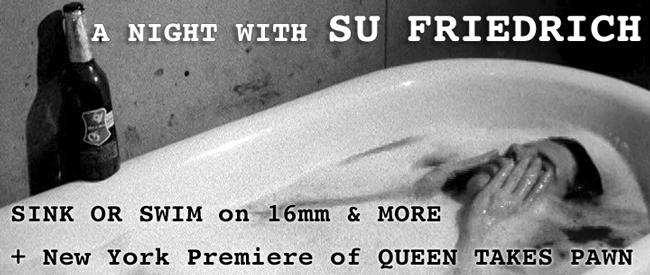 A NIGHT WITH SU FRIEDRICH: "SINK OR SWIM" ON 16MM & NEW YORK PREMIERE OF "QUEEN TAKES PAWN"
Dir. Su Friedrich, 1990 / 2013
USA, 48 min (full program: 85 min)
FRIDAY, JUNE 20 – 8 PM
ONE NIGHT ONLY – FILMMAKER IN PERSON!
ON 16MM!
"A major filmmaker." – P. Adams Sitney, VISIONARY FILM: THE AMERICAN AVANT-GARDE
Spectacle is pleased to welcome Su Friedrich in person for a 16mm screening of her masterpiece SINK OR SWIM (1990), followed by a selection of her short films, including the New York Premiere of her latest work QUEEN TAKES PAWN (2013).
SINK OR SWIM is a searing, lyrical and presumably autobiographical portrait of a girl's relationship with her erudite, emotionally distant father who eventually abandons her family when she's 11. Grouped into 26 complex, formally varied episodes, each named after a letter of the alphabet (recalling Hollis Frampton's ZORNS LEMMA) and presented in descending order ("Zygote," "Y Chromosome," "X Chromosome…" and so on, to "Athena/ Atalanta/ Aphrodite") the film offers a fragmented but highly controlled and narrative document of the girl's eventual emergence into womanhood, a woman both shaped by and at odds with her past.
Most of the episodes are narrated by a young girl, who tells intimate anecdotes in a poised, clinical manner that can only be attributed to a much older voice. While she speaks, the images – found footage, home movies, TV sitcoms, lesbian pornography, newly-filmed footage – instead of literally corresponding to the text, contradict, undermine or underline it, creating poetic, often humorous, connections and subtexts. The chapter titles (Quicksand, Flesh, Loss, Bigamy) create yet another layer of meaning.
The father, after explaining the principles of swimming, throws the girl into the deep end and leaves her to fend for herself, while we see playful, contemporary footage of children swimming. He teaches her chess but when she finally beats him, he never plays with her again. Her mother, standing on a window ledge, threatens suicide, while her father shakes his head and walks away; we see only hospital footage. As an adult, she meets her new, much younger stepsister and sees her childhood being repeated; we see Friedrich, now an adult, naked in a bathtub, then sitting at a typewriter, perhaps writing the text for the film. As the stories build, complex patterns emerge, and themes of water, Greek mythology and 1950s television recur frequently.
Friedrich speaks through the voice of the young girl, but the girl refers only in the third-person to "The Girl" (and, later, "The Woman"), a double distancing technique which conflates the past self and present self, the personal and the universal, so that Friedrich's wry, rigorously objective analysis, an inquiry into family structure, childhood and womanhood, paradoxically remains an intensely personal plea to "tell me what you think of me."
"…a film that is proudly personal and triumphantly artisanal, as accessible as it is uncompromising". – J. Hoberman, PREMIERE MAGAZINE
"Friedrich weaves narrative upon narrative, using her past as a lens through which she may gaze critically at everything from the construction of the Self, to social definitions of femininity and womanhood, and the ideals of the American family. Friedrich considers these issues with a tenderness and subtlety which is at once astounding and breathtaking. Sink or Swim is simply brilliant." – Joanna Chlebu, FEMINIST REVIEW
In addition to presenting the rare opportunity to view SINK OR SWIM on 16mm, Spectacle is thrilled to present Su Friedrich's new work QUEEN TAKES PAWN in its New York premiere, described by Friedrich as "A journey through an old house by way of a mirror, a child's storybook, and some images from days gone by. Or a journey through some old images by way of a house. Or both."