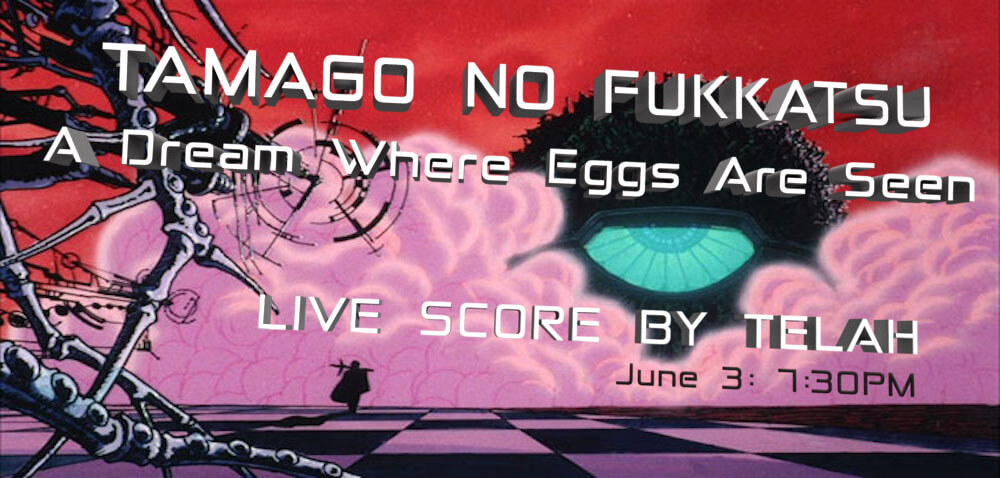 TENSHI NO TAMAGO (ANGEL'S EGG)
Dir. Mamoru Oshii
Japan, 1985. 71 min.
SATURDAY JUNE 3 – 7:30 PM AND 10 PM
ONE. NIGHT. ONLY. 
Mamoru Oshii's opaque, allegorical masterpiece ANGEL'S EGG comes to Spectacle for one night only. This film will be showed in its entirety with a live score by Brooklyn drone outfit TELAH, whose Heaven's Gate namesake points to another pocket of ill-fated religiosity.
A co-production by two anime legends given near-complete creative freedom, this languid, abyssal meditation on belief and doubt is their most personal work. Oshii (Ghost In The Shell, Urusei Yatsura) contemplated seminary school before focusing on writing; shortly before ANGEL'S EGG went into production, he lost his faith. Though he claims not to know what the film is about, its mournful tone and heavy use of Christian imagery reflect his personal crisis. Slowly unspooling with long takes and sparse dialogue, the film is carried by, and perfectly suits, the gorgeous imagery of co-writer Yoshitaka Amano (Vampire Hunter D, Final Fantasy series). His rich, florid work was flattened in other productions due to budget constraints, but here, amid blotchy watercolor skies and inked backgrounds, his hand is directly seen.
The story takes place in perpetual twilight. A man watches a mechanical sun descend onto a blasted landscape. A pale young girl leaves her observatory shelter, carefully guarding a large egg. Amid decaying baroque architecture crusted with Lovecraftian amphibians, the two meet. The man, possibly a soldier, wonders about the egg's contents; she believes the egg contains something precious, he points out the egg will have to break for them to find out. They become uneasy companions wandering the shadowy city. Each might be a facet of the other, an unstable duality doomed to clash. In a rare burst of dialogue, the man tells a story of Noah's dove that never returned to the ark. The uncertainty of the bird's fate haunts him, and seems to haunt the entire city, as ghostly men attempt to catch enormous fish phantoms in the streets. The man's curiosity and girl's conviction about the egg increase, as both ask, and obliquely seek their answer to – 'who are you?'
TELAH is a drone noise group consisting of musicians Matt Ortega, Jeff Widner, and Evan Gill Smith. Their music privileges tone and texture; it's not quite science fiction, but not quite prayer either. More like staring at a thing you assume is a shrub in a place you assume is an ashram on a planet you assume isn't the same planet you've always been on.
I take in the egg at a single glance. I immediately perceive that I cannot be seeing an egg.
To see an egg never remains in the present. No sooner do I see an egg than I have seen an egg
for the last three thousand years. The very instant an egg is seen, it is the memory of an egg
—the only person to see the egg is someone who has already seen it.—Upon seeing the egg,
it is already too late: an egg seen is an egg lost.—To see the egg
is the promise of being able to see the egg
one day.—A brief glance which cannot be divided; if there is any thought, there is no thought; there is the egg.
Looking is the necessary instrument which, once used, I shall put aside. I shall remain with the egg.
—The egg has no itself. Individually, it does not exist.
[Clarice Lispector, "The Egg and the Chicken"]