The Farmer's Almanac predicts that Summer 2018 will be hot, muggy, and fully Satanic. These offerings dig deeper into the devil's work than you might have thought possible. We have a direct line to the source, what can we say.
Happy Solstice to you, and welcome to the long-awaited SATANIC SVMMER.


ENTER THE DEVIL
(aka: Disciples of Death)
dir. Frank Q. Dobbs, 1972
92 min, USA


THURSDAY, JUNE 7 – 7:30 PM
SUNDAY, JUNE 10 – 7:30 PM
FRIDAY, JUNE 15 – 10 PM
MONDAY, JUNE 25 – 7:30 PM
FRIDAY, JUNE 29 – 7:30 PM
Special thanks to Massacre Video.
A man named Ozzie Perkins has gone missing in the desert. Pulled away from a hot date and told to shave his mustache, Deputy Jace must travel to a remote outpost by the border to look for the missing gringo. Little does he know this path will take him to some of the darkest corners of the desert. Jace teams up with Leslie, a specialist on the subject of ancient religious cults, who thinks there's something more to the rash of disappearances around the outpost. The scary thing is…she might just be right.
Massacre Video proudly presents the debut of Frank Q. Dobbs' low budget regional chiller, ENTER THE DEVIL (aka DISCIPLE OF DEATH), newly restored from a recently discovered inter-negative.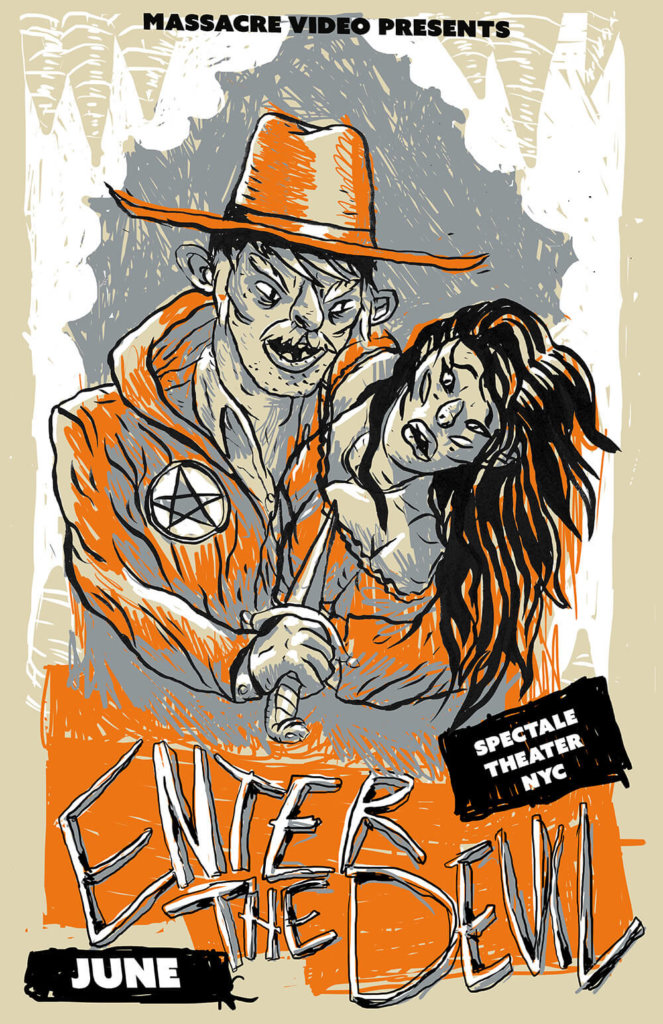 ---

SATAN'S BLOOD
(aka: Escalofrio)
dir. Carlos Puerto, 1978
82 min, Spain
Dubbed in English.
SATURDAY, JUNE 9 – 7:30 PM
MONDAY, JUNE 11 – 7:30 PM
MONDAY, JUNE 18 – 10 PM
MONDAY, JUNE 25 – 10 PM
Andres and Ana are a couple living in Madrid. One fine day they decide to pack the car and wrangle their dog and set out for a fun time in the Spanish countryside. Not long into their trip, they encounter another car on the road. The couple in the other car, Bruno and Berta, flag them down. Bruno is excited to see his old college buddy – Andres, but Andres isn't so sure they know each other. Never-the-less, the two couples set out for Bruno and Berta's gigantic house for a grand reunion and a nice hot meal. But once they arrive, a storm rolls and in the as the weather gets worse and worse, Andres and Ana decide to stay the night. When the foursome decide to tamper with the spirit world in the form of a Ouija board, things really start to get weird. But that's the least of their problems.
Drug fueled orgies, suicide, creepy living dolls, and a freezer full of who knows what become a disorienting whirlpool and the helpless couple can't get out. Trapped by a coven of devil worshipers, the film builds to a terrifying, twisting climax.
Produced by none other than Juan Piquer Simon (PIECES, SLUGS) SATAN'S BLOOD is a veritable cornucopia of sin and debauchery. A gothic tale of Satanic panic who's influence can be seen as recently as Ti West's throwback jam/only good movie HOUSE OF THE DEVIL while showcasing the Spanish countryside and a score by Simon regular Librado Pastor.
---

SATAN'S BLADE
dir. L. Scott Castillo Jr, 1984
82 min, USA
SATURDAY, JUNE 2 – 7:30 PM
MONDAY, JUNE 11 – 10 PM
THURSDAY, JUNE 21 – 7:30 PM
A group of friends travel to a ski lodge to celebrate one of them becoming a lawyer. When they arrive they find out there was a MURDER in their cabins the night before. Luckily the resort has an excellent clean up crew and the group decides to stay. After some poking around they find out about a local legend. The legend tells of a man possessed by the spirits of the mountain returning every 14 (?) years to wreak havoc with his knife on Mountain Men and Ski Bunnies alike. Nightmares, pranks, and carnage ensue.
Filmed in 1981 and left to age like a fine wine until it's release in 1984, SATAN'S BLADE rounds out our Satanic Summer line up for June.