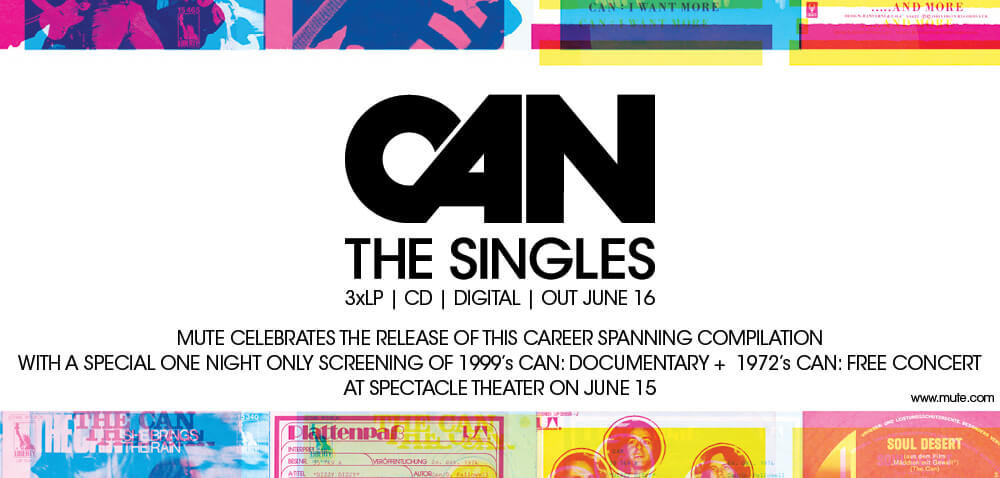 THURSDAY, JUNE 15
TWO SCREENINGS, ONE NIGHT ONLY – 7:30 PM and 10 PM
7:30 PM – CAN – THE DOCUMENTARY
10 PM – CAN – THE DOCUMENTARY *and* CAN – FREE CONCERT
GET YOUR TICKETS (PLEASE NOTE THE SCREENING TIME OPTIONS)
Spectacle Theater is pleased to collaborate with Mute Records in launching a new collection of all the single releases by the one and only CAN, titled CAN – THE SINGLES.
This unique document is the first time the singles have been presented together and shows the breadth of their influential career, from well loved tracks like "Halleluwah," "Vitamin C," and "I Want More," to more obscure singles such as "Silent Night" and "Turtles Have Short Legs."
We will celebrate the music and legacy of CAN with two screenings of the out-of-print CAN – THE DOCUMENTARY. The 10 PM screening of DOCUMENTARY will include a bonus screening of the legendary CAN – FREE CONCERT.
MUTE RECORDS will be hosting this special night, with copies of THE SINGLES available a day before official release. They'll also have free CAN posters for giveaway.
From nearly the beginning of the theater, CAN has held a special place in our collective hearts and programming history – from an early series devoted to CAN's soundtrack work, to the screening of Roland Klick's DEADLOCK as part of our Museum of Art and Design takeover. You can read an interview with Irmin Schmidt by Spectacle programmer emeritus Jon Dieringer here.
CAN – THE DOCUMENTARY
dir. Rudi Dolezal & Hannes Rossacher, 1999.
UK/AT, 87 min.
In English and German with English subtitles.

CAN – FREE CONCERT
dir. Peter Przygodda, 1972.
DE, 52 min.