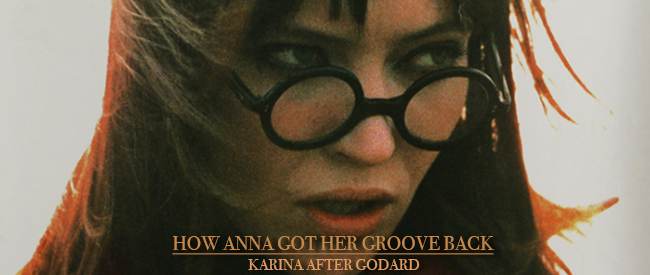 The Wall Street Journal Critic's Pick!
Brooklyn Magazine Critic's Pick!
Bedford + Bowery Critic's Pick!
The L Magazine Critic's Pick!
Anna Karina possesses an otherworldly style, magnetism and grace that has helped her become perhaps the most recognizable face in world cinema. Her legendary collaborations with Jean-Luc Godard on VIVRE SA VIE, BAND OF OUTSIDERS, PIERROT LE FOU, and several others made her an international star and an icon of the French New Wave, but their off-screen marriage was tumultuous, and they permanently separated in 1966.
Following their split, Godard took a turn for his most politically-minded directorial period and Karina branched out into different lead roles, working with everyone from Luchino Visconti to Rainer Werner Fassbinder. For this series, Spectacle has selected three of her lesser-known but equally enthralling works made after her separation from Godard: the radiant pop musical ANNA, the mysterious chamber drama RENDEZVOUS À BRAY, and the heady sci-fi thriller THE TIME TO DIE.
Special thanks to Ricki Askin, Clémentine De Blieck, Cathérine Delvaux, Chris Etscheid, Cinémathèque Royale de Belgique, and Universal Music.
---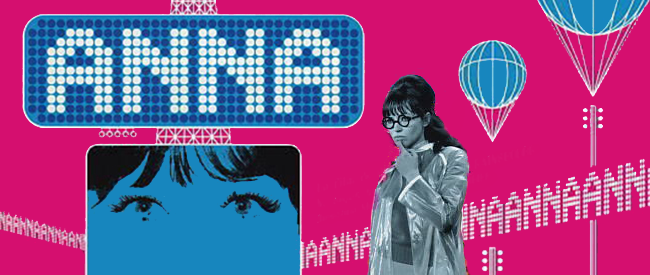 ANNA
Dir. Pierre Koralnik, 1967
France, 85 min.
In French with English subtitles.
U.S. PREMIERE!
WITH CUSTOM ENGLISH SUBTITLES CREATED BY SPECTACLE!
SATURDAY, SEPTEMBER 13 – 10:00 PM
FRIDAY, SEPTEMBER 19 – 10:00 PM
MONDAY, SEPTEMBER 22 – 10:00 PM
TUESDAY, SEPTEMBER 30 – 10:00 PM
A kaleidoscopic, energetic burst of bright colors, infectious musical numbers, and absurdly charming performances, ANNA is a pop-art musical masterpiece that has been locked away for far too long.
Originally made as the first color film for French TV, Anna Karina stars as a shy artist who is unknowngly photographed one day and soon becomes the obsession of an advertising executive (played by French New Wave stalwart Jean-Claude Brialy). He plasters her image up all over town in an attempt to discover the mystery girl, whom he doesn't seem to notice is the same girl that he keeps bumping into whose wearing those nerdy-chic glasses…
But really, this is all just an excuse for zany, irrestistable fun. The Yé-Yé music, scored and soundtracked by French pop icon Serge Gainsbourg (who also makes several on-screen appearances), is some of the most infectious and catchy work of his career, with Karina's vocals shining throughout, including the famous 'Roller Girl' number that has since been referenced in countless fashion spreads. Every sequence features candy-coated visuals and sumptuous costuming soaked in the era's impeccable style, all supported by ace contributions from key Godard personnel, including editor Françoise Collin (BAND OF OUTSIDERS, PIERROT LE FOU, 2 OR 3 THINGS I KNOW ABOUT HER) and DP Wally Kurant (MASCULINE FEMININE). Impossible to resist, the film feels like a pitch-perfect melding of Godard's A WOMAN IS A WOMAN and Demy's THE UMBRELLAS OF CHERBOURG, with Karina's adorable beauty and effervescent charm as the center of attention. And be on the lookout for a Marianne Faithfull cameo!
The film was a hit on French television in the late 60s and received a brief Japanese theatrical run in the 90s, but has since vanished and, to the best of our knowledge, has never screened before in the US. Working with Universal Music, Spectacle is enthralled to present this lost gem of 60s French cinema.
---
RENDEZVOUS À BRAY
Dir. André Delvaux, 1971
France/Belgium/West Germany, 86 min.
In French with English subtitles.
FRIDAY, SEPTEMBER 5 – 10:00 PM
WEDNESDAY, SEPTEMBER 10 – 7:30 PM
SUNDAY, SEPTEMBER 14 – 5:00 PM
MONDAY, SEPTEMBER 22 – 7:30 PM
*OFFICIAL SELECTION – 1971 BERLIN FILM FESTIVAL*
Paris 1917: a young pianist (Mathieu Carrière) receives a note from an old friend in the Air Force to join him at his lush country estate that happens to be close to the front lines of World War I. He arrives but his friend is nowhere to be found, with only the quiet, beautiful housekeeper (Anna Karina) present. While he spends days waiting for his friend's arrival, his mind wanders to past events. At night, the mysterious woman appears again…
Based on a short story from surrealist Julien Gracq, Belgian auteur André Delvaux marries his trademark subtle blurring of fantasy and reality to Gracq's shape-shifting text. Much like the film protagonist, Delvaux got his start by playing the piano to silent films in 1950s Brussels, and his musicality shows in the film's sonata-like form, weaving variations of memories and moments into an ambiguous, intriguing mood piece. Cloaked in dense Gothic atmospheres and muted colors, RENDEZVOUS À BRAY gives off a melancholy, dream-like aura, subtle in approach but haunted by unspoken desires and half-remembered, half-imagined nostalgia.
Working with Delvaux's daughter, we're honored to present this classic of Belgium cinema.
"One of the most erotic films ever made… try to imagine a quiet blend of Jules and Jim and Gertrud filmed in color (the cinematographer is the great Ghislain Cloquet, who also did superb work for Demy, Bresson, Polanski, and Penn) and you'll start to get some idea of the mood… as much as I revere some of the Belgian films of Chantal Akerman, if I had to choose only one Belgian film to take with me to a desert island, I'd have a pretty rough time forsaking this 1971 masterpiece by André Delvaux." -Jonathan Rosenbaum
---
THE TIME TO DIE
(aka Le temps de mourir)
Dir. André Farwagi, 1970
France, 81 min.
In French with English subtitles.
WEDNESDAY, SEPTEMBER 10 – 10:00 PM
FRIDAY, SEPTEMBER 19 – 7:30 PM
MONDAY, SEPTEMBER 29 – 10:00 PM
A woman (Anna Karina) rides a white horse, carrying a videotape case. She approaches a metal tree and the horse throws her off, knocking her unconscious and sending the videotape case rolling down a hill. The case lands next to a sleeping bodyguard. He awakens and takes the case to his boss's mansion. The tape shows security camera footage of his boss being assassinated. But the boss is still alive, and he is determined to find out the origins of the tape and his alleged future killer. Soon enough, the boss and bodyguards stumble upon the unconscious woman, who awakens and seems to know the future…
A stylish, puzzling sci-fi mystery dealing with time travel and destiny, THE TIME TO DIE features loads of retro-cool technology futurisms and immaculate production design, but also manages to treat its subject matter with philosophical seriousness and respect. It supposes that the future is something not only inevitable, but unavoidable. The best we can do is hurl forwards towards our destiny.