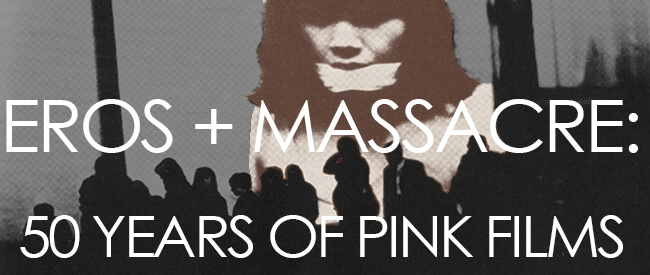 Pink Film remains one of the most fascinating, idiosyncratic, and puzzling of genres in Japanese film. It is also one of the most varied– and most misunderstood– genres in film history. On one hand, it was linked with the underground madhouse of the Japanese political avant-garde, especially through the auteur Wakamatsu Koji. The genre originally launched with a flurry of new director talent in 1962, and became immediately linked with a subversive counter-culture. Those college students with eyes glued to a Wakamatsu retrospective at a dingy Shinjuku theatre also participated full-force in the political protest movements of the 1960s. On the other hand, Pink Film is a sexploitation genre, and many of its films were churned out wholesale for profit– especially after the decline of political protest in the 1970s. After all, until the late 1980s, Pink Films easily comprised 75% of all Japanese film production in a given year. As a result, while some Pink Films are as stunning and understated as an Antonioni film, others are a mishmash of styles and techniques (for better or for worse). Some are full of grotesque and violent sex-acts, and others appear to have barely any sex at all. Some even have fewer sex than a standard Hollywood production.
To be labeled a Pink, each film must follow certain rules for production and distribution; after that, it is up to the director to choose whatever style or sensibility he or she desires. It must be shot within three to five days, and with a budget of about 3 million Yen; it must be around 60 minutes in length, shot on 35mm film on location and without synched sound, and is usually shown in specialized Pink Film theaters. Otherwise, as long as about six sex scenes are included at regular intervals, directors are granted a great degree of autonomy. The films are then free to experiment with form and narrative structure, resulting in parodies of a huge number of genres, from Ozu-like family melodramas to political thrillers, from surrealist dreamscapes to absurdist rom-com musicals.
Spectacle now presents the largest and most comprehensive retrospective of Pink Film in North America, spanning from its very early history in the 1960s to the wild and weird Pinks that continue to be made today. November's screenings include a survey of Pinks made from the 1980s to the present day, riffing on genres from Ozu-like family dramas to murder mystery, action, and even slapstick. The result is a collection of rare films which continue to thrill, inspire, and occasionally completely freak out their audience, over 50 years since their inception.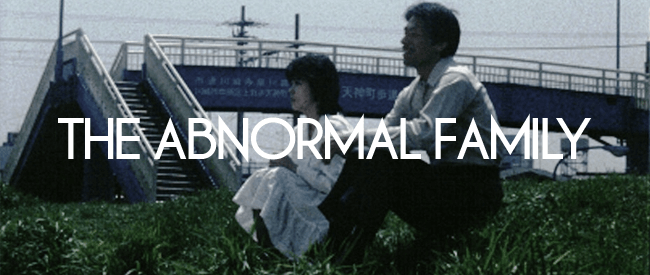 ABNORMAL FAMILY
Dir. Masayuki Suo, 1984
Japan. 63 minutes.

In Japanese with English subtitles.
SUNDAY, NOVEMBER 6 – 7:30 PM
SATURDAY, NOVEMBER 12 – 8:30 PM
SUNDAY, NOVEMBER 20 – 8:45 PM
MONDAY, NOVEMBER 28 – 10:00 PM 
This spoof of Ozu Yasujiro would make the Master of Japanese Cinema turn in his grave. The film– so deeply uncomfortable it borders on hilarious– is chock full of references to Ozu's family dramas, from the "pillow shot" to the low camera angle, stilted dialogue, stylized movement, and still camera. ABNORMAL FAMILY, however, dials Ozu's intensity and weirdness to 11. The result is a deeply strange film full of family intrigue, sex, and more than one (or two, or three) incestuous overtones. For any Japanese film aficionado, however, it's not to be missed: it was the debut for its director, Suo Masayuki, who would go on to make SHALL WE DANCE? (1996), one of the most well-known Japanese contemporary films.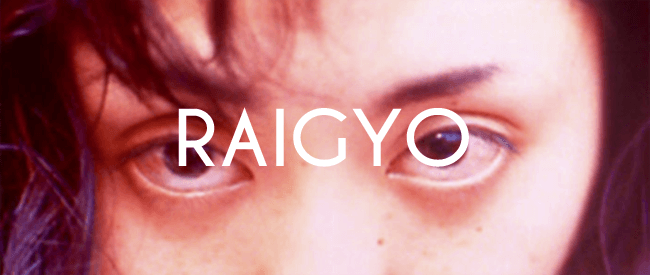 RAIGYO
(aka THE WOMAN IN THE BLACK UNDERWEAR)

Dir.
Takahisa Z
eze
, 1997

Japan. 75 mins.

In Japanese with English subtitles.
TUESDAY, NOVEMBER 1 – 10:00 PM
THURSDAY, NOVEMBER 10 – 10:00 PM
FRIDAY, NOVEMBER 18 – 10:00 PM
A mysterious woman in black… a payphone… a murder seemingly without cause. Director Zeze Takahisa is known as one of the "Four Heavenly Kings of Pink," and it certainly shows in this surreal and enigmatic film. An incredibly opaque but nonetheless beautifully filmed Pink, RAIGYO perplexes and intrigues. Allegedly based on a true story, and set in 1988, Raigyo depicts three characters: a woman with an unnamed, terrible illness, a fisherman, and a lecherous man who sleeps around while his wife is heavily pregnant. The symbolic title refers to a fish that restaurants generally don't sell because it is known to carry worms — thus signifying the corruption of the main characters.
Although it is also known by its title THE WOMAN IN THE BLACK UNDERWEAR, Takahisa's film is more art film than sexploitation. The pace is as oneiric as the plot, and the audience is drawn deeper into the web crafted by Zeze's quiet, understated, and eerie masterpiece.
A LONELY COW WEEPS AT DAWN
Dir. Daisuke Gotô, 2001
Japan. 61 mins.

In Japanese with English subtitles.
THURSDAY, NOVEMBER 3 – 7:30 PM
SATURDAY, NOVEMBER 19 – 10:00 PM
SATURDAY, NOVEMBER 26 – 5:00 PM
An elderly dairy farmer goes to milk his cows in the morning, only to find his daughter-in-law, naked and on all fours, mooing with the rest of the herd. This bizarre occurrence begins the rest of the film, whose tone is strangely subdued and melancholic for the bewildering events on screen. Director Goto Daisuke claimed Ozu Yasujiro's LATE SPRING (1949) to be an influence, along with Bernardo Bertolucci's NOVOCENTO (1976).
The result is a strange, incestuous parable with overtones of social critique: class difference certainly makes itself known, as well as the rift between urban and rural. Beautiful, poignant, but nonetheless immensely weird, the film is a paradigmatic example of the newer generation of Pinks in the 21st century.
THE GLAMOROUS LIFE OF SACHIKO HANAI
Dir. Mitsuru Meike, 2003
Japan. 90 mins.
In Japanese with English subtitles.
Special thanks to Palm Pictures.
WEDNESDAY, NOVEMBER 16 – 10:00 PM
SATURDAY, NOVEMBER 19 – 5:00 PM
FRIDAY, NOVEMBER 25 – 10:00 PM
No Pink Film retrospective would be complete without the absolutely charismatic weirdness of THE GLAMOROUS LIFE OF SACHIKO HANAI, a cult hit by the director Meike Mitsuru. Although an amazing film in its own right, SACHIKO is also an eerie time capsule of George W. Bush's first few years of office, and is full of entirely un-subtle political overtones. And how could it not? One of the film's main characters is Dubya's middle finger! In the film, a call-girl– the eponymous Sachiko Hanai– accidentally witnesses an altercation between North Korean and Middle Eastern spies. When Sachiko is shot in the forehead, the bullet does not kill her, but instead gives her extraordinary genius and mental prowess.
When she ends up finding a metal capsule containing George W. Bush's finger, whose fingerprint is singularly capable of launching a nuclear holocaust, she must make sure that the wrong side doesn't find it… or else. The result is a wacky spoof on a political thriller, with memorable and hilarious scenes that will doubtlessly lodge into the viewer's brain like Sachiko's magic bullet. First released in 2003, the film has subsequently played at over 20 film festivals around the world.