Start the new year catching up on what you missed last year – the hand-picked 🍾 Best Of Spectacle 2018! 🍾 This year's titles span some of December and the whole month of January, giving ample time to catch these unmissable now-classics.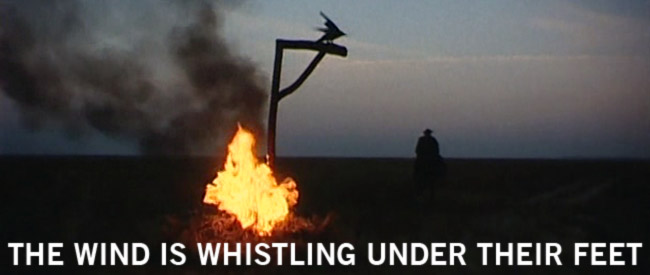 THE WIND IS WHISTLING UNDER THEIR FEET
Dir. György Szomjas, 1976.
Hungary. 95 min.
In Hungarian with English subtitles.
FRIDAY, DECEMBER 21 – 7:30 PM
SATURDAY, JANUARY 5 – 7:30 PM
MONDAY, JANUARY 7 – 10 PM
MONDAY, JANUARY 21 – 10 PM
Original trailer from 2014:

György Szomjas brings exquisite style and pacing to this elegiac gallows western about a betyár — a kind of highwayman popular in 19th century Hungarian balladry — set amid the Great Hungarian Plain in 1937. It follows the path of a brooding, aging outlaw newly escaped from prison whose personal revenge quest dovetails with the interests of the landless herdsman who oppose the state's building a canal through the fields on which they work their trade. He becomes an unlikely hero to unwashed vagabond workers while facing down a mutually-admiring adversary in the form of a forthright squire who had captured him before. Meanwhile, an opportunistic youngster attempts to work both sides to his benefit. As ditches are dug for canals and corpses alike, the state puts increasing pressure on the wistful squire, who realizes the social order is changing and his fortunes are in decline; and yet he remains dutifully attached to his mission.
Though carefully paced and based on historical documents, THE WIND IS WHISTLING UNDER THEIR FEET aims squarely for populist appeal. The autumnal palette, period imagery, and sudden outbursts of hysterical grotesquery recall Andrzej Żuławski's THE DEVILS. Yet most of all it brings to mind the unlikely grouping of Woody Guthrie, Miklós Jancsó, and Akira Kuroswawa — or maybe Béla Tarr meets Sergio Leone. Whatever the comparisons, THE WIND IS WHISTLING UNDER THEIR FEET is a stirring, forgotten gem in classic Spectacle tradition.
---

LUMUMBA
dir. Raoul Peck, 2000
115 mins. In French and Lingala with English subtitles.
SUNDAY, JANUARY 6 – 5 PM
FRIDAY, JANUARY 11 – 7:30 PM
SATURDAY, JANUARY 26 – 10 PM
TUESDAY, JANUARY 29 – 7:30 PM
"In the infinite nighttime beauty of the African savannah, two men have been given the task of cutting up three dead bodies. Then burn them. And then bury them. So ends Patrice Lumumba's life, the man who was the first Prime Minister of the newly independent Republic of the Congo for just three months. But this is also where his story begins…"
On the occasion of Raoul Peck's new THE YOUNG KARL MARX – to say nothing of a Black History Month celebrated under the most aggressively white-supremacist-friendly White House in at least one generation – it might be prudent to reexamine LUMUMBA, Peck's breakthrough 2000 biopic of the Congolese pan-Africanist leader kidnapped and murdered by a CIA-backed Belgian death squad in 1961. Played by a fire-and-brimstone Eriq Ebounay, this Lumumba is a figure both complicated and heroic, whose oratory finesse sees him rising from mail clerk to beer salesman to Prime Minister by the age of 36; Lumumba narrates from beyond the grave, a radical flourish that only hints at the movie's bigger analysis. Smeared as a symbol of Leftist impotence after failing to quell a separatist movement in his newly unified country's rare-earth-mineral rich Katanga province to the north, Lumumba's death sentence was carried out with the willful complicity of John F. Kennedy's State Department (and a young Prime Minister named Joseph Kasa Vubu, played here by Maka Kotto.) His untimely death became the touchstone for U.S. interference in Africa in the name of anti-Communism, while Kasa Vubu would be overthrown by Army Commander Mobutu Sese Seko, who then lorded over Congo (then renamed as Zaire) with full American support for over three decades.
After making the 1992 documentary LUMUMBA: DEATH OF A PROPHET, Peck drew on newfound historical evidence to make LUMUMBA, which tackles the kind of backroom machinations typically left to Oliver Stone and Gillo Pontecorvo with the same red-hot, righteous anger that makes signature Peck's later works like MOLOCH TROPICAL and I AM NOT YOUR NEGRO. Shot on location in Zimbabwe, Mozambique and Belgium, this is a sweeping biopic whose keen attention to detail and location-shot lushness initially appear to fit the mold of its Hollywood contemporaries – but to draw the comparison is to expose the milquetoast politics typical of big-budget, traditionally accessed narratives of power. Upon release, LUMUMBA was so incendiary that U.S. diplomat (and covert CIA officer) Frank Carlucci threatened to sue if his name was not removed from it, a challenge to which Peck rose by conspicuously bleeping mention of Carlucci out of an otherwise normal dialogue scene.

"It's a flat-out thrill to see a movie about African politics that doesn't condescend to audiences by placing a sympathetic white African at the center. Mr. Peck makes no plea for crocodile tears; his ambitions are as wide and encompassing as those of his subject. He's out to make a film that exposes the ugliness of cold war politics and knee-jerk imperialism…" – Elvis Mitchell, The New York Times
"Ten years ago, Peck made a documentary, LUMUMBA: DEATH OF A PROPHET, tracing the history and intrigue that he revisits in the feature film, which he describes as a "political thriller" rather than a biography, capturing Lumumba's speedy rise and fall with deft narrative strokes and riveting, beautifully composed scenes, shot by Bernard Lutic to create not only a sense of urgency, but also a heightened sensitivity to emotional details, light and shadows work together in a kind of sublime tension." – Cynthia Fuchs, Nitrate

"While he seems to know precisely what type of martyr Lumumba was, Peck resists a full, absorbing summation of who he may have been as a mortal… The film feels like bare- bones docu-fiction, though, resisting the attendant drama until the bitter, grisly end." – Wesley Morris, San Francisco Chronicle
Special thanks to Zeitgeist Films.
Poster for the Original Dates: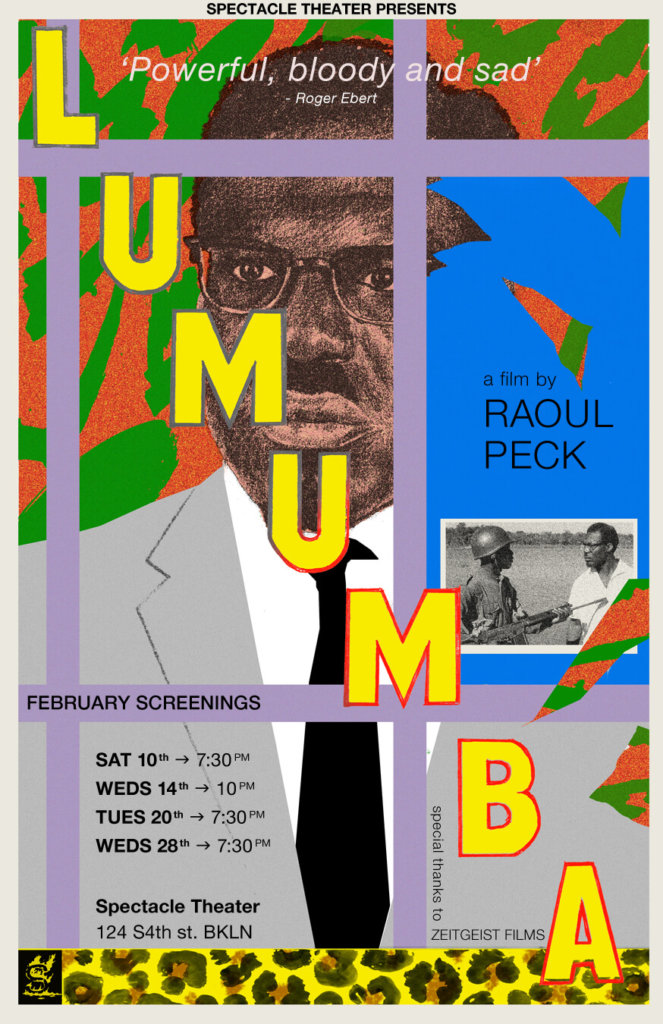 (poster by Tom Henry)
---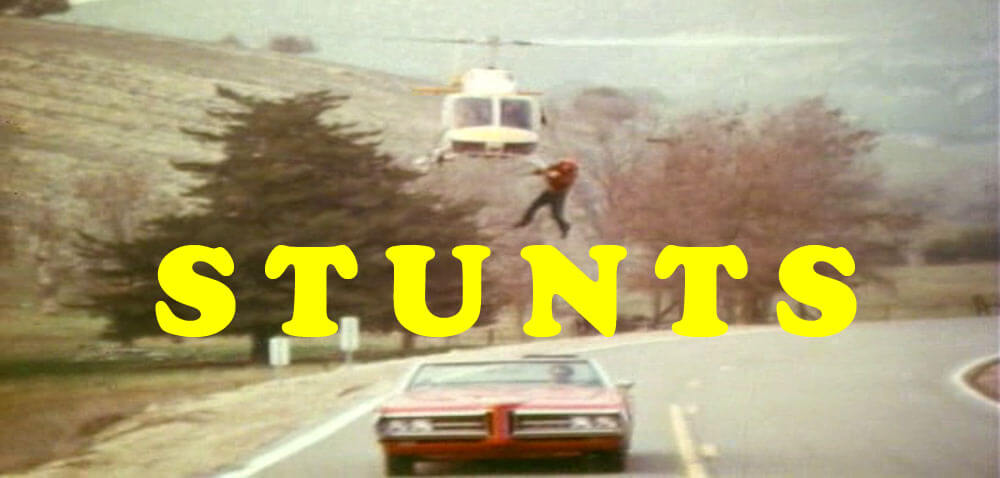 STUNTS
Dir. Mark Lester (1977)
USA, 89 min.
In English
SATURDAY, DECEMBER 22 – 7:30 PM
FRIDAY, JANUARY 4 – 7:30 PM
FRIDAY, JANUARY 25 – 10 PM
Director Mark Lester (CLASS OF 1999, COMMANDO, FIRESTARTER) blends murder mystery and stunt reel in a film that sits comfortably next to HOOPER and STUNT ROCK. Featuring Robert Forster (MEDIUM COOL, TWIN PEAKS) and Ray Sharkey (a great back-to-back run on CRIME STORY and WISEGUY) as a stuntman and a reporter trying to figure out who is murdering film's greatest stuntpeople, it's got everything from slow-motion footage of cars flying end-over-end, a breezy drive-in vibe, multiple helicopter gags, dirtbikes for days and did I mention STUNTS?
---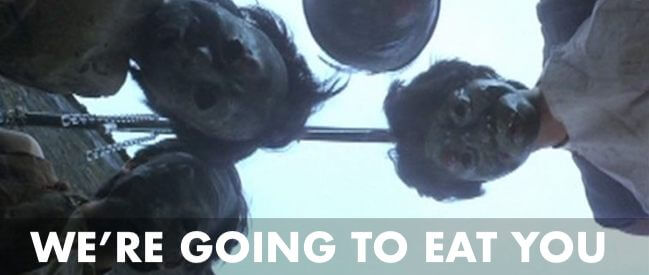 WE'RE GOING TO EAT YOU
Dir. Tsui Hark, 1980.
Hong Kong. 90 min.
TUESDAY, DECEMBER 18 – 10 PM
FRIDAY, JANUARY 4 – 10 PM
WEDNESDAY, JANUARY 23 – 10 PM
THURSDAY, JANUARY 31 – 7:30 PM
"It didn't turn out good." – Tsui Hark on WE'RE GOING TO EAT YOU

A grim fantasy about Mainland China, Hark's second directorial effort took the form of a sort of Hong Kong New Wave version of THE TEXAS CHAIN SAW MASSACRE. While on the surface, the film is much simpler than Hark's densely plotted debut, it dips into multiple genres while working as a steely anti-communist allegory that probes the relationship between Hong Kong and China.
The films follows Secret Agent 999 of the "Central Surveillance Agency," as he pursues a mysterious thief named "Rolex." The hunt leads him into a cannibalistic village, where residents subsist on visitors they capture and cook. The film is part horror, part Kung Fu, and part slapstick comedy, and Tsui's most overtly anti-communist film (although it treats religion, intellectuals, and bourgeois romanticism with equal satirical acridity).
Poster for the Original Dates: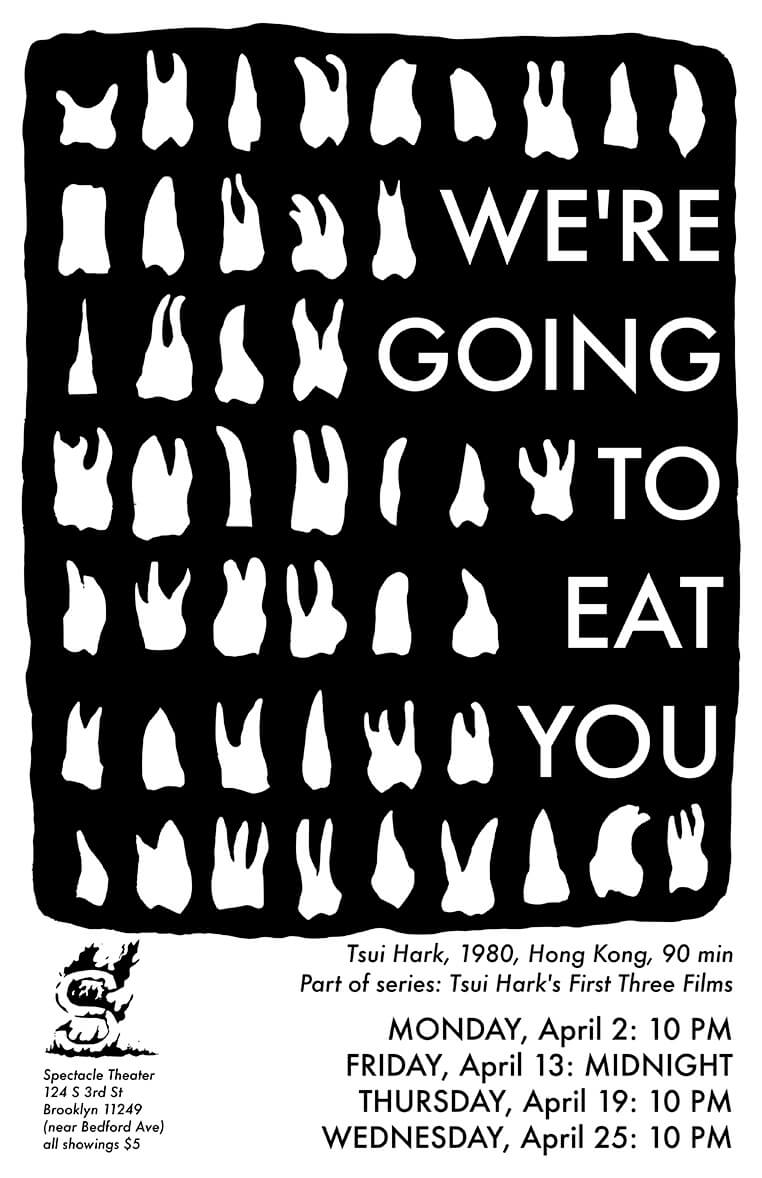 ---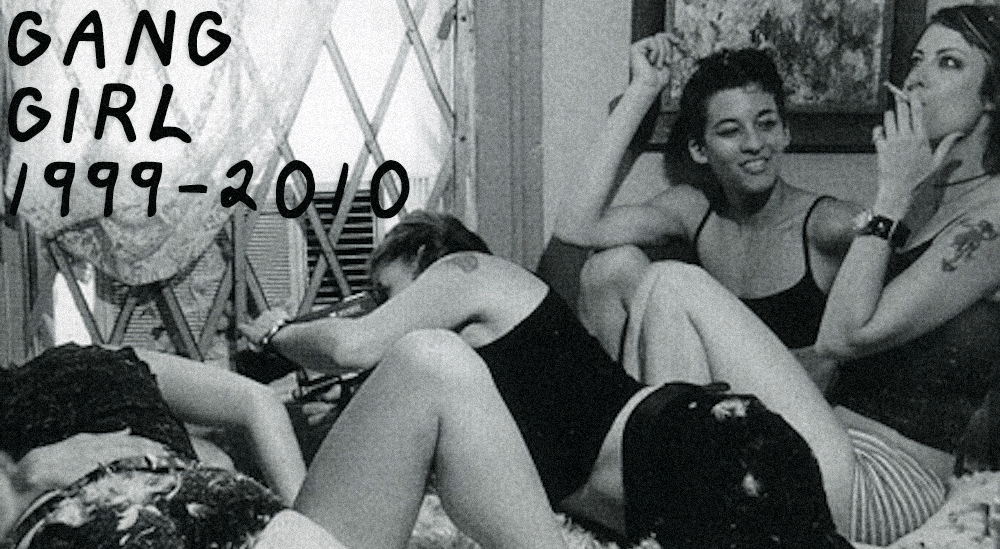 GANG GIRL TRILOGY
Dir. Katrina del Mar, 1999-2010
US, TRT 87 mins
SUNDAY, DECEMBER 2 – 5 PM
SATURDAY, JANUARY 12 – 10 PM
MONDAY, JANUARY 21 – 7:30 PM
MONDAY, JANUARY 28 – 10 PM
Filmmaker and photographer Katrina del Mar has been documenting the streetwise toughgirls of Manhattan and Brooklyn for going on two decades. Her unheralded butch opus the GANG GIRL TRILOGY imagines the city as an escapist playground free of men, where rival gangs of lesbian bikers, boarders, surfers and skaters call the shots. Del Mar draws from Russ Meyer and John Waters, but with a commitment to a distinctly personal sort of chaos. The films also unconsciously acts as a showcase for a rapidly changing Manhattan — an attempt to abscond from the concerns of the city and into a daydream of queer solidarity, leather, and raucous, wall-to-wall punk soundtracks.
Poster for the Original Dates: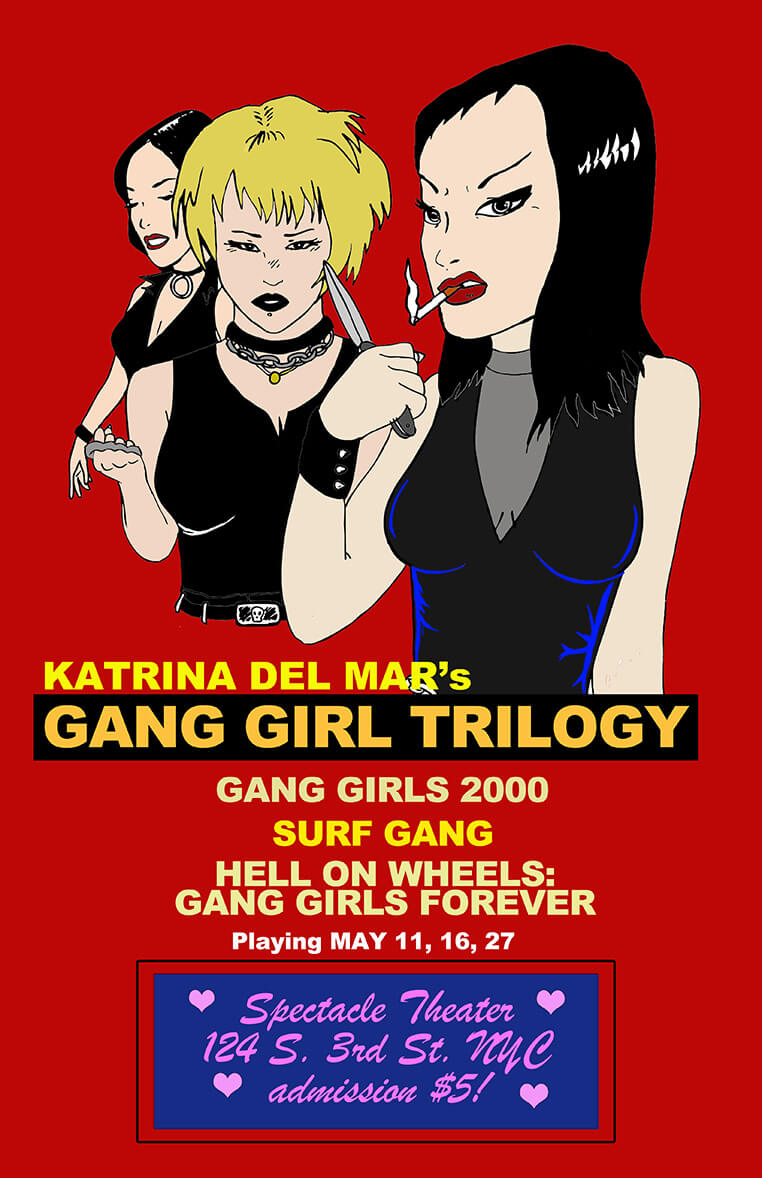 ---
GANG GIRLS 2000
Dir. Katrina del Mar, 1999
US, 27 mins
"A world without men featuring four Dangerous and Foxy gangs!"
The Glitter Girls, The Sluts, The Blades, and The Ponies… four female gangs wreak havoc upon the Lower East Side in Katrina del Mar's first film. Filmed "in GlitterVision" on a borrowed 8mm camera, GANG GIRLS' arch voiceover performances recall 60s JD films, while the filmmaking has the visceral edge of 80s and early 90s experimental and riot grrrl filmmakers. Featuring a climactic oceanside battle and music by Fugazi, Lunagirls and many more.

SURF GANG
Dir. Katrina del Mar, 2005
US, 25 mins
"GREY GARDENS meets THE WARRIORS." – the filmmaker
Del Mar's frenetic Rockaway-set sequel led her to cast Kembra Pfahler of glam rock group The Voluptuous Horror of Karen Black (the only person she knew who could surf) as a young woman who paddles out and vanishes in the waves, leading her younger sister to start an ultraviolent gang of Ruffnecks.
HELL ON WHEELS GANG GIRLS FOREVER
Dir. Katrina del Mar, 2010
US, 35 mins
ALL WHEELS ALL THE TIME…
A massive ensemble cast brings the Gang Girl trilogy to a cacophonous close. HELL ON WHEELS takes place in a very different New York than GANG GIRLS did in 1999 — this time in HD. The same ribald energy pulses through this third chapter though, as it voyages between roller derbies and motorcycles and bare-fisted brawls.
Special thanks to Katrina del Mar and Kristen Fitzpatrick.


---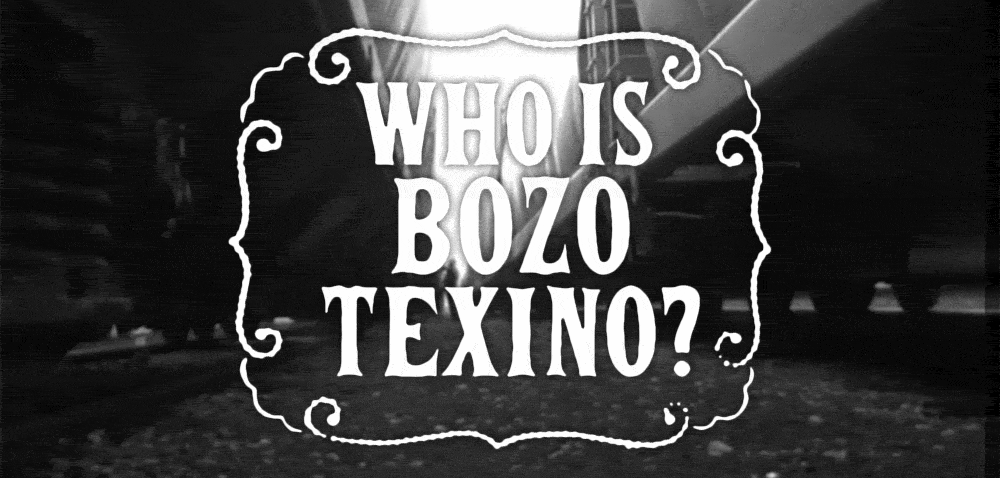 WHO IS BOZO TEXINO?
Dir. Bill Daniel, 2005
USA. 57min
THURSDAY, JANUARY 10 – 7:30 PM
SATURDAY, JANUARY 19 – 7:30 PM
SUNDAY, JANUARY 27 – 5 PM
THURSDAY, JANUARY 31 – 10 PM
Shot in 8mm and 16mm over 16 years, the infamous WHO IS BOZO TEXINO? is an experimental documentary searching for the identities and stories behind the ubiquitous and yet esoteric art of hobo graffiti found on the sides of boxcars, grainers and train bridges spanning North America from coast to coast. Landing somewhere between outsider art and subculture minutiae—utilizing the conjecture, half-truths, tall tales and mythology that occupies the jungles and campfires—Daniel interviews an array of old timers, hobos and rail workers as well as streak and moniker heavyweights like Herby, The Rambler, and Colossus of Roads.
Bill Daniel is a filmmaker, photographer and installation artist based in the Gulf coast of Texas. Bill is currently touring on his newly released book of photos Tri-X Noise, and will have copies and other goods for sale at the screening.
Poster for the Original Dates: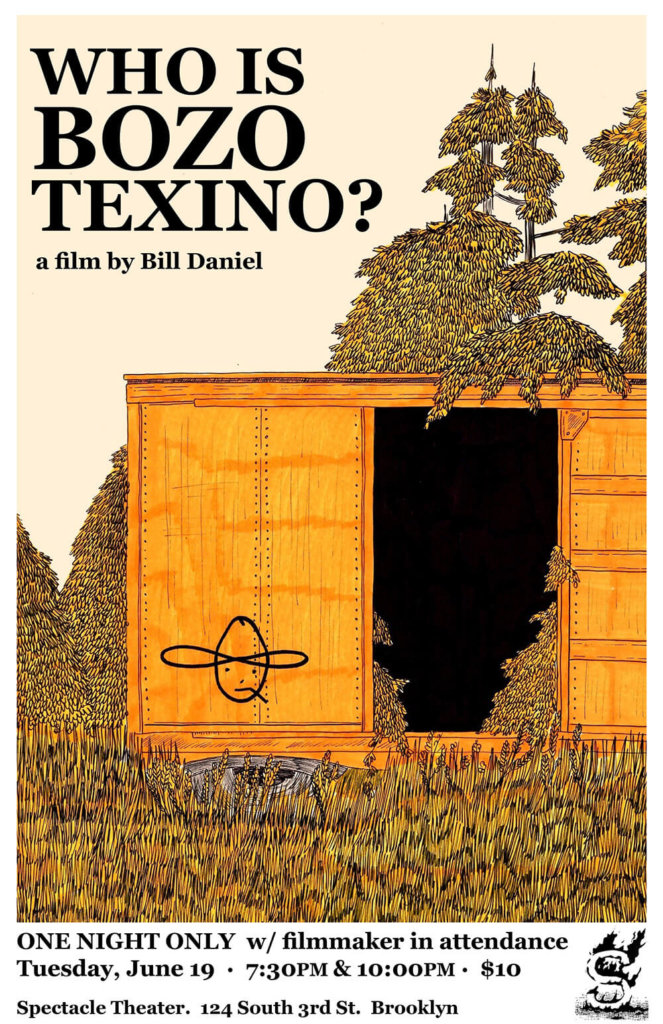 ---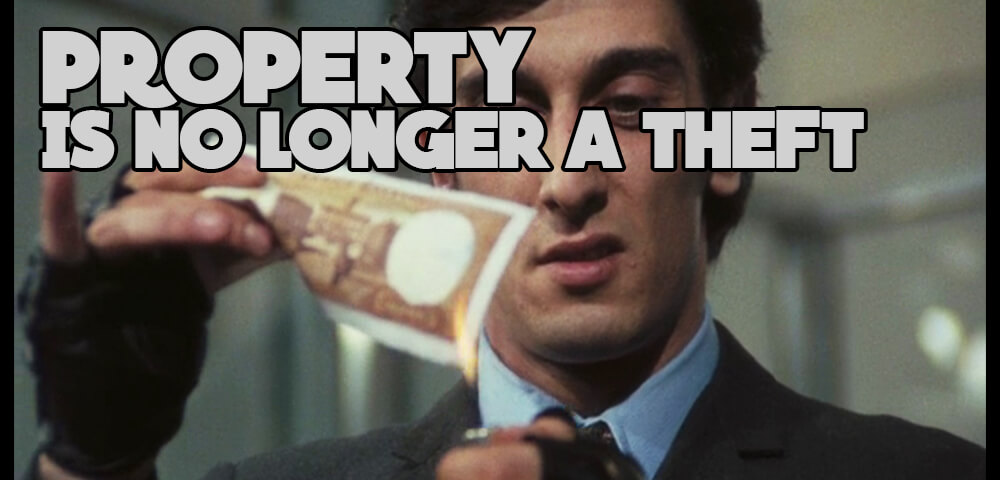 PROPERTY IS NO LONGER A THEFT (LA PROPRIETÀ NON È PIÙ UN FURTO)
Dir. Elio Petri, 1973
Italy, 126 min.
In Italian with English subtitles
MONDAY, JANUARY 1 – 7:30 PM
MONDAY, JANUARY 7 – 7:30 PM
SUNDAY, JANUARY 20 – 7:30 PM
This is a stark and theatrical film that circles around two opposing characters: The Butcher, a rapacious capitalist, and Total, a self-proclaimed "Mandrakin Marxist". Flavio Bucci (the pianist from the Argento's SUSPIRIA) is Total, a low-level accountant with the look of a hangdog-Stallone and a physical allergy to paper money. Ugo Tognazzi (also in LA GRANDE BOUFFE) is The Butcher, a spokesperson for the potency of wealth and the wisdom of fully insuring your property. Total claims to steal only what he needs, but he has a psychological need to infuriate The Butcher with petty theft.
Ennio Morricone's subtle score is accompanied by groans and conjugations of the verbs "to be" and "to have", to an effect that is not as existential as it is surreal. Total summarizes the point: "I would like to be and to have, which is impossible. Property is no longer a theft… it's a disease."
Poster for the Original Dates: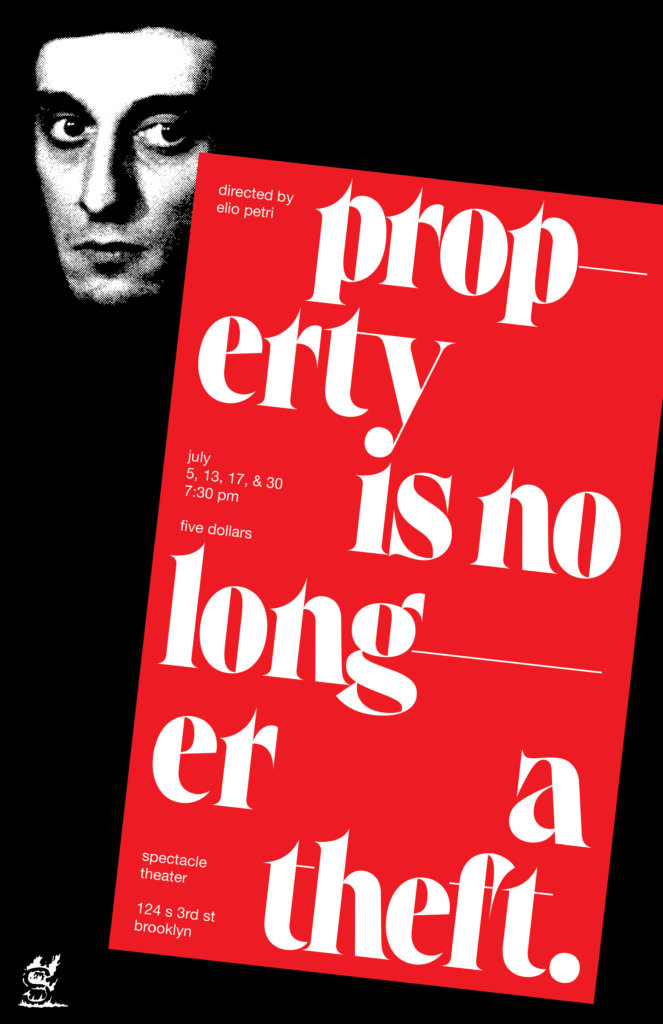 Poster and typeface by Benjamin Tuttle
---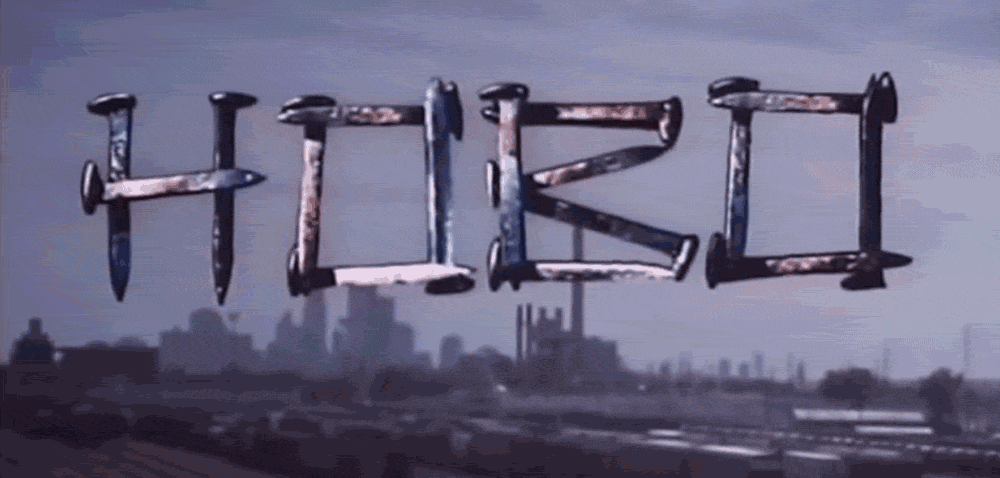 HOBO
Dir. John T. Davis, 1992
UK. 90min
MONDAY, DECEMBER 10 – 7:30 PM
SATURDAY, JANUARY 5 – 10 PM
FRIDAY, JANUARY 11 – 10 PM
Irish director John T. Davis follows Beargrease, a vietnam veteran and father, as he travels and philosophizes from Minneapolis to Seattle via freight train. HOBO is a powerful portrait of the American poor and working class, using the train line as a means to get from town to town, meeting the depressed and marginalized along the way in the soup kitchens, unemployment offices and jungles at the sides of the tracks. With scenes of hobos reading newspapers, listening to the radio news programs and slandering politicians, the documentary shows the hobo not as an out-of-touch outcast from society, but an engaged yet struggling worker trying to make ends meet with what is at their disposal; chancing the risk of arrest or even death for a free ride to the next town. HOBO addresses subjects of homelessness, class disparity, alcoholism, and even sex-workers' rights through Beargrease's conversations with his traveling partners and land-locked friends along his route.
---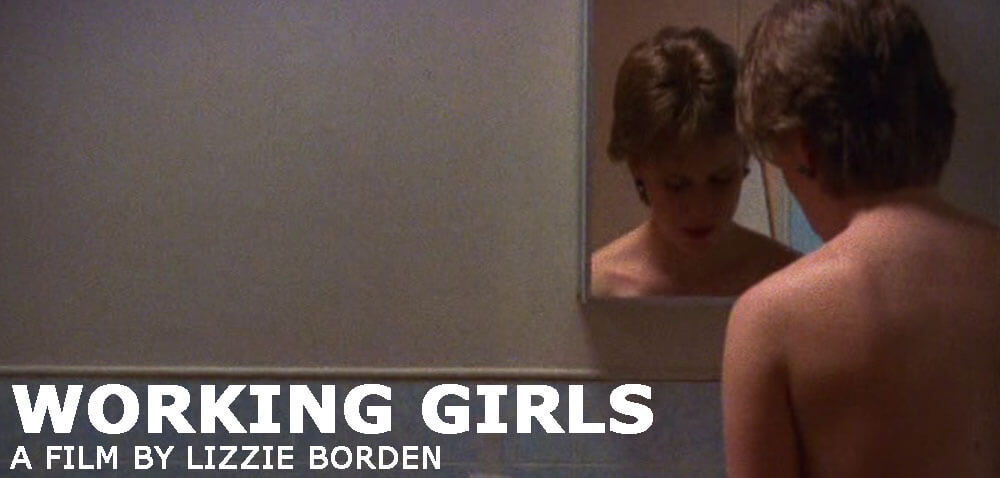 SEX WORK IS WORK is an ongoing benefit series exploring sex work in film, programmed in protest of the SESTA/FOSTA law. All proceeds from this event will go to Lysistrata Mutual Care Collective and Fund.
WORKING GIRLS
Dir. by Lizzie Borden, 1986
USA, 93 min.
ONE NIGHT ONLY!
SATURDAY, JANUARY 12 – 7:30 PM
WORKING GIRLS follows Molly (Louise Smith), through one long day working at an upscale brothel in Manhattan. She's ambivalent about her job; she likes the flexibility it affords her, but the stigma associated with it wears her down, and she lies to her live-in girlfriend about what she does for a living. She's also often at odds with her madam Lucy (Ellen McElduff), an uptight Southern belle who micromanages the brothel.
In preparation for the film, director Lizzie Borden (BORN IN FLAMES) spent six months interviewing sex workers about their working conditions and how they felt about their occupation. Informed by these experiences, WORKING GIRLS goes beyond the tired stereotypes of sex work in favor of a frank, nuanced, and often funny workplace drama that is relatable to anybody who's ever had a job—even if navigating other people's sexual quirks wasn't part of it.
---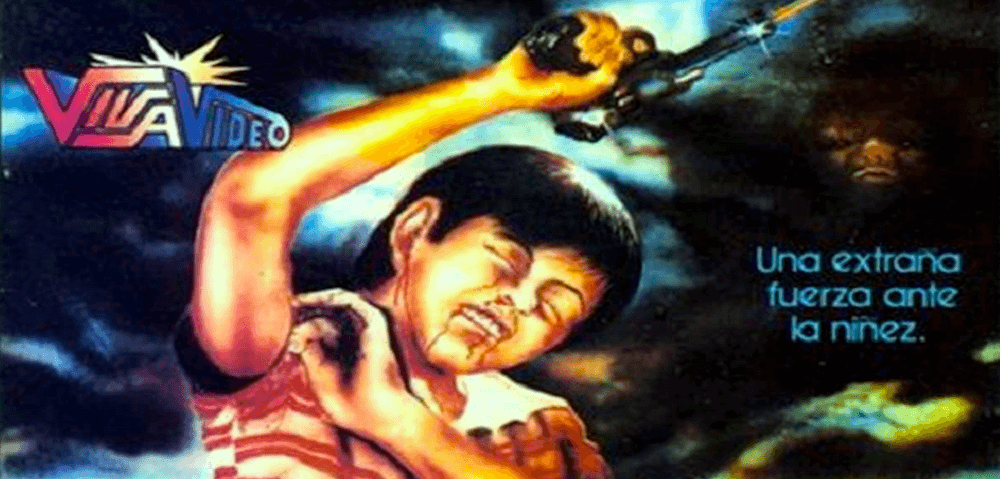 THE GOLDEN TRIANGLE
(EL TRIANGULO DE ORO)
(aka LA ISLA FANTASMA)
dir. Jairo Pinilla, 1984
Colombia. 93 mins
In Spanish with English subtitles.
THURSDAY, DECEMBER 20 – 7:30 PM
WEDNESDAY, JANUARY 2 – 10 PM
WEDNESDAY, JANUARY 16 – 10 PM
An ostensibly straightforward mystery thriller riffing on a bygone generation's worth of toxic whispers about the Bermuda Triangle, this film (also released as LA ISLA FANTASMA) uses the Panama Canal Zone as a jumping-off point, from whence a young girl and her father vanish out on the high seas. Jack Mendelson, her swollen uncle (who may also be a mercenary/private detective?) decked out in a leather vest and ripped bell-bottom jeans, goes searching for them, with the remaining nephew in tow. Their axes form a puzzle, leading them to a moss-ensconced island housing a mythic miniature pyramid made of solid gold – but the triangle is treacherous, and exposure to it begins to cost Jack his sanity.
Well before a man-eating plant has taken center stage, you'll agree that EL TRIANGULO DE ORO is one of the wildest and most imaginative horror movies ever made, including at least one set piece that should be legendarily famous: a showstopping martial arts throwdown between Jack and a cadre of shady characters in a seaside cantina. The bar patrons' horrified reactions teeter between tragedy and farce, another example of Pinilla's surprisingly un-rushed editing style: Pinilla builds mystery through gorgeous location photography, decking each scene out with more telephoto zooms than you'll find in most contemporaneous Hollywood thrillers. Speaking of which: both films in this series betray Pinilla's penchant for overlaying snatches of music from overhyped American movies of the day. An insaniack final twist (complete with flashing strobes and bedraggled first-person long takes tiptoeing through walls of ivy, reeking with death) adopts the perspective of a child, played by Pinilla's real-life son Jorge, to dreamy, haunting and hilarious effect.
---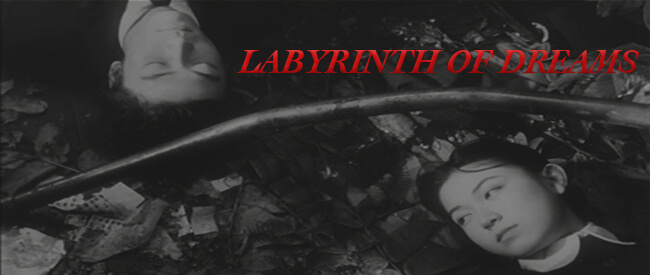 LABYRINTH OF DREAMS
Dir. Sogo Ishii, 1997
Japan, 90 min.
In Japanese, English subs
SATURDAY, DECEMBER 1 – 10 PM
TUESDAY, JANUARY 8 – 10 PM
SUNDAY, JANUARY 27 – 7:30 PM
WEDNESDAY, JANUARY 30 – 7:30 PM
Ishii's Hitchcockian tale of romantic obsession and aggression begins in a surrealist mixture of dream, memory, and rumor. When bus conductor, Tomiko (Rena Komine), gets assigned to work with bus driver Niitaka (Tadanobu Asano, Ichii the Killer and Bright Future), not only does she think that he looks like the man from her dreams, but that he also might be the man who married and killed her friend and co-worker. Determined to get revenge, Tomiko seduces him. But when she finds herself irresistibly attracted to him she gets obsessed with testing the sincerity of his murderous desires. Shot in dreamy black and white, Ishii melds many of the guttural DIY techniques of his early punk years with moody expressionist compositions reminiscent of Maya Deren to create a film both aggressive and disorienting as well as melancholic and contemplative.
---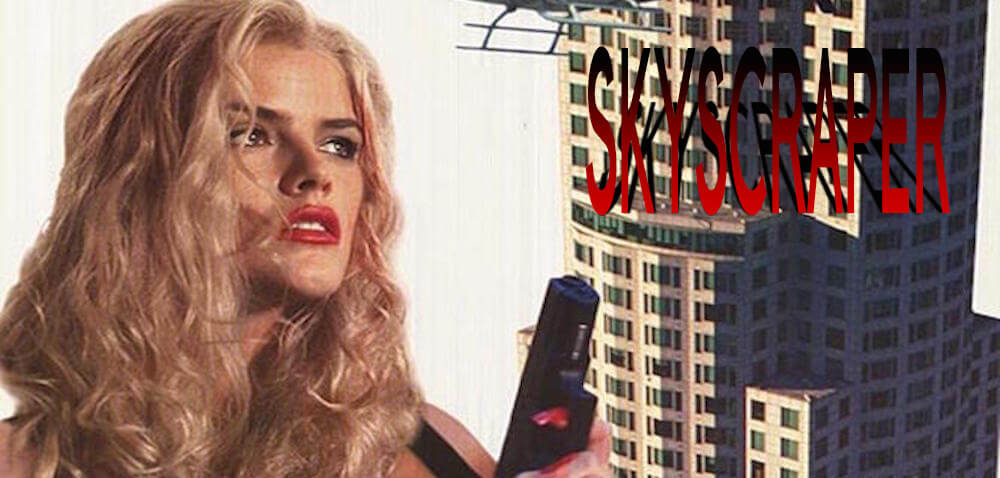 SKYSCRAPER
dir. Raymond Martino
1996, 96 min.
WEDNESDAY, DECEMBER 19 – 10 PM
WEDNESDAY, JANUARY 9 – 10 PM
TUESDAY, JANUARY 15 – 10 PM
FRIDAY, JANUARY 18 – MIDNIGHT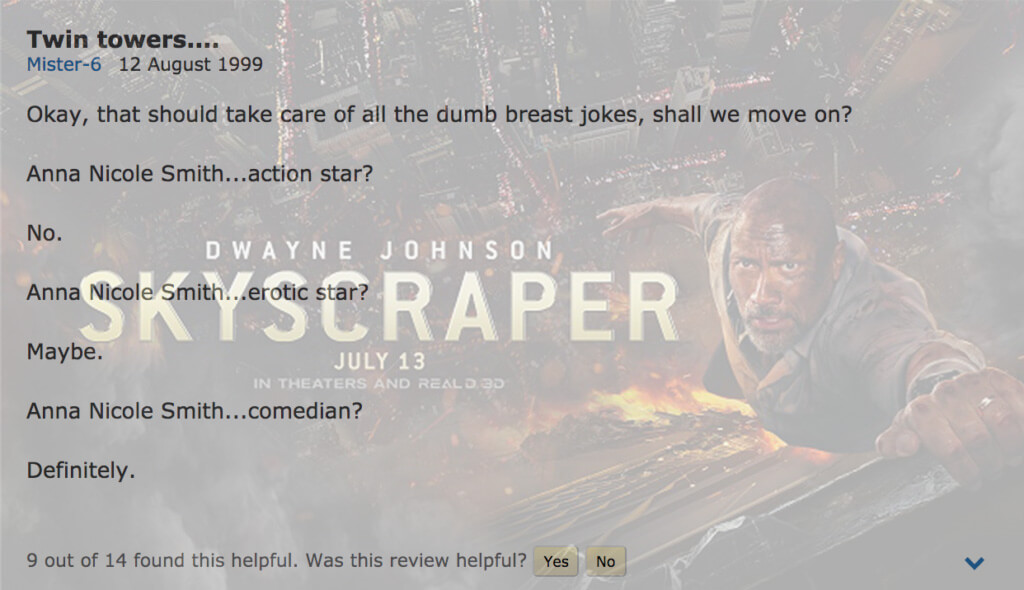 ---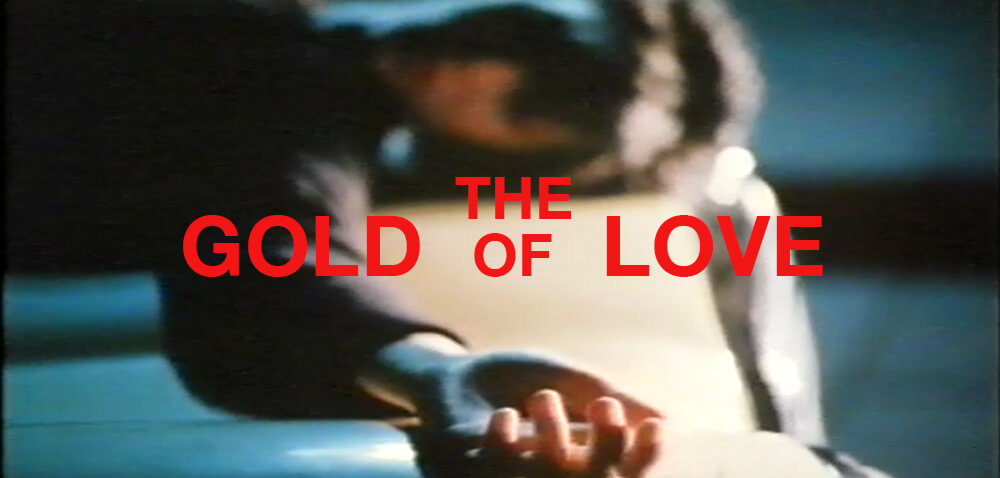 THE GOLD OF LOVE
aka Das Gold der Liebe
dir. Eckhart Schmidt, 1983
West Germany, 86 min.
MONDAY, DECEMBER 10 – 10 PM
TUESDAY, JANUARY 1 – 10 PM
FRIDAY, JANUARY 18 – 10 PM
Schmidt's follow up to DER FAN plays a bit like the same film detuned to a harsher register. The palatable pop of new wave superstar "R" is replaced by the raucous tremors of actual rock band D.A.F. (Deutsch Amerikanische Freundschaft), whom teen Alexandra Curtis (yes, half-sister of Jamie Lee) harbors an unhealthy obsession. While the horror of Der Fan came from its chillingly slow descent towards a maniacally bleak outcome, the follow-up pretty much starts in a post-punk underworld with no hope of escape — tears of blood run down the protagonist's face within the first half an hour, after she finds herself without any cash to gain entry to D.A.F.'s show. The rest of the film chronicles her attempts to see the group at any possible cost, traversing a zonked-out, eternally nocturnal Vienna in the process.
---


THE SCENIC ROUTE
Dir. Mark Rappaport, 1978
United States, 76 min.
In English
SUNDAY, JANUARY 13 – 5 PM **INTRO WITH ACTOR RANDY DANSON!**
THURSDAY, JANUARY 17 – 7:30 PM
WEDNESDAY, JANUARY 23 – 7:30 PM
TUESDAY, JANUARY 29 – 10 PM
"I wouldn't even tell you a lie, much less the truth."
Estelle (Rappaport regular Randy Danson) spends most of her time cruising for strangers and chancing upon murder victims in public places (yet somehow none of them are related to the double-barrel shotgun killer we keep hearing about). She gets involved with a man named Paul, but leaves him once her sister, Lena, returns home from the insane asylum (Lena killed a former boyfriend of Estelle). Once Lena starts bringing men to the house it isn't long before Lena brings Paul over and a love triangle develops.
Like the ever-changing array of wallpaper in Estelle's apartment (gold stars against American-flag blue, a 16th century painting, a blown up photograph of Lena and Paul kissing), THE SCENIC ROUTE is a meld of styles and forms that never quite settles into any one direction across its 75 minute runtime. Self-consciously staid framing, recurring references to the orpheus myth through painting and opera, and repetitive unreliable voice-over are just a few of the devices Rappaport uses to capture the romantic malaise that haunts the characters.
Mark Rappaport on THE SCENIC ROUTE:
"Two sisters. And the man who is caught between them. Love, jealousy and revenge. All the standards components of melodrama – but a very dry melodrama. Expectations are thwarted and rechanneled. Instead of explanations and motivations, visual counterparts are offered. The film slides back and forth between passion and an irony which redirects it but doesn't dilute it. A film about myths and mythmaking, about the Madame Bovary in each of us, about delusions and romance in a fragile world where violence erupts randomly and unexpectedly. The film was made very cheaply in and around New York where violence is a way of life and everyone always talks of going away."
SCREENING WITH:
POSTCARDS
Dir. Mark Rappaport, 1990
United States, 25 min.
In English
Set against kitschy green-screened images taken from the backs of postcards, Rappaport's first experiment with digital video shows the director taking his fascination with artifice and canned emotion into new aesthetic dimensions to tell a story of two lovers separated by the American highway system.
---

ANIMATION PROGRAM
dir. Ivan Maximov, 1989-2007
Russia, 60min.
SUNDAY, JANUARY 6 – 7:30 PM
TUESDAY, JANUARY 15 – 7:30 PM
SATURDAY, JANUARY 26 – 7:30 PM
Originally part of a live score last April with drone-masters TELAH, we are reshowing the anatomically unusual animations of Moscow-based Ivan Maximov with their original sound. In his animated shorts, creatures both globular and mammalian partake in peregrinations of form and mood. Many of these shorts don't follow a logical storyline, but are nonetheless as captivating as a tank of bizarrely-behaved tropical fish. Between animations will feature some quotes from the artist on the creative process, distaste for puppets, and the superiority of children.
Ivan Maximov's work has earned him many animation awards in Russia, Germany, Italy, and Hungary.
---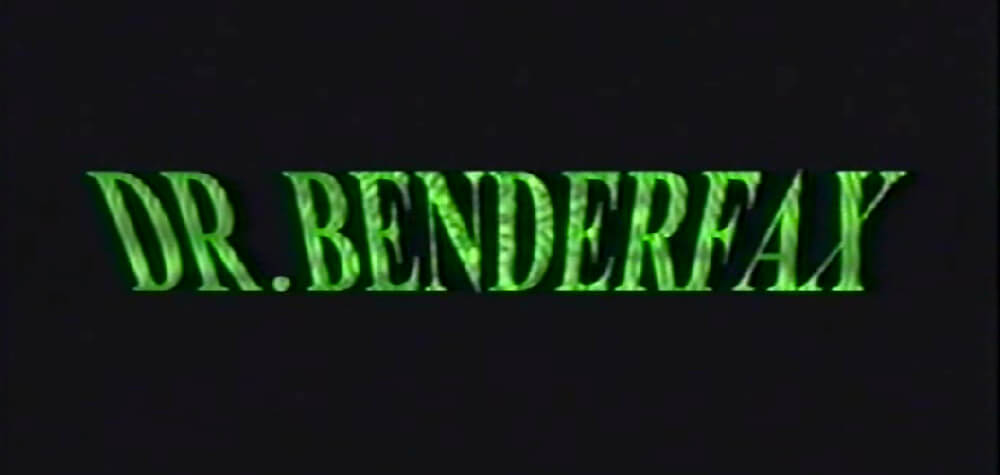 DR. BENDERFAX
Dir. Tom Hosler, 1997.
USA. 85 min.
WEDNESDAY, JANUARY 9 – 7:30 PM
MONDAY, JANUARY 14 – 10 PM
SATURDAY, JANUARY 19 – 10 PM
SATURDAY, JANUARY 26 – MIDNIGHT
Special thanks to director Tom Hosler!
The titular Dr. Benderfax (Nigel Hazeldine) is an esteemed researcher (read: mad scientist) willing to go the extra mile for his experiments investigating a rare psychic phenomenon known as the "Telefaximial Field." Unfortunately for the good doctor and his lovely assistant Nurse Clench (Caroline Hazeldine), many of the "volunteers" end up in the morgue. Actually on brief reflection, it's probably more unfortunate for the patients. After some finagling the medical duo end up in a local nuthouse and use this fresh batch of patients to further their research. Just as they're on the verge of a major breakthrough, in saunters Dr. Andrew…
Fresh out of college in 1992 Tom Hosler decided to make his "first and only feature script worthy of production." Armed with a savings account and several credit cards, the film was shot over the course of many weekends. After multiple years of post-production, the film finally saw the light of day in 1997. Fans of last year's Joe Sherlock double-up MONSTER IN THE GARAGE/DIMENSION OF BLOOD take note – DR. BENDERFAX is a true-blue Shriek Show entry if there ever was one, and it's chock full of schlock, gore, yuks/yucks, and a genuine feeling of fun.
---

A FEAST OF MAN
Dir. Caroline Golum, 2017.
United States. 82 min.
TUESDAY, JANUARY 8 – 7:30 PM
WEDNESDAY, JANUARY 16 – 7:30 PM
FRIDAY, JANUARY 18 – 7:30 PM
Caroline Golum's rosé-refracted debut feature A FEAST OF MAN is a hilarious drawing-room comedy that pushes its audience to ask unspeakable questions of itself, performing a ruthless re-exhumation of THE BIG CHILL by way of Whit Stillman, Henry James and a pinch of Bette Gordon. Laurence Joseph Bond stars as Gallagher, a wealthy ne'er-do-well sitting on preciously guarded millions; when Gallagher dies in an untimely accident (kept mysteriously offscreen), his valet James (Zach Fleming) summons the late aristocrat's closest friends (a murderer's row of a cast including Frank Mosley, Marleigh Dunlap, Chris Shields and Katey Parker) to the family home in upstate New York, where he presents them with Gallagher's final will and testament via videoconference. It's revealed that the tony young codger will bequeath his fortune to the group, split evenly, but only if they agree, unanimously, to eat his corpse. A weekend of flashbacks, double-crosses and coastal-elite hand-wringing ensues: some characters retreat further into forced juvenilia while others, remembering all the slights and jealousies of their near/post-adolescent years, find an opportunity to avenge their lost youth. But throughout, the clock ticks with one question: will they go through with it?
A FEAST OF MAN is not like other movies: Golum's screenplay (co-written by the prolific Dylan Pasture) is at once laden with one-liners and hijinks, yet keeps the audience guessing how blackened its heart really is, how low its comedy of rich people's poor manners can, and will, go.
CAROLINE GOLUM is a filmmaker, programmer, and critic living in New York. Her work has screened in venues from Birmingham, Alabama to Brisbane, Australia. As a writer she has contributed to Variety, Little White Lies, the now-defunct alt-weekly L Magazine, and Bright Wall/Dark Room. She is a senior correspondent for Screen Slate and her weekly radio feature, "The Movie Minute," can be heard every Friday morning on WFMU's drive time morning show, "Wake and Bake with Clay Pigeon." Her next film, about 14th-century mystic Julian of Norwich, will begin production in 2019.
Poster for the Original Dates: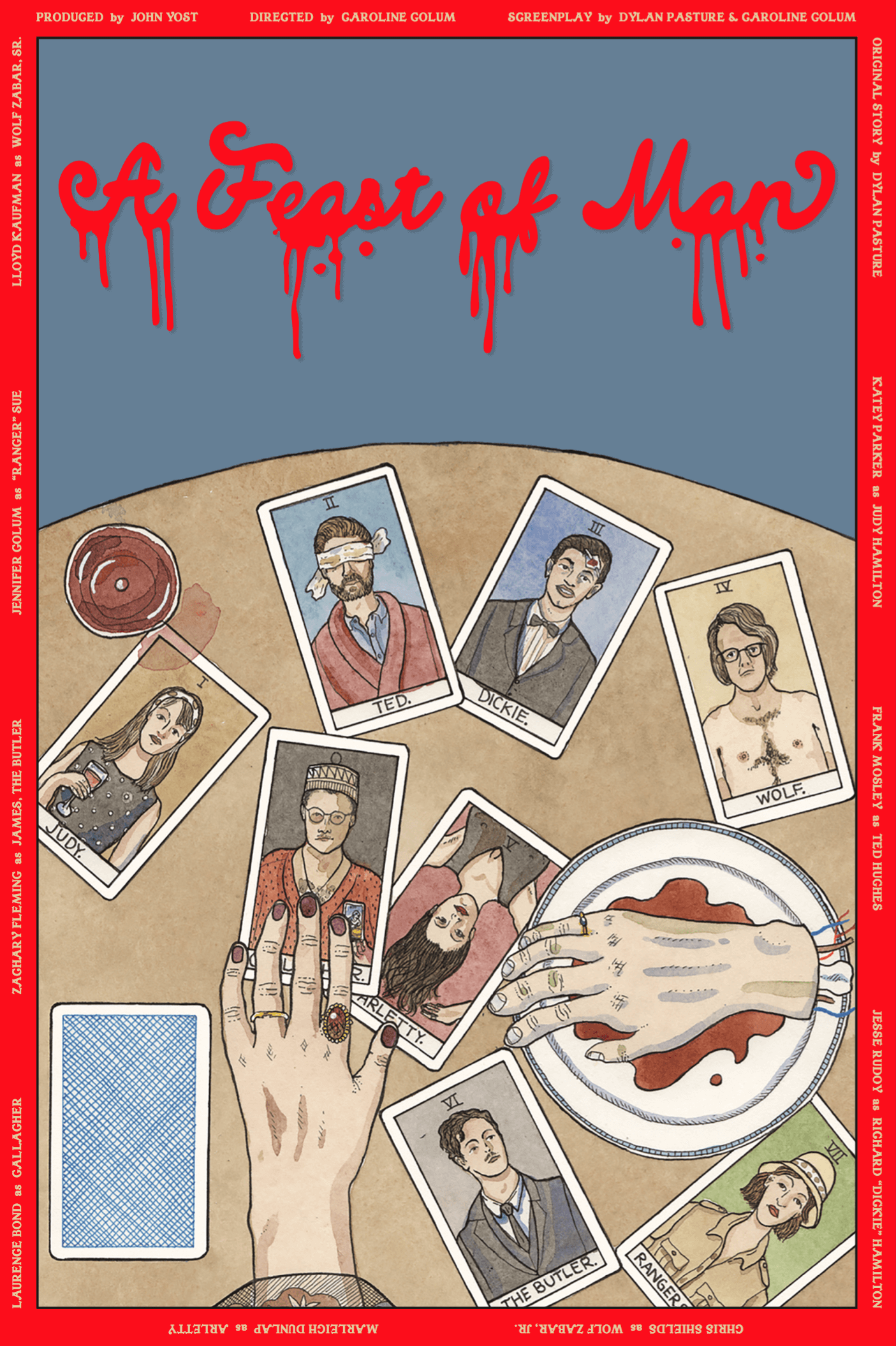 ---