The word "collective" brings to mind infinite potentials — an unlimited number of practices towards horizontality within an artistic ecosystem. Some of these practices are more tenable than others, but throughout history activist-minded artists have collectivized in an effort to change what the economic, social and political model of making arts looks like. From West Berlin to DC, the Second Wave to riot grrrl, we present a cross-section of female artists coming together in times of political need.
Organized with Mary Billyou. Special thanks to Kristen Fitzpatrick, WMM, Filmmaker's Co-op, K8 Hardy, Wynne Greenwood, Facets, and Meredith Drum.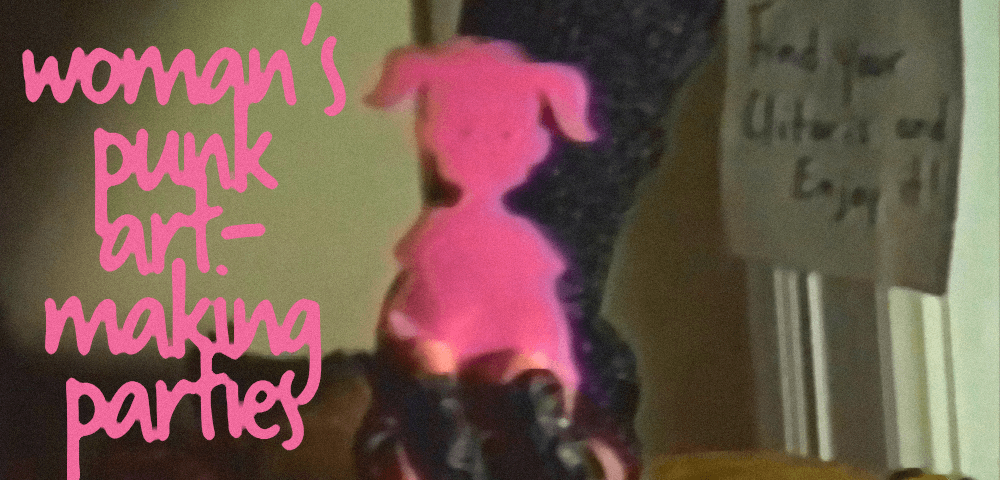 WOMEN'S PUNK ART MAKING PARTY
Dir. Mary Billyou, 1996.
United States, 33 min.
In English.
SATURDAY, MARCH 21 – 7:30 PM w/director Mary Billyou in person
THURSDAY, MARCH 26 – 7:30 PM
SUNDAY, MARCH 29 – 7:30 PM
A documentary in which a group of young women meet for an art-making party. Located at The Beehive Collective in Washington, DC, six individual episodes are loosely interspersed, allowing each participant a chance to represent themselves. Included: a feminist stripper preparing for work, a puppet show, and a music video.
screening with
SHE HAD HER GUN ALL READY
dir. Vivienne Dick, 1978.
United States, 28 min.
In English.
Vivienne Dick takes aim a reverence and power dynamics among women in one of her best known shorts, an 8mm Lower East Side-set psychodrama starring Lydia Lunch.
and
NEW REPORT ARTIST UNKNOWN
dir. K8 Hardy, Wynne Greenwood, 2006
United States, 16 min.
In English.
A collaborative project envisioning a news service in a post-feminist world, this comedic short features K8 Hardy (founder of the queer feminist art collective LTTR) and Wynne Greenwood (of Tracy and the Plastics) playing Henry Irigaray and Henry Stein-Acker-Hill, an anchor and roving correspondent for WKRH, a feminist TV news station whose tagline is "pregnant with information."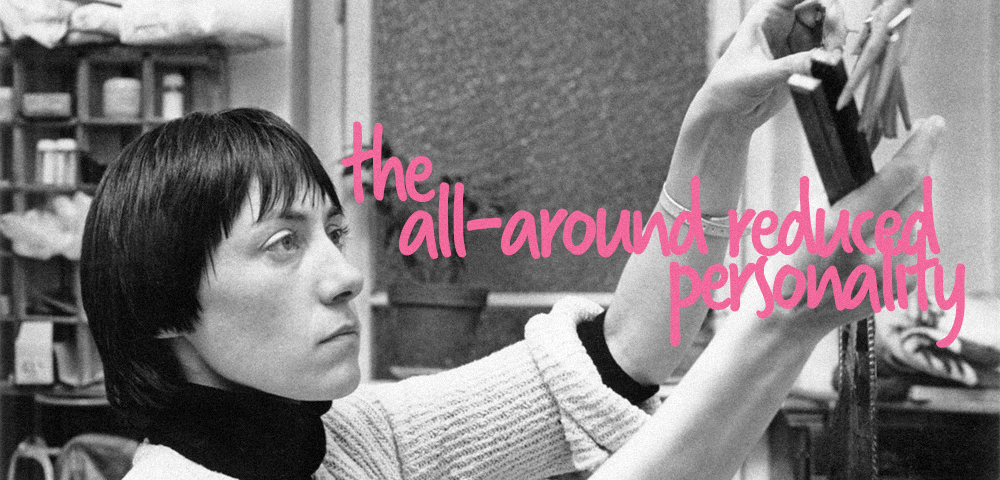 THE ALL-AROUND REDUCED PERSONALITY
(aka DIE ALLSEITIG REDUZIERTE PERSÖNLICHKEIT)
dir. Helke Sander, 1979
Germany, 98 min.
In German with English subtitles.
WEDNESDAY, MARCH 4 – 10 PM
SATURDAY, MARCH 7 – 10 PM 
THURSDAY, MARCH 19 – 10 PM
"Emancipation or not, you want to sell a story."
Threatened by the increasing cost of living (not to mention of producing images), a women's photography collective attempts to subvert a commission given to them by the politically and sexually repressive West German government. Drifting from private moments to Godardian accounting, urban survey to bureaucratic detentes, Sanders probes the possibility of reintegrating art into social space as a means of ending grey-on-grey capitalism and socialism, two sides of the same valueless coin.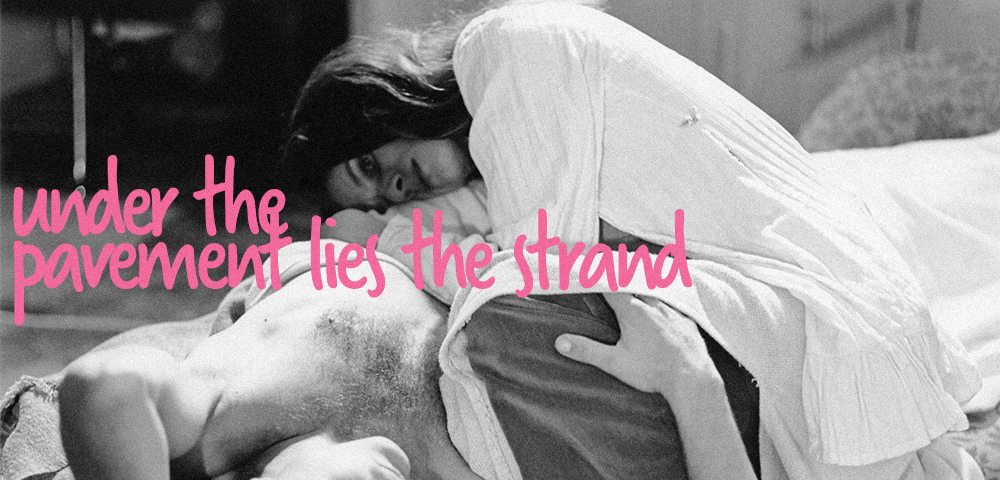 UNDER THE PAVEMENT LIES THE STRAND
(aka UNTER DEM PFLASTER IST DER STRAND)
dir. Helma Sanders-Brahms, 1975
Germany, 99 min.
In German with English subtitles.
THURSDAY, MARCH 12 – 10 PM
WEDNESDAY, MARCH 18 – 7:30 PM
FRIDAY, MARCH 27 – 10 PM
A sociological document on the working woman and abortion, an anti-matrimonial and anti-utopian communist manifesto, Unter dem Pflaster is an intimate chronicle of post-68 malaise and the growing schism between sexual and political revolutions. An illicit and ludic affair between two actors with a shared past in the student rebellions opens up onto the history of German revolution and fascism, the constraints of domestic monogamy and claustrophobia of private property, as they watch themselves become the very parents they mutinied against. Caught at a crux of early postmodernity, Sanders-Brahms pinpoints the exigency of a women's movement in the stale husk of '68 macho militancy and growing recuperation in post-Fordist women's reformism.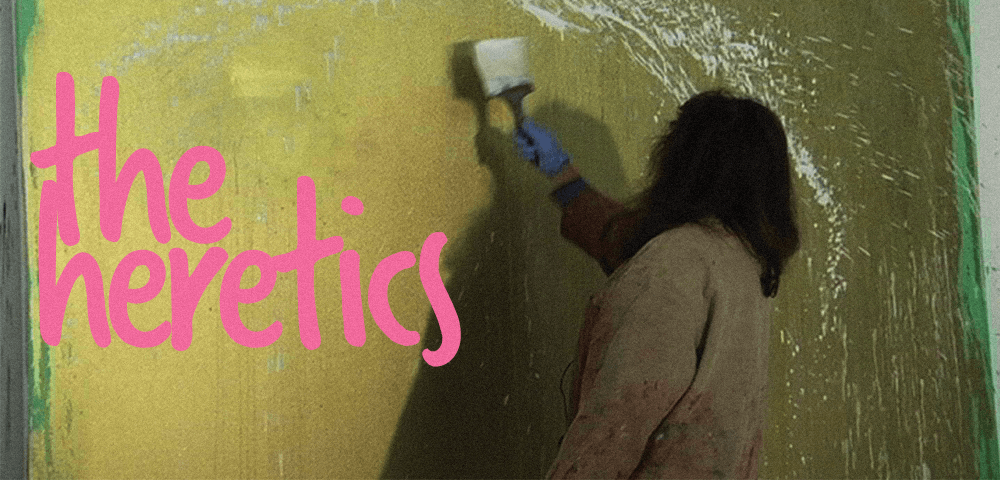 THE HERETICS
dir. Joan Braderman, 2009
United States, 95 min.
In English.
TUESDAY, MARCH 3 -7:30 PM
SUNDAY, MARCH 29 – 5 PM
Presented by Women Make Movies
Tracing the influence of the Women's Movement's Second Wave on art and life, THE HERETICS is the exhilarating inside story of the New York feminist art collective that produced "Heresies: A Feminist Publication on Art and Politics" (1977-92). On the road with her camera crew from New Mexico to Italy, Braderman reconnects with 28 other group members, including writer/critic Lucy Lippard, architect Susanna Torre, filmmaker Su Friedrich, and artists Ida Applebroog, Mary Miss, Miriam Schapiro, and Cecilia Vicuña. — WMM
"Upbeat and affirmative…The stories these women tell envision a radically different moment in art-world history, one in which questions of career and market are barely mentioned, and philosophical arguments are firmly grounded in street-level politics." — Ed Halter, ARTFORUM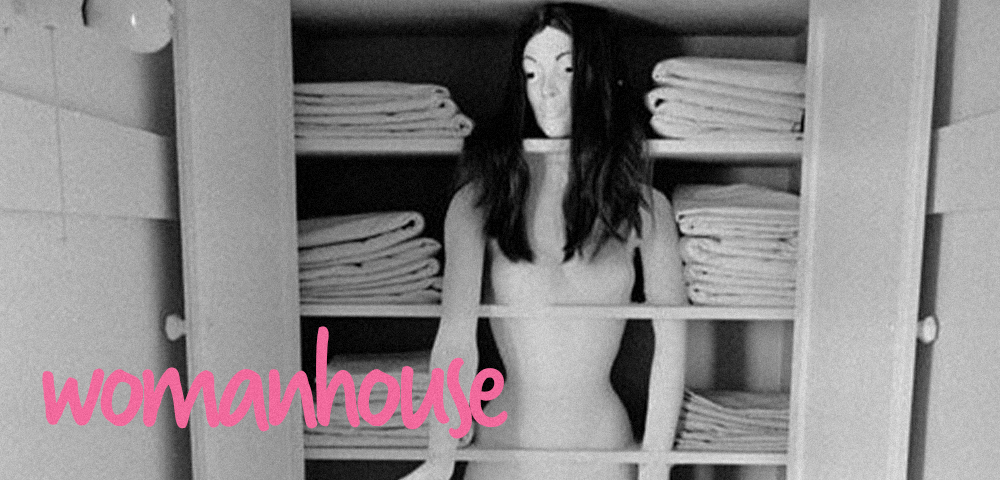 WOMANHOUSE
dir. Johanna Demetrakas, 1974
United States, 47 min.
In English.
MONDAY, MARCH 9 – 10 PM 
MONDAY, MARCH 23 – 7:30 PM 
THURSDAY, MARCH 26 – 10 PM 
Presented by Women Make Movies
WOMANHOUSE is an historic documentary about one of the most important feminist cultural events of the 1970s. Judy Chicago (best-known as the creator of THE DINNER PARTY) and Miriam Shapiro rented an old Hollywood mansion and altered its interior through decor and set-pieces to "search out and reveal the female experience…the dreams and fantasies of women as they sewed, cooked, washed and ironed away their lives."
screening with
TAKING RESIDENCE: A HISTORY OF AIR GALLERY
dir. Meredith Drum, 2012
United States, 16 min.
In English.
A short documentary about the first non-profit, all-women's gallery in the U.S., AIR Gallery, founded in 1972 in downtown New York City. This documentary was made on the occasion of a history show about AIR at Fales Library and the Tracey / Barry Gallery at New York University.