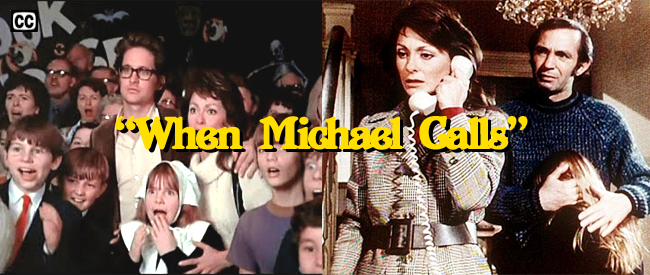 WHEN MICHAEL CALLS
Dir. Philip Leacock, 1972
USA. 73 mins. 16mm.
SATURDAY, OCTOBER 12 – 5 PM
ONE NIGHT ONLY!
There was a time in the universe, specifically 1972, when a TV movie starred Ben Gazzara and Michael Douglas. Together!
An ABC Movie of the Week, the plot concerned a woman Helen (Elizabeth Ashley) who begins to receive creepy phonecalls from her died-too-young nephew. "Auntie-my-Helen, why didn't you pick me up? Am I DEAD?!" Her ex-husband Doremus (Gazzara), still hanging around because of joint custody of their daughter, and Craig (Douglas), brother of Michael, step up to try to figure out who can be making the calls. It goes beyond being a cruel prank when some of the locals wind up dead, by bee attack or other gruesome ways, and other secrets are unearthed about the death of Helen's sister and Michael's disappearance. The dread of the unknown caller and potential inherited insanity have most definitely been plot points in Law & Order or some other TV craptrap, but this movie has a frankness about it that is hard to come by in popular media these days. It is also genuinely creepy, and a bunch of fun. Come watch it with us on 16mm film!