"We shouldn't just be making movies, we should be changing reality."
Director Jean Pierre Bekolo has been making spirited, avant-garde films in and about his native Cameroon for the past twenty years. His imaginative work criticizes both his country's dictatorship, as well as Western cinematic conventions, offering a fresh perspective of Africa, of cinema, and especially of African cinema.
This month, Spectacle is proud to present a full retrospective of Bekolo's films, along with the North American premiere of his latest, The President.

---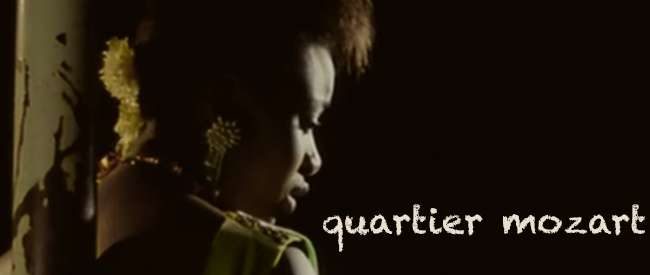 QUARTIER MOZART
dir. Jean Pierre Bekolo, 1992
80 mins. Cameroon.
In French with English subtitles.
THURSDAY AUGUST 8th – 7:30PM
SATURDAY AUGUST 24th – 10PM
Bekolo's rolicking debut Quartier Mozart takes on the politics and magic of gender roles in Yaounde's working class district. The adventure begins when schoolgirl "Queen of the Hood" asks a local sorceress what it would like to be a man. Mama Thekla puts her into the body of a ladykiller to find out. Chaos ensues when he falls for the police chef's daughter, Thekla is not far behind, and while she guides the freshly-minted "My Guy", she'll take the penis off any man who shakes her hand. Bekolo's impish editing and hip-hop score give new meaning to a popular folktale.
(Winner of the 1992 Prix Afrique en Creation at the Cannes Film Festival.)


---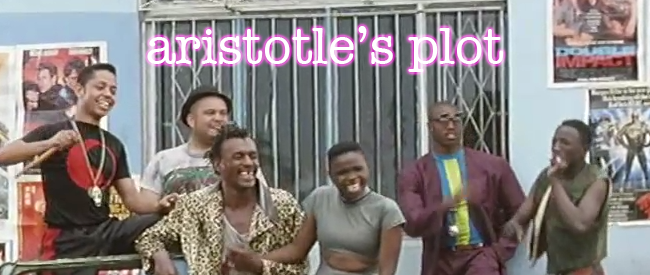 ARISTOTLE'S PLOT
dir. Jean Pierre Bekolo, 1996
72 mins. France/UK/Zimbabwe
In English, and French with English subtitles.
FRIDAY AUGUST 9th – 10PM
FRIDAY AUGUST 30th –  7:30PM
In 1996, the British Film Institute commissioned Bekolo as the African filmmaker for its series celebrating the first 100 years of film. Poor BFI, it couldn't have been ready for Aristotle's Plot. This is a balls-to-the-walls meditation on the meaning and purpose of "African film" with aesthetic, rather than geographic, ambition. As critic Michael Dembrow has observed, you need to listen as much as you watch to understand this movie. "Much the experience comes from the sound-track–from the lyrics to songs and, more importantly, Bekolo's voice-over narration. As we try to put all the pieces together, the plot turns back on itself, scenes are repeated, characters prance around like the pawns and symbols that they are." We couldn't have said it better ourselves.
---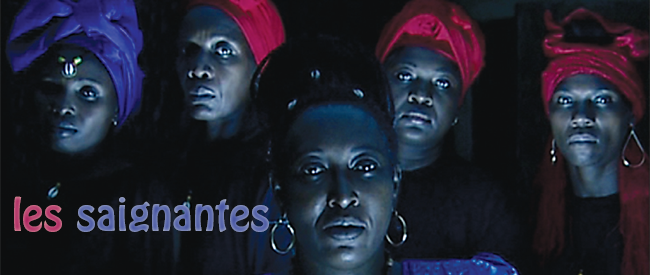 LES SAIGNANTES
(The Blood-lettes)
dir. Jean Pierre Bekolo, 2005
Cameroon. 97 mins.
In French with English subtitles
WEDNESDAY, JULY 31st – 8PM (as part of THE FUTURE WEIRD: VISIONS OF EXCESS)
SATURDAY, AUGUST 10th – 10PM
FRIDAY, AUGUST 23rd – 10PM
Les Saignantes is the best African sci-fi vampire political satire with homoerotic overtones you've ever seen. Best friends Majolie and Chouchou are two beautiful young women trying to get ahead in a near-future Cameroon. After accidentally killing a powerful politician during sex, the two come up with a plot to dispose of the body, and get into the glamorous wakes that have taken over the local nightlife.
As the girls tear their way through the corrupt ruling class, using their their feminine wiles and magical powers, Bekolo drops inter-titles into the film, commenting on the difficulties of filmmaking in an oppressive political climate. With a feminist subtext and cinematography like a blacklight rave, Les Saignantes is a beautiful, disorienting, and truly original work.


---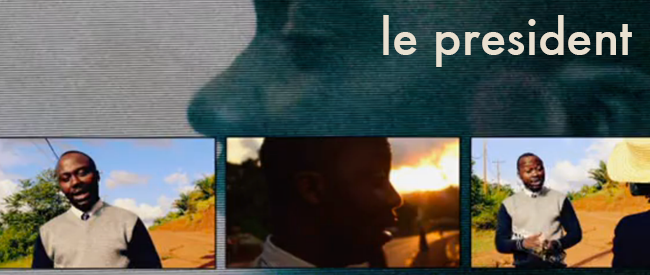 LE PRESIDENT
(The President)
dir. Jean Pierre Bekolo, 2013
Cameroon. 64 mins.
In French with English subtitles
US PREMIERE!
THURSDAY AUGUST 15th – 7:30PM
THURSDAY AUGUST 22nd – 7:30PM
TUESDAY AUGUST 27th – 10PM
"Our president was betrothed to Cameroon with great love and passion, yet over the years the fire has died. He spends more time in Switzerland than in Cameroon. What is he – too good for us now?" – JEAN-PIERRE BEKOLO
The night before an important summit in the near-future, the head of state vanishes into ostensibly thin air. Potential heirs and overthrow-ers converge around the capitol, while bloggers, hangers-on and talking heads tussle with the president's problematic legacy. Never snarling, Bekolo gestures both unmistakably towards Cameroon's own 31-year president Paul Biya as well as the varied bigshots across the continent who have consolidated post-colonial power in the vacuum of leadership.
Bekolo's newest film is a fake documentary that asks barbed, tough-love questions of his homeland's catastrophic experiments with democracy. "It was through the small screen that he punctuated every moment of my life!"