Acclaimed playwright, screenwriter, and director Dušan Kovačević is one of the most beloved writers to have emerged from former Yugoslavia, though his works and their acclaimed cinematic adaptations are barely known in the United States and even more rarely screened. Though probably best known for writing the source novel of Emir Kusturica's Palme d'Or-winning epic UNDERGROUND (1995), Kovačević might be best represented by this trio of comedies, two directed by Slobodan Šijan (STRANGLER VS. STRANGLER), which star such legends of the Yugoslavian screen as Danilo 'Bata' Stojković, Pavle Vuisić, and Bogdan Diklić. All of them are uproarious satires of the region's history, character, and politics.
Each of these films are monumental classics of their now-defunct country of origin: in fact, THE MARATHON FAMILY, WHO'S SINGIN' OVER THERE? and BALKAN SPY, are, respectively, the three highest-rated Yugoslavian films on the IMDb. Nevertheless, they've barely been screened in the United States and, to the extent that they circulate at all, do so in very poor translations. For all of the films, Spectacle has thoroughly overhauled the translation, comedic timing, and formatting of previously extant subtitles to introduce the films to our audiences as they're unlikely to see anywhere else.
---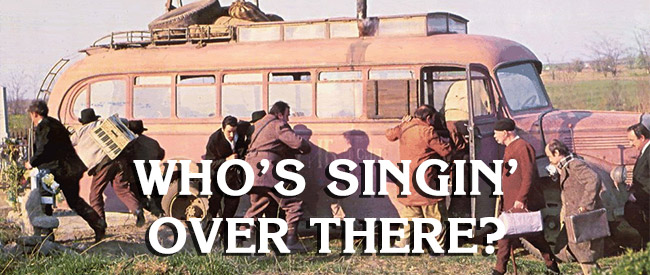 WHO'S SINGIN' OVER THERE?
Dir. Slobodan Šijan, 1980.
SFR Yugoslavia, 86 min.
In Serbian with original English subtitles by Spectacle.
SUNDAY, APRIL 6 – 5:00 PM
FRIDAY, APRIL 11 – 10:00 PM
WEDNESDAY, APRIL 23 – 7:30 PM
Based on an original screenplay by Kovačević.
This highly quotable classic, which screened Un Certain Regard at the 1981 Cannes Film Festival, charts the journey of a ramshackle bus across the Yugoslavian countryside toward Belgrade on April 5, 1941. Lorded over by an impetuous conductor and his numbskull son, the passengers constitute a vertiable ship of fools, misfists, and outcasts: among them a disgruntled WWI vet, a goofy hunter, a fatalistic consumptive, libidinous newlyweds, a suave pop singer, and a pair of young gypsy musicians — the source of pointed social tensions — whose folk numbers provide the film's Greek chorus.
A prime example of the Aristotelian Unities in screenwriting, it follows the little scrapheap-that-could through encounters with highwaymen, funerals, soldiers, and other odd situations, rolling inexorably toward an unexpectedly resonant conclusion.
Fondly remembered to this day, WHO'S SINGIN' OVER THERE? was declared by the Yugoslavian Board of the Academy of Film Art and Science (AFUN) to be the best Yugoslavian film made between 1947 and 1995.
---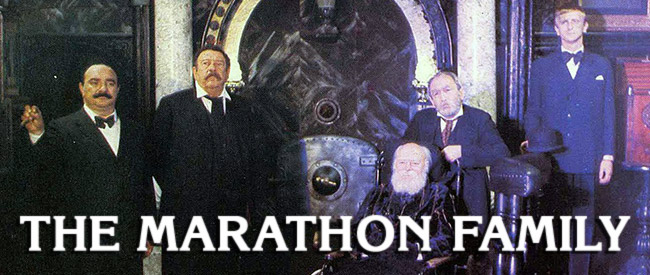 THE MARATHON FAMILY
Dir. Slobodan Šijan, 1982.
SFR Yugoslavia, 92 min.
In Serbian with original English subtitles by Spectacle.
MONDAY, APRIL 7 – 10:00 PM
THURSDAY, APRIL 24 – 7:30 PM
SUNDAY, APRIL 27 – 5:00 PM
Adapted by Kovačević from his play Maratonci trče počasni krug (1973)
Šijan and Kovačević followed up the smashing success of WHO'S SINGIN' OVER THERE? with the arguably even greater THE MARATHON FAMILY (the Serbian title translates to, "The Marathoners Run the Victory Lap"), based on one of Kovačević's earliest plays. Set in a small village in 1935, it explores the offbeat personal and political tensions amid a family of six generations of contemporaneously-(mostly-)-living undertakers.
THE MARATHON FAMILY is as grim and anarchic — not to mention hilarious — as anything Šijan and Kovačević have ever done, and no less rooted in recent history of social relations. It represents various points of transitions: the assassination of King Alexander I of Yugoslavia, portrayed through the actual newsreel on which it was captured; the transition to sound film in Yugoslavia's cinemas; and, among the family, tensions over the ailing business affairs of their cemetery and the economic motivation to pursue new crematorium technology. Due to the latter, the family also becomes mixed-up with a local gangster, whose team of grave robbers refurbish old coffins — and naturally, the undertakers are also behind on their payments. Meanwhile, the youngest, most dim-witted member of the Marathon family becomes romantically ensnared with the gangster's disturbed daughter, whose behavior grows increasingly erratic when she's fired as the cinema's pianist.
Barreling through comedy, tragedy, death, pornography, murder, incineration, and historical sea change, THE MARATHON FAMILY is at once as tar-black and uproarious as movies get.
---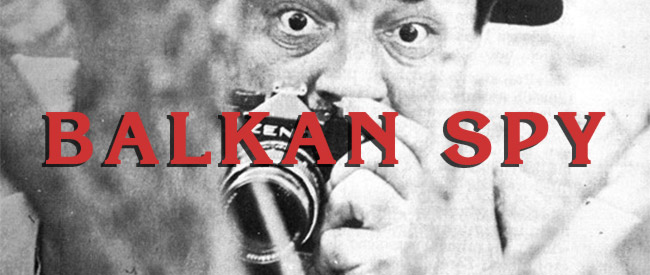 BALKAN SPY
Dir. Dušan Kovačević & Božidar Nikolić, 1984.
SFR Yugoslavia, 95 min.
In Serbian with original English subtitles by Spectacle.
MONDAY, APRIL 7 – 7:30 PM
TUESDAY, APRIL 15 – 7:30 PM
SATURDAY, APRIL 26 – 10:00 PM
In this major Eastern Bloc comedy classic, Bata Stojković delivers his quintessential performance as Ilija Čvorović, an ex-convict and former Stalinist now turned upright patriotic citizen of the Socialist Federal Republic of Yugoslavia. From the outset, Ilija becomes increasingly paranoid after being summoned to the police to answer a few harmless questions about his and his wife's subletter, Petar. Čvorović is convinced that the tenant, a debonair Parisian tailor, must in fact be a spy and a threat to national security and the Socialist state. Furthermore, Ilija is convinced that the growing attraction between Petar and his daughter is a manipulative tool in the tailor-spy's insidious capitalist schemes. And perhaps foremost, Ilija is certain that he is being set up by Petar to take the fall and that the police already suspect him as an accomplice.
Perhaps most readily understood as a madcap Yugoslav predecessor to OBSERVE AND REPORT, BALKAN SPY is a gut-busting cocktail of extreme paranoid personality disorder and warped vigilance. Stojković manages to bring an unlikely charm to his role as a disturbed, short-fused maniac even as he berates friends and family for overlooking the perceived obviousness of the baroque plot that has been set against them. It's a hilarious and meaningful send-up of Cold War-era tensions, the Socialist state, and the Serbo-Croatian character that transcends its time and locale in it's ability to inspire laughs.